Display
The Poco X3 Pro employs the same 6.67" IPS LCD screen we met on the Poco X3 NFC. It uses the familiar resolution of 1,080 x 2,400 pixels (395ppi), supports HDR10, 120Hz refresh rate, and 240Hz touch sampling.
The panel has a punch-hole for the selfie camera. The hole is small alright, but due to the LCD technology, the backlighting around it is uneven.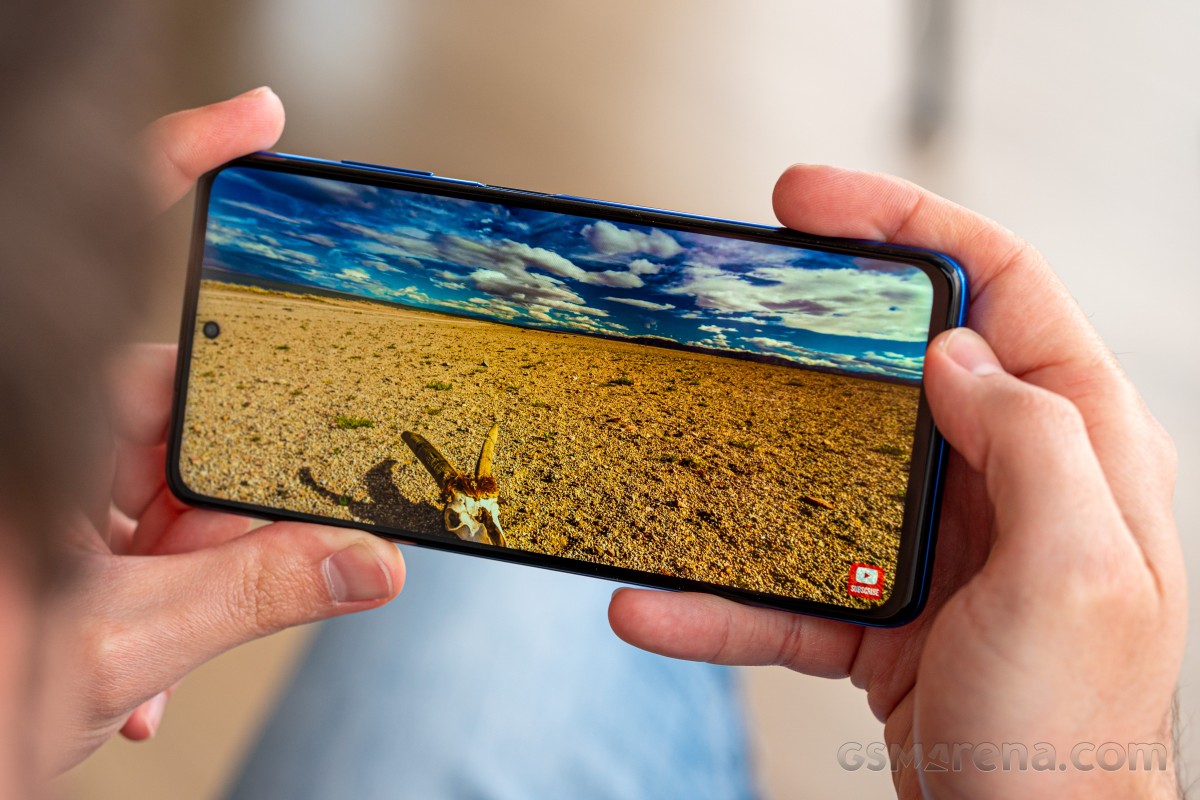 One odd thing - even if the screen does officially support HDR10 and is recognized as such, currently Netflix and Prime do not recognize it as HDR-capable (they do stream in Full HD, though). Then YouTube does. Maybe it's up to the services to whitelist the X3 Pro as a supported device. Widevine L1 DRM is present, the DRM apps correctly recognize the screen as HDR10, so we hope resolving this would be only a matter of time.
The screen supports an adaptive 120Hz refresh rate and a fixed 60Hz one. You can choose either from Settings.
The touch sensors are working with a 240Hz sampling rate, which should be appreciated by gamers mostly.
The display maxes out at 458 nits of brightness when adjusted manually, and that is what Xiaomi promised. When set to the Auto setting and faced with bright light, it will go as high as 534 nits. That's a bit disappointing, as the Poco X3 NFC screen could light up as bright as 630 nits on Auto.
The blacks are deep enough even if not the darkest we've seen, and the contrast turned out excellent at about 1400:1.
The minimum brightness we measured is incredible - just 0.9 nits - one of the lowest we've encountered!
Display test
100% brightness
Black,cd/m2
White,cd/m2
Contrast ratio
Poco X3 Pro
0.327
458
1401:1
Poco X3 Pro (Max Auto)
0.4
534
1335:1
Poco X3 NFC
0.354
460
1299:1
Poco X3 NFC (Max Auto)
0.515
631
1225:1
Poco M3
0.252
395
1567:1
Poco M3 (Max Auto)
0.277
439
1585:1
Xiaomi Redmi Note 10 Pro
0
457
∞
Xiaomi Redmi Note 10 Pro (Max Auto)
0
725
∞
Xiaomi Redmi Note 9S
0.303
421
1389:1
Xiaomi Redmi Note 9S (Max Auto)
0.42
575
1369:1
Realme 7 Pro
0
459
∞
Realme 7 Pro (Max Auto)
0
585
∞
Realme 7
0.31
457
1474:1
Realme 7 (Max Auto)
0.374
526
1406:1
Realme 7 5G
0.376
484
1287:1
Realme 7 5G (Max Auto)
0.667
571
856:1
Samsung Galaxy A52
0
386
∞
Samsung Galaxy A52 (Max Auto)
0
794
∞
Realme X50 Pro 5G
0
525
∞
Realme X50 Pro 5G (Max Auto)
0
635
∞
Xiaomi offers three different Color presets - Auto (default), Saturated, and Standard - each one representing a specific color space.
The Auto option would adjust the colors to correspond to your current lighting (like Apple's True Tone). Usually, the screen has this bluish tinge and isn't that accurate. The Saturated option makes the color pop even more, so if accuracy is what you are after, you better use Auto and tweak the advanced color settings to your liking.
The Standard setting corresponds to sRGB, and we captured a near perfect color accuracy.
Now, let's talk more about the refresh rate. There are two settings available to you - Standard (60Hz) and High (120Hz).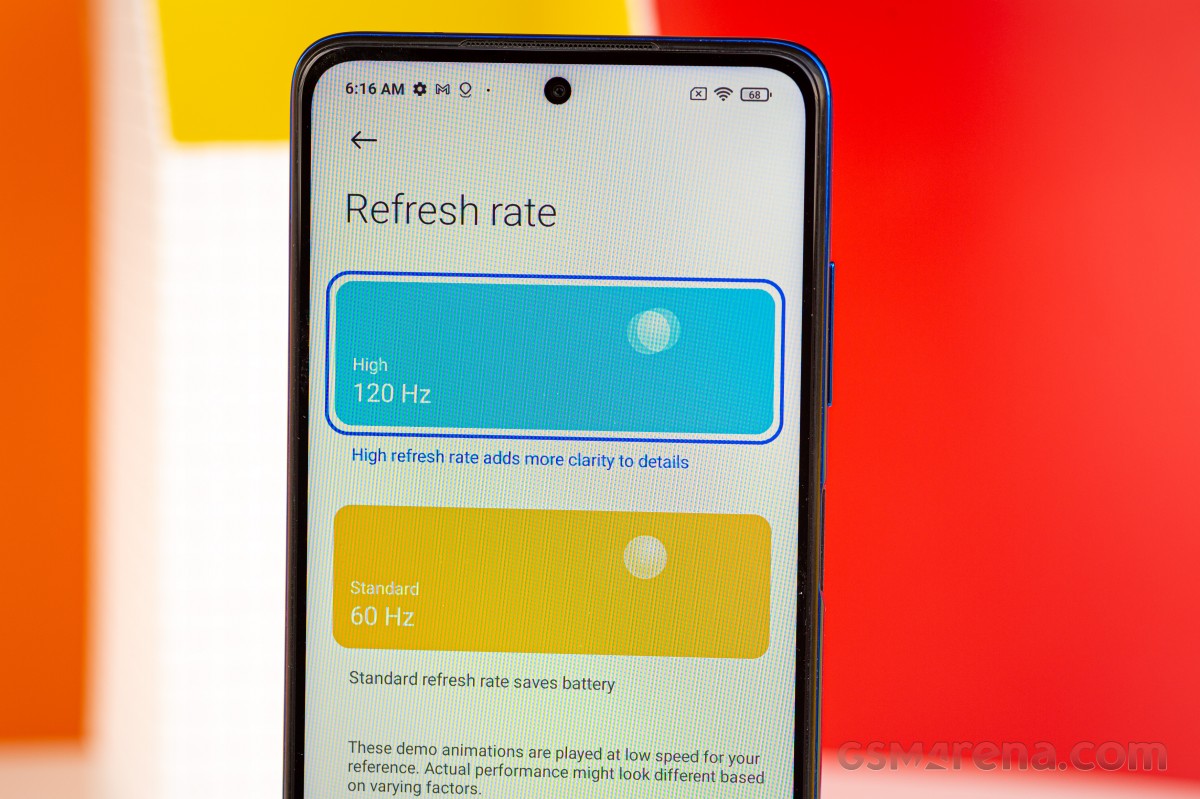 The High mode is adaptive, though. You'd be getting 120Hz refresh rate whenever you're touching the phone and across the UI. It will then drop to 60Hz a couple of seconds after your last interaction with the screen, although not every time. This behavior varies across apps, system ones even, so we can't really spot a pattern.
There are exceptions, though, with most of them being video apps. In YouTube, for example, the screen would always run at 60Hz.
In Netflix, the UI is always displayed at 60Hz, while movies are played at 48Hz. Amazon Prime Video shows its UI and streams content at 90Hz.
The Poco X3 Pro also unlocks its high refresh rate for many popular titles that are known to go above 60fps. Among the ones we tried and got 120Hz were Mortal Kombat, Dead Trigger 2, 1945 Air Force, Pac Man.
Battery life
The Poco X3 Pro, just like the Poco X3 NFC, is powered by a rather large 5,160 mAh battery. Fast wired charging is supported, and the 33W adapter is bundled with the phone.
The new Poco X3 Pro aced our battery test and posted an outstanding score of 112 hours. It can do nearly 33 hours of calls, last north of 17 hours online, or play videos for half a day. The phone also demonstrated good standby performance.
We did the onscreen tests at both 60Hz and 120Hz, and the difference in the scores was insignificant.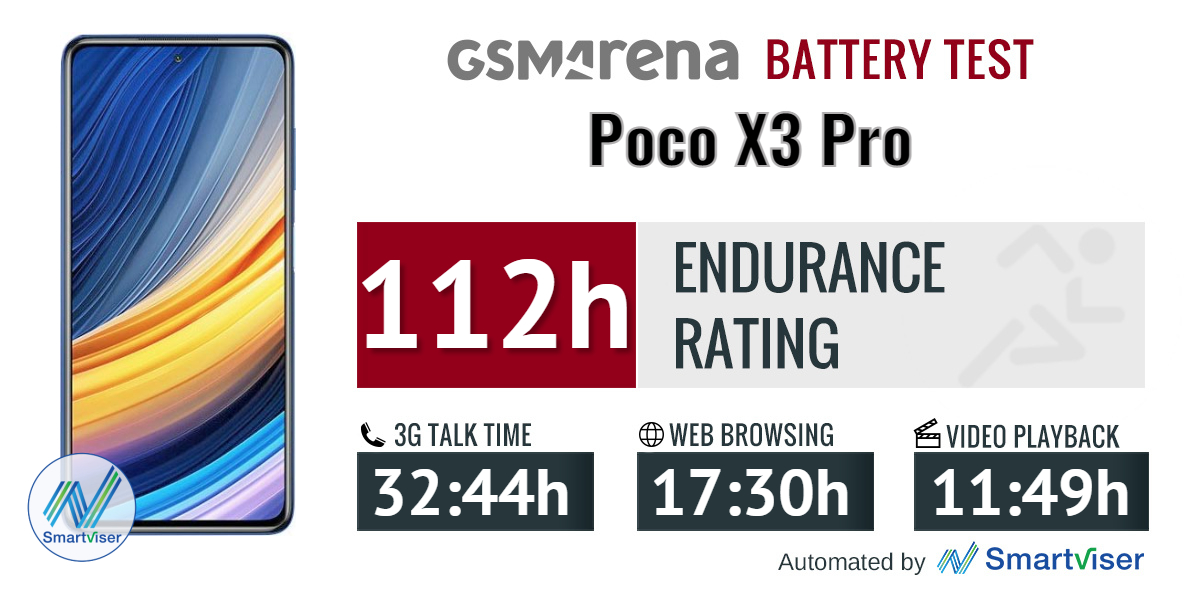 Our battery tests were automated thanks to SmartViser, using its viSerDevice app. The endurance rating denotes how long the battery charge will last you if you use the device for an hour of telephony, web browsing, and video playback daily. More details can be found here.
All test results shown are achieved under the highest screen refresh rate mode. You can adjust the endurance rating formula manually so it matches better your own usage in our all-time battery test results chart where you can also find all phones we've tested.
Battery charging
The Poco X3 Pro comes with a 33W adapter and a 3A-rated USB-C cable inside the box. Xiaomi's official statement says the 33W charger should refill up to 59% in 30 mins and reach 100% in 59 mins.
Our testing revealed slightly different results - 50% in 30 mins and 100% in 68 mins. That's plenty fast, too, so we won't be nit-picking. And charging always depend on the room and internal temperature, so it can differ on different cycles
.
As you can see, the charging speed is in line with recent Redmi phones, but it's no match for Realme's 65W SuperDart Charge.
30min charging test (from 0%)
Realme 7 Pro
94%
Xiaomi Mi 11
83%
Xiaomi Redmi Note 9 Pro
63%
OnePlus Nord
60%
Realme 7
58%
Apple iPhone 12
58%
Poco X3 NFC
55%
Poco X3 Pro
50%
Xiaomi Redmi Note 10 Pro
50%
Xiaomi Redmi Note 9S
37%
Poco M3
25%
The X3 Pro's battery is pretty large with 5,160mAh capacity, and being able to recharge it for an hour or so is quite impressive, especially for a €250 phone.
Time to full charge (from 0%)
Realme 7 Pro
0:37h
Xiaomi Mi 11
0:50h
Realme 7
1:05h
OnePlus Nord
1:05h
Poco X3 Pro
1:08h
Xiaomi Redmi Note 9 Pro
1:11h
Poco X3 NFC
1:15h
Xiaomi Redmi Note 10 Pro
1:21h
Apple iPhone 12
1:30h
Xiaomi Redmi Note 9S
1:45h
Poco M3
2:30h
Speakers
The Poco X3 Pro offers what seems to be a proper stereo speaker setup. There is one grille at the bottom, while the sound comes from a hole at the top and through the earpiece grille. The two parts seem equally loud, and we find the output balanced.
The Poco X3 Pro offers a Good loudness, a hair shy from Very Good (look at the Poco X3 NFC). The speakers offer good mid- and high-tones but are lacking in bass. We'd rate the sound quality as satisfying, but we've heard a lot better.
Use the Playback controls to listen to the phone sample recordings (best use headphones). We measure the average loudness of the speakers in LUFS. A lower absolute value means a louder sound. A look at the frequency response chart will tell you how far off the ideal "0db" flat line is the reproduction of the bass, treble, and mid frequencies. You can add more phones to compare how they differ. The scores and ratings are not comparable with our older loudspeaker test. Learn more about how we test here.