Display
The Poco X3 NFC employs a 6.67" IPS LCD screen with a small punch hole for the selfie camera. The display is protected by a flat Gorilla Glass 5 piece. The maker ships the phone with a thin screen protector, but its quality was below average, and we took it off.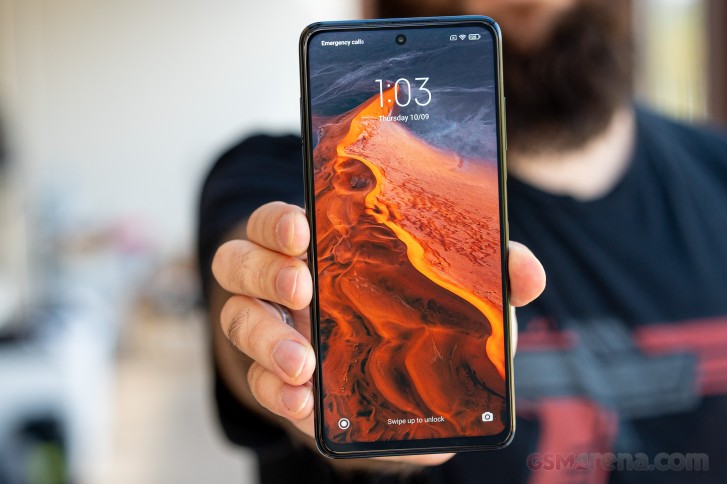 The screen resolution is 1,080 x 2,400 pixels, which makes for a 20:9 aspect ratio and sharp pixel density of 395ppi.
The X3 screen supports HDR10, and the phone's software features the highest Widevine L1 DRM support. This means you will be able to stream high-def HDR10 content from all popular streaming services like Netflix, Prime Video, YouTube.
The Poco X3 screen panel supports 120Hz refresh rate and can display up to 120fps. The 120Hz option works dynamically as usual - it is always showing MIUI 12 and its default apps at 120fps, but it reverts to 60Hz when the picture is static. You can't spot this switch with your bare eyes and that's good - the phone saves battery whenever possible and but you can't really tell it.
The touch sensors are working with a super-sensitive 240Hz sampling rate, which should be appreciated by gamers mostly.
The display maxes out at 460 nits of brightness when adjusted manually - in line with what Xiaomi promised. When set to the Auto setting and faced with bright light, it will go as high as 631 nits.
The blacks are deep enough even if not the blackest we've seen, and the contrast turned out very good at about 1300:1.
The minimum brightness we measured was just 2.7 nits.
Display test
100% brightness
Black,cd/m2
White,cd/m2
Contrast ratio
Xiaomi Poco X3 NFC
0.354
460
1299:1
Xiaomi Poco X3 NFC (Max Auto)
0.515
631
1225:1
Xiaomi Redmi K30
0.399
550
1378:1
Xiaomi Redmi K30 (Max Auto)
0.527
714
1355:1
Xiaomi Poco F2 Pro
0
516
∞
Xiaomi Poco F2 Pro (Max Auto)
0
854
∞
Xiaomi Pocophone F1
0.314
461
1468:1
Xiaomi Redmi Note 9 Pro
0.355
456
1285:1
Xiaomi Redmi Note 9 Pro (Max Auto)
0.487
616
1265:1
Xiaomi Mi 9T
0
449
∞
Xiaomi Mi 9T (Max Auto)
0
646
∞
Realme 6
0.343
451
1315:1
Realme 6 Pro
0.318
421
1324:1
Realme X3 SuperZoom
0.332
437
1316:1
Xiaomi Redmi Note 8 Pro
0.347
460
1326:1
Xiaomi Redmi Note 8 Pro (Max Auto)
0.486
640
1317:1
Before we go through our display measurements, we need to talk about ghosting. It appears that the pixel response time on this screen is not that good - there is visible ghosting when scrolling text or images in the high-refresh-rate mode. If you've handled a flagship phone with 120Hz refresh rate - you will spot the difference in scrolling immediately. The UI appears smooth and responsive, but scrolling text or similar black content causes smearing (or ghosting as it's known). It's just a visual deficiency and it may bother some people more than others but it's there.
Xiaomi offers three different Color presets - Auto, Saturated, and Standard - each one representing a specific color space.
The Auto option fully covers the DCI-P3 color space, but it also adjusts the colors to correspond to your current lighting (like Apple's True Tone). In normal daylight conditions in our office, we measured an average deltaE of 6.9 against DCI-P3 targets. It can get a bit more or less accurate depending on the type of ambient light. The whites and grays will always have a noticeable blue tinge though unless you tweak the color temperature manually.
The Standard setting corresponds to sRGB, and we recorded an average deltaE of 3.3 for the color accuracy, meaning it is a pretty good one.
Finally, the Saturated makes the colors pop, and they are no longer as accurate to DCI-P3.
Battery life
The Poco X3 NFC is powered by a large 5,160 mAh battery, and 33W fast charging is supported.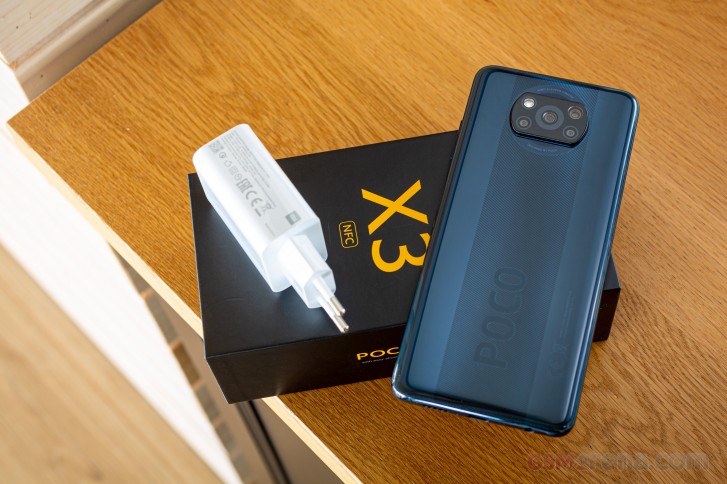 The Poco X3 NFC completed our battery life test with flying colors. It can last 33 hours on a call, 17+ hours browsing online or 14+ hours on video playback. The X3 also performed brilliantly when in standby mode and everything came together for an outstanding endurance score of 125 hours.
Note: All screen-on tests were carried in 60Hz refresh rate since there is no way of forcing 120Hz and the phone dials down the refresh rate to 60Hz during fullscreen video playback and when there is no touch input for the web browser.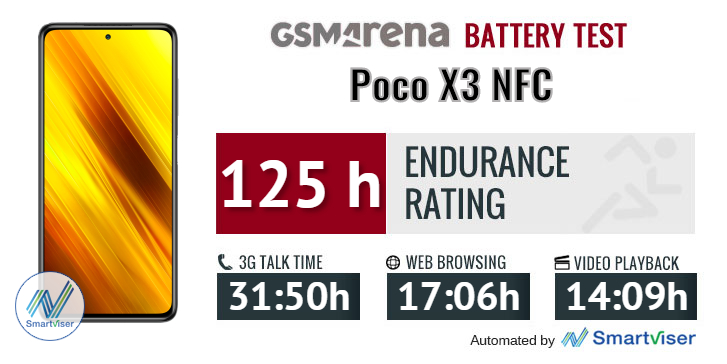 Our battery tests were automated thanks to SmartViser, using its viSerDevice app. The endurance rating above denotes how long a single battery charge will last you if you use the Poco X3 NFC for an hour each of telephony, web browsing, and video playback daily. We've established this usage pattern so that our battery results are comparable across devices in the most common day-to-day tasks. The battery testing procedure is described in detail in case you're interested in the nitty-gritty. You can check out our complete battery test table, where you can see how all of the smartphones we've tested will compare under your own typical use.
Charging speed
The Poco X3 NFC ships with a 33W adapter and a proper 3A-rated USB-C cable. Xiaomi's official statement says the 33W charger should be refilling 62% in 30 mins and 100% in 65 mins.
We put that to the test, of course, and we got slightly different results - 55% in 30 mins and 100% in 75 mins. That's plenty fast, too, even if it took 10 mins longer than promised.
As you can see the charging speed is in line with recent Mi and Redmi phones and also a match for the Nord's Warp Charge.
30min charging test (from 0%)
Xiaomi Redmi Note 9 Pro
63%
OnePlus Nord
60%
Xiaomi Redmi K30
56%
Poco X3 NFC
55%
Xiaomi Mi 10 Lite 5G
55%
Xiaomi Mi Note 10 Lite
53%
Xiaomi Mi 9T
45%
Xiaomi Redmi 9 (18W)
33%
The X3's battery is pretty large with 5,160mAh capacity and being able to recharge it for an hour or so is fantastic.
Time to full charge (from 0%)
OnePlus Nord
1:05h
Xiaomi Redmi K30
1:09h
Xiaomi Redmi Note 9 Pro
1:11h
Xiaomi Mi Note 10 Lite
1:14h
Poco X3 NFC
1:15h
Xiaomi Mi 10 Lite 5G
1:16h
Xiaomi Mi 9T
1:40h
Stereo speakers
The Poco X3 NFC has a hybrid stereo speaker setup - the earpiece acts as one, and there is another one at the bottom of the phone.
The Poco X3 NFC offers Very Good loudness. The earpiece provides good enough bass and high tones, but it seems to be lacking big time in mid-tones, unfortunately.
Use the Playback controls to listen to the phone sample recordings (best use headphones). We measure the average loudness of the speakers in LUFS. A lower absolute value means a louder sound. A look at the frequency response chart will tell you how far off the ideal "0db" flat line is the reproduction of the bass, treble, and mid frequencies. You can add more phones to compare how they differ. The scores and ratings are not comparable with our older loudspeaker test. Learn more about how we test here.