MIUI 12.5 with POCO spices on top of Android 11
The Poco M4 Pro 5G boots Android 11 with Poco-spiced MIUI 12.5 out of the box. The MIUI 12 version has been around for a while, and even if it uses an Android 11 base, you can't really tell that as it skins everything thoroughly. The Poco launcher uses a slightly different system theme, icons included, but you can change it to your liking.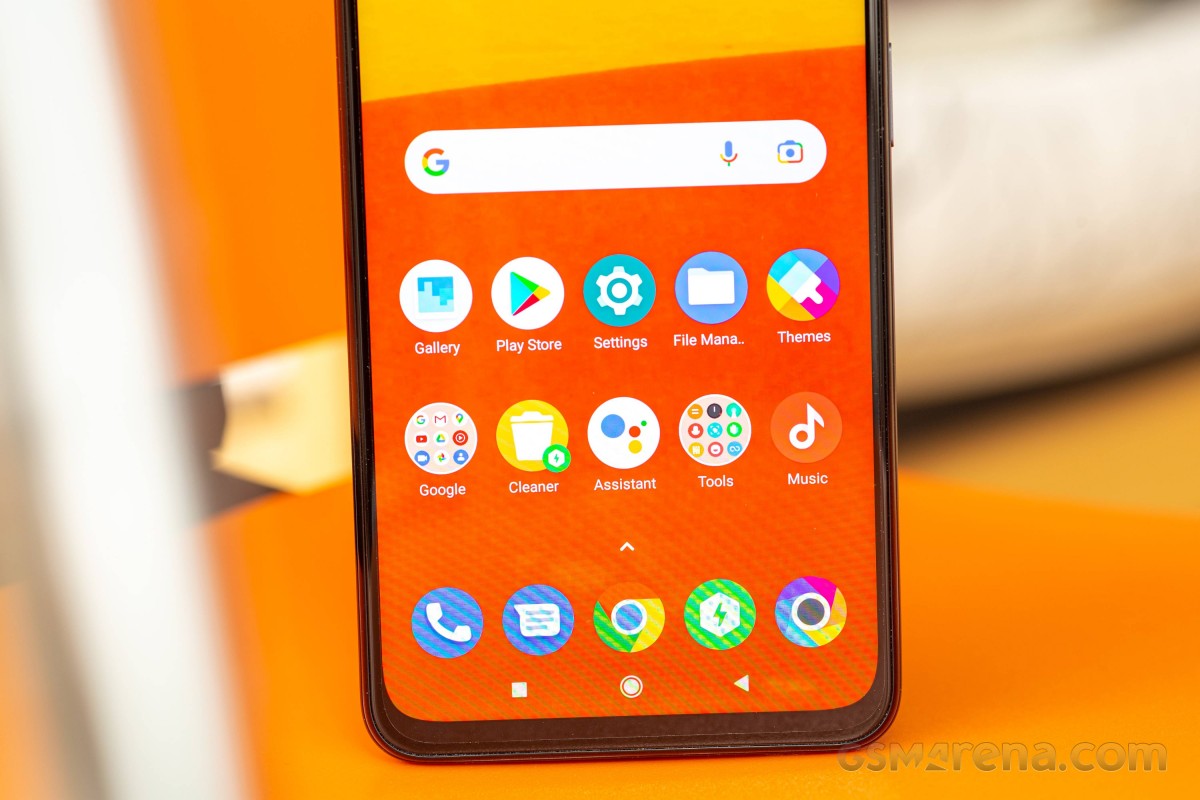 You unlock the screen via the side-mounted fingerprint scanner. The reader is easy to set up, blazing-fast, and the accuracy is superb.
We advise you to set the unlock method to 'Press' as the always-on reader will often attempt reading your palm and/or other fingers and eventually disable the fingerprint unlock until you input your PIN. A 2D Face Unlock is available, too, but it is far less secure than the fingerprint option.
The homescreens are business as usual - they are populated with shortcuts, folders, and widgets. The leftmost pane, if enabled, is Google's Discover.
The Poco M4 Pro 5G does not support an Always-on screen, there are no Super Wallpapers either.
The Poco-fied MIUI 12 offers an app drawer, but unlike on the Redmi phones, you cannot disable it on the Poco M4 Pro 5G. It automatically organizes your apps into categories. The first is All, meaning it contains all apps. Then follow Communication, Entertainment, Photography, Tools, New, and Business. You can edit these categories or even disable them altogether.
The Notification shade is split into Notification Center and Control Center. Indeed, this is precisely what the iPhones do, and you even summon them in the same fashion - pull down from the left part of the screen for the Notification Center, pull down from the right for the Control Center.
If you are not fond of this split design - you can disable the Control Center, and the shade will revert to its normal looks and operation.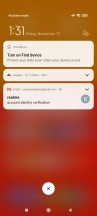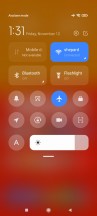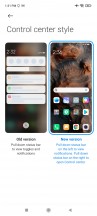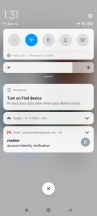 Notification Center • Control Center • Options • The old Notification Shade
The task switcher has not changed much. It shows all of your recent apps in two columns. Tap and hold on a card for the split-screen shortcut, or just swipe it left or right to close it.
The Poco M4 Pro 5G can do split-screen, but it doesn't support Floating Window, at least not from the Task Switcher. You can shrink some system apps like the Calculator into a floating window, but this can only happen from within the app itself.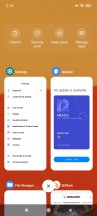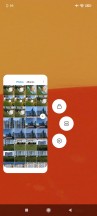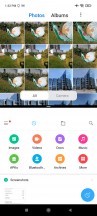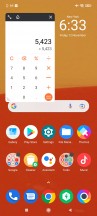 Task Switcher • Split screen • Split screen • Pop-up window
Themes are a huge part of MIUI, and they are available on MIUI 12, too. You can download new ones from the Themes store, and they can change wallpapers, ringtones, system icons, and even the always-on display style.
Xiaomi enhanced MIUI 12 with a couple of additional privacy options. Now, when sharing stuff, like photos and videos, you can opt to remove location info and/or other metadata (incl. device info) and thus protect your privacy better. Neat.
MIUI also offers a Security app. It can scan your phone for malware, manage your blacklist, manage or restrict your data usage, configure battery behavior, and free up some RAM. It can also manage your installed apps' permissions and allow you to define the battery behavior of selected apps and apply restrictions only to the apps you choose.
MIUI 12 packs proprietary Gallery, Music, and Video player. In some regions, the music and video apps may include paid streaming options. Mi Remote for the IR blaster, as well as an FM radio app, are available, too.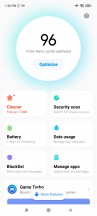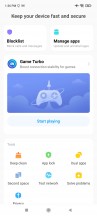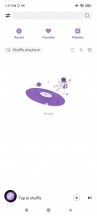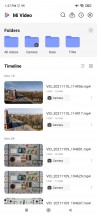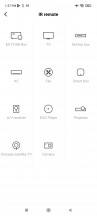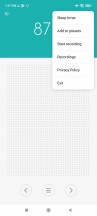 Security • Security • Music • Video • Mi Remote • FM radio
MIUI 12 supports Dark Mode, too, and you can even force it on wallpapers or restrict its application on incompatible individual apps.
MIUI 12 is fully optimized to work on HRR displays, and it looks great on the Poco M4 Pro 5G. Everything is smooth and fast; animations are unobtrusive yet impressive, the attention to detail is excellent. We did enjoy working with MIUI on the Poco M4 Pro 5G's 90Hz screen for sure.
Some MIUI ROMs include ads in the default apps; it is a well-known thing.
The international ROM version of this Poco M4 Pro 5G does come with baked-in "recommendations" or ads, but even if they were enabled by default - nothing appeared through the UI. Still, if your phone does show ads - you can disable those even if it's a bit tedious to do it. For example, if you are annoyed by the app scanner's ads, just hit the settings gear and disable recommendations. Ads in the File Manager - Settings->About should do it. Themes - go to Settings and disable Recommendations. It's not ideal, sure, but at least you can get rid of them all.
Performance and benchmarks
The Poco M4 Pro 5G utilizes one of the most basic MediaTek's 5G chips - the Dimensity 810. It is a refreshed Dimensity 700 (in Poco M3 Pro 5G) with more powerful big CPU cores and more efficient 6nm fabrication processes (vs. 7nm for Dimensity 700).
The Dimensity 810 5G chip packs an octa-core processor with 2x 2.4GHz Cortex-A76 and 6x 2.0GHz Cortex-A55. The big A76 cores clock has been increased from 2.2GHz up to 2.4GHz.
The GPU is still Mali-G57 MC2, but its clock has dropped from 950MHz down to 850MHz. Weird, indeed.
The chip includes an improved 5G modem and ISP.
Finally, the Poco M4Pro 5G is available in two variants, all containing LPDDR4X RAM and UFS 2.2 storage - 4GB RAM + 64GB and 6GB RAM + 128GB.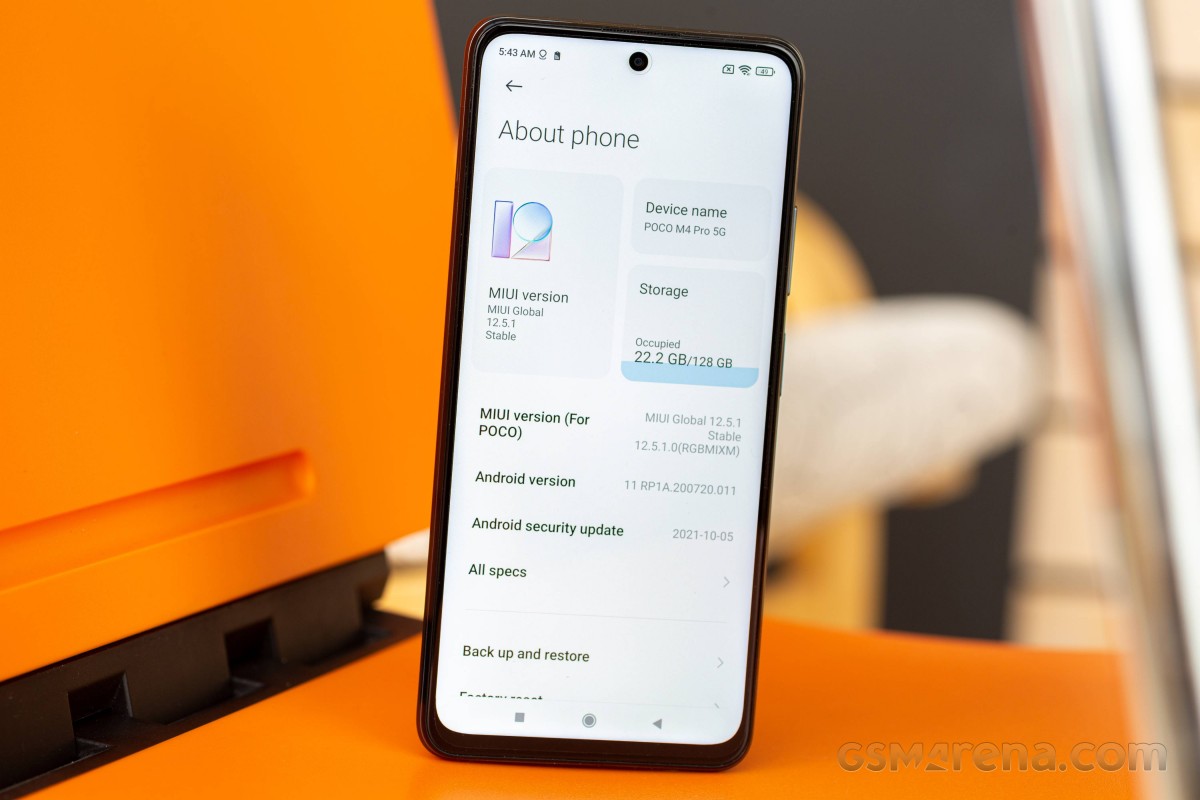 The CPU benchmark scores are great, and indeed, the M4 Pro offers more than adequate performance.
Note that we couldn't run benchmarks on the Poco M3 Pro 5G and its Dimensity 700, but you can use Realme 8 5G for reference - it has the same SoC.
GeekBench 5 (multi-core)
Higher is better
Poco M4 Pro 5G
1797
Realme 7 5G
1794
Realme 8 5G
1784
Xiaomi Redmi Note 10 Pro
1780
Samsung Galaxy A22 5G
1719
Samsung Galaxy A32 5G
1673
Xiaomi Redmi Note 10
1599
Poco M3
1398
Samsung Galaxy A32
1277
GeekBench 5 (single-core)
Higher is better
Realme 7 5G
598
Poco M4 Pro 5G
597
Realme 8 5G
569
Xiaomi Redmi Note 10 Pro
569
Samsung Galaxy A22 5G
560
Xiaomi Redmi Note 10
534
Samsung Galaxy A32 5G
505
Samsung Galaxy A32
361
Poco M3
308
Even if the GPU clock is theoretically lower, the GPU scores are plenty adequate for the class and in line with the Dimensity 700 in the Realme 8 5G. We did hope for a minor upgrade, though.
GFX Manhattan ES 3.1 (onscreen)
Higher is better
Realme 7 5G
31
Poco M4 Pro 5G
23
Realme 8 5G
22
Samsung Galaxy A22 5G
21
Xiaomi Redmi Note 10
15
Samsung Galaxy A32
13
Poco M3
11
GFX Car Chase ES 3.1 (onscreen)
Higher is better
Realme 7 5G
17
Xiaomi Redmi Note 10 Pro
16
Poco M4 Pro 5G
13
Realme 8 5G
13
Samsung Galaxy A22 5G
12
Samsung Galaxy A32
8.1
Xiaomi Redmi Note 10
7.9
Poco M3
5.9
3DMark Wild Life Vulkan 1.1 (offscreen 1440p)
Higher is better
Realme 7 5G
1589
Poco M4 Pro 5G
1232
Samsung Galaxy A32 5G
1185
Realme 8 5G
1104
Samsung Galaxy A22 5G
1104
Samsung Galaxy A32
686
Xiaomi Redmi Note 10
482
Poco M3
368
Finally, AnTuTu puts the Poco M4 Pro 5G among the top performers in its price bracket.
AnTuTu 8
Higher is better
Realme 7 5G
318535
Realme 8 5G
302059
Poco M4 Pro 5G
296721
Xiaomi Redmi Note 10 Pro
295442
Samsung Galaxy A22 5G
242155
Samsung Galaxy A32 5G
226561
Xiaomi Redmi Note 10
218788
Poco M3
177904
Samsung Galaxy A32
174332
AnTuTu 9
Higher is better
Realme 8 5G
361505
Poco M4 Pro 5G
353663
Samsung Galaxy A22 5G
223188
Samsung Galaxy A32 5G
222125
Finally, we ran the two stress tests we always do - CPU Throttle and 3D Mark Wild Life.
The Poco M4 Pro 5G did very well on the CPU Throttle test by keeping 79% of its maximum performance during an hour of 100% CPU usage. Then it scored 99.4% stability on the 3D Mark Stress Test - an excellent result.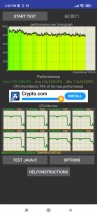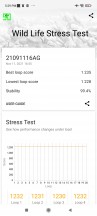 CPU stress test • GPU stress test
Obviously, the Poco M4 Pro 5G is not a powerhouse, but it behaves very well under pressure. The phone doesn't overheat, nor does it throttle. We did not observe any unpleasant hot spot around its body either.
The UI runs smoothly under 90Hz, but we observed lag in some busier menus with many app icons. The same goes for some more demanding games. Sure, no game will be able to achieve 90fps; we are talking for noticeable drops under 30fps. You can, of course, tweak game graphics and lower resolution - this way, you can enjoy a smooth gaming experience for quite some time at that.
Yes, the Poco M4 Pro 5G is not a gaming phone, but, if necessary, it can put a good show provided you play with the graphics settings. For everything else, it will give you mostly smooth interface experience and scrolling, and that's enough for a budget 5G smartphone.