Great OLED for the money
One of the areas where the 4G version of the Poco M4 Pro has a notable advantage over the 5G one is the display. The M4 Pro (non-5G) is the first M-series phone to come with an OLED panel, and it's a pretty well specced one too. You get a 1080p resolution on a 6.43-inch diagonal for a pixel density of 409ppi and a 90Hz refresh rate with 180Hz touch sampling. Compare that to the 6.6-inch LCD of the M4 Pro 5G (same 1080p resolution and refresh rate).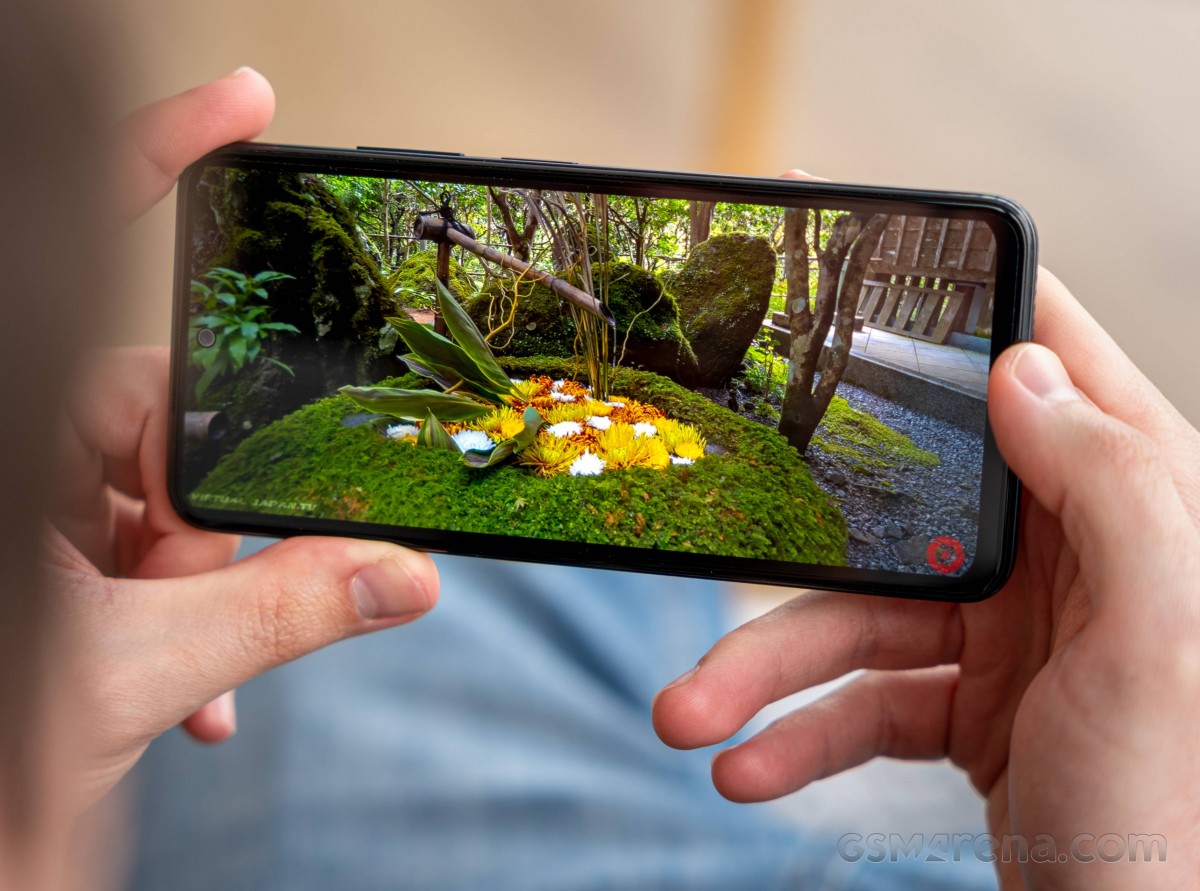 In our testing, it proved to be brighter too, going all the way up to 737nits in bright ambient light conditions and with Auto brightness enabled. The number goes well with Poco's claims for 700nits in high brightness mode, so their promised 1000nits of peak brightness can likely be achieved too for smaller lit up areas. Operating the slider manually without the sun shining into the Poco, we measured 462nits.
The results are nearly identical to what we measured on the Redmi Note 11, and it's the same panel, by all accounts. We'd say it's a great performance for a phone at this price.
Display test
100% brightness
Black,cd/m2
White,cd/m2
Contrast ratio
Poco M4 Pro 5G
0.264
410
1553:1
Poco M4 Pro 5G (Max Auto)
0.33
510
1545:1
Poco M4 Pro
0
462
∞
Poco M4 Pro (Max Auto)
0
737
∞
Poco M3 Pro 5G
0.28
413
1475:1
Poco M3 Pro 5G (Max Auto)
0.366
536
1464:1
Samsung Galaxy A32
0
393
∞
Samsung Galaxy A32 (Max Auto)
0
814
∞
Samsung Galaxy A22 5G
0.236
385
1631:1
Nokia G21
0.268
437
1631:1
Nokia G21 (Max Auto)
0.333
500
1502:1
Xiaomi Redmi Note 11
0
465
∞
Xiaomi Redmi Note 11 (Max Auto)
0
736
∞
Realme 8s 5G
0.311
411
1322:1
Realme 8s 5G (Max Auto)
0.383
530
1384:1
Realme 8i
0.348
433
1244:1
Realme 8i (Max Auto)
0.475
540
1137:1
Samsung Galaxy A22
0
391
∞
Samsung Galaxy A22 (Max Auto)
0
597
∞
The Color scheme menu in settings gives you three preset options - the out-of-the-box Vivid, Saturated that offers extra pop, and Standard, for a more toned down look. There are also Warm and Cool buttons to alter the color temperature as well as a color wheel for manual tweaking. There isn't the 'Advanced settings' option found on pricier Xiaomi phones that gives you a host of other sliders for further adjustment.
Vivid mode offers a wide color gamut and was decently accurate for our DCI-P3 test swatches though there was a strong bluish cast to the white and gray ones. Opting for the Warm preset reigned them in a bit and improved the overall accuracy somewhat. Saturated mode pushes things over the edge, but if you prefer that overtly colorful early OLED look, this is your mode. Standard, meanwhile, is superbly accurate for displaying sRGB content.
The Poco M4 Pro has no HDR capability, so despite the nice display, you won't be getting HDR streams from popular platforms, not even YouTube. That's a bit odd, given that the Redmi Note 11 supports HDR10, but corners may have been cut for the Poco when it comes to certifications. There is a Widevine L1 DRM certification so you can get high-res content - Netflix, for example, serves FullHD streams.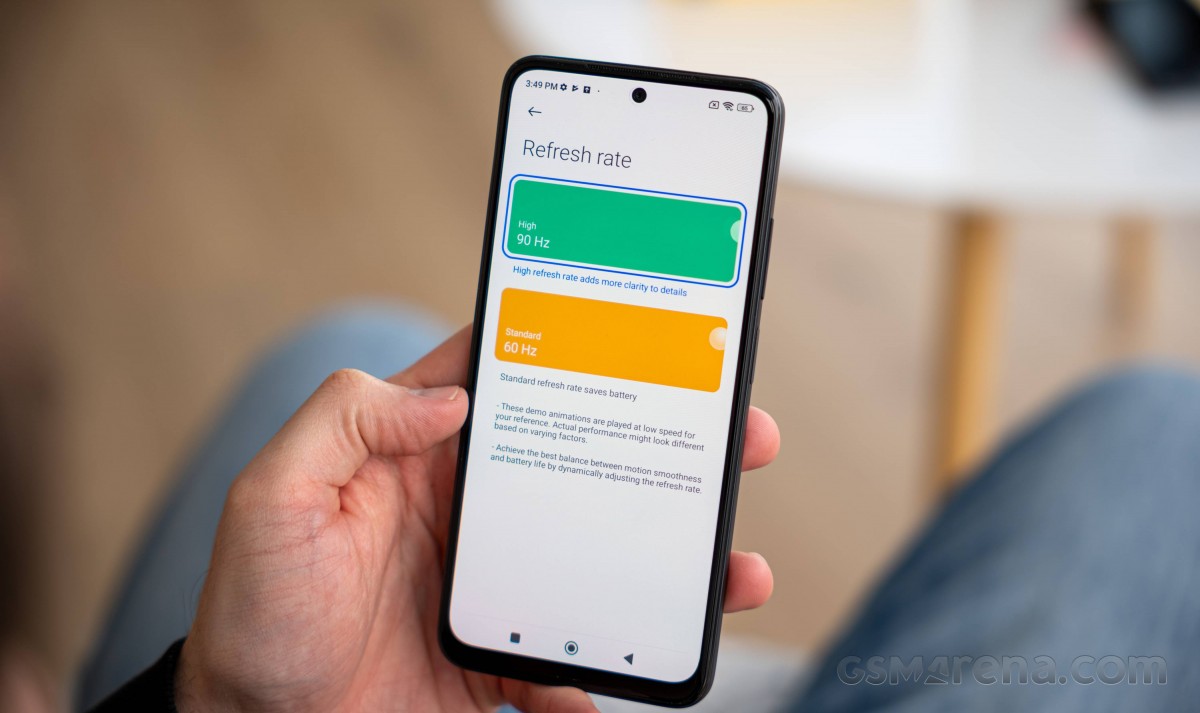 When it comes to refresh rate management, things are fairly simple on the Poco M4 Pro. The 60Hz Standard mode keeps everything at 60Hz, while the 90Hz High mode goes up to 90Hz with some basic app-based and inactivity-triggered switching to 60Hz.
In High mode, the phone will switch down to 60Hz in most apps if you don't touch the screen for a few seconds, while browsers will maintain 90Hz if there's moving content being displayed. Video apps, meanwhile, will be locked at 60Hz. The full 90Hz refresh rate is available in gaming, though you may not be able to get all that many fps in more demanding 3D titles because of the relatively modest GPU.
Poco M4 Pro battery life
The Poco M4 Pro has a 5,000mAh battery inside, a rather standard capacity for the class and the times. It's not a particularly efficient chipset at the helm, the 12nm Mediatek G96, but it's not a very powerful one either, so it shouldn't be overly taxing on the battery. Couple that with a relatively small display (as opposed to 6.7-ish-inch ones that are widely available), battery life could be a strong selling point, we theorized going into the tests.
And indeed, the Poco delivered. We clocked 20h of video playback (at 60Hz) and over 15h of web browsing over Wi-Fi (this one at 90Hz). With close to 39h of voice call capability and frugal standby consumption, the overall Endurance rating worked out to 126h.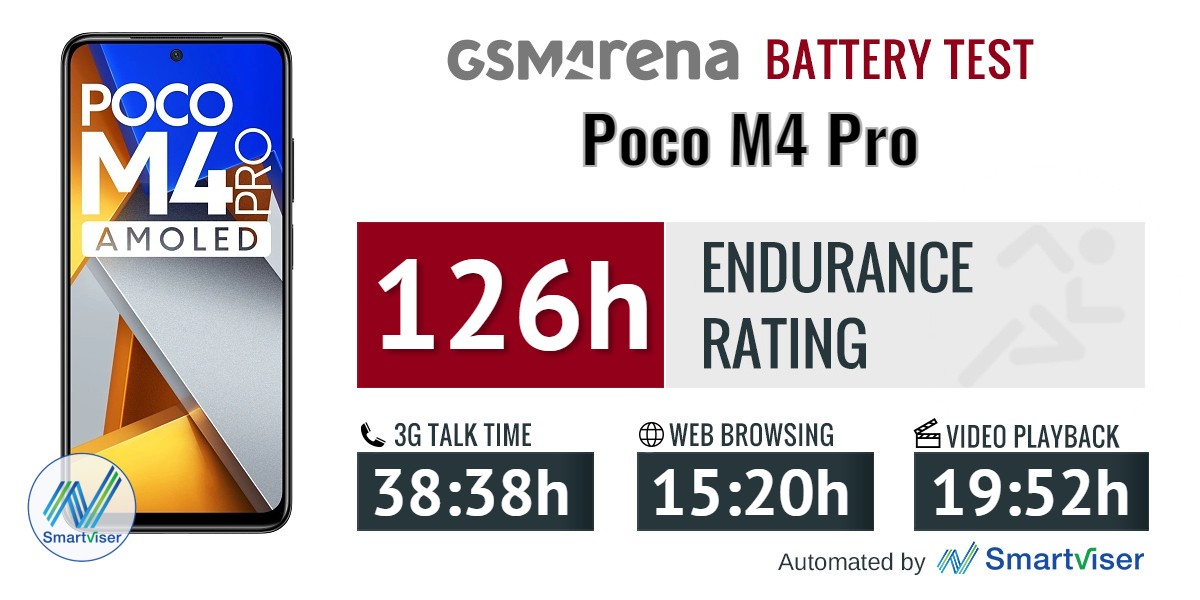 Our battery tests were automated thanks to SmartViser, using its viSerDevice app. The endurance rating denotes how long the battery charge will last you if you use the device for an hour of telephony, web browsing, and video playback daily. More details can be found here.
Video test carried out in 60Hz refresh rate mode. Web browsing test done at the display's highest refresh rate whenever possible. Refer to the respective reviews for specifics. To adjust the endurance rating formula to match your own usage - check out our all-time battery test results chart.
Charging speed
The Poco M4 Pro lasts long, but when it inevitably ends up needing to charge, it does so really fast - for a phone in this price range, that is. The bundled 33W adapter got us to 51% in half an hour and took 70min from flat to 100%.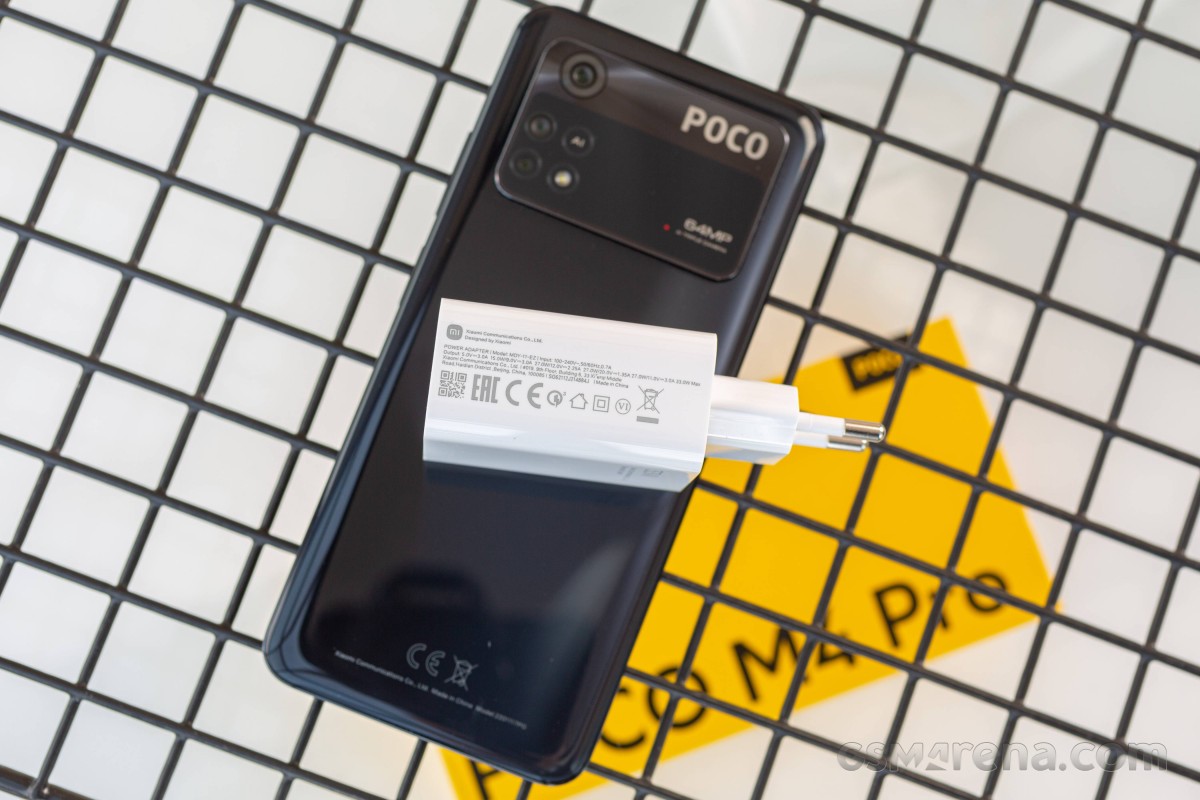 It's the same result at the 30-minute mark as we got out of the Redmi Note 11 (with the same 33W charger), though the Poco proved slightly quicker to full. We've gotten results all over the place from this 33W unit between different Xiaomi phones (or Xiaomi-related, as is the case here), so we're not too surprised.
30min charging test (from 0%)
Higher is better
Poco M4 Pro 5G
54%
Poco M4 Pro
51%
Xiaomi Redmi Note 11
51%
Realme 8s 5G
50%
Nokia G21 (65W PD)
37%
Poco M3 Pro 5G
33%
Xiaomi Redmi Note 11 (65W PD)
31%
Realme 8i
30%
Samsung Galaxy A32
25%
Samsung Galaxy A32 5G
23%
Samsung Galaxy A22 5G
23%
Nokia G21
22%
Time to full charge (from 0%)
Lower is better
Poco M4 Pro 5G
1:07h
Poco M4 Pro
1:10h
Realme 8s 5G
1:14h
Xiaomi Redmi Note 11
1:18h
Xiaomi Redmi Note 11 (65W PD)
1:42h
Poco M3 Pro 5G
2:00h
Nokia G21 (65W PD)
2:09h
Samsung Galaxy A32
2:19h
Realme 8i
2:21h
Samsung Galaxy A32 5G
2:24h
Samsung Galaxy A22 5G
2:29h
Nokia G21
2:49h
Speaker test
The Poco M4 Pro has a stereo speaker setup with a typical Xiaomi arrangement, where the earpiece doubles as a second channel and that top speaker fires from the top as well, not just forward through the earpiece mesh. As such, you can expect sound to spill out more easily when on a call.
The channel allocation logic is standard, with the top speaker getting the left channel in portrait orientation and the phone switching channels to match the correct orientation in landscape. The two speakers aren't equal in their loudness and tonal response - the bottom one is superior, but there's a firm channel divide, and the bottom driver isn't helping with the top one's lows.
The Poco M4 Pro's result in our testing put it in the 'Very Good' category for loudness, the same as the 5G version and the Redmi Note 11. The Poco does sound different than either of those - not necessarily worse, just different. For example, the 5G variant has more presence in the bass region than the 4G one, while the Redmi is a bit more vocals-forward. Overall, it's a good, neutral showing from the M4 Pro.
Use the Playback controls to listen to the phone sample recordings (best use headphones). We measure the average loudness of the speakers in LUFS. A lower absolute value means a louder sound. A look at the frequency response chart will tell you how far off the ideal "0db" flat line is the reproduction of the bass, treble, and mid frequencies. You can add more phones to compare how they differ. The scores and ratings are not comparable with our older loudspeaker test. Learn more about how we test here.