Display brightness, resolution
The Poco F4 GT has a perfectly adequate display that can easily qualify as excellent for its price point. It's bright enough to be seen outdoors even on a sunny summer day, even though it doesn't break any brightness records. Similarly, it gets dim enough not to feel uncomfortable to use in a pitch-black environment, but we do wish more third-party phone makers would incorporate Google's "Extra Dim" feature in their skins already. For those sensitive to light, it would be a real boon to be able to dim the screen even further than what it's like at its dimmest setting as it is. Alas, MIUI has no trace of that feature yet, hopefully that will change in the future.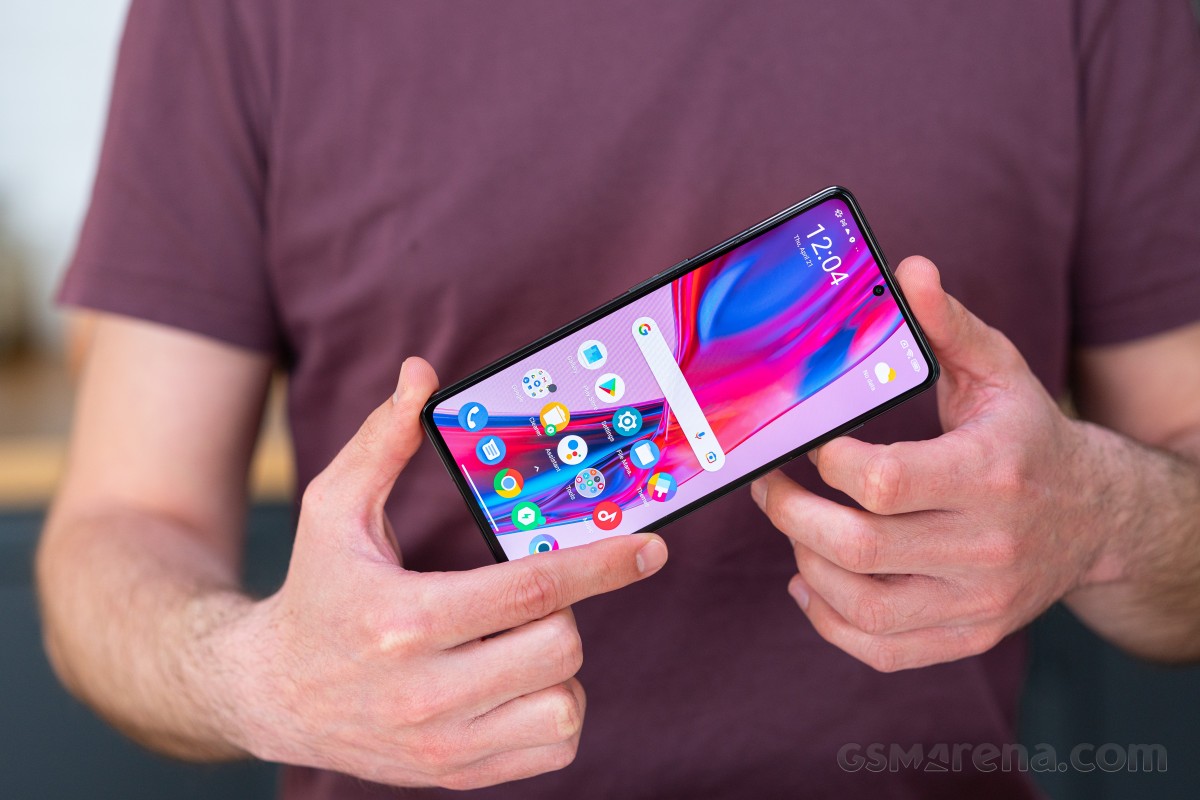 The auto brightness curve is excellent, in our subjective opinion. We only had to manually adjust it a few times here and there where it went a little too bright indoors, but even then, most people would probably have been fine with what the phone presented. It's always refreshing to use a handset with a good auto brightness curve for a long period of time, as one of the minute frustrations (having to constantly adjust it) simply doesn't feature at all.
Resolution-wise, this isn't the top dog for sure. And yet, as we mentioned countless times already, most recently in our Xiaomi 12 Pro long-term review, we're very, very doubtful that most people would be able to tell the difference between such an "FHD+" panel and a "QHD+" one in real life, by looking at the screen at normal usage distances. And while you may feel like a gaming phone with a flagship chipset would have deserved a higher-res display, we're sure that would have driven the price up. Tradeoffs are hard.
Screen quality, Reading mode
The screen's quality is great, with the Original color mode hitting sRGB pretty spot-on, although you may struggle to get P3 accuracy if that's something you're after, as the default Vivid color mode skews whites and grays towards blue rather significantly. Using the Warm preset does help with that, but it also makes everything a bit too yellow.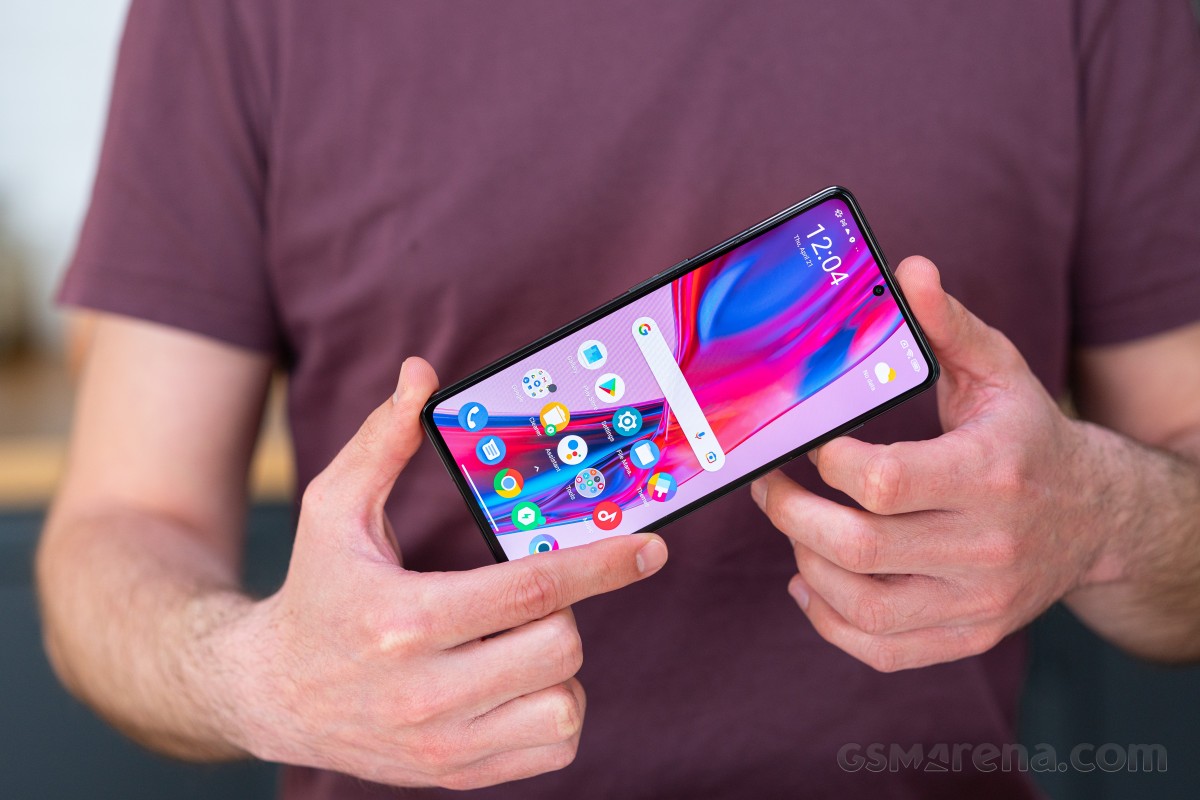 Speaking of which, the Poco F4 GT's Reading mode blue light filter is probably the yellowest we've ever encountered. We're not saying that as if it's a disadvantage, but it is something you should keep in mind if you use blue light filters a lot. Most of them, if you take the intensity slider all the way to the maximum, will skew orange. Not this one, it's yellow all the way, and if you're used to others, it might seem jarring at first: it's very yellow. Then again, we got used to it in a few days, and in all likelihood, you will too.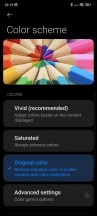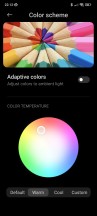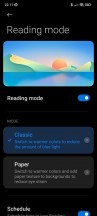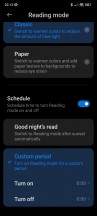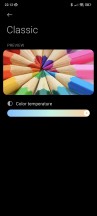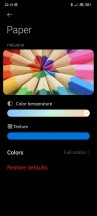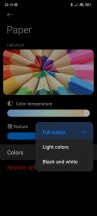 Color scheme and Reading mode settings
MIUI's blue light filter is still the most comprehensive one on the market, with all the usual features like the aforementioned intensity slider, scheduling abilities (including sunset to sunrise as well as custom ranges), but topping everyone else with its "Paper" textured mode (with its own, separate intensity slider), as well as the ability to make the screen show "light colors" (read: somewhat desaturated) and black-and-white. It's the full package, it's a blue light hater's dream, and it's something we keep wishing other UIs would be inspired by, although this hasn't happened so far.
Refresh rate
The Poco F4 GT's display refreshes at 120 Hz. So far, so good. The way the setting is implemented, however, is highly annoying - we're happy that we only had to set this once. There's a Default mode, which does whatever it wants to the rate, and then there's Custom. Only after picking that do you get a choice of 60 Hz and 120 Hz, and what you should do is go with the latter. There's no point in buying a phone with a high refresh rate screen and then not using that.
You must, however, note that setting 120 Hz here doesn't make the panel always refresh at 120 Hz. It's basically a setting of the maximum allowed, but badly mislabelled. Even in this mode, the phone will go lower when you play videos, inside Google Maps, and in the camera app. Games that support high frame rates do get the full 120 Hz, though, which is good to see.
Let's take a moment here and lament that Google Maps, an app that would benefit from a high refresh rate, is capped at 60 Hz. Aside from that, you'll only notice a lack of refresh rate in the Camera app, as already noted. Otherwise, this always feels like it's using the highest refresh rate, and that makes for a great user experience.
Always-on display
The Always-on display can be set to actually be always on, unlike what we've seen on some Redmi models. There are other options, too - for it to show based on a custom schedule or for ten seconds after tapping the screen. While we have, during the years, enjoyed properly always-on Always-on displays, recently we find ourselves really liking the "ten seconds after tap" option since we use the phone a lot anyway throughout the day. Obviously, you might enjoy some other setting more; the point is that there are enough options for everyone here.
That theme continues when it comes to what the Always-on Display should look like. You get a comprehensive list of analog and digital clocks, as well as various image backgrounds and the 'Kaleidoscope' option, which is always intriguing and nice to look at. Overall, MIUI's AOD implementation is still among the most customizable out there, and that's a good thing in our book - you can go with the defaults if you don't want to mess about with it too much, or you can really fine tune it to your preferences if you're so inclined.
Performance, smoothness
As a gaming phone, the Poco F4 GT should perform amazingly; otherwise, what's the point, right? We're happy to report that it does, in fact, live up to the expectations, but only as far as the Snapdragon 8 Gen 1 lets it. While this is a true flagship chipset in all respects and will feel like that for any sort of casual use (including casual gaming), it does have very well-documented overheating problems, and the Poco F4 GT can't escape those completely, no matter how big a cooling system it employs.
Don't get us wrong, the dual vapor chamber is huge but put the phone through a throttling test, and it drops to about two-thirds after a few (around ten) minutes, without fail. So the usual Snapdragon 8 Gen 1 thing, then. Therefore, if you are a heavy pro gamer who needs all the performance all the time, we suggest picking a device with the Snapdragon 8+ Gen 1 SoC inside - it has much improved thermals.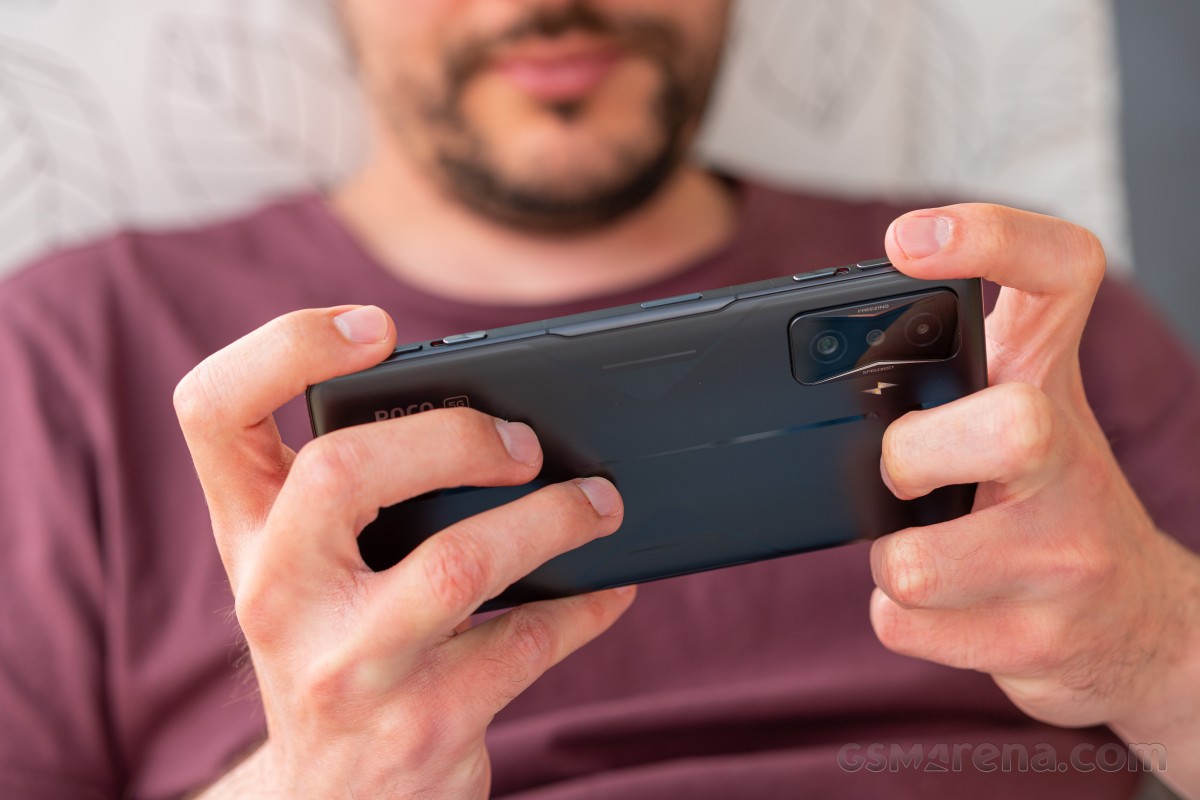 For everyone who isn't a heavy pro gamer, all of the above won't matter, as the Poco F4 GT still feels very much like a top-of-the-line device in use no matter what you throw at it - aside from throttling tests and long heavy gaming sessions, that is.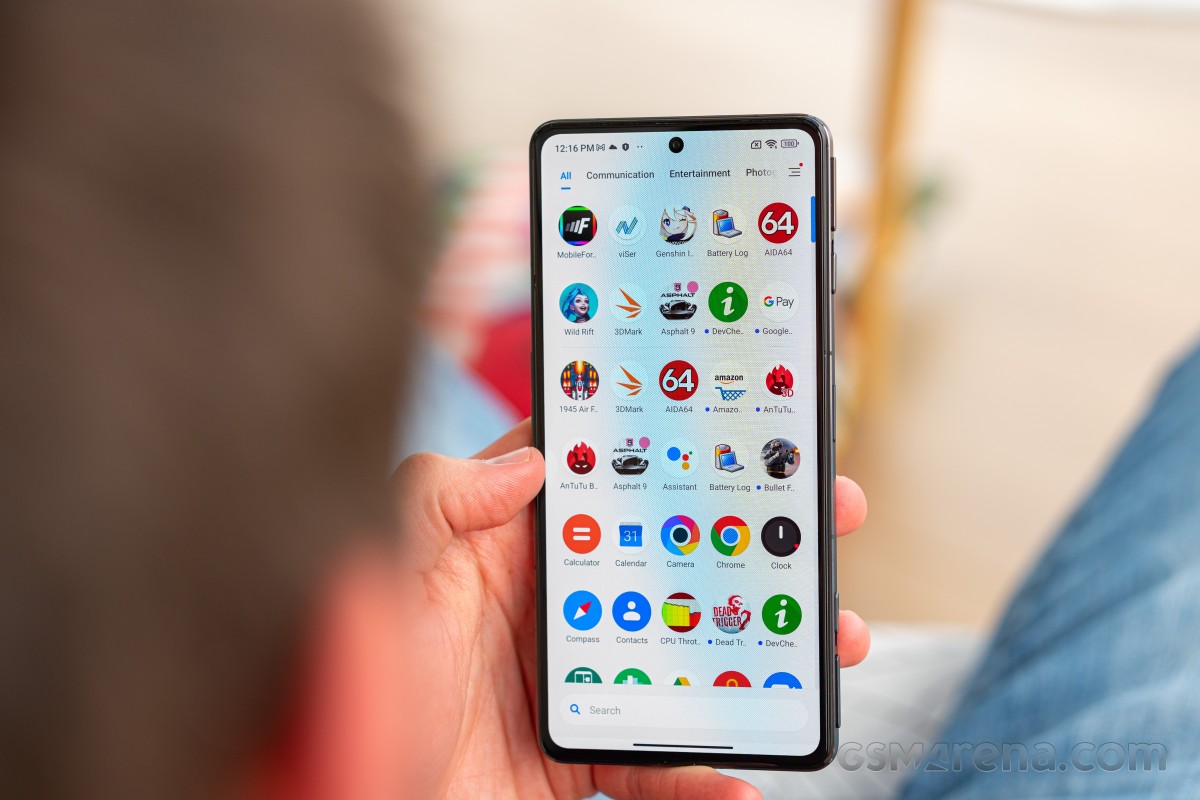 With that out of the way, let's turn our attention to smoothness, everyone's favorite subjective 'metric' that can't easily be gleaned from a spec sheet. The Poco F4 GT is among the smoothest phones we've ever used for a long-term review; in fact, it's tied with the Xiaomi 12 Pro in second place. The OnePlus 10 Pro still manages an ever-so-slight edge, but the Poco is nothing to scoff at. It's smoother than most other smartphones out there, and we've thoroughly enjoyed using it every single day because of that.
Battery life, charging
Throughout our time with it for this long-term review, the Poco F4 GT showed admirable longevity. Battery life has been excellent with our use case, detailed below. We've never reached the end of a day with no charge to spare, and we've always managed at least 6 hours of Screen-On time. On some good days, we saw more than 7 hours, and while that's not chart-topping, it's pretty close.
The best battery life we've ever seen with similar use for a long-term review would go over 7 hours of screen on time each day, and over 8 hours on some occasions. The Poco isn't quite there, but it is close, and it was incredibly consistent every day - we haven't seen any weird ups and downs. That's definitely commendable, but much more exciting than battery life is charging time.
Even though we're starting to see more and more 100W+ wired charging systems out there in various smartphones, it's still impossible to overstate how much peace of mind these can give you - and in the Poco F4 GT's case, that's added peace of mind on top of the already great battery life.
Our typical use case involves around 12-16 hours off the charger on any given day, with primarily Wi-Fi 6 connectivity, about an hour or so of 5G mobile data, location always on and half an hour to an hour of GPS navigation via Waze, Bluetooth always on and about an hour or two of listening to music or podcasts via TWS earbuds each day, as well as about an hour of phone calls.
With this type of use, we never needed a midday top-up, but even if your use case is much more strenuous (a lot of mobile data connectivity where the signal isn't great, for example), all you need is to have the charger and the cable that come in the box with you. Zero to full takes an insane 17 minutes if you tap the Boost button after you plug in, and around 20-21 minutes if you don't.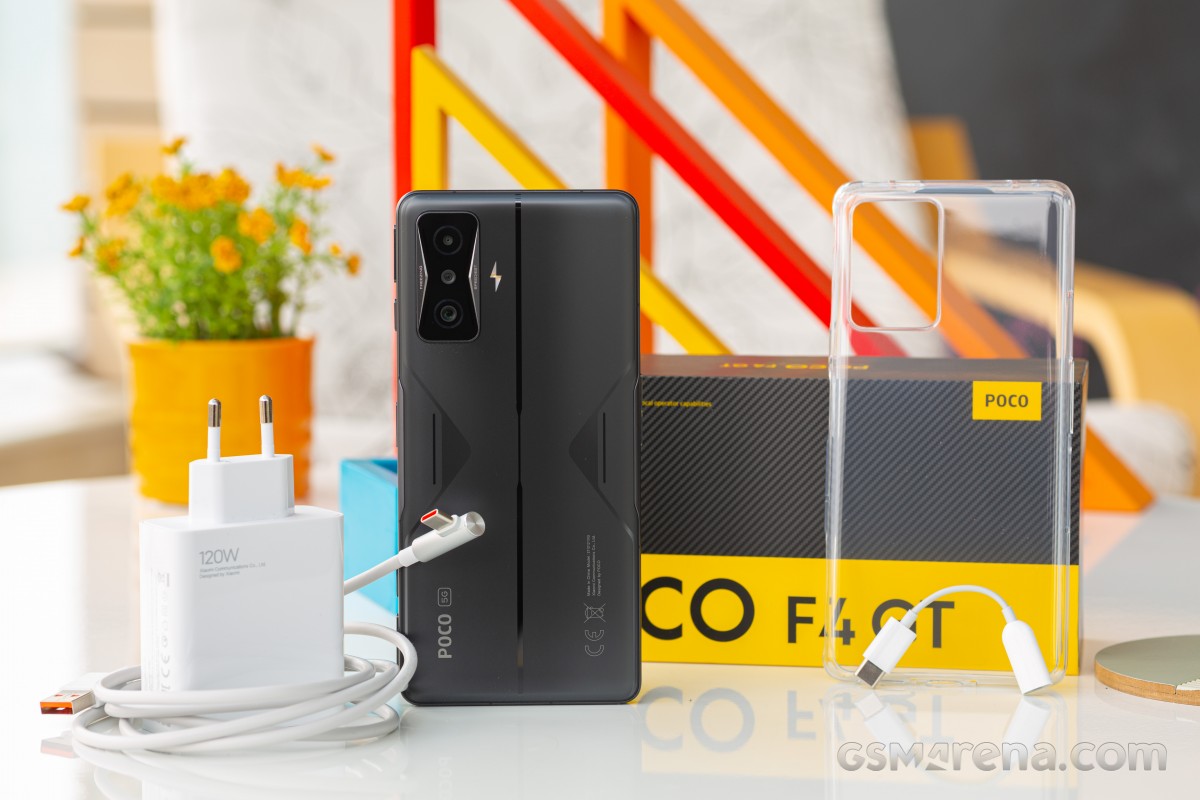 This is so fast that it's impossible not to be around an outlet for at least that long at some point during the day, so 'range anxiety', if we may borrow a term from the EV space, should definitely not be a thing at all with this phone. If only things were similar for cars... But we digress.
There's no wireless charging because some corners had to be cut to achieve this price point, but with wired charging this fast, we can't say we missed it.