Design, handling, case
Looking from afar, the Stealth Black colorway looks anything but gaming-related. It really is stealthy, this one, but only from afar. The second you hold it and look at it from that distance, you'll notice that this is no ordinary mainstream smartphone. Then again, it's not a flashy in-your-face gaming phone either, at least, it isn't if you don't go for the yellow version.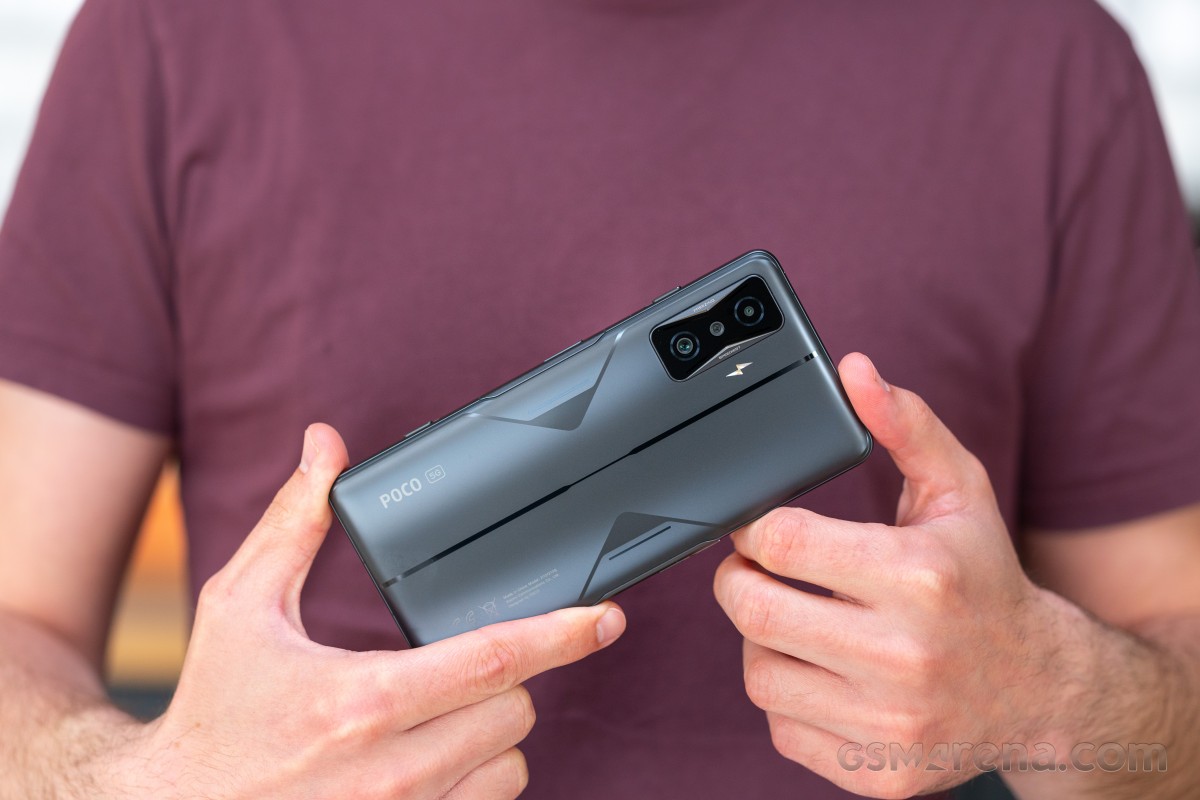 That might strike a very interesting balance for a lot of people - gamers who have an office job, for example, and don't want their choice of phone to stand out too much while still offering gaming looks and features? That's a very specific niche for sure, but maybe you can think of some others too.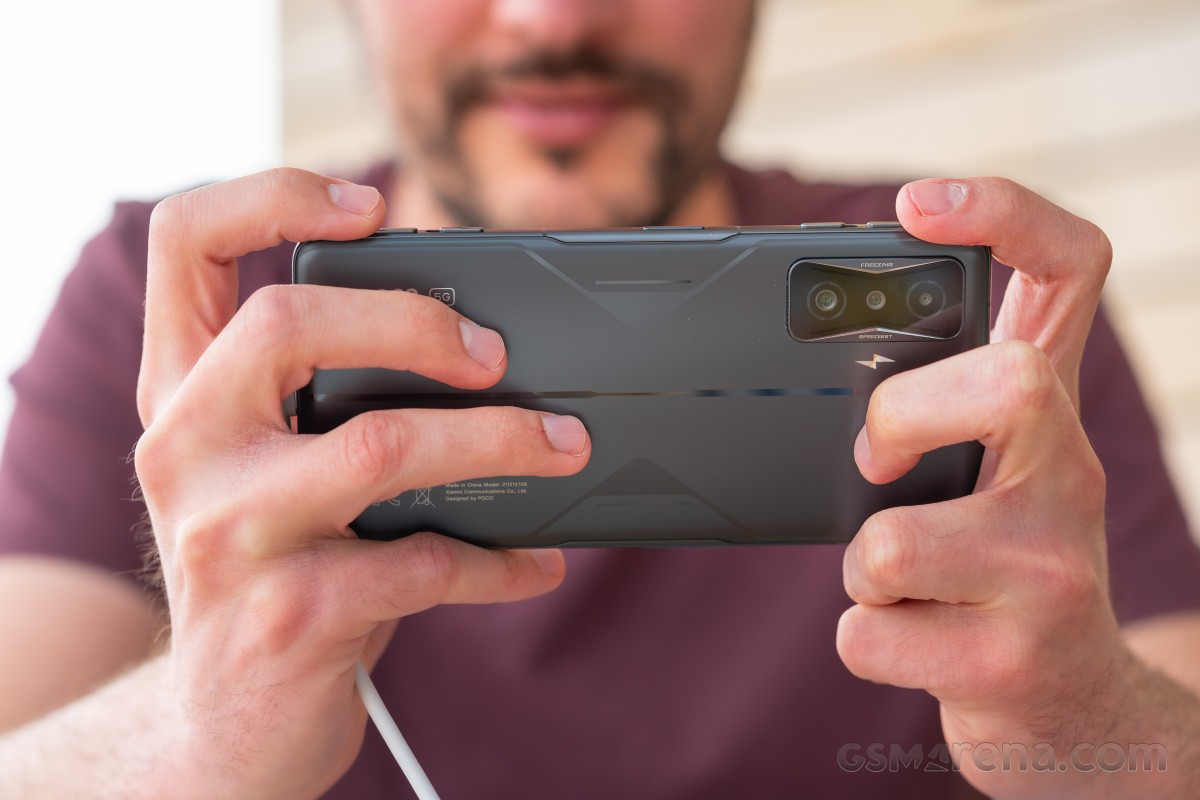 The point here is that there'a theme to the design, and it's purposeful, but it doesn't go so far as to make the entire product unappealing to those who aren't in the demographic that's obviously being targeted here.
From the front, the Poco F4 GT looks just like any other upper-midrange or affordable flagship device launched in the past year or two, and that's about all we can say about that. There's a hole-punch for the selfie camera, the screen is flat, the bezels are reasonably small all-round (although the chin is bigger than the rest), and now let's look elsewhere.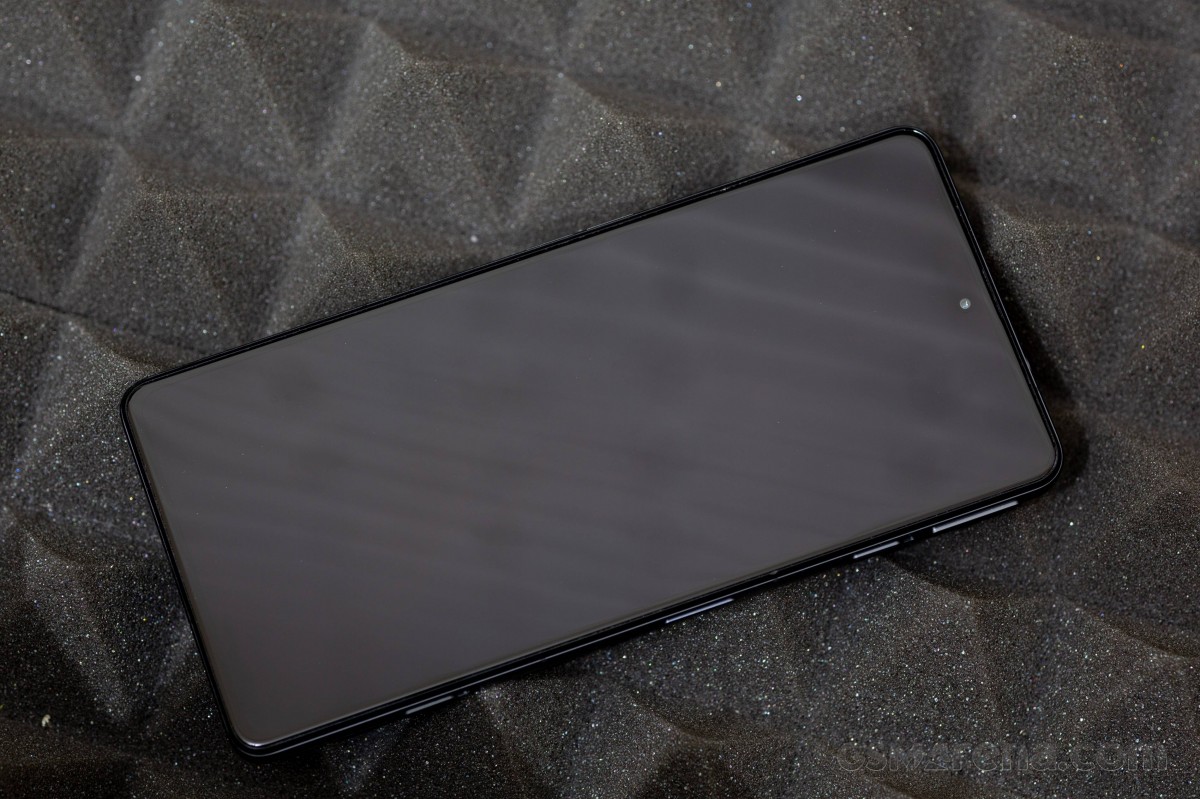 On the right side is where things get really interesting because it's much more crowded than you'd normally see on a Poco. It's so crowded, in fact, that the volume rocker had to be moved to the left side, even though it's on the right side for all other Xiaomi / Redmi / Poco handsets. And that's to make way for the pop-up magnetic gaming triggers - one on the top, one on the bottom. Will gamers love these? Probably.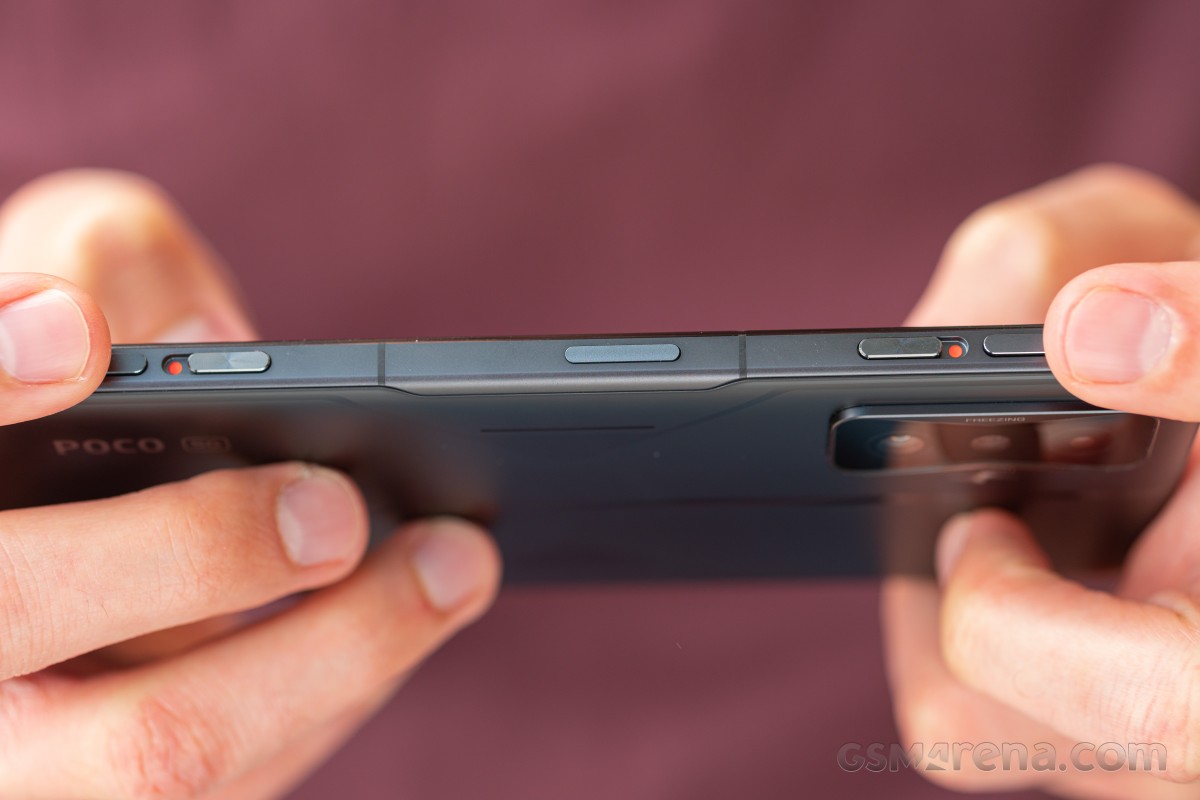 If you're not a gamer, will you hate them? Well, it's... complicated. The slidey bits that are used to lock and unlock the triggers are always there, looking and feeling like buttons even though they're not. Over the course of using this phone, your fingers will constantly meet them, and that may or may not annoy you.
The same goes for the volume rocker positioning - other brands like Oppo have always had their volume buttons on the left, and this is as much a personal preference as anything can be. For what it's worth, it was very easy for this reviewer to get used to the volume rocker on the left.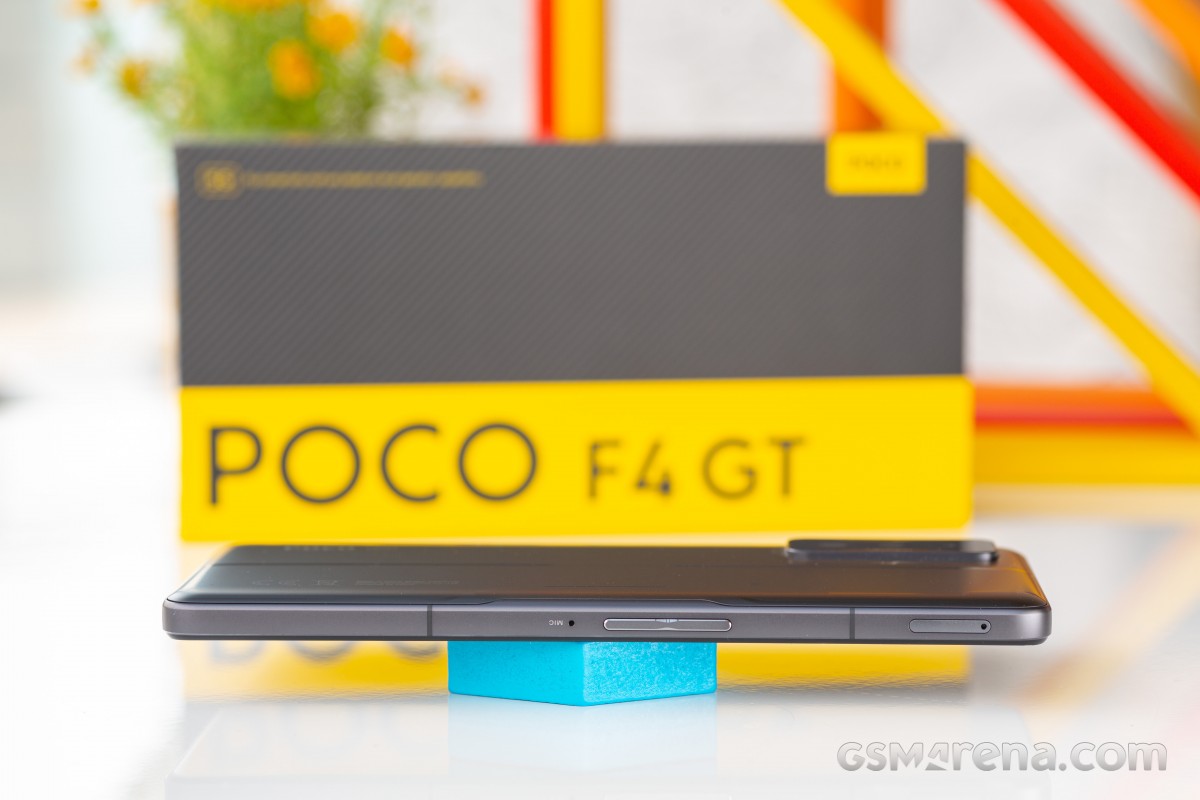 The trigger latches, on the other hand, never not felt in the way. An additional niggle is that any case you may want to use requires an insane amount of cutouts on the right side, which ends up making it feel rather flimsy. The one that comes in the box is thin and flimsy-feeling to begin with, and so this definitely doesn't help with that. On the contrary, it was one of the bundled cases we've least enjoyed using in the past couple of years or so.
We still very much appreciate the fact that there is a case in the box, don't get us wrong. This is a niche device from a rather niche brand, so you're unlikely to get a ton of third-party case options anyway, which makes that an even nicer gesture. We just wish Poco went back to the way it used to do cases a year or two ago, as those felt more sturdy and anything but flimsy.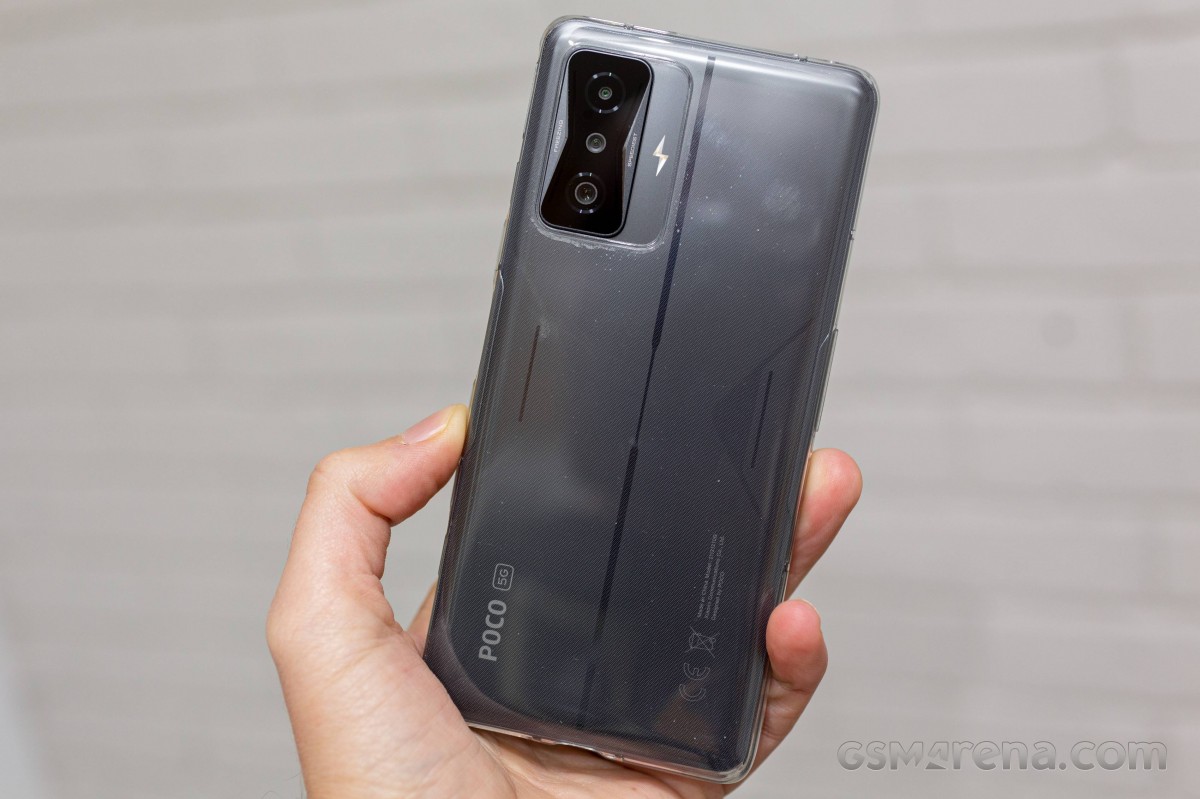 Flip the Poco F4 GT over, and its rear design is a mix of two languages: the camera island's size and position seem to be copied and pasted from many other recent phones, but the LED flash design and the lines across the back want to point out the gaming-ness of the product you're looking at. And they do succeed to a certain degree, again without ending up being as shouty as some competing options.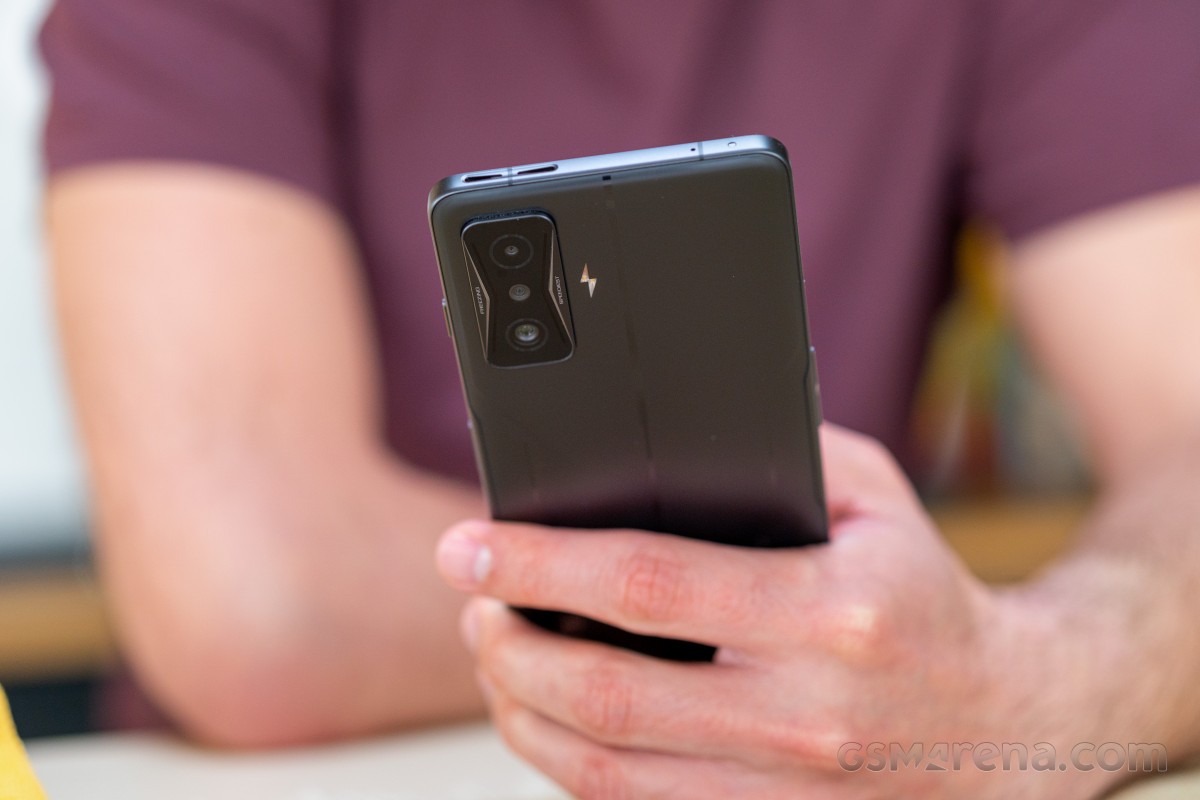 We really like the LED flash design; it's quirky but in a cool and fun way. On the other hand, the pointless, nonsensical "freezing speediest" text on the camera island is just too much cringe. We should probably appreciate the fact that the "AI" buzzword isn't there, but in all seriousness, please stop doing this, Chinese companies. No one has ever bought or will ever buy a Poco F4 GT because of how enticing "freezing speediest" sounds, but a lot of people might buy one in spite of how bad that sounds. That's not where you want to be as a brand, one assumes.
Anyway, as our unit is destined for EU shores, there's an unwieldy amount of regulatory text on the back, while the Poco logo is weirdly subdued here compared to some of the brand's more affordable offerings, where we're used to the font being at least 3x as big. Not that this isn't a welcome change, mind you.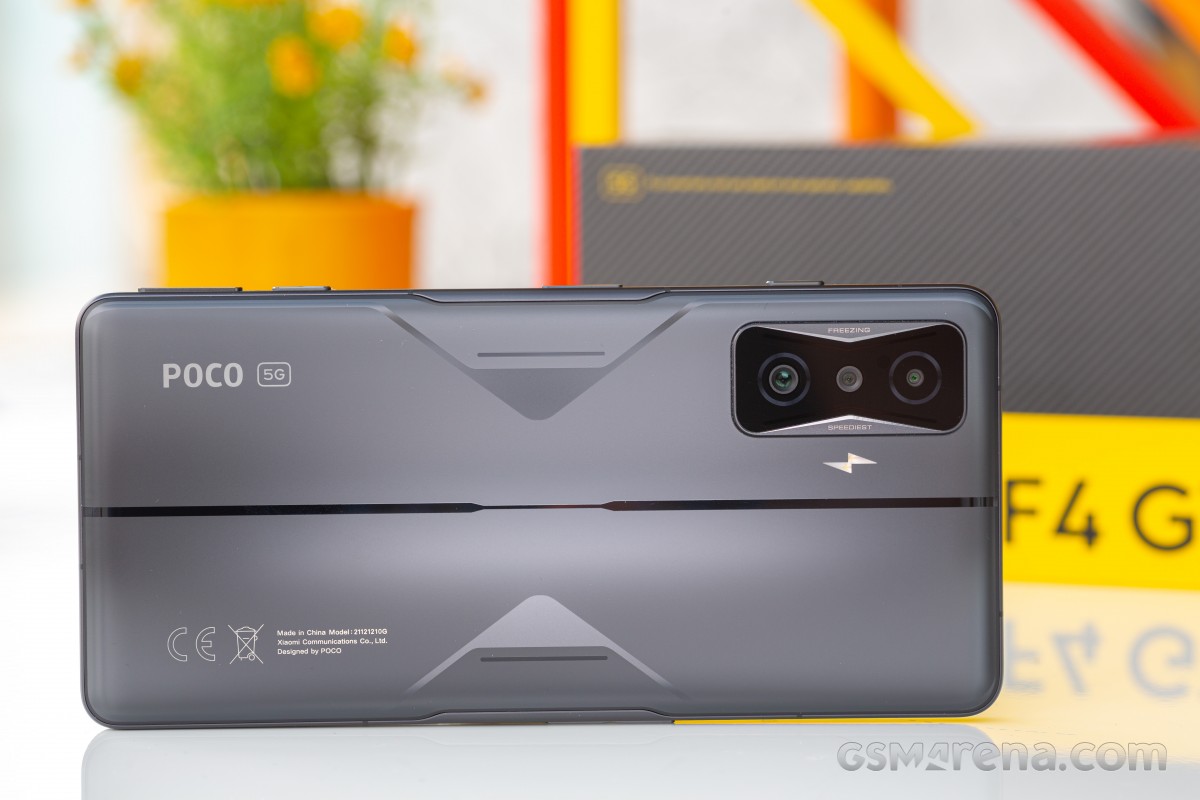 The glass back feels like a glass back, and because it's matte, this phone is slippery. Hopefully, you weren't surprised by that. The symmetry of the rear design lines is welcome, as are the nice little touches - like the fact that the volume rocker design mimics the center line as well as the camera island. Flat sides are a trend (thanks, Apple!), and Poco couldn't help but jump on it. We're not for or against these; we don't feel like they make a huge usability difference for devices like this since there's a lot less 'frame' to hold onto in the Poco F4 GT than in any of the new iPhones.
Overall, the Poco F4 GT feels sturdy, extremely well built, and premium, just as it should since it is playing the 'affordable flagship' game, with an emphasis on flagship. If your hands aren't small, handling it is as good as handling any mainstream device these days. Size-wise, it's very average - not the biggest, but definitely not the smallest. It does feel a bit weighty but at the edge of what we'd call comfortable still. It's got that substantial feeling without it getting tiring after an hour or two of use, but it is close - any more weight, and it would have negatively impacted the experience.
Speakers
The Poco F4 GT has four speakers, a dual one at the top and another dual one at the bottom. They're both on the right side so that when gaming in landscape, neither gets muffled by your hands holding the phone. That's a very nice decision on Poco's part, and we like this setup very much - not just for gaming, but this works extremely well when you're watching videos in landscape mode, too.
As a consequence, we've never had any issues hearing what's coming out of the speakers - it's amazing what good positioning can do, really. They're honestly not the best speakers out there, nor are they the loudest, but on the latter point, they are almost the loudest, and the position just means they're thoroughly enjoyable, whether for gaming or movies or TV shows and of course even podcasts and the likes.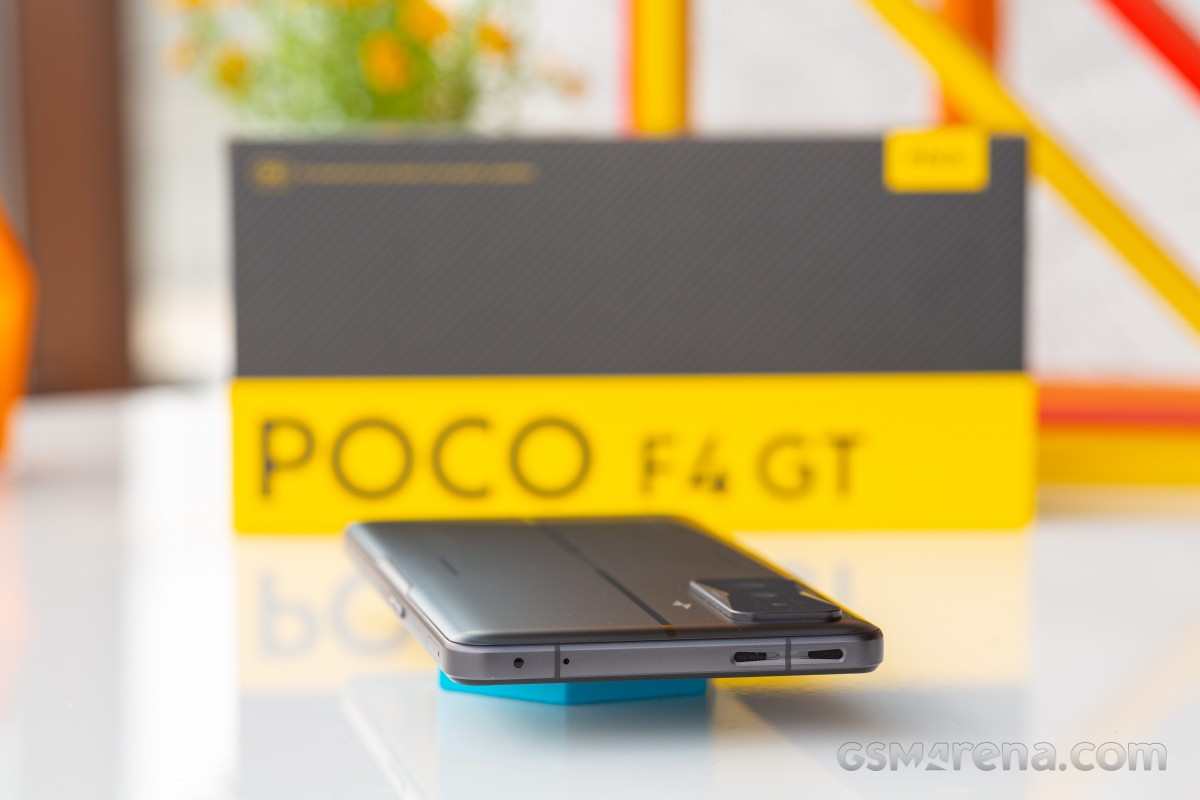 Again, don't expect these to win any awards, but don't expect yourself to care that they don't. They're very good in day-to-day use, and they won't disappoint - unless you're constantly trying to use them in very loud environments, but no phone speakers can truly survive that.
We do have to note that the Poco F4 GT has a now-traditional Xiaomi / Redmi / Poco arrangement whereby the earpiece and top grille are both outlets for the same actual speaker. This means that if you're talking on the phone with the Poco F4 GT to your ear, some of what you hear from the person at the other end of that will bleed out into your environment through the top speaker grille, it's just an inevitable consequence of the setup. This is obviously not a problem in any way if you use headphones of any sort.
Vibration motor
The vibration motor is among the best out there, but unsurprisingly, it's of the 'feel it more than you can hear it' variety, which seems to have won the vibration motor wars of the 2020s for whatever reason. What does this actually mean in practice? If you aren't touching the phone, if it's not in active contact with your skin, you are very likely to miss vibration notifications even if it's in the same room as you - and especially if it's lying on a couch or carpet or a similarly soft thing. It fares ever so slightly better on desks, but even there, if you're a few meters away, game over. There's just not enough oomph in it to make itself noticed.
However, if you are touching the phone, this motor delivers incredibly "3D"-feeling vibrations, with a lot of depth. It's very versatile and a pleasure to use, but you do need to set the vibration strength to maximum; otherwise, you won't feel much at all. We're all for customization and thus aren't against that sliding scale of strength, but when only one end delivers anything that's remotely oomph-inducing, we have to wonder what the point is.
Otherwise, in use, it's still cool that there are small nudges here and there in the UI which use the vibration motor, but it seems like, with every few months that go by, there are fewer and fewer of these, and it's a real shame because this used to be one of the big differentiating factors in favor of MIUI in the real world.
Biometrics
The Poco F4 GT's fingerprint sensor is embedded in the power button, and it's excellent. It's easily among the most accurate we've ever used, and it's very fast too. Our first-try unlock rate is bordering on 100%, with only a few misses here and there throughout our entire time with the phone. There's really not much else to say here - this is an outstanding fingerprint sensor, and we had absolutely no issues with it whatsoever.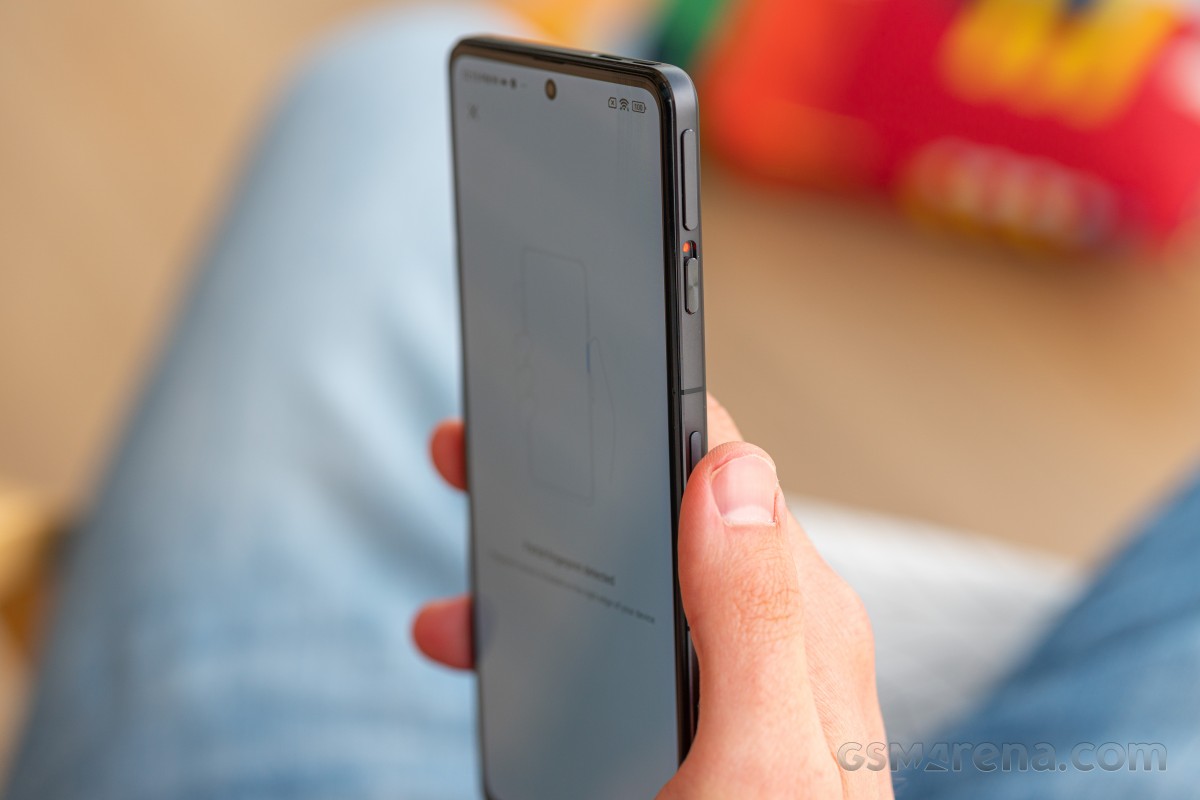 We wish all of them were as good as this one, especially the under-display ones. To be honest, we'd take this side-mounted sensor over an in-display one any day if it's this good. The placement inside the power button also helps tremendously if, like us, you're used to hitting that to unlock your phone. Having set the unlocking to happen upon a press of the button and not just a touch (that leads to some unintended unlocks in our experience), it becomes a very seamless process, turning the screen on and unlocking in one go.
Of course, there's face unlock too, and it's fast and works well, but it uses the front-facing camera only, which means it's less secure than fingerprint unlocking. And you also need to wake the phone up to engage it. If you do that by pressing the power button... there's no time for face unlocking to do its magic since the fingerprint scanner has already let you in. On the other hand, if you double-tap the screen to wake the phone up, face unlock will do its thing, and very quickly too. Let's also note that we checked, and it only works when your eyes are open.