MIUI 13 for Poco, now on Android 12
The F4 GT is the first Poco we get that runs MIUI 13 on top of Android 12 - the two most recent ones did have MIUI 13, but were still on the previous Android version. As usual in the MIUI camp, it's the custom overlay's version that matters more than the underlying OS, but there are still a few new things. Having said that, native Android 12 features like the redesigned widgets interface and privacy dashboard remain missing.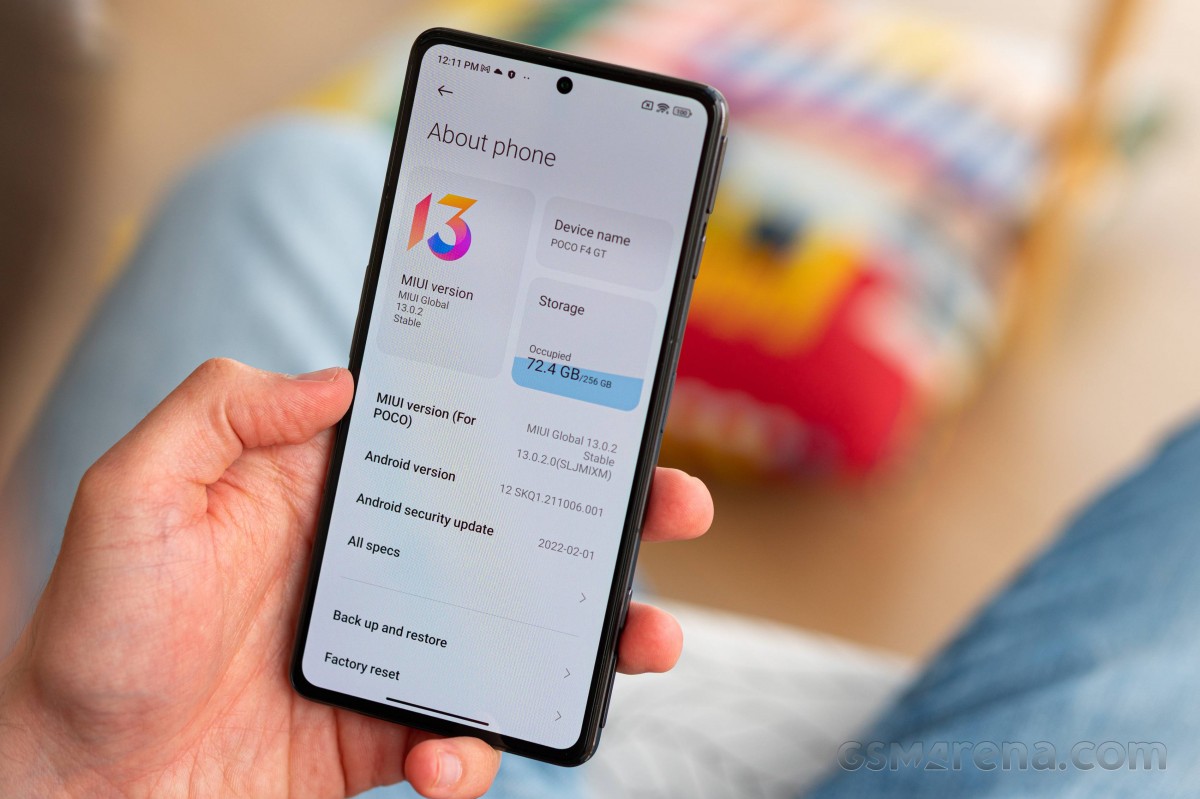 The F4 GT in particular has some unique features you won't find on most other phones in the Xiaomi ecosystem, so let's start with those. First and foremost, the pop-up triggers.
The settings let you enable sound effects (one of four options) to be played upon deploying or putting away the triggers - we find that a little childish, but our proverbial inner child kind of likes it. You can also choose to have an animation show in games upon pressing the triggers and you can pick among six color options.
You also get the option to assign shortcuts to the triggers for things like launching the camera, or flashlight. Each trigger can be set up separately and both long press and double press actions can be recognized.
It's somewhat of a roundabout way to launch things if you don't keep your triggers out in the open by default, though - you need to first deploy one, then long or double press it - not very shortcut-y.
The other feature that sets the F4 GT apart from your average phone is the RGB LED lighting inside the camera island on the back. Emitting a somewhat faint glow, the strips can be set up to inform you of incoming calls and pulse for notifications. You can limit the apps that will trigger it, so that you know it's something specific if it's on. Would have been great if you could set the LED color on a per-app basis, but that's not the case - it's one color for all notifications and another for calls.
The rest of the interface is more or less standard MIUI, with minor Poco twists. There's Always-on display functionality and it's the full-fledged version so you can have it show for 10s after a tap, truly always, or only within a scheduled time period. Some Pocos in the past only allowed the first option. Naturally, there are a lot of AOD themes you can choose from, and some of those can also be customized.
Even though the F4 GT has the LEDs on the rear, it also still supports Notification effect. It lights up the edges of the display when new notifications come in, but there's little in the way of customization, other than a couple of different colors and a 'Starlight' option.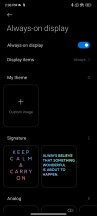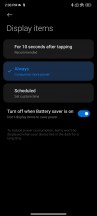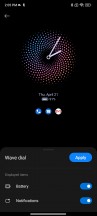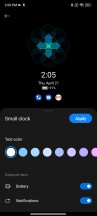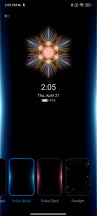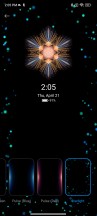 Always-on display • Always-on display • Clock style• Clock style • Notification effect
You unlock the screen via the side-mounted fingerprint scanner. The reader is easy to set up, blazing-fast, and the accuracy is superb. You can set the unlock method to Touch or Press - the Press will spare you accidental misreads of your palm (that eventually lead to PIN input) if you are using the phone without a case. A 2D Face Unlock is available, too, but it is far less secure than the fingerprint option.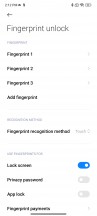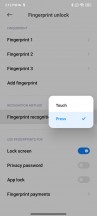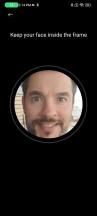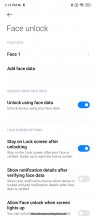 Passwords and security • Fingerprint settings • Fingerprint settings • Face unlock
The homescreens are nothing unusual - they are populated with shortcuts, folders, and widgets. The leftmost pane, if enabled, is Google's Discover. Unlike Xiaomi or Redmi MIUI builds, the Poco version only has an App Drawer style two-tier interface - you can't disable the app drawer and have all your apps on the homescreens. The app drawer itself is the same though - by default, it automatically organizes your apps into categories, which you can edit or disable altogether.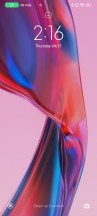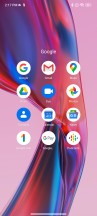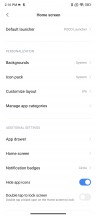 Lockscreen • Homescreen • Folder view • App drawer
Just like in MIUI 12, MIUI 13 offers an independent Notification shade and Control Center. You summon them like on the iPhones - pull down from the left part of the screen for the Notification Center, pull down from the right for the Control Center. You can side-swipe to switch between them, too.
If you are not fond of this iPhone-ish split - you can disable the Control Center, and the shade will revert to its normal looks and operation.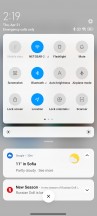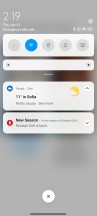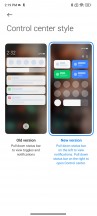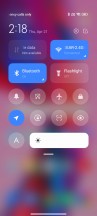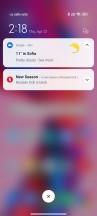 Classic notification shade • Expanded toggles • Control center split
The task switcher is familiar, too, if you've ever used a Xiaomi. It shows all of your recent apps in two columns. Tap-and-hold on any card for the split-screen shortcut, or just swipe it left or right to close it. While Pocos can do split-screen, Floating Window isn't supported (Xiaomi or Redmi phones do have it), at least not from the Task Switcher. You can shrink some system apps like the Calculator into a floating window, but this can only happen from within the app itself.
Once again, the option for a regular-looking task switcher with side-scrollable cards is not available on the Poco launcher.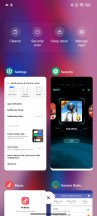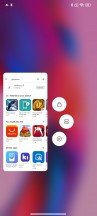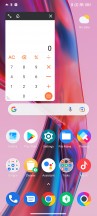 MIUI task switcher • Multitasking options • Sort of floating window
Themes have always been a huge part of MIUI, and they are available on MIUI 13, too - on the Poco build as well. You can download new ones from the Themes store, and they can change wallpapers, ringtones, system icons, and even the always-on display style. Super Wallpapers are available too.
MIUI comes with its proprietary multimedia apps - there's Gallery, and Music and Mi Video (both with local and streaming options). A MIUI File manager is also on board. And, of course, a Mi Remote app that uses the integrated IR blaster.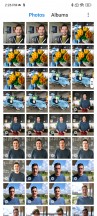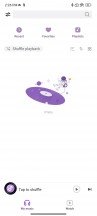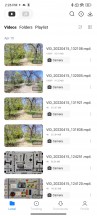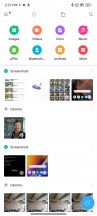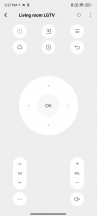 Gallery • Music • Video • File Manager • Mi Remote
MIUI also offers a Security app. It can scan your phone for malware, manage your blacklist, manage or restrict your data usage, configure battery behavior, and free up some RAM. It can also manage the permissions of your installed apps, define the battery behavior of selected apps, and apply restrictions only to certain apps.
And speaking of memory, MIUI 13 offers Memory Extension option that's active by default (you can disable it if you like). On our review device we had 3GB of the internal storage reserved to serve as RAM extension. Less important memory blocks should come here.
The Sidebar is quite familiar (only here it's missing the 'Smart' in the name from other builds) - a small visible mark on the edge of the screen that expands into a menu anytime you swipe on it. You launch apps in pop-up windows from here. Of course, you can customize the actions for this menu.
If you are within a multimedia app (like YouTube, Mi Video, Gallery, etc.) you will get the Video toolbox next to the shortcuts - it contains shortcuts for Screenshot, Record screen, Cast, and Play Video with the screen off, which works on YouTube, no Premium subscription needed. The only caveat is that you need to whitelist the apps in advance, where you want the feature enabled.
Also widely available on other phones with MIUI, but somewhat more important on this Poco F4 GT, Game Turbo is both the hub you can use to launch your games, as well as an in-game utility for improving your gaming experience. It includes classic functionality like screen recording and limiting incoming notifications but also GT-exclusive custom trigger mapping.
Performance and benchmarks
The F4 GT is equipped with the Snapdragon 8 Gen 1 - Qualcomm's current most powerful chipset ,and that's one of the phone's key selling point and one of the pillars for its 'Apex of power' tagline.
Two memory and storage configurations are available - the base version is 8GB/128GB, while we reviewed the 12GB/256GB version. That's LPDDR5 RAM and UFS 3.1 storage, so everything is top notch.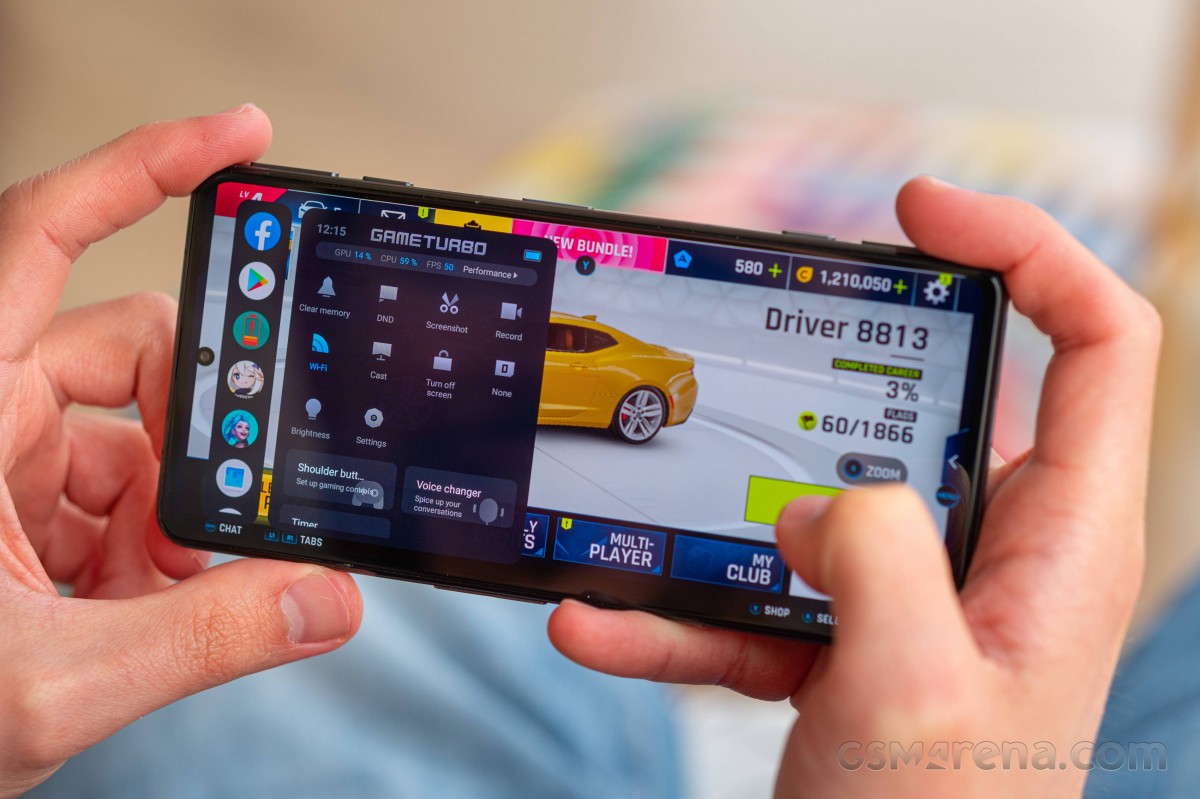 Poco makes it a point to advertise the cooling setup of the F4 GT and it looks like something to be proud of indeed - the combined area of the two vapor chambers is 4860 square millimeters. Yes, there's two of them - one for the main board, and another for the charging circuitry. The main one is pretty huge in its own right - some 38% bigger in area than the one on the Xiaomi 12 Pro.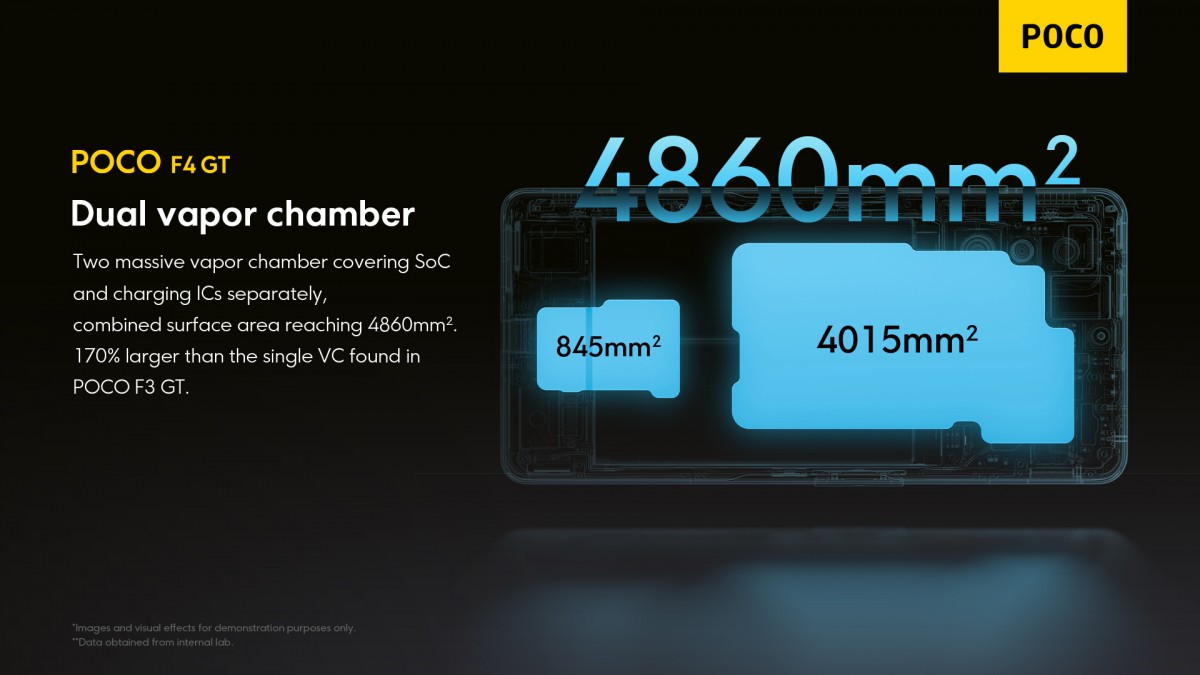 That doesn't quite mean it can do miracles, of course, and the F4 GT still dropped to 64% of its peak performance in the CPU throttling test, with a momentary dip to just under 60%. That's more or less average performance with flagship chipsets and shouldn't normally be an issue, but the Poco's choppy behavior is somewhat more troubling - we prefer steadier graphs.
The F4 GT refused to run 3DMark, so we can't really say how that stress test affects it. Similarly, it wouldn't play nice with GFXBench, hence no graphics benchmark results. It's not uncommon for phones that we receive before their launch date (as was the case here) to have benchmarks blacklisted, so you shouldn't read too much into this.
That said, the Poco did run GeekBench and Antutu just fine. It posted relatively high numbers for the SD8G1 in single-core GeekBench, and more like average results under multi-threaded CPU loads. The Antutu numbers were about average too. Keep in mind that 'average' for the latest top-end Snapdragon means something like 'properly great' and it mostly goes to say that the maker didn't mess up something.
GeekBench 5 (single-core)
Higher is better
ZTE nubia Red Magic 7 Pro
1251
Poco F4 GT
1244
Realme GT2 Pro
1238
iQOO 9 Pro
1231
Motorola Edge 30 Pro
1196
Xiaomi 12 Pro
1169
Samsung Galaxy S22+
1165
Realme GT2
1131
Asus ROG Phone 5s Pro
1117
Huawei P50 Pro
1105
Motorola Moto G200 5G
1096
Samsung Galaxy S21 FE 5G
1096
IQOO 9 SE
1095
OnePlus 10 Pro
975
GeekBench 5 (multi-core)
Higher is better
ZTE nubia Red Magic 7 Pro
3845
iQOO 9 Pro
3708
Xiaomi 12 Pro
3682
Motorola Edge 30 Pro
3658
Poco F4 GT
3637
Samsung Galaxy S22+
3528
Asus ROG Phone 5s Pro
3521
Realme GT2 Pro
3501
Realme GT2
3487
OnePlus 10 Pro
3447
IQOO 9 SE
3442
Motorola Moto G200 5G
3319
Huawei P50 Pro
3145
Samsung Galaxy S21 FE 5G
3049
AnTuTu 9
Higher is better
ZTE nubia Red Magic 7 Pro
1056511
iQOO 9 Pro
997948
Xiaomi 12 Pro
985226
Realme GT2 Pro
966251
Poco F4 GT
952124
Motorola Edge 30 Pro
941895
Samsung Galaxy S22+
886916
OnePlus 10 Pro
886248
IQOO 9 SE
846231
Motorola Moto G200 5G
811124
Realme GT2
810512
Huawei P50 Pro
786215
Asus ROG Phone 5s Pro
735588
Samsung Galaxy S21 FE 5G
719696