The Google Pixel Fold is now up for pre-order but it seems the top-end model with 512GB storage is now officially out of stock in the US. The 512GB model is only available in the Obsidian black color and despite the $1,919 price tag seems to be the model stirring up the most interest from buyers.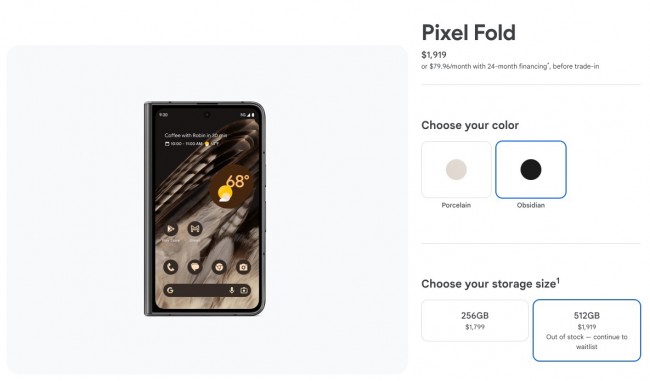 The 512GB Pixel Fold is out of stock in the US
Google's official store still offers the 256GB version in both Obsidian and Porcelain colors and those who still want to go for the 512GB model can sign up for a waitlist. The 512GB Pixel Fold is still up for pre-order in the other three markets where Google is officially selling its foldable phone - the UK, Germany and Japan ahead of the June 27 official release.
s
Tbh they probably didn't produce many of them, they expected that more people would buy 256GB variant. For 99% of people 256GB is much more than enough. So I believe the ratio of 256 to 512 production should be at least 4 to 1.
ADVERTISEMENTS