Unlike other makers Google doesn't saturate the market with constant releases – the newly unveiled Pixel 7 duo brings the total of new phones for 2022 to just three (the other being the 6a). That's fewer phones than even Apple.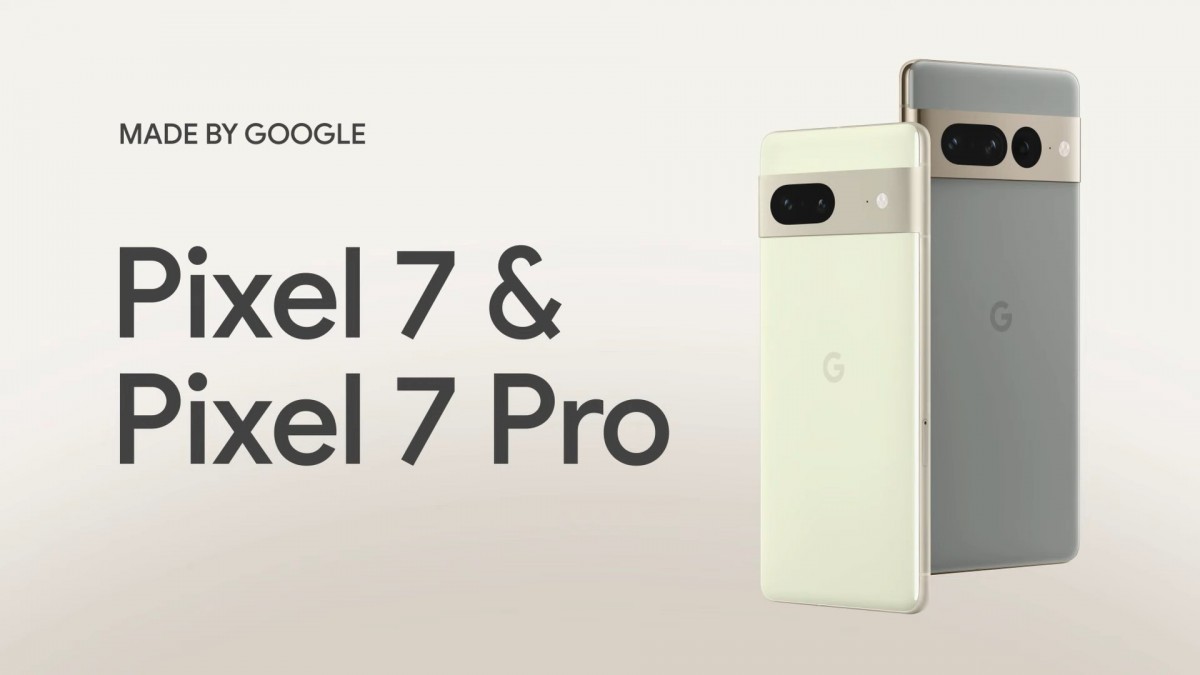 Like last year there are two models – a smaller vanilla phone and a larger Pro and they serve the same roles as last year. The smaller one is cheaper ($600) and, well, smaller, the Pro has the better display and camera (dedicated telephoto), but you pay extra for it ($900). It's almost like there could have been a Plus model in between the two, but not this year. Let's have a closer look at the phones that we did get.
Google Pixel 7 Pro
The Pixel 7 Pro is the best phone from Google for the next 12 months or so and it has the makings of a true flagship: a sharp, high refresh rate display, a big camera sensor, the wide/ultra wide/tele lens combo, a distinctive look, security features and promises of long software support.
That said, the differences from last year's Pro are not that many. It all rides on the new Tensor G2 chipset and the revamped telephoto camera. Let's look at the chipset first.
It is fabbed as Samsung's 4nm process, not well-loved but still an improvement over the 5nm node used for the original chip. The CPU uses 2x Cortex-X1 cores, 2x A78 and 4x A55 cores along with updates in clock speed. The GPU is a Mali-G710 MC10, which promises a performance and efficiency increase over the G78 for graphics but also a 35% boost for machine learning tasks (something that the Pixel Camera app leverages heavily). There is also a new Tensor core and new modem to boot.
The next-gen Tensor processing unit is able to run machine learning tasks 60% faster and 20% more efficiently. It is responsible for features like Photo Unblur, which is exclusive to the Pixel 7 and 7 Pro - it uses Google's advanced AI to remove blur and noise from old photos taken years ago with any old phone. It works to improve the Pixel 7's own cameras too, of course, more on that in a second.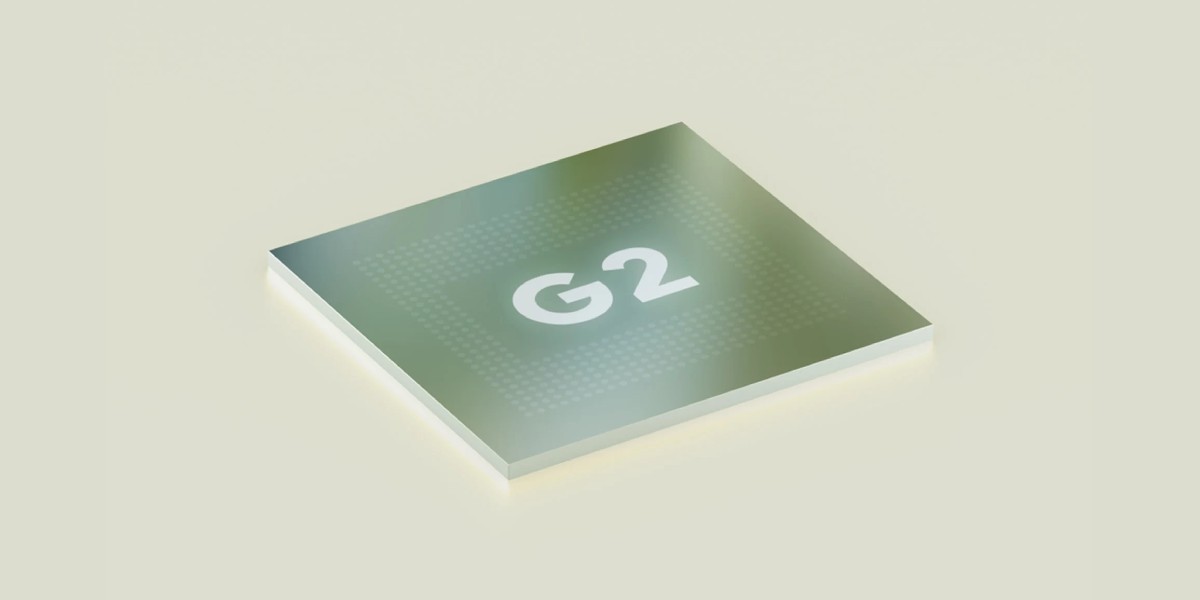 Like last year, the phone comes with 12GB of RAM and you can choose between 128GB, 256GB and 512GB storage. There is no microSD slot, of course, what you do get is a nano-SIM slot and an eSIM for a second line.
Let's look at the cameras next. The main module still utilizes a 50MP 1/1.31" sensor (1.2µm) with the option for 4-in-1 binning. The f/1.85 lens has an 82° field of view. If you want to capture more of the scene, there is the 12MP ultra wide camera (1.25µm) with 125.8° FoV. One upgrade this year is that the ultra wide lens has autofocus, allowing it to take macro shots.
The main camera has Optical Image Stabilization (OIS) as well as electronic stabilization, it can record 4K videos at 30fps and 60fps. The "speech enhancement" feature can now be enabled in 4K/60fps mode as well. The phone can record 10-bit HDR video and Google has partnered with the makers of apps like Snapchat and TikTok to enable the higher quality videos for them as well. The camera app leverages the machine learning skills of the Tensor G2 chipset to create cinematic blur or to stabilize handheld footage even further.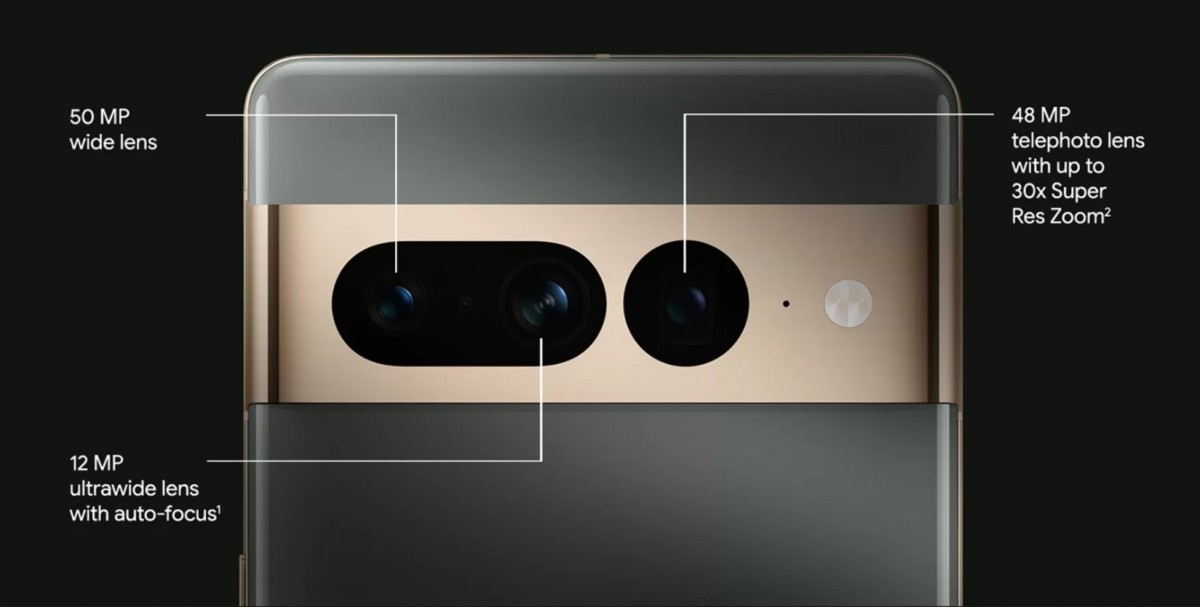 Next up, the telephoto camera. It now has a longer lens with 5x optical magnification, up from 4x. The extra reach comes at the cost of a slightly smaller sensor, (0.7µm pixels instead of 0.8µm), but it still has 48MP resolution, allowing it to zoom in further digitally with some special Pixel magic. There is the selfie camera to talk about, but we'll leave that for the Pixel 7 report below.
The 6.71" AMOLED display on the Pixel 7 Pro makes it stand next to its vanilla sibling. Not only due to its size, but also because it is a QHD+ LTPO panel with 10-120Hz variable refresh rate. The sides of the display are not as curved as last year, though they are still guarded by Gorilla Glass Victus.
There is an in-display fingerprint reader in there as well, which is fast and secure. Alternatively, you can use the more convenient Face unlock.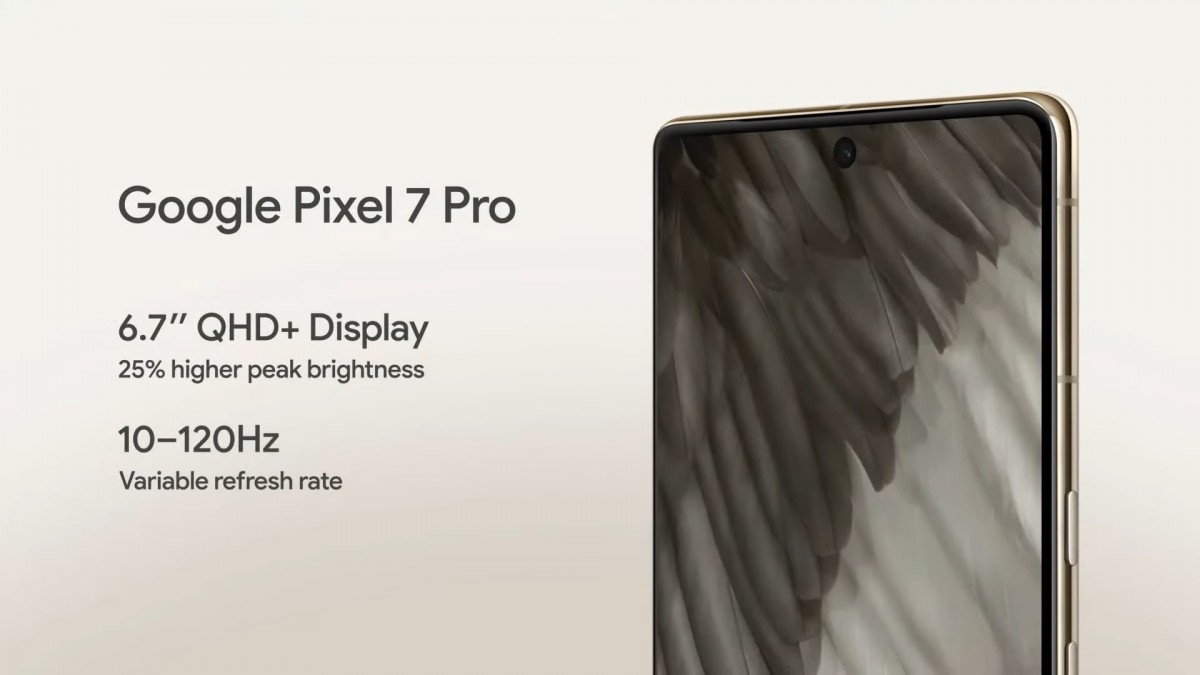 There are a few more things left to mention, like the 5,000mAh battery – same capacity as last year. It supports fast charging (fast in Pixel terms), wireless and reverse wireless charging.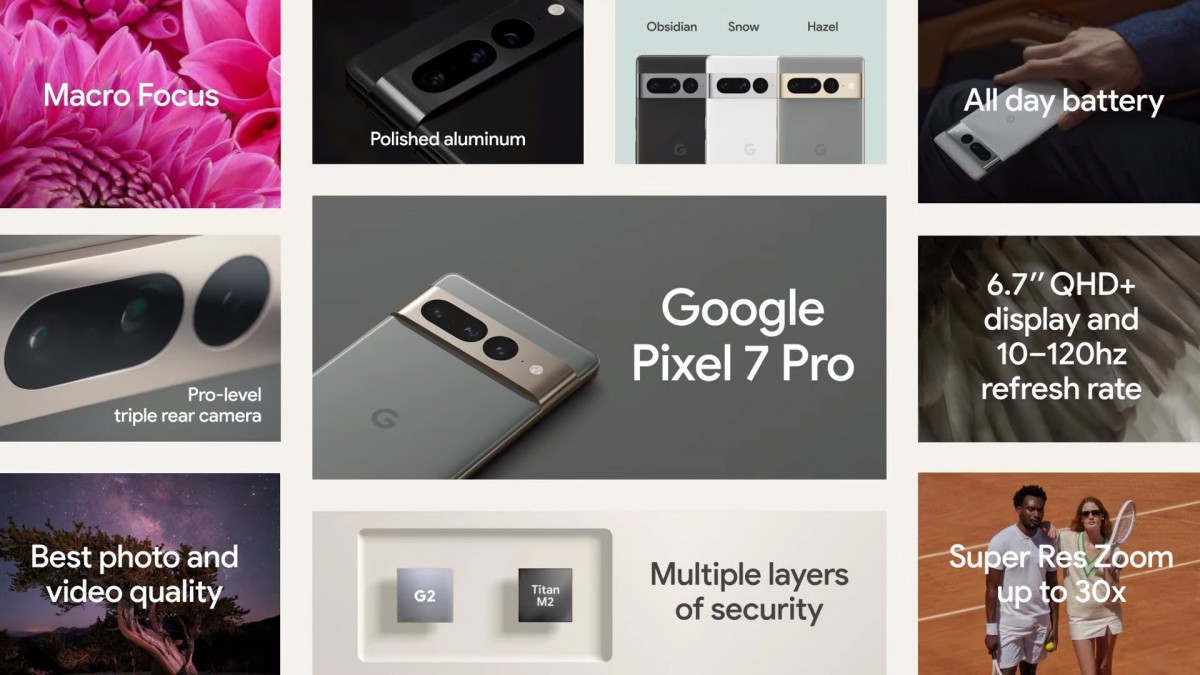 The phone has an IP68 rating for dust and water resistance. While it is a millimeter shorter, it is nearly a millimeter wider than last year's model (we guess that's the price to pay for the flatter display). The metal chassis of the phone is made out of 100% recycled aluminum.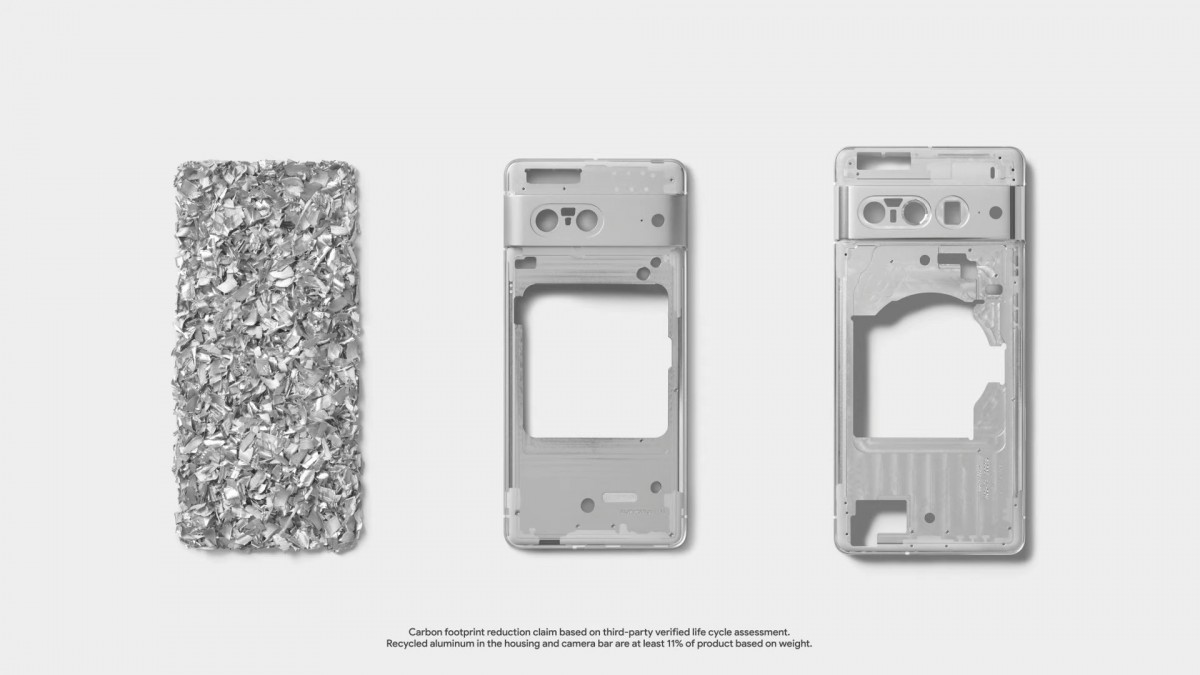 For prices and pre-order deals, check below. Before that we'll cover the smaller model.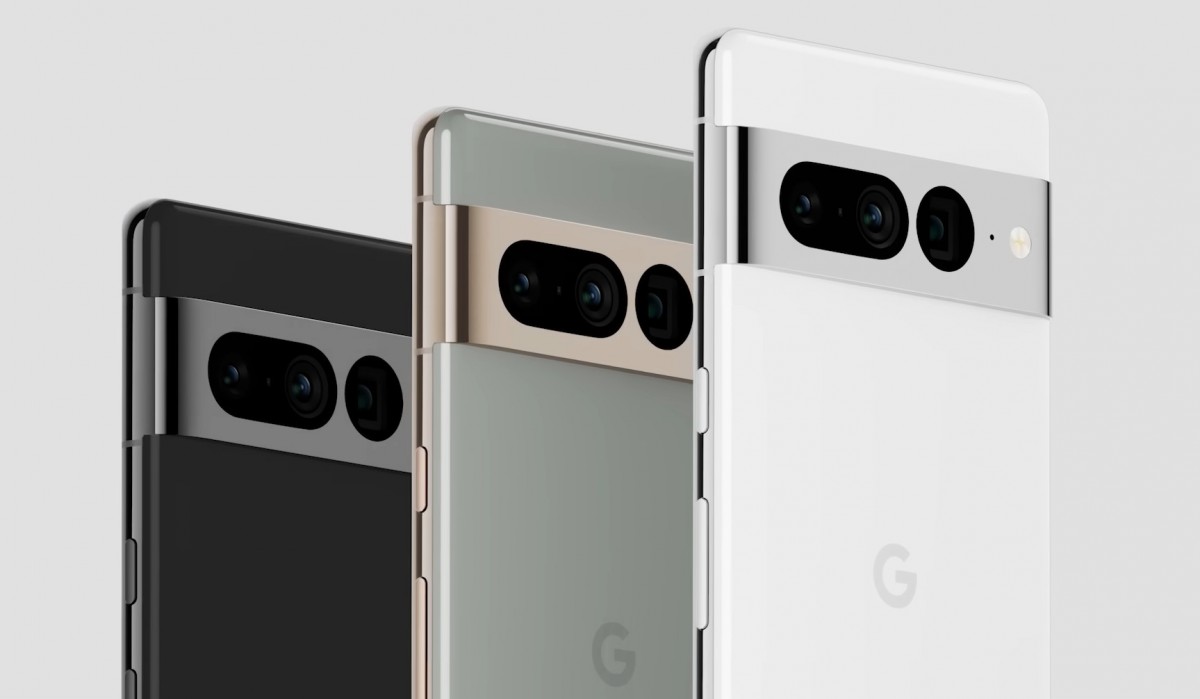 Google Pixel 7 Pro in Obsidian, Hazel and Snow
Google Pixel 7
The Pixel 7 is a good deal cheaper than the Pro model and noticeably smaller too. Not as small as the cheaper 6a, but it is as small as premium Pixels get. Like with the Pro, a lot is riding on the Tensor G2 chipset (the 6a uses the original Tensor chip).
Google kept the RAM at 8GB and you get a choice between 128GB and 256GB storage. Like the previous models, the Pixel 7 and 7 Pro are guaranteed to receive 3 major OS updates (getting them to v16) and 5 years of security patches.
The 7 is slightly smaller than the 6, due to its 6.3" display (down from 6.4"). The physical dimensions of the phone are 155.6 x 73.2 x 8.7mm and 197g, compared to 158.6 x 74.8 x 8.9mm and 207g for its predecessor. The Galaxy S22 and iPhone 14 are smaller, so let's call this one medium sized.
The display is still a flat AMOLED panel with FHD+ resolution but it has 25% higher peak brightness than the Pixel 6 display. This new panel still has only 90Hz refresh rate, though. We would have loved to see 120Hz this year, even without LTPO, but for what it's worth this phone is cheaper than the Galaxy S22 and iPhone 14 (which has a 60Hz display).
The more slender build of the Pixel 7 also means that it has a smaller battery, 4,355mAh (down from 4,614mAh). However, the more efficient hardware means that Extreme Battery Saver mode can last 72 hours (up from 48 hours). Without it, you're looking at 31 hours or so of regular use.
Like the Pro, the Pixel 7 uses a 50MP main camera (1/1.31", 1.2µm before binning). It is joined by a 12MP ultra wide camera and that's it. For zooming in, the phone relies on the relatively high resolution main sensor and Google's Super Res Zoom image processing (which has been upgraded, thanks to the extra processing power available on the G2 chipset).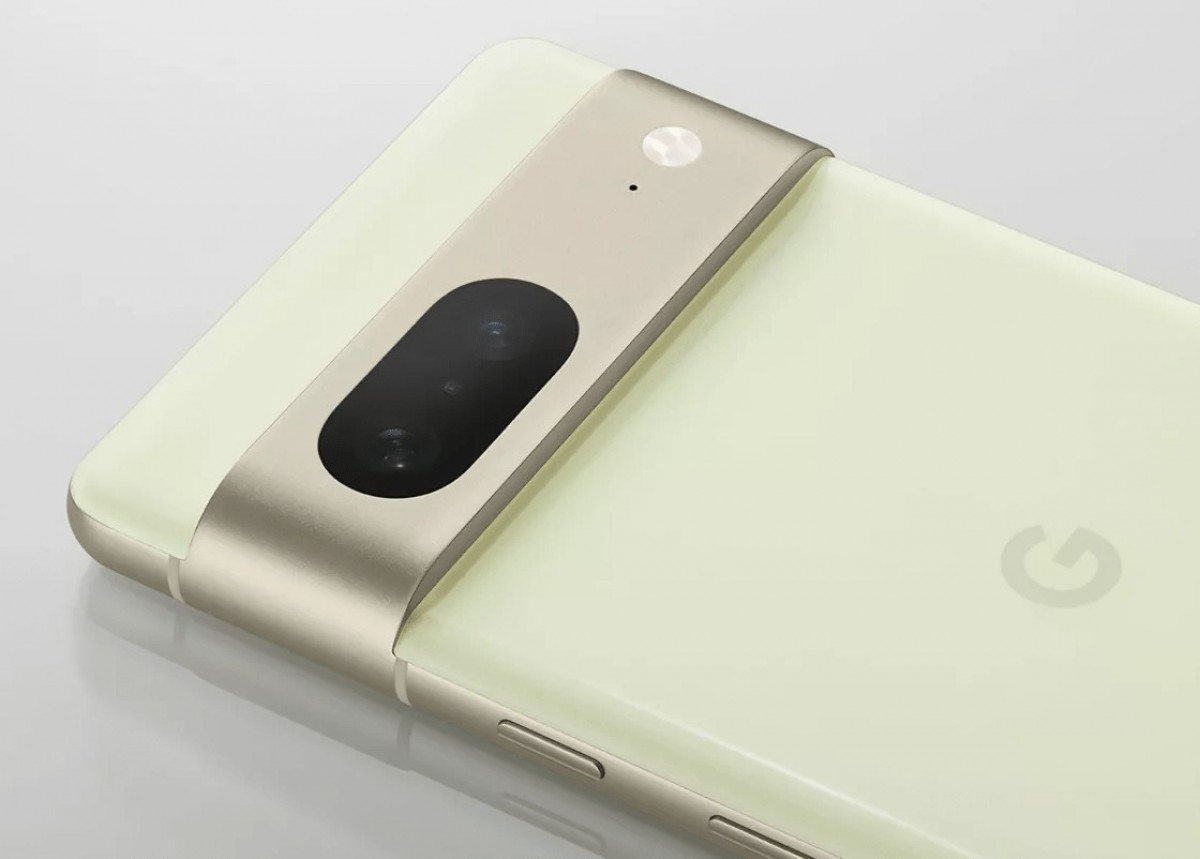 As promised, let's talk about the selfie camera. It has a higher resolution sensor, 10.8MP (up from 8MP last year), and a wider field of view as well – 92.8° (up from 84°). The lens still has a fixed focus, though. The same goes for the Pro, which uses the same camera module.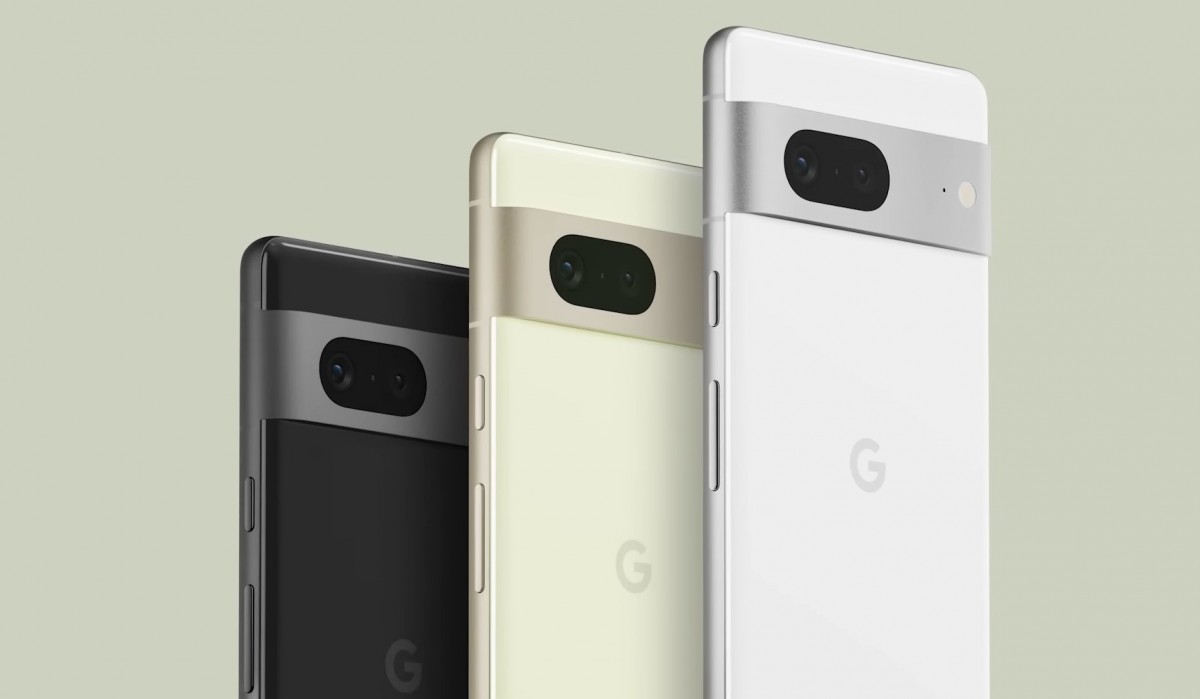 Google Pixel 7 in Obsidian, Lemongrass and Snow
Prices and deals
The Google Pixel 7 starts at $600/€650/£600 for a 128GB unit, the Pixel 7 Pro will set you back $900/€900/£850 (again with 128GB storage). Pre-orders start today, open sales will kick off a week from now on the 13th. There are some pre-order perks too - the 7 Pro is paired with a free Pixel Watch (the LTE version no less), while a Pixel 7 pre-order will net you a free pair of Pixel Buds Pro.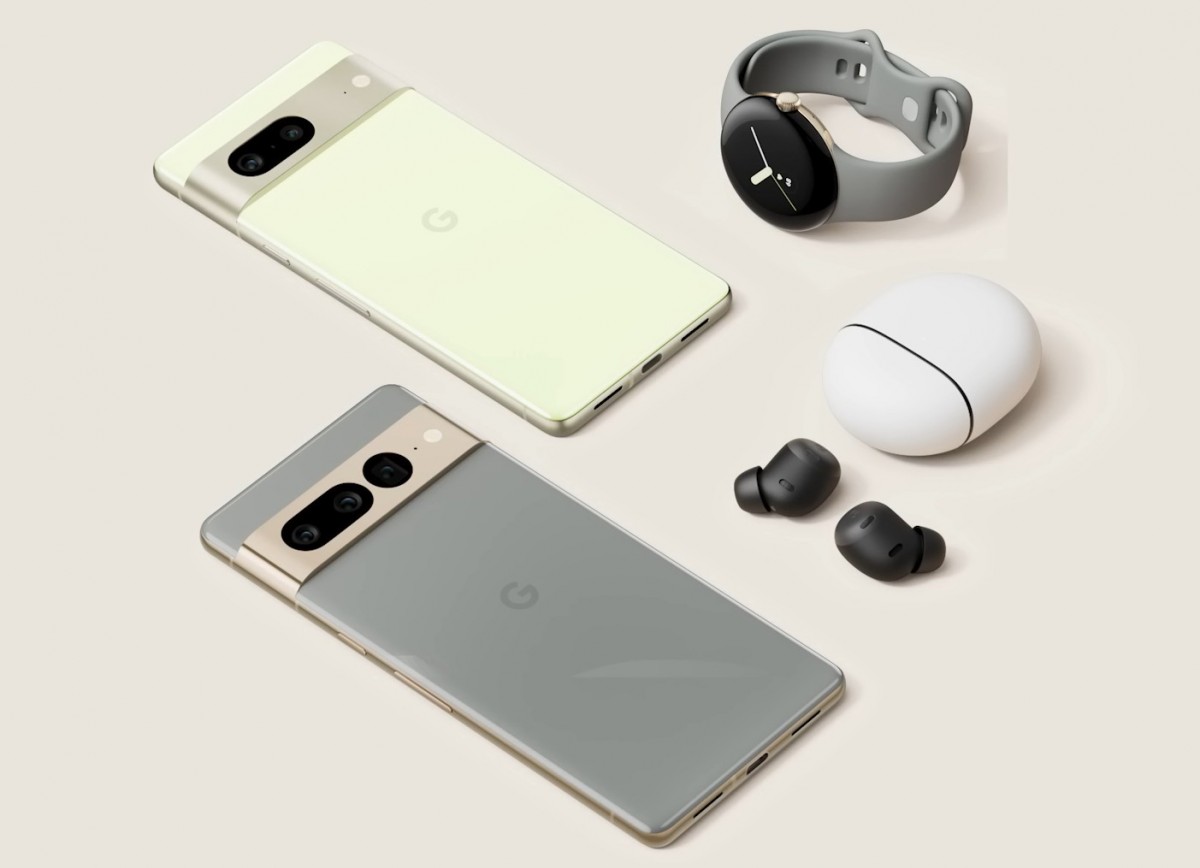 For more details on the pricing and availability for the new Pixel 7 phones (and some pre-order perks too), check out this post.
?
I would really like to know this also. It is a phone aftercall, isn't it?
A
Why not root use custom Rom, why rely on free poor junk Xda does Rom from £5 £30, pure premium It won't void warranty, just root it back.
ADVERTISEMENTS