Introduction
Almost three years after its predecessor took Kickstarter by storm, the Pebble Time crashes the smartwatch scene with an even louder bang. The newcomer became the most successful Kickstarter project to date only a few days after its launch and ended up with more than $20 million in funding.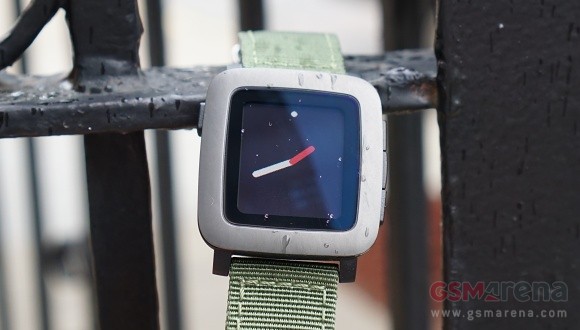 Of course, three years is a hell of a long time in the tech industry, and the Pebble Time arrives in a totally different landscape compared to its trailblazing predecessor. An Apple Watch backed by a monstrous marketing budget and an army of Android Wear devices are as serious a competition to face as it gets.
To face its competitors, the Pebble Time comes with a color screen, voice control, and a brand new OS. It is also the most water-resistant smartwatch available at the moment. See the device's full list of key features below.
Key features
1.25" 64-color LCD e-paper display with memory-in-pixel technology and LED backlight; 168 x 144 pixels (182ppi); curved Gorilla Glass 3; superb sunlight legibility and power efficiency;
ARM Cortex-M4 CPU; 256KB of RAM; 16MB of storage
3D accelerometer; compass; ambient light sensor
Built-in microphone for voice replies
Pebble OS with support for actionable notifications (Android only)
Samsung-made 150mAh battery, a week worth of battery life
Bluetooth 4.0 connectivity
40.5 x 37.5 x 9.5mm; 42.5 grams with standard silicone band easily replaceable, standard 22mm band
30m water resistance
Main disadvantages
The display lags behind the competition in terms of colors, resolution, and performance indoors
iOS device functionality lags behind the one for Android
Limited app ecosystem (at least for the time being)
Plasticky construction, though there is a Pebble Time Steel on the way
With a color screen and more capable hardware, the Pebble Time is unsurprisingly a massive upgrade over the first generation. The new model has also retained the key features that made the original Pebble such a success, headed by mind-blowing battery life and ease of use.
Despite being an update over its predecessor in terms of design and hardware however, the Pebble Time lags behind the Apple Watch and the Android Wear army on this instance. Competing smartwatches from Apple and Google look more stylish and boast better screens, internals, and app ecosystems, thus meaning that the Time will have to rely on ease of use and battery life to gain followers.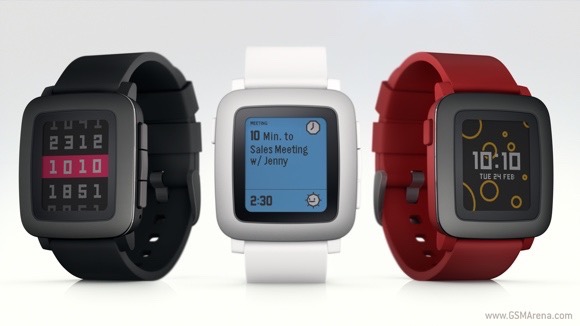 We are going to kick the review off with unboxing of the Pebble Time, followed by our take on its design and hardware. Head over to the next page for a closer look at the smartwatch.
S
I ordered my pebble watch time today 108usd. Nice i love it. 4 to 5 days battery fantastic.
D
I have a pebble time black and after a few days i noticed some slight scratching on the outer bezel, i think the matte finish on the metal bezel is a bit prone to scratches. I suggest getting matte decals to protect the bezel. battery life lasts...
M
The bezel surely is big enough to get some solar charging action going