Alternatives
Exploring alternatives for the Oppo Watch is no easy task. Especially if you want to get a device, as close as possible to it, both visually and functionally. The dual-chipset and dual-OS functionality is sort of unique, in the particular way Oppo has done it - combining Google's Wear OS with a secondary, low-powered environment.
There are still similar solutions on the market, though, notably, the Amazfit Stratos 3, which has a smart version of its OS, rated at around 7 days of battery life and an ultra-endurance one, that offers basic functionality, just like the Oppo Watch and around two weeks on a single charge.
Another interesting bit in the Amazfit Stratos 3 arsenal is its transflective, round, 320x320-pixel TFT display, which sacrifices a rich color pallet for better battery efficiency and great visibility under sunlight. Aside from that, the Stratos 3 comes with a 5ATM rating, excellent PPG Bio-Tracking optical sensor for heartrate, as well as onboard GPS. It is a great alternative to the Oppo Watch.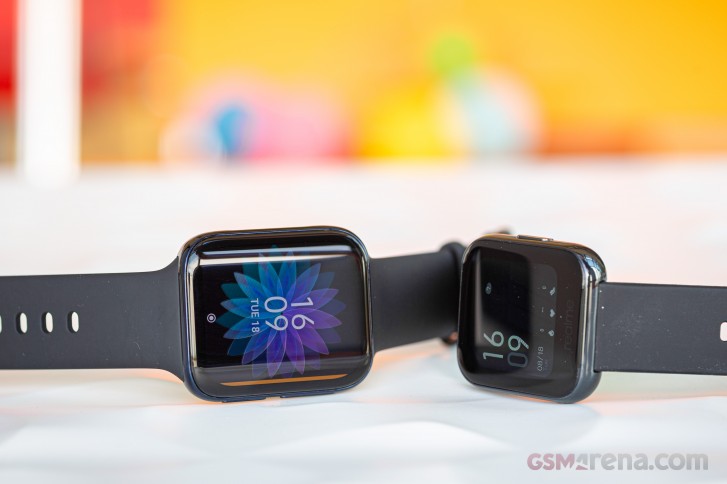 Left: Oppo Watch * Right: Realme Watch
However, like so many other wearables out there, the Amazfit Stratos 3 is often misrepresented, mistakenly as a smartwatch. Since it lacks a third-party app ecosystem, like the one on Wear OS, it is technically a smart wearable. If you decide that you can live without third-party apps, as well as more-basic notification handling, a smart wearable has plenty of positives to outweigh those shortcomings. Mainly, the excellent battery life. But if that is the route you want to go down, our best pick would be either the excellent Amazfit GTR, which delivers all of the smarts and features of the Stratos 3, inside a slicker body, all while easily lasting a full month on a single charge.
If you want to save a few bucks, pretty-much all major manufacturers have compelling offers on cheaper smart bands. Some, like the Realme Watch or the Amazfit Bip S even look like a rectangular watch, rather than a band. The latter also comes with a built-in GPS for better tracking - a relatively rare sight in smart bands. And, of course, there are the really famous options, like the reliable Mi Band line, with Mi Band 5 and the cheaper 4C being good, current, options.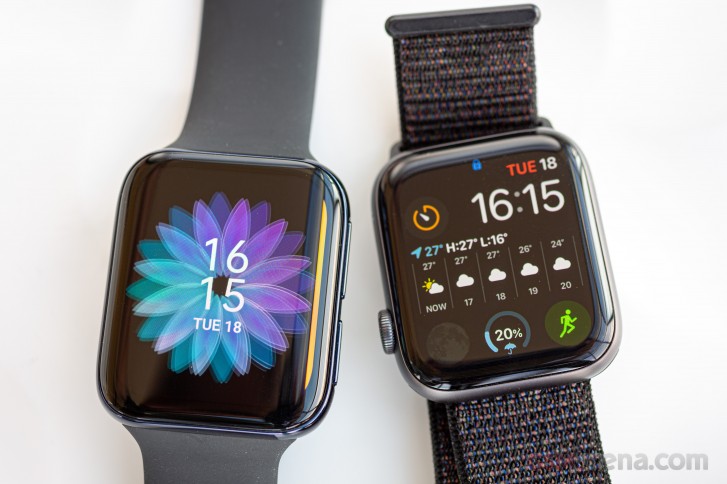 Left: Oppo Watch * Right: Apple Watch
Say you want something a bit more premium, though. Aside from the Amazfit GTR, which is our device of choice, there is the Huawei Watch line. Particularly, the current Huawei Watch GT 2 and Watch GT 2e. The former one also available as the Honor MagicWatch 2. There are subtle differences between these, but, generally, they are similar and offer fully-loaded smart wearable experiences. Like the Amazfit GTR - not technically smartwatches, but looking stylish, getting excellent battery life, rich in both hardware and software features and with vibrant user communities churning-out things like unofficial watch faces.
If you don't want to settle for anything short of a smartwatch, you are kind of limited in options, but there are some standout deals. Starting with Wear OS, Mobvoi has some excellent options in its TicWatch line. The TicWatch Pro, in particular, is kind of similar to the Oppo Watch, in the sense that it employs an unconventional method, alongside Wear OS, to save on battery. In this case, it is a whole secondary LCD layer. Intriguing stuff. The TicWatch E2 and TicWatch C2+ are also worth considering.
As a side note, shopping for Wear OS devices can have hidden pitfalls to avoid. For instance, the Xiaomi Mi Watch is an obvious alternative here, both design-wise and functionally since it is also based on a Snapdragon Wear chipset and runs Wear OS. However, it is still a China-only device, and just like the China version of the Oppo Watch, it runs on an OS, still based on Google's Wear OS, but it lacks most Google services and requiring a secondary Chinese app to connect to your phone. The Chinese version of the TicWatch Pro is in the same boat. And while workarounds allegedly exist, we can't recommend the hassle.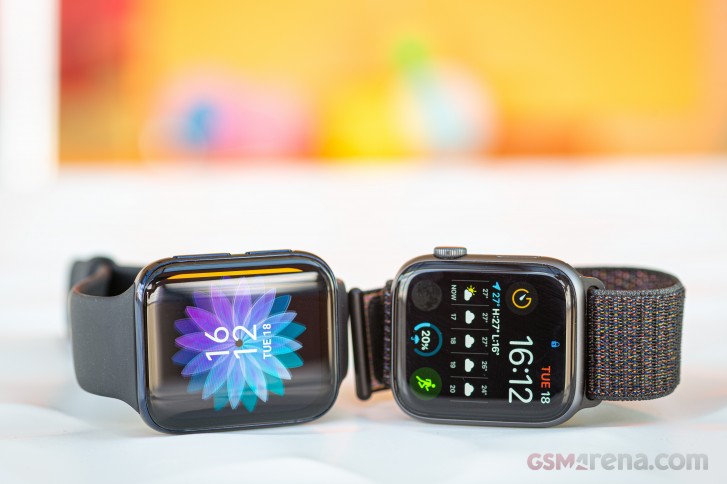 Left: Oppo Watch * Right: Apple Watch
Last, but not least, we have Samsung's Tizen-based wearables, which, alongside Wear OS and Apple's Watch OS offers, are the only other major entry in the true smartwatch realm. The Galaxy Watch3 is the current flagship offer, complete with compelling gadgets, like ECG. However, there is also the smaller, slicker and arguably more-elegant Galaxy Watch Active2 to consider. It offers pretty much all of the features of the Watch3 in a different and more affordable package. Even older models in Samsung's wearable line, like the Galaxy Watch are still perfectly competent and comparable to the latest generation devices and deliver an almost identical experience. If you can find one with a good price, don't hesitate.
Finally, we will mention the Apple Watch family of devices, but unfortunately, not as a viable alternative to the Oppo Watch, due to poor, if any Android compatibility. The Oppo Watch, like any Wear OS smartwatch, can, however, sync with an Apple iPhone, which is worth noting.
The verdict
The Oppo Watch has colloquially earned the nickname of "Apple Watch for Android" and for a good reason. It is, probably, the closest any true smartwatch, currently out there has managed to come to the overall experience of Cupertino's wearable. Refined all the way through, the Oppo Watch doesn't hide its Apple inspiration and aspirations, but rather embraces them fully.
On a hardware level, it is a superb gadget, with little to no flaws to point out. It delivers on every feature, as advertised - customizability, app support, notifications and calls, activity and health tracking - all work great, mostly thanks to Wear OS, with a little extra Oppo visual polish, on top.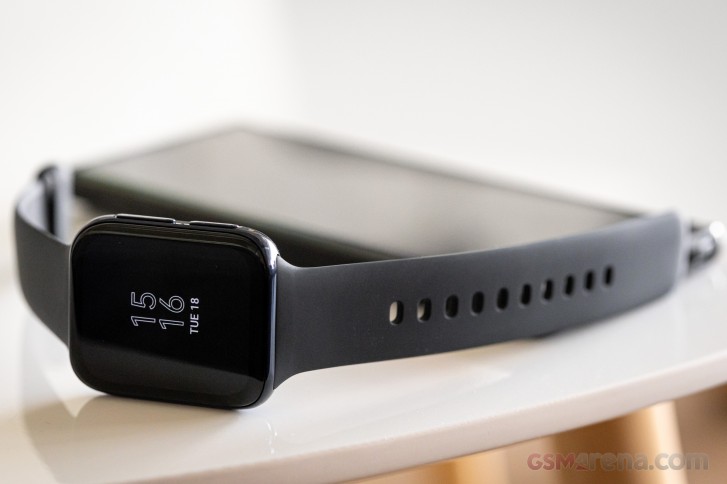 If you stop there and don't dig into the software aspects of the Oppo Watch any further, it is even fair to say that it offers a straight-forward and user-friendly experience. Easy to both set-up and operate.
The only real issue we had with our Oppo Watch experience, as a whole, pertains to its secondary battery-saving mode of operation. Oppo has clearly put substantial effort into it, going as far as to implement a secondary chipset, for the benefit of battery endurance. A clever decision, which, in itself, definitely has potential going forward. Oppo just needs to add some extra software polish.
As things currently stand, setting-up and properly operating the Oppo Watch, in the entirety of its feature set, is confusing and cumbersome, requiring two different apps and extra steps during setup. If Oppo manages to optimize and smooth out that experience, the Oppo Watch would effectively be a fault-free product, perfectly achieving what it set out to do.
Whether or not it will manage to make any meaningful dent on the smartwatch market is another question.
Pros:
Premium design and materials
Great display
Very comfortable to wear
Water-resistant
Decent speakers and microphone built-in
Solid day-and-a-half battery life in Wear OS mode and two weeks in Battery saver mode
Slick and fluid Wear OS interface, with Oppo styling on top
Excellent notification handling and activity tracking performance
Cons:
Minimal accessory package
Horrible clasp design and non-standard strap attachment
Complicated setup procedure, requires two separate apps
Minimal feature set in Battery saver mode
Automatic sleep tracking only works between 8pm and 10am