A new report from Canalys outlines Thailand's smartphone market share and smartphone shipment for the last quarter of 2018. In recent years, a number of key players including Xiaomi, Honor, Lava, and Wiko, have intensified competition in the Southeast Asian market.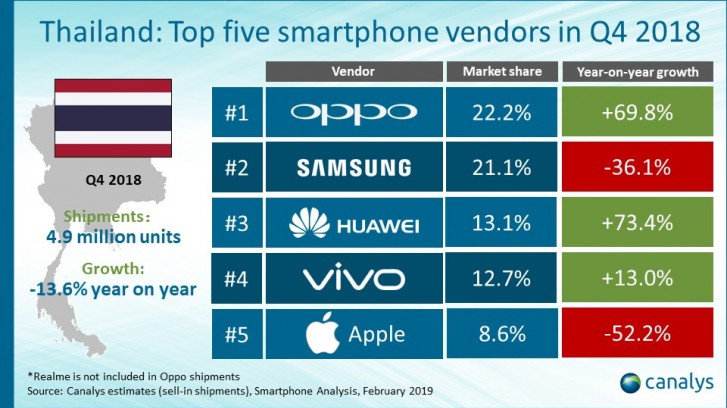 As users are holding onto their smartphones for longer periods of time, the market sees a 13.6% drop over Q4 from the previous year – a total of 4.9 million units were shipped during the period. Despite attractive promotions from smartphone carriers in Thailand, millions of users in rural areas of the country use feature phones with no intentions of upgrading.
Oppo's market share grew an impressive 69.8% YoY with 22.2% marketshare, surpassing Samsung's 21.1% cut of the market. Samsung saw a 36.1% YoY decline. Meanwhile, Huawei is positioned as #3 with 13.1% market share and saw the most growth YoY with 73.4%. Vivo steadily grew 13% while Apple's share dropped the 52.2% with only an 8.6% share.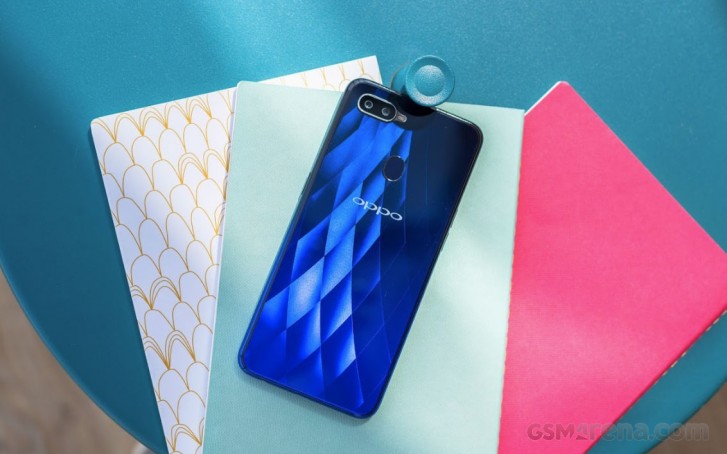 Oppo F9 (2018)
Oppo's numbers don't include Realme-branded devices while Huawei's stats do take Honor devices into consideration. Two-thirds of Oppos total shipments were made up of the A3, F7, and F9 handsets thanks to the phone maker's heavy investment in local marketing and services over the past five years. Oppo's challenge remains to attract higher-end users and convince them to switch from Samsung and Apple handsets.
Check out the Source link for the full report from Canalys
D
Nowdays everybody is better than Samsung. Many chinese manufacturers sells equal phones for much less. And noone is interested in buying Samsung mfor their 1000+ price.
?
According to statcounter.com, the market share of the active smartphones in use in Indonesia in January 2019 is as follows: Samsung: 26.89% Xiaomi: 21.54% Oppo: 17.4% Vivo: 8.56% Apple: 5.86%
?
Not true. According to IDC, Samsung (27%), Xiaomi (25%), Oppo (18%), Vivo (9%). Apple is among the OTHERS.
ADVERTISEMENTS