Android 12 and ColorOS 12
This isn't the first time we see Oppo's ColorOS 12 in action, as the version of the OS debuted with the Find series on top of Android 12. And it looks very familiar. If you are a current or past Realme UI or ColorOS user, you will definitely find your way around.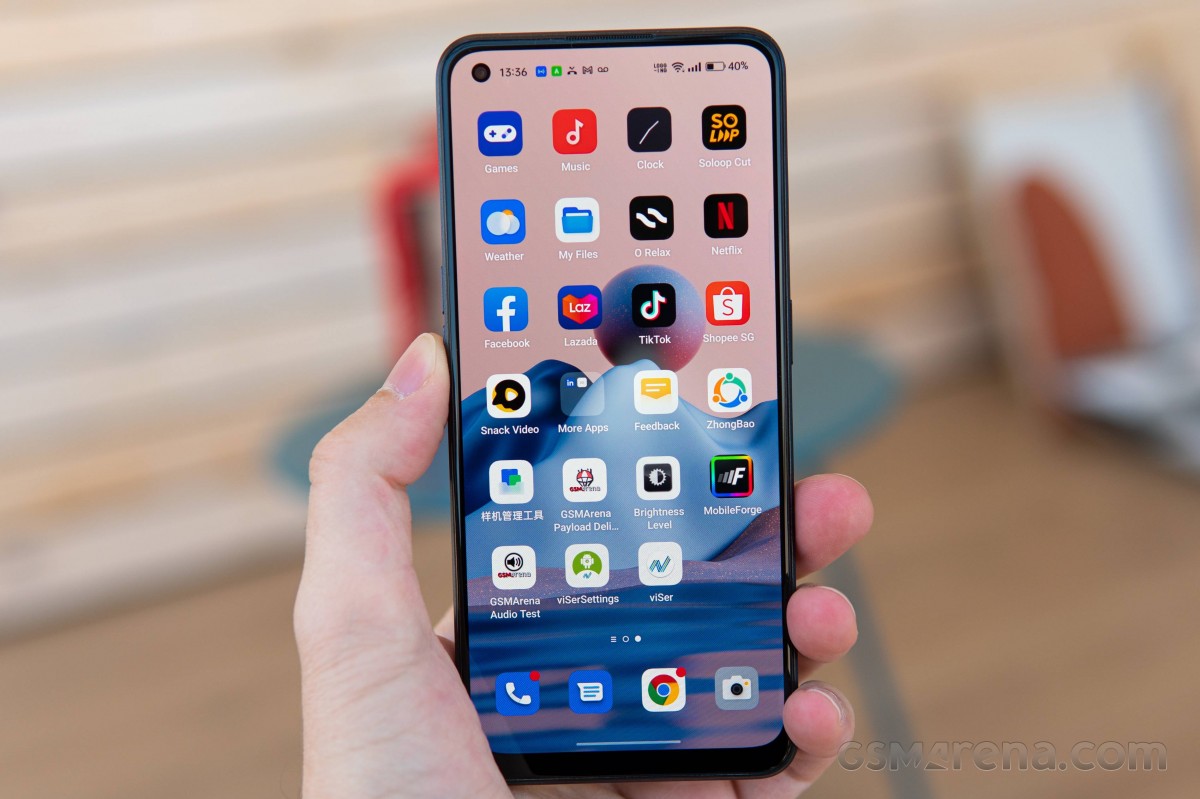 And by familiar, we mean nearly identical looks to the ColorOS 12 that came with the Find N and the recently introduced Realme UI 3.0. We are talking style, iconography, quick toggles - pretty much everything. Most of the features are also translated into ColorOS 12.1. It's maybe part of BBK Electronic's approach to software development in an effort to make support and development much easier to handle for multiple brands of devices.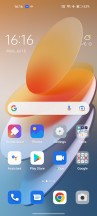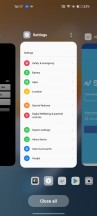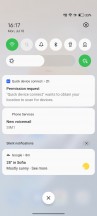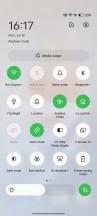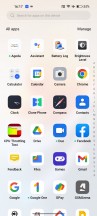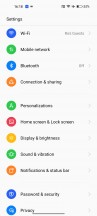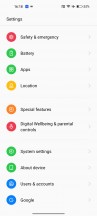 Home screen, recent apps, notification shade, app drawer
The Icon pull-down gesture is still here, and it makes it way easier to operate with one hand on an overcrowded home screen with plenty of app icons. Just swipe down alongside the edge of the display to bring down the icons close to your thumb and select an app to launch. The gesture is consistent and useful.
Android 12's new privacy features are implemented. You get a summary of all the apps that use your data, location, camera, microphone, etc., all in one place. It's called Privacy Dashboard and is something like Digital Wellbeing but privacy-focused. And in case you don't want certain apps to have your exact location, you might want to give them approximate location instead.
Most of the UI elements on ColorOS can be customized. We are talking about deep customization of app icons, accent colors, quick toggles and their shape, font, fingerprint reader animation, Edge lighting for incoming notifications, and, of course, the Always-on display.
Oppo offers quite a bit of Always-on presets too, all of which are the same ones we saw in Realme UI.
We also liked the granular notification customization. The system allows for advanced notification handling in the drop-down menu, such as instant replies or other suggested actions. Incoming notifications when the phone is in use will arrive with a quieter sound and milder vibration. Notification snoozing is another neat feature that lets you attend conversations or other apps later without having to keep them in the notification shade and clutter up.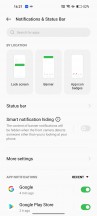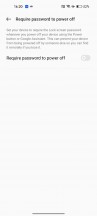 Notification options and additional privacy features
For enhanced privacy, the system will hide the contents of the notification once the front-facing camera detects someone other than you. This requires the facial unlocking feature to be enabled and uses that data to match your face.
The OS is also certified by ISO, ePrivacy and TrustArc for advanced privacy and security. For instance, you can protect your recent app activity (it's supported by 800 apps at the moment), or you can set up a password when turning off the device.
The Special features tabs hold the familiar Smart Sidebar and Flexible windows functions. They are both tailored toward better multitasking. When turned on, the sidebar offers quick access to some of your favorite apps. The system allows you to adjust the position of the sidebar, which is crucial because it might interfere with the back gesture if you are using the standard Android gestures. Anyway, tap and hold on an app icon enters split-screen mode while a single tap opens up the app in a floating window or, as Oppo likes to call it, "Flexible window". The supported apps can be opened in small, draggable and size-adjustable windows.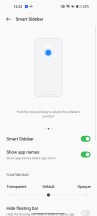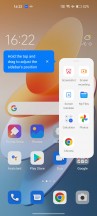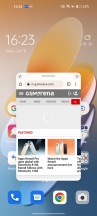 Smart sidebar and Flexible windows.
The Quick launch function has been around on OnePlus' OxygenOS-powered phones for a while now, and it's nice to see it making its way to other brands under the BBK Electronics umbrella. Once enabled, you can set up to three apps that can launch as soon as the display is unlocked. Tap and hold on the fingerprint reader from a locked screen to open up the Quick launch menu.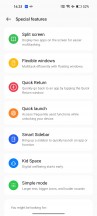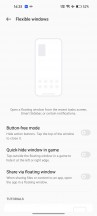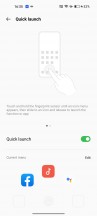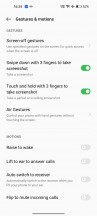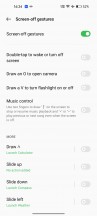 Quick launch and other special features
The good old screen-off gestures that allow you to launch certain apps or the flashlight by drawing letters on a locked screen are here to stay.
The experimental features that Realme offers are nowhere to be found here. The fingerprint can't measure heart rate, nor can you stream sound to connected Bluetooth and wired headsets simultaneously. Those are hardly features to miss but are worth mentioning.
Synthetic benchmarks
The handset runs on a recent MediaTek Dimensity 1300 chipset, which is almost identical to the Dimensity 1200. In fact, for all intents and purposes, those chips are indeed identical. They have the same CPU configuration, and clock speeds (1x3.0 GHz Cortex-A78 & 3x2.6 GHz Cortex-A78 & 4x2.0 GHz Cortex-A55), the same Mali-G77 MC9 GPU and the SoC is based on TSMC's 6nm manufacturing process. So it's no surprise that the performance difference between the two silicons is negligible.
MediaTek does say that the improved HyperEngine 5.0 helps optimize sustained load, and gaming and boosts efficiency. And it's important to note that the Indian market gets the 8GB/128GB memory option while the global variant will be selling with 8GB/256GB memory.
GeekBench 5 (multi-core)
Higher is better
Realme GT2
3487
Oppo Reno8 Pro
3395
Poco F4
3190
Realme GT Neo 3T
3180
iQOO Neo 6
3076
Xiaomi 12 Lite
2943
Oppo Reno8
2694
MediaTek Dimensity 1300 reference
2694
Realme 9 Pro+
2335
AnTuTu 9
Higher is better
Realme GT2
810512
iQOO Neo 6
730223
Realme GT Neo 3T
726007
Oppo Reno8 Pro
718351
Poco F4
698586
Oppo Reno8
619610
MediaTek Dimensity 1300 reference
619610
Xiaomi 12 Lite
528905
Realme 9 Pro+
416031
GFX Aztek ES 3.1 High (offscreen 1440p)
Higher is better
Realme GT2
27
Oppo Reno8 Pro
26
Oppo Reno8
22
MediaTek Dimensity 1300 reference
22
Realme GT Neo 3T
22
iQOO Neo 6
22
Xiaomi 12 Lite
13
Realme 9 Pro+
11
GFX Aztek ES 3.1 High (onscreen)
Higher is better
Realme GT2
40
Oppo Reno8 Pro
39
Realme GT Neo 3T
32
iQOO Neo 6
32
Oppo Reno8
31
MediaTek Dimensity 1300 reference
31
Xiaomi 12 Lite
19
Realme 9 Pro+
17
GFX Aztek Vulkan High (onscreen)
Higher is better
Oppo Reno8 Pro
40
Realme GT2
38
Realme GT Neo 3T
34
iQOO Neo 6
34
Oppo Reno8
30
MediaTek Dimensity 1300 reference
30
Xiaomi 12 Lite
19
Realme 9 Pro+
16
GFX Aztek Vulkan High (offscreen 1440p)
Higher is better
Realme GT2
30
Oppo Reno8 Pro
26
Realme GT Neo 3T
24
iQOO Neo 6
24
Oppo Reno8
20
MediaTek Dimensity 1300 reference
20
Xiaomi 12 Lite
15
Realme 9 Pro+
10
GFX Car Chase ES 3.1 (offscreen 1080p)
Higher is better
Realme GT2
68
Poco F4
59
Realme GT Neo 3T
59
iQOO Neo 6
58
Oppo Reno8
51
MediaTek Dimensity 1300 reference
51
Oppo Reno8 Pro
46
Xiaomi 12 Lite
33
Realme 9 Pro+
27
GFX Car Chase ES 3.1 (onscreen)
Higher is better
Realme GT2
56
iQOO Neo 6
50
Poco F4
49
Realme GT Neo 3T
49
Oppo Reno8 Pro
44
Oppo Reno8
42
MediaTek Dimensity 1300 reference
42
Xiaomi 12 Lite
29
Realme 9 Pro+
23
As you can see, the Dimensity 1300 performs just as expected and to be fair, there's nothing inherently wrong with the chipset. In fact, judging by our past experience with the practically identical Dimensity 1200, the SoC is powerful and efficient. However, since the Reno8 has to compete against more powerful alternatives in the price bracket running Snapdragon 870 or even Snapdragon 888, it makes the Dimensity 1300 look bad.
Sustained performance
Oppo is really proud of the advanced cooling solution it has used for the Reno8. It has a 16.8% bigger cooling area than the previous generation. It consists of a graphene film and a big vapor chamber. Unfortunately, though, the CPU throttle test doesn't support those claims.
Even though the Dimensity 1200 isn't the most demanding chip around, the Reno8 struggled to maintain remotely decent performance over long periods of time. Even after just 5 minutes, the system's performance dipped to around 60% of the SoCs theoretical performance, and the situation didn't improve until the one-hour mark. The CPU throttled to 60% of its performance, which is quite underwhelming given that phones with flagship chipsets that are harder to cool off score better in that test.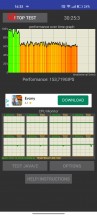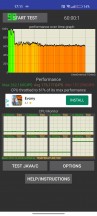 CPU throttle test: 30 min • 60 min
At least the device itself didn't feel uncomfortably hot as plastic has poor heat conductivity.