6.43-inch 90Hz OLED
The Oppo Reno8 5G runs a pretty standard OLED panel with 1080 x 2400px resolution at a 6.43-inch diagonal. The screen supports up to 90Hz refresh rate, which is below the average for the price range. Most competitors are already running speedier 120Hz panels. There's also no HDR support of any kind.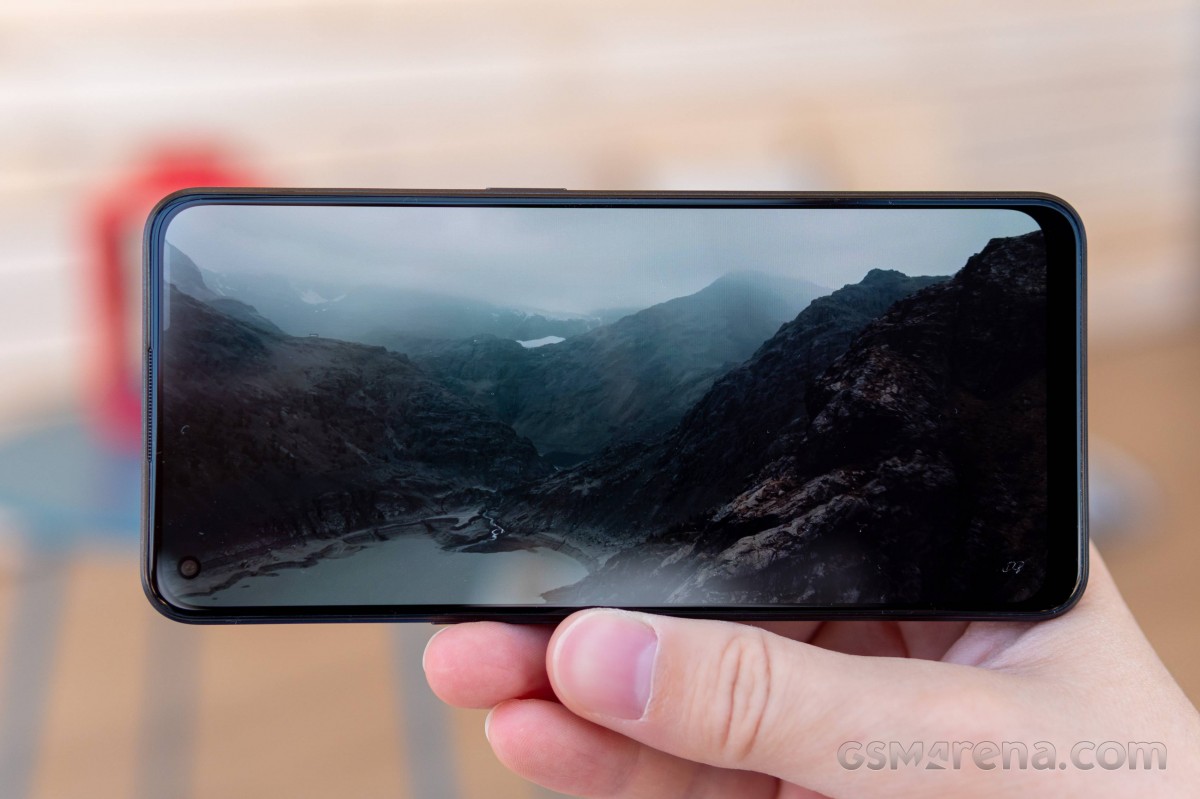 The good news is that the sunlight legibility is excellent. In manual mode, the display reached 439 nits, while in Auto mode, it peaked at 633 nits. That's enough for comfortable outdoor use eve on a bright sunny day.
Display test
100% brightness
Black,cd/m2
White,cd/m2
Contrast ratio
Oppo Reno8 Pro
0
510
∞
Oppo Reno8 Pro (Max Auto)
0
818
∞
Oppo Reno8
0
439
∞
Oppo Reno8 (Max Auto)
0
633
∞
Samsung Galaxy S21 FE 5G (before second slide)
0
385
∞
Samsung Galaxy S21 FE 5G
0
792
∞
Xiaomi 12 Lite (Max Auto)
0
824
∞
Xiaomi 12 Lite
0
507
∞
Realme GT Neo 3T
0
516
∞
Realme GT Neo 3T (Max Auto)
0
803
∞
Realme GT2 Pro
0
482
∞
Realme GT2 Pro (Max Auto)
0
778
∞
Realme 9 Pro+
0
433
∞
Realme 9 Pro+ (Max Auito)
0
613
∞
iQOO Neo 6
0
487
∞
iQOO Neo 6 (Max Auto)
0
772
∞
Poco F4
0
530
∞
Poco F4 (Max Auto)
0
1003
∞
Color accuracy isn't stellar as whites and grays appear straight-up blue, and the so-called Natural color preset doesn't seem to fix the issue. It gets some other colors in line, but whites and grays will still appear with a noticeable blue-ish tinge.
As usual, there are a couple of additional settings to enhance the viewing experience. There's the Eye comfort mode that limits blue light emissions and is particularly useful for nighttime reading. The so-called Video color boost works by analyzing video content and boost color saturation and other effects for better-looking video. It will consume more power, though.
And then there's the Adaptive Sleep option that uses the front-facing camera to determine whether or not you are looking at the display. If you are, then the screen timeout is paused, and the display will remain on while when in use.
HRR control
The refresh rate behavior isn't different from any other Oppo smartphone running the latest ColorOS, except for the handsets having LTPO displays where the refresh rate control is much more granular. Anyway, the Reno8 offers two presets - High and Standard. We recommend using the first one as it's pretty competent in choosing the right refresh rate according to the use case. Video apps tone down the refresh rate to 60Hz to preserve power. The static screens also bring down the refresh rate to 60Hz. In all other popular apps and system menus, the display runs at 90Hz, so no surprises here.
Games, on the other hand, are a mixed bag. Only a couple of them saturated the screen's maximum refresh rate, although we don't have the proper tools to verify whether or not the system can keep it steady at around 90fps.
Battery life
Battery life is pretty solid, as it's usually the case with Dimensity 1200-powered phones we've tested in the past. Despite its lower-than-average 4,500 mAh battery capacity, the handset got some impressive screen-on runtimes. However, standby and 3G call times could have been slightly better, hence the overall 105 hours endurance score.
Still, we believe that the screen-on tests are the most relevant ones so you can enjoy long battery runtimes during the day.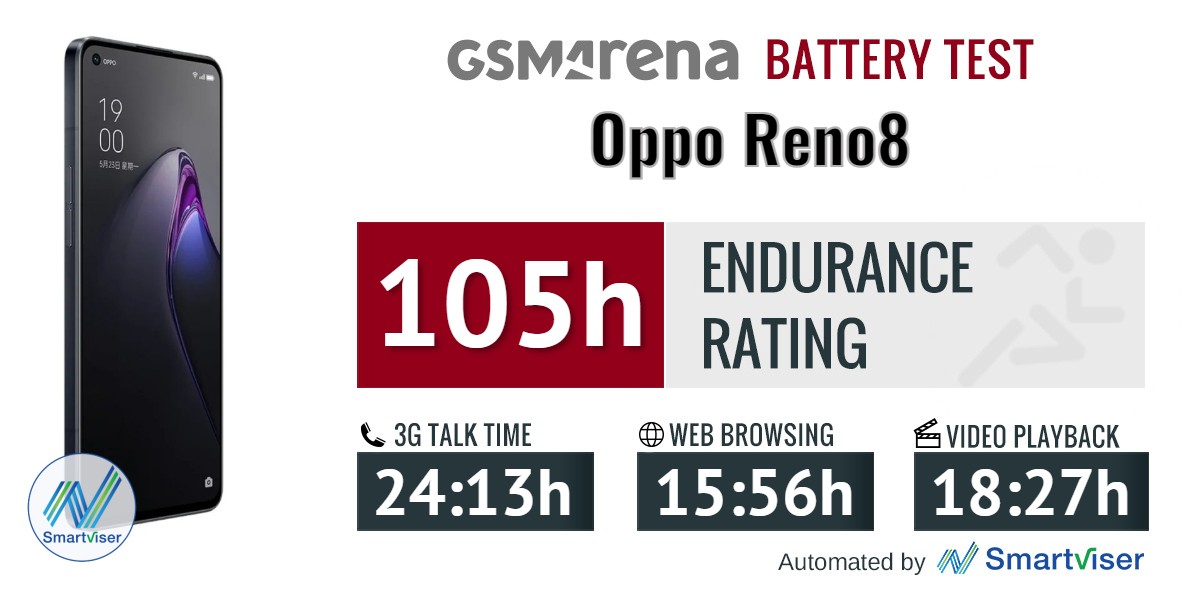 Our battery tests were automated thanks to SmartViser, using its viSerDevice app. The endurance rating denotes how long the battery charge will last you if you use the device for an hour of telephony, web browsing, and video playback daily. More details can be found here.
Video test carried out in 60Hz refresh rate mode. Web browsing test is done at the display's highest refresh rate whenever possible. Refer to the respective reviews for specifics. To adjust the endurance rating formula to match your own usage patterns, check out our all-time battery test results chart, where you can also find all phones we've tested.
Charging speed
The Oppo Reno8 and Reno8 Pro share the same charging tech as well as battery capacity - 4,500 mAh over the SuperVOOC 80W charging protocol. And as one would expect, charging times are identical. They also appear to be in line with Realme's 65W and 80W charging protocols.
In the first 30 minutes, the phone regained about 90% of its battery, while a full charge took just 42 minutes. That's quite impressive, and it's one of the fastest solutions in the price bracket.
30min charging test (from 0%)
Higher is better
iQOO Neo 6
98%
Realme GT2
97%
Realme GT Neo3T
95%
Poco F4
92%
Oppo Reno8
90%
Oppo Reno8 Pro
90%
Oppo Reno7 5G
90%
Xiaomi 12 Lite
84%
Samsung Galaxy S21 FE 5G
51%
Time to full charge (from 0%)
Lower is better
iQOO Neo 6
0:32h
Oppo Reno7 5G
0:37h
Poco F4
0:38h
Realme GT2
0:40h
Realme GT Neo3T
0:40h
Oppo Reno8
0:42h
Oppo Reno8 Pro
0:42h
Xiaomi 12 Lite
0:50h
Samsung Galaxy S21 FE 5G
1:15h
Speaker
The Oppo Reno8 has a single bottom-firing loudspeaker, which isn't very loud, with an "Average" loudness of -28.7 LUFS. And you can't expect much in terms of quality either since single loudspeakers have insufficient bass, can't deliver that general fullness of the sound, and the highs start to sound distorted at higher levels.
It's a big omission on Oppo's part, given that pretty much all of the direct competitors blast stereo loudspeakers, decent-sounding at that.
Use the Playback controls to listen to the phone sample recordings (best use headphones). We measure the average loudness of the speakers in LUFS. A lower absolute value means a louder sound. A look at the frequency response chart will tell you how far off the ideal "0db" flat line is the reproduction of the bass, treble, and mid frequencies. You can add more phones to compare how they differ. The scores and ratings are not comparable with our older loudspeaker test. Learn more about how we test here.