Display
The Oppo Reno7 5G employs a 6.43-inch AMOLED screen with extended 1080p resolution, HDR10 support and 90Hz refresh rate. The panel has a small perforation where you can spot the selfie camera.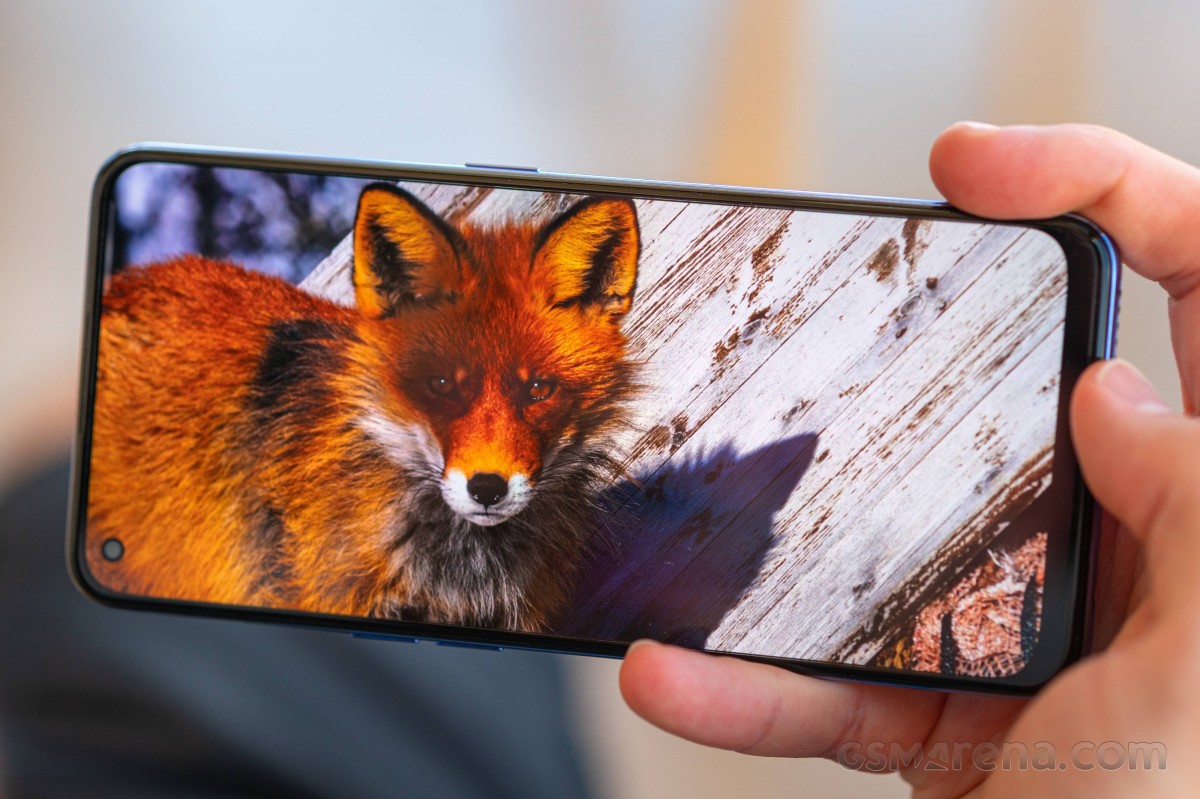 The OLED panel on the Reno7 5G has the typical 2,400 x 1,080 px resolution making for 20:9 aspect ratio and 409ppi sharpness. It is protected by a flat Gorilla Glass 5 piece.
As per the official specs, the panel supports up to a 180Hz touch sampling rate (120Hz for more than 2 fingers). There is also HDR10+ certification, and it should be compatible right out of the box with all popular streaming services, Netflix included.
Oppo has listed 430 nits of typical brightness, 600nits for Max Auto, and up to 800nits for peak brightness in HDR streaming.
We've completed our display test, and we found the screen capabilities to be as promised. The screen's maximum brightness when adjusting it manually via the slider was 456 nits. Then, we measured 635 nits when using Auto Brightness and exposed the phone to bright light - again, as promised.
The minimum brightness at point white was 2 nits - some excellent performance for when using it in pitch darkness.
Display test
100% brightness
Black,cd/m2
White,cd/m2
Contrast ratio
Oppo Reno7 5G
0
456
∞
Oppo Reno7 5G (Max Auto)
0
635
∞
Oppo Reno6 5G
0
438
∞
Oppo Reno6 5G (Max Auto)
0
632
∞
Sony Xperia 10 IV
0
683
∞
Xiaomi Redmi Note 11 Pro+ 5G
0
479
∞
Xiaomi Redmi Note 11 Pro+ 5G (Max Auto)
0
760
∞
Realme 9 Pro+
0
433
∞
Realme 9 Pro+ (Max Auito)
0
613
∞
Realme 9 Pro
0.288
461
1601:1
Realme 9 Pro (Max Auto)
0.385
567
1473:1
Samsung Galaxy A52s 5G
0
383
∞
Samsung Galaxy A52s 5G (Max Auto)
0
800
∞
Samsung Galaxy A53 5G
0
427
∞
Samsung Galaxy A53 5G (Max Auto)
0
830
∞
vivo V23 5g
0
435
∞
vivo V23 5g (Max Auto)
0
629
∞
Color accuracy
The Reno7 5G has three display color modes in Settings - Vivid (default) and Natural. You can adjust the color temperature in each of those. Vivid cover the DCI-P3 color space and offer accurate color presentation, excluding the slightly bluish white and gray hues.
The Natural option corresponds to sRGB and offers the same color accuracy as Vivid - good, but not great because of the bluish tinge. Choosing the Warmest color temperature option makes for a more natural white if the bluish one bothers you.
Refresh rate
There are two refresh rate options on the Reno7 5G - High (90Hz) and Standard (60Hz).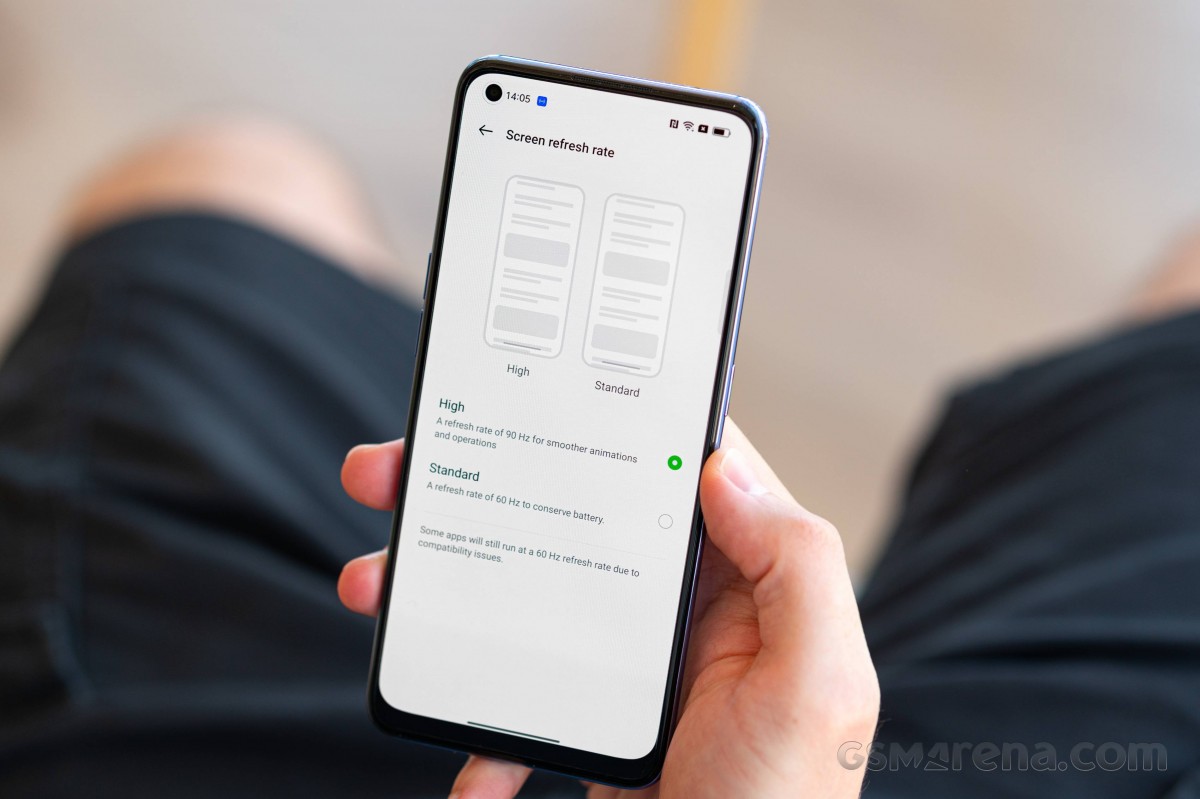 The 90Hz setting uses 90Hz in all compatible apps and reverts back to 60Hz for any static image, video playback/streaming, and incompatible apps like Camera and Google Maps.
HDR and video playback
Oppo offers one video optimization within the display options - video color enhancer (also known as O1 Vison Engine). It tries to widen the color range of SD videos. It is compatible with a limited section of apps, though, and all of them are Chinese-made.
The screen supports HDR10 and HDR10+, and with the combination of Widevine L1 DRM support, you should be able to enjoy FHD HDR content from all available streaming services. At the time of writing, Netflix offered Full HD streaming, but no HDR. On the other hand, YouTube and Prime videos seem to be utilizing the Reno7 5G's display in full.
Battery life
The Oppo Reno7 5G comes with a slightly larger 4,500mAh battery (compared to the Reno6 5G's 4,300mAh cell). The phone supports the same 65W VOOC fast wired charging.
The Reno7 5G, even if powered by the same Dimensity 900 chipset, comes with a newer ColorOS 12 version with lots of optimizations and, of course, the slightly larger battery. And, expectedly, it did better on our battery life test.
The Reno7 5G scored a total of 123h endurance rating, up from 109h on the Reno6 5G.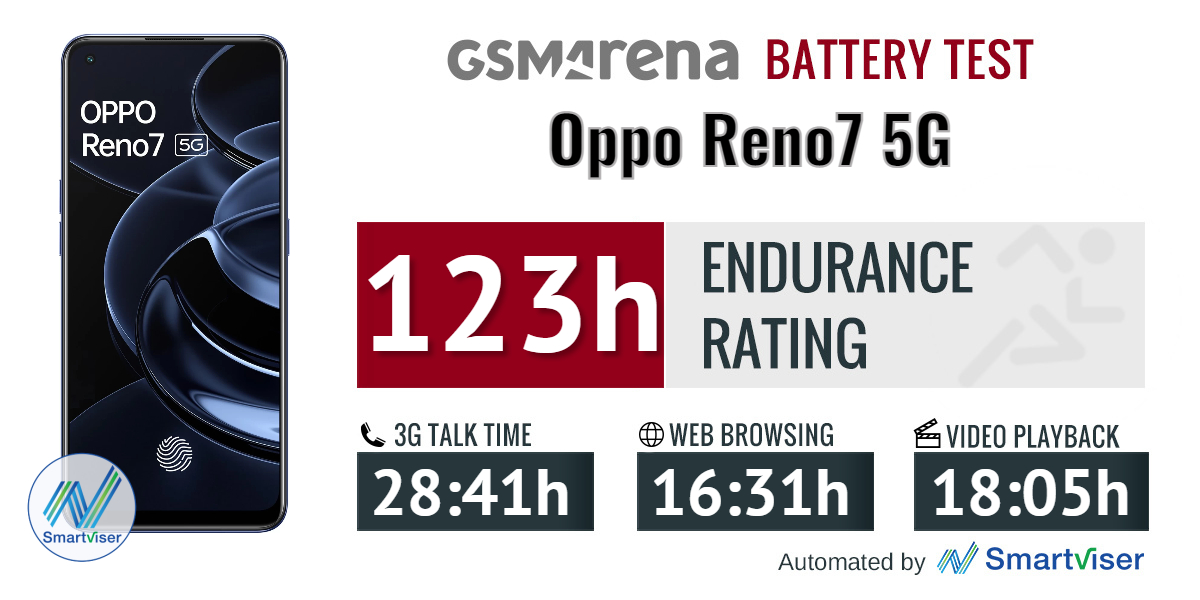 Our battery tests were automated thanks to SmartViser, using its viSerDevice app. The endurance rating denotes how long the battery charge will last you if you use the device for an hour of telephony, web browsing, and video playback daily. More details can be found here.
It showed improvements across all tests - call, web, video, and even standby performance (by 15%).
Video test carried out in 60Hz refresh rate mode. Web browsing test done at the display's highest refresh rate whenever possible. Refer to the respective reviews for specifics. To adjust the endurance rating formula to match your own usage patterns check out our all-time battery test results chart where you can also find all phones we've tested.
Charging speed
The Oppo Reno7 5G supports up to 65W fast wired charging, SuperVOOC to be specific. The 65W VOOC charger and cable are bundled with the phone, and you can enjoy the fastest possible charging right out of the box.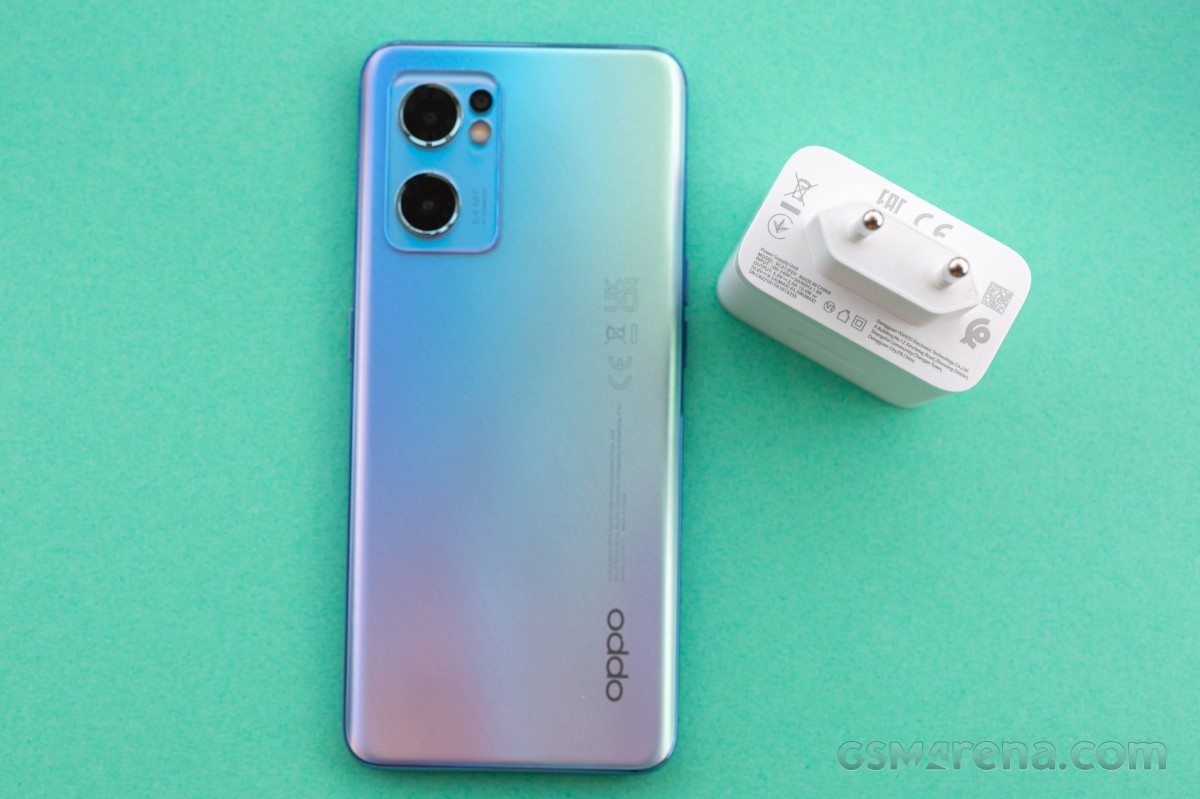 The maker advertises a full charge in 31 minutes, and our results were close.
The supplied power adapter got the phone from 0% to 90% in half an hour.
30min charging test (from 0%)
Higher is better
Oppo Reno6 5G
100%
Xiaomi Redmi Note 11 Pro+ 5G
100%
OnePlus Nord 2
98%
Oppo Reno7 5G
90%
Xiaomi Redmi Note 11 Pro
78%
Realme 9 Pro+
77%
vivo V23 5g
60%
OnePlus Nord N20 5G
57%
Samsung Galaxy A52s 5G
53%
Realme 9 Pro
52%
Sony Xperia 10 IV (65W PD)
26%
It needed another 7 minutes to reach a full charge.
Time to full charge (from 0%)
Lower is better
Xiaomi Redmi Note 11 Pro+ 5G
0:16h
Oppo Reno6 5G
0:29h
OnePlus Nord 2
0:31h
Oppo Reno7 5G
0:37h
Xiaomi Redmi Note 11 Pro
0:48h
Realme 9 Pro+
0:49h
vivo V23 5g
1:03h
OnePlus Nord N20 5G
1:08h
Realme 9 Pro
1:14h
Samsung Galaxy A52s 5G
1:28h
Sony Xperia 10 IV (65W PD)
2:35h
According to the official specs, the Reno7 5G supports reversed wired charging. We couldn't get it to work, but maybe it's a region-dependent thing, or it could arrive with a firmware update later, we are not exactly sure.
Speaker
The Oppo Reno7 5G offers a single speaker that's placed at the bottom of the phone.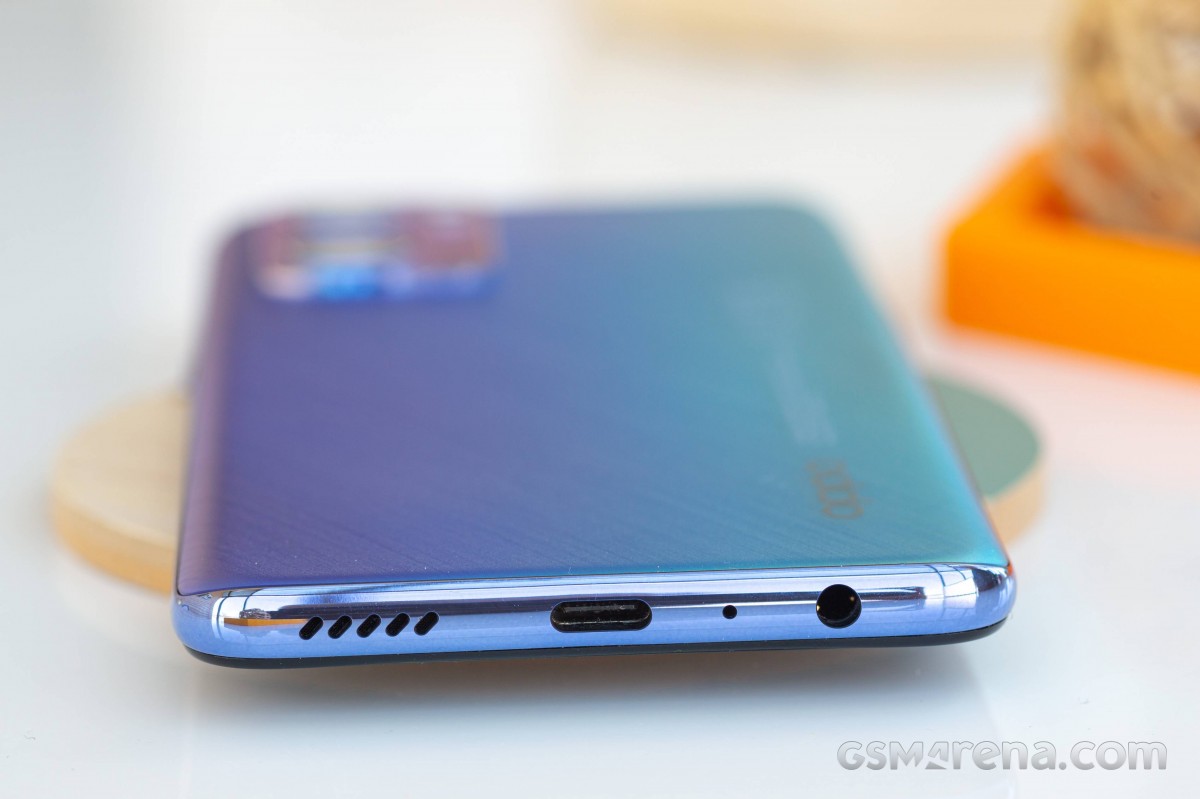 Its loudness hasn't been improved since the Reno6 5G, and it scored another Average mark.
We did hear improvement in the audio quality, though - the sound seems richer thanks to more prominent high tones and the good vocals. Just don't expect to hear any bass, though.
Use the Playback controls to listen to the phone sample recordings (best use headphones). We measure the average loudness of the speakers in LUFS. A lower absolute value means a louder sound. A look at the frequency response chart will tell you how far off the ideal "0db" flat line is the reproduction of the bass, treble, and mid frequencies. You can add more phones to compare how they differ. The scores and ratings are not comparable with our older loudspeaker test. Learn more about how we test here