The 6.55" SuperAMOLED maxes out at 90Hz, is pretty good nonetheless
The Reno6 Pro 5G (Snapdragon) is equipped with a 6.55-inch SuperAMOLED display with 1080x2400px resolution. The aspect ratio is 20:9, and the pixel density works out to 402ppi. More importantly, it has a 90Hz maximum refresh rate and does so at a price that more or less mandates 120Hz.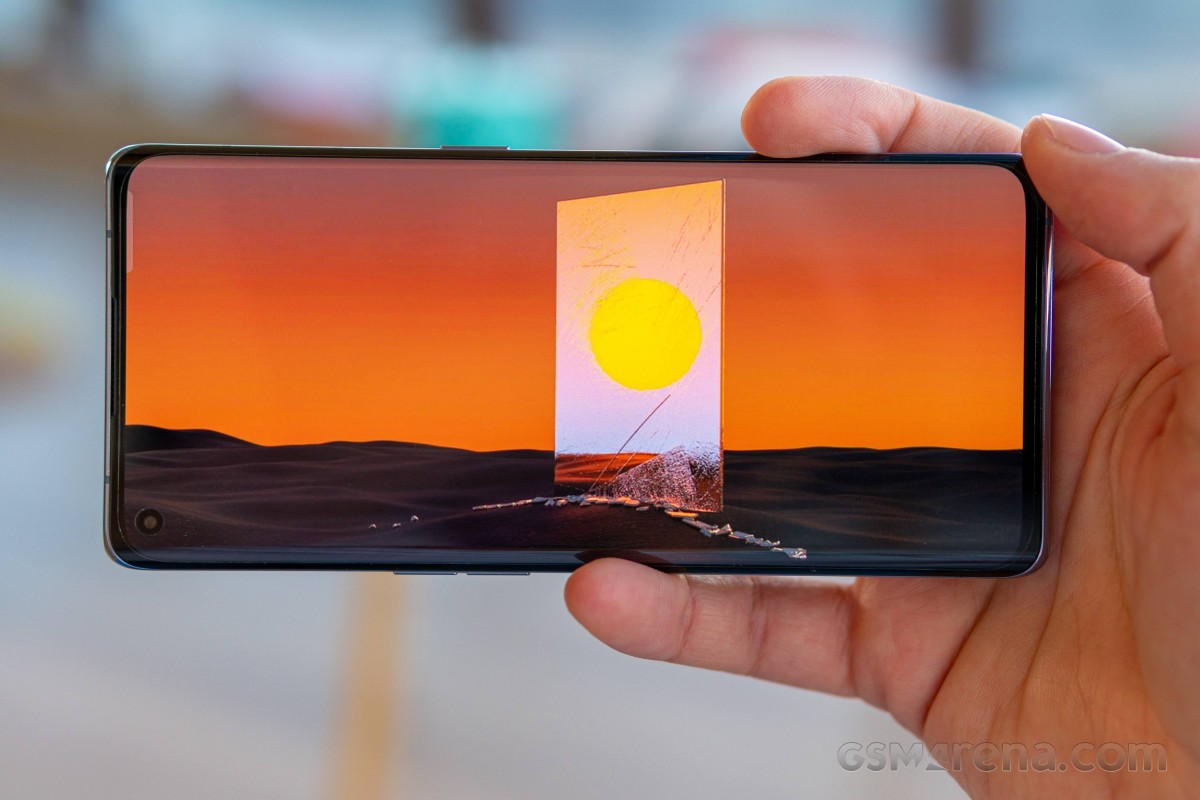 When it comes to brightness, we have little to complain about. The phone put out the promised 500nits (give or take) under normal conditions and got a healthy boost to 780nits when bright ambient light called for it. Minimum brightness was also excellent at 1.8nits.
Display test
100% brightness
Black,cd/m2
White,cd/m2
Contrast ratio
Oppo Reno6 Pro 5G (Snapdragon)
0
499
∞
Oppo Reno6 Pro 5G (Snapdragon) (Max Auto)
0
780
∞
Oppo Reno6 5G
0
438
∞
Oppo Reno6 5G (Max Auto)
0
632
∞
Xiaomi Mi 11T Pro
0
516
∞
Xiaomi Mi 11T Pro (Max Auto)
0
837
∞
OnePlus 9 Pro
0
525
∞
OnePlus 9 Pro (Max Auto)
0.038
871
22921:1
Samsung Galaxy S21+ 5G
0
459
∞
Samsung Galaxy S21+ 5G (Max Auto)
0
883
∞
Asus Zenfone 8 Flip
0
518
∞
Asus Zenfone 8 Flip (Max Auto)
0
735
∞
vivo X70 Pro
0
457
∞
vivo X70 Pro (Max Auto)
0
993
∞
Motorola Edge 20 Pro
0
484
∞
Motorola Edge 20 Pro (Max Auto)
0
673
∞
It's not quite as rosy when it comes to color rendition - it's rather bluish, in fact. In the default Vivid mode there was a strong cold cast to the grayscale set of target swatches, and fiddling with the color temperature slider shifted that to a slightly less pronounced red tint, but we couldn't really get an accurate white point. The average color deviation wasn't bad, but it wasn't really 'calibrated'-level either. Interestingly, the Gentle mode wasn't overly accurate for its intended sRGB content reproduction either - these are usually easier to get right. Overall, not a dealbreaking performance here, but not praise-worthy either.
The screen refresh rate menu lets you choose between Standard (60Hz) and High (90Hz) settings. The Standard mode locks everything at 60Hz, as expected. High is a bit more complicated, as it does have some adaptive behavior, and it will switch down to 60Hz based on app and activity.
The phone will maintain 90Hz throughout the UI. Going into any app, it will start looking out for touch input, and the refresh rate will drop to 60Hz a few seconds after the last touch. That behavior applies to browsers and social networking apps as well. Classic 60Hz-only apps like Google Maps and the camera will be at 60Hz, as usual. On a positive note, the high refresh rate is available when gaming.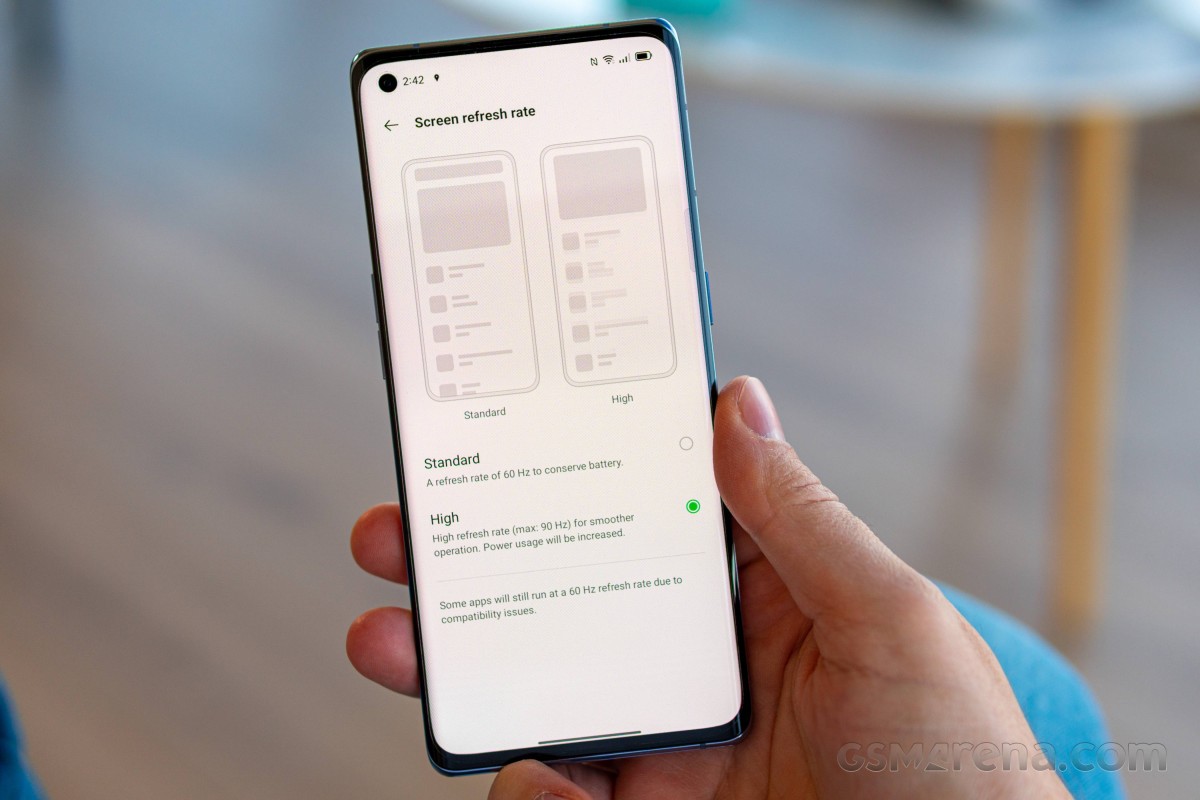 The Reno6 Pro 5G (Snapdragon) carries an HDR10+ certification. Unlike how it's often the case, the phone played back HDR content in all three platforms we usually check - YouTube, Netflix, and Amazon Prime Video.
Oppo Reno6 Pro 5G (Snapdragon) battery life
This Reno6 is equipped with a 4,500mAh battery, a standard capacity for the class. The Mi 11T Pro has a 5,000mAh cell inside, but the bulk of the potential competition stands at 4,500mAh or thereabout.
In our testing, the Reno6 Pro 5G with a Snapdragon inside posted generally solid numbers. The 20hours of offline video playback (with the display at 60Hz) are particularly impressive. The 13:29h result in Wi-Fi web browsing, meanwhile, can best be categorized as okay, considering it's recorded with the screen at 60Hz as well - we found no way to lock it at 90Hz. Having said that, past experience has taught us that there isn't much difference between 60Hz and 90Hz in terms of power draw for web browsing. The voice call longevity turned out good as well, as did standby.
All things considered, the Reno6 Pro 5G (Snapdragon) posted an Endurance rating of 108h.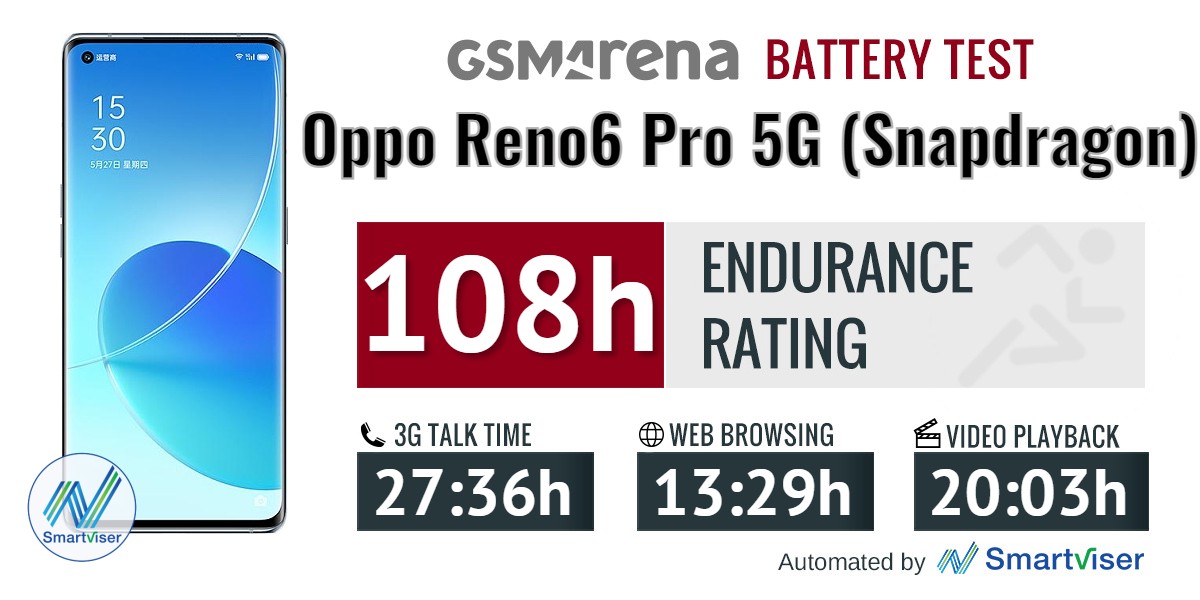 Our battery tests were automated thanks to SmartViser, using its viSerDevice app. The endurance rating denotes how long the battery charge will last you if you use the device for an hour of telephony, web browsing, and video playback daily. More details can be found here.
Video test carried out in 60Hz refresh rate mode. Web browsing test done at the display's highest refresh rate whenever possible. Refer to the respective reviews for specifics. To adjust the endurance rating formula to match your own usage - check out our all-time battery test results chart.
We went ahead and repeated the screen-on tests in 1080p resolution mode and got virtually the same results, so there's no point in lowering the resolution from an endurance standpoint.
Charging speed
Oppo was among the fast charging pioneers, and it's no wonder that the Reno6 Pro 5G is properly well equipped in this department. It supports the company's proprietary SuperVOOC 2.0 standard and comes with an adapter that can deliver those watts.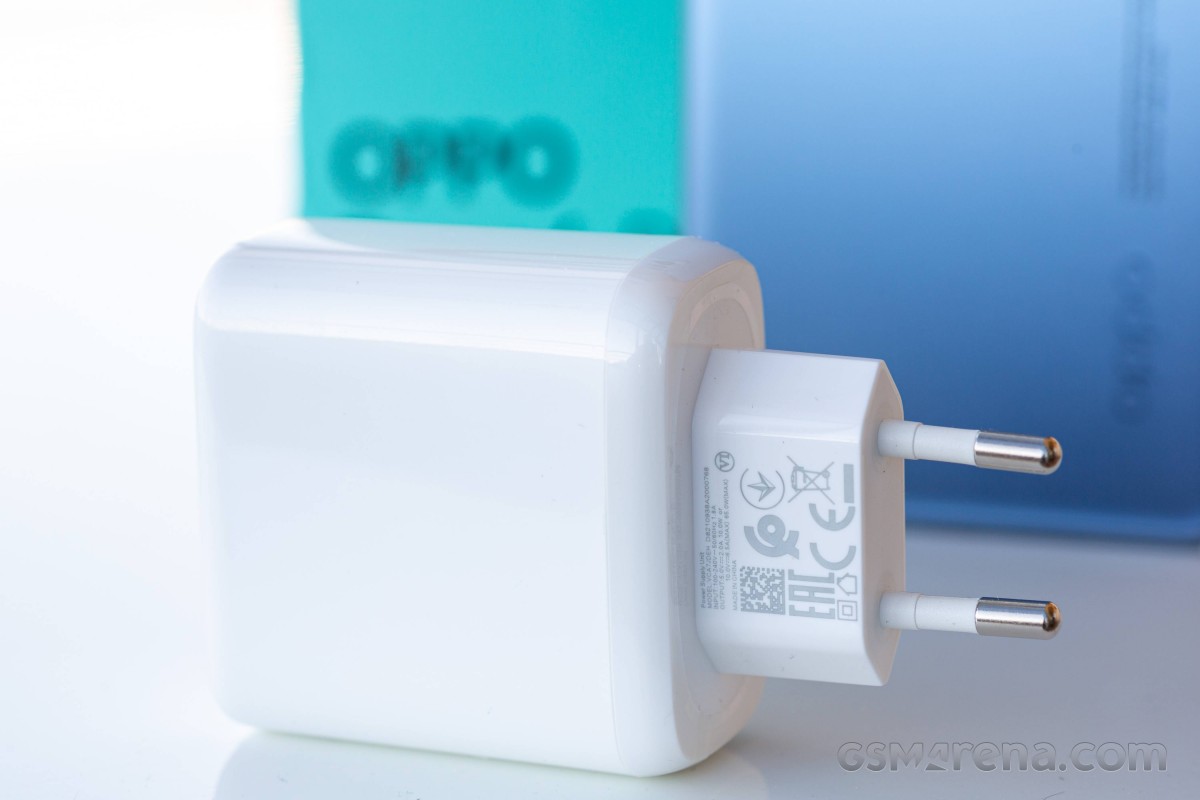 Using this unit, we clocked a full charge at 39 minutes, not quite the 35 minutes Oppo advertises, but amazingly fast nonetheless. The first thirty minutes after plugging in got us to 91% - again, a properly good result.
30min charging test (from 0%)
Higher is better
Oppo Reno6 5G
100%
Realme GT Master
100%
Xiaomi 11T Pro
100%
Realme GT Explorer Master
96%
Oppo Reno6 Pro 5G (Snapdragon)
91%
Realme GT 5G (65W)
87%
Xiaomi 11T
86%
Poco X3 GT
75%
ZTE Axon 30 Ultra 5G
74%
vivo X70 Pro
64%
Asus Zenfone 8
60%
Samsung Galaxy S21+ 5G
54%
Motorola Edge 20 Pro
53%
Samsung Galaxy A52s 5G
53%
Time to full charge (from 0%)
Lower is better
Xiaomi 11T Pro
0:21h
Oppo Reno6 5G
0:29h
Realme GT Master
0:30h
Realme GT Explorer Master
0:33h
Oppo Reno6 Pro 5G (Snapdragon)
0:39h
Realme GT 5G (65W)
0:39h
Xiaomi 11T
0:41h
ZTE Axon 30 Ultra 5G
0:44h
Poco X3 GT
0:48h
vivo X70 Pro
1:00h
Samsung Galaxy S21+ 5G
1:12h
Motorola Edge 20 Pro
1:17h
Asus Zenfone 8
1:28h
Samsung Galaxy A52s 5G
1:28h
Speaker test
The Reno6 Pro 5G (Snapdragon) has a fairly standard stereo speaker setup - there's one bottom-firing unit, and the earpiece also acts as another channel. In vertical orientation, the earpiece is in charge of the left channel, while in landscape, the phone will switch the channels to correspond to the way you're holding the phone. There will be some sound coming from the opposite channel, but at a much lower volume - so you get both the channel separation and a guarantee that you won't completely block all sound if you happen to hold the phone the wrong way.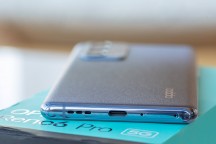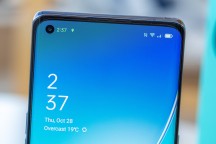 Bottom speaker • Earpiece/Top speaker
The Reno6 Pro 5G earned a 'Good' rating for loudness in our test - on par with the Xiaomi 11T Pro and the Motorola Edge 20 Pro, but not as loud as a Galaxy S21+. The Xiaomi is boomier, the Samsung has a bit more sparkle in the treble, but the Reno is still pretty good overall.
Use the Playback controls to listen to the phone sample recordings (best use headphones). We measure the average loudness of the speakers in LUFS. A lower absolute value means a louder sound. A look at the frequency response chart will tell you how far off the ideal "0db" flat line is the reproduction of the bass, treble, and mid frequencies. You can add more phones to compare how they differ. The scores and ratings are not comparable with our older loudspeaker test. Learn more about how we test here.