Refresh rate is high, brightness - not so much
The Reno4 Z 5G features a 6.57-inch display with a 1080x2400px resolution in a 20:9 aspect ratio for a pixel density of 401ppi. Oppo leaned on the refresh rate side of the OLED vs. HRR scales and fitted a 120Hz LCD - so 'no' to inky blacks, but 'yes' to extra smoothness.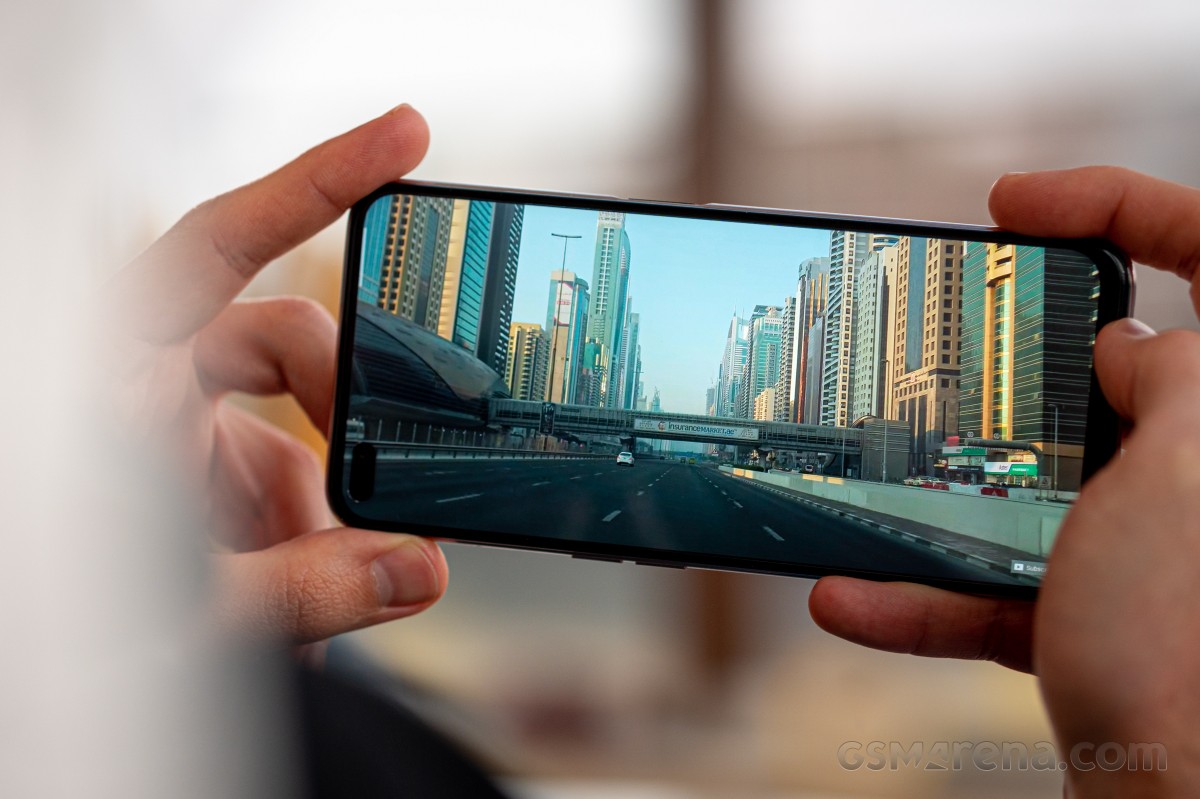 Oppo advertises a maximum brightness of 480nits on the Reno4 Z 5G, the same number as on the Realme 7 5G. Unlike the Realme phone, however, the Reno doesn't manage to live up to the promise and peaks at about 400nits. We also didn't see a boost when the phone is under bright light. Contrast, on the other hand, isn't bad for an LCD at around 1300:1.
Display test
100% brightness
Black,cd/m2
White,cd/m2
Contrast ratio
Oppo Reno4 Z 5G
0.31
398
1284:1
Oppo Reno4 Pro
0
508
∞
Oppo Reno4 Pro (Max Auto)
0
843
∞
Oppo Reno4 Pro 5G
0
515
∞
Oppo Reno4 Pro 5G (Max Auto)
0
845
∞
Motorola Moto G8 Power
0.341
500
1466:1
Motorola Moto G8 Power (Max Auto)
0.53
741
1398:1
Motorola Moto G 5G Plus
0.349
443
1269:1
Motorola Moto G 5G Plus (Max Auto)
0.466
543
1165:1
Motorola Moto G9 Plus
0.315
427
1356:1
Motorola Moto G9 Plus (Max Auto)
0.39
522
1338:1
Xiaomi Mi 10T Lite
0.348
476
1368:1
Xiaomi Mi 10T Lite (Max Auto)
0.455
596
1310:1
Xiaomi Mi 10 Lite 5G
0
442
∞
Xiaomi Mi 10 Lite 5G (Max Auto)
0
610
∞
Realme X3 SuperZoom
0.332
437
1316:1
Realme 7 5G
0.376
484
1287:1
Realme 7 5G (Max Auto)
0.667
571
856:1
Color reproduction is handled with a single slider offering stepless adjustment from cool to warm, with the default setting in the middle. In this out of the box state, we measured an average deltaE2000 of 6 when examining sRGB color swatches with whites visibly cold and some 12 units off the mark. Moving the slider all the way to the warmest settings improves things a bit - the average deviation drops to 4.1, and the whitepoint warms up slightly, though it remains bluish and about 8 units off target. Feeding the Reno4 Z 5G DCI-P3 color swatches, we got very similar results for color deviation.
The Reno4 Z 5G supports HDR10, and YouTube and Amazon Prime Video will serve it HDR versions of supported content. Netflix doesn't do HDR on the Reno, though it does offer FullHD resolution. The thing is, with the display being LCD and one of limited brightness at that, HDR isn't as impressive on the Reno as on a good OLED.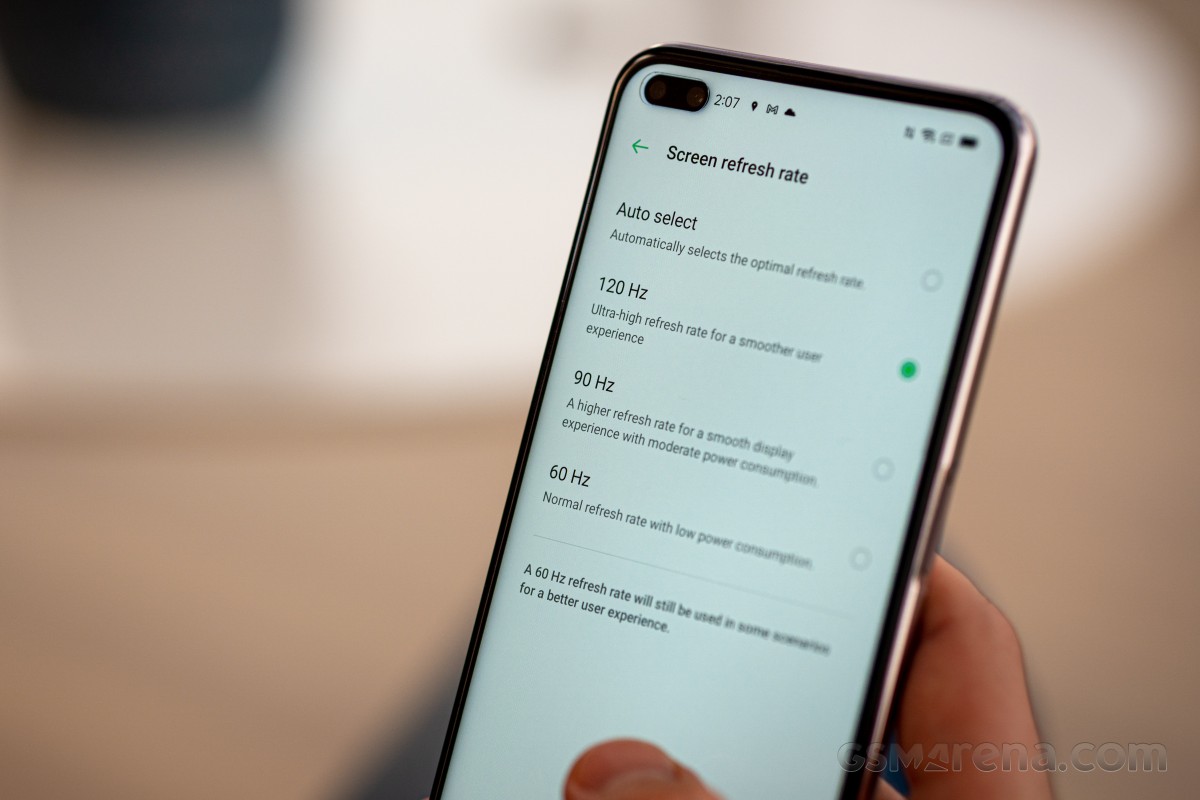 With the 120Hz refresh rate capability, the Reno4 Z 5G gets a four-position settings menu for you to pick just the refresh rate you like. The options are 'Auto select,' 120Hz, 90Hz, and 60Hz. Out of these, only the 60Hz setting is straightforward - it locks the refresh rate to 60Hz regardless of the type of content displayed or activity being performed.
The other modes come with numerous exceptions or limitations, but the basics are like this - in 120Hz and in Auto, the phone will maintain 120Hz throughout the UI. The Photos app will be locked in 120Hz in both modes. The Video app will be in 90Hz if you set the phone to 120Hz, but it will be switched all the way down to 60Hz when in Auto. The Camera viewfinder will remain at 60Hz regardless of the display setting. YouTube will switch to 60Hz as soon as you open the app, not just when it's playing back a video - oddly, the Realme 7 5G behaved differently here.
Generally speaking, Auto will be more keen to drop the refresh rate for this app or that, while 120Hz will stick to 120Hz more often than not, though it will still drop it depending on the app you launch - the Settings menu do point that out, so there's no attempt to fool you here. The 90Hz setting will behave similarly to 120Hz, only capped at 90Hz, obviously.
As for games, much like every other Oppo or Realme we've had at the office, no game goes above 60Hz/60fps on the Reno4 Z 5G.
Oppo Reno4 Z 5G battery life
The Reno4 Z 5G has a 4,000mAh battery inside - that used to pass for a large capacity, but with the advent of 5G and high-refresh rates, it's more or less the norm at the end of 2020.
In our testing, the phone was good for a little over 20 hours of voice calls - not spectacular, but perfectly acceptable. The standby performance was pretty great, however.
We carried out our on-screen tests in both 60Hz and forced 120Hz modes to give you an idea of best-case and worst-case scenarios. At forced 120Hz, you'd be looking at an appalling 9:15h video playback runtime and 10h of Wi-Fi Web browsing.
Mind you, while the phone will auto switch to 60Hz for video playback in most apps, it will stay in 120Hz for video in the default in-house gallery app (called Photos), so we figured this 'worst case' is indeed something we should look into.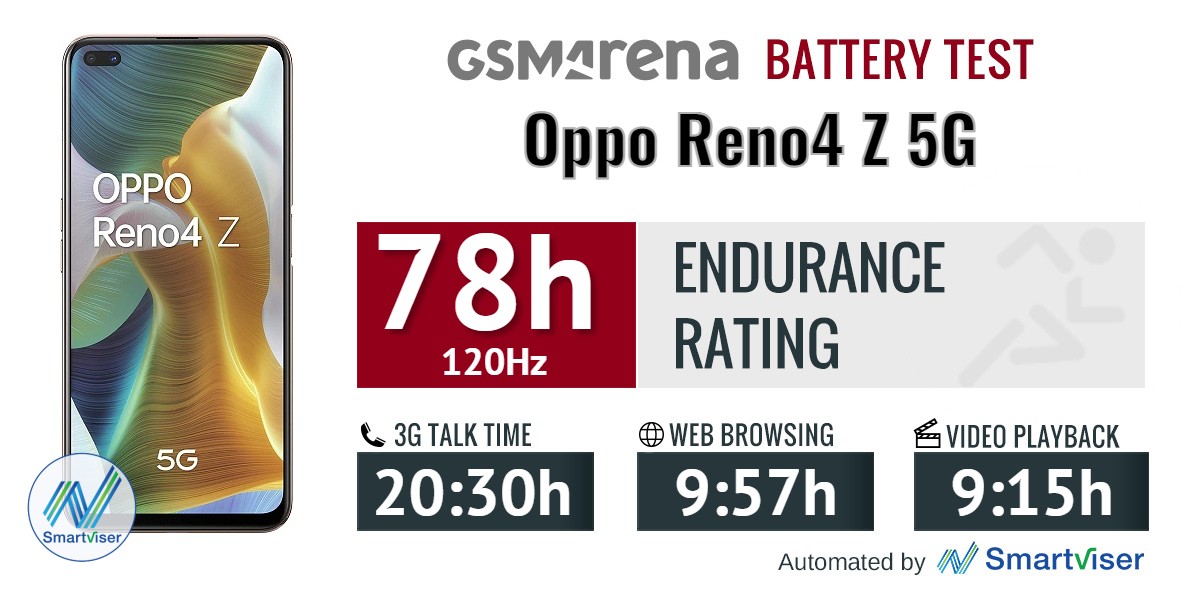 With the display set at 60Hz, we clocked tangible improvements in both screen-on tests. Web browsing shot up to 12:39h and video playback longevity increased to 12:54h. In practice, if you stay away from the Photos apps for video playback - there's a Videos app for that, after all - you can expect to get results in between the two scorecards as the video will gravitate towards the 60Hz number. At the same time, web browsing will be closer to the 120Hz result.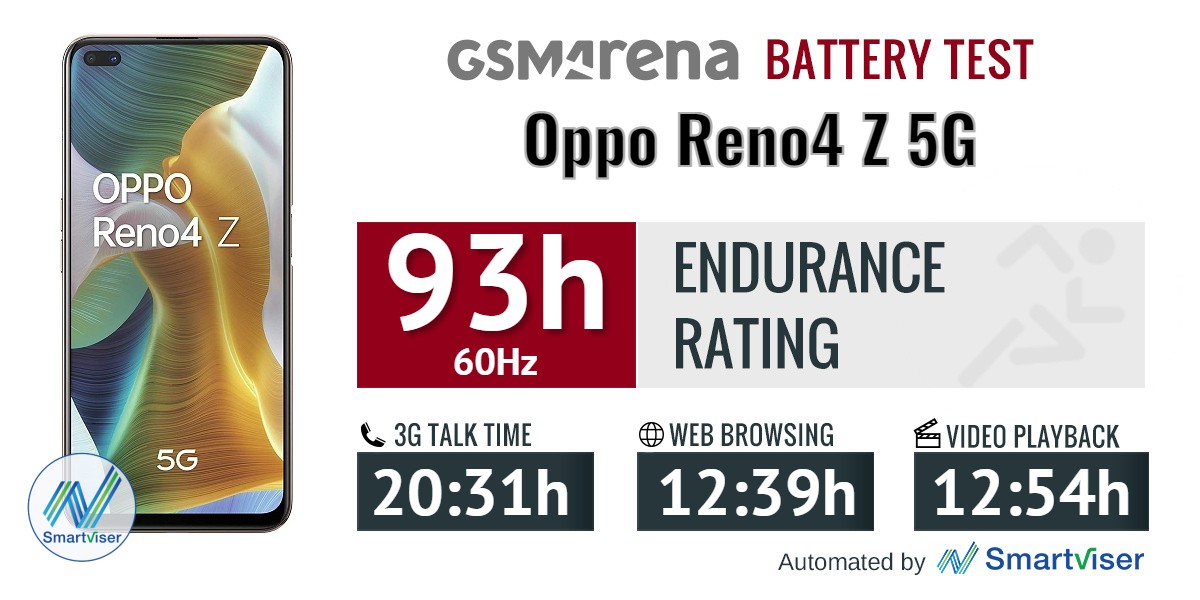 Our battery tests were automated thanks to SmartViser, using its viSerDevice app. The endurance rating above denotes how long a single battery charge will last you if you use the Oppo Reno4 Z 5G for an hour each of telephony, web browsing, and video playback daily. We've established this usage pattern so that our battery results are comparable across devices in the most common day-to-day tasks. The battery testing procedure is described in detail in case you're interested in the nitty-gritty. You can check out our complete battery test table, where you can see how all of the smartphones we've tested will compare under your own typical use.
Battery charging
The Reno4 Z 5G ships with a plain 18W charger that says 5V/2A and 9V/2A on it, so we're guessing it's probably something of a QuickCharge 2.0/3.0 equivalent, though it's not stated explicitly anywhere. The phone is far from its record-setting stablemates and takes almost 2 hours to a full charge from flat, with 35% showing in the battery indicator at the half-hour mark.
30min charging test (from 0%)
Oppo Reno4 Pro
98%
Oppo Reno4 Pro 5G
97%
Xiaomi Mi 10T Lite 5G
68%
vivo V20
66%
OnePlus Nord N10 5G
65%
Realme 7 5G
57%
Huawei P Smart 2021
42%
Samsung Galaxy A51 5G
39%
Oppo Reno4 Z 5G
36%
Samsung Galaxy A51
35%
Motorola Moto G 5G Plus
35%
Time to full charge (from 0%)
Oppo Reno4 Pro
0:31h
Oppo Reno4 Pro 5G
0:32h
OnePlus Nord N10 5G
0:52h
Xiaomi Mi 10T Lite 5G
0:58h
vivo V20
0:59h
Realme 7 5G
1:06h
Samsung Galaxy A51 5G
1:30h
Huawei P Smart 2021
1:42h
Oppo Reno4 Z 5G
1:55h
Motorola Moto G 5G Plus
2:10h
Samsung Galaxy A51
2:14h
Speaker test
The Reno4 Z 5G has a single speaker firing out of the bottom of the phone. It's fairly quiet and earned an 'Average' rating in our test, barely missing the 'Good' category, which the Realme 7 5G managed to get to. It delivers clear vocals and colorful highs, but there's little in the way of low-frequency thump.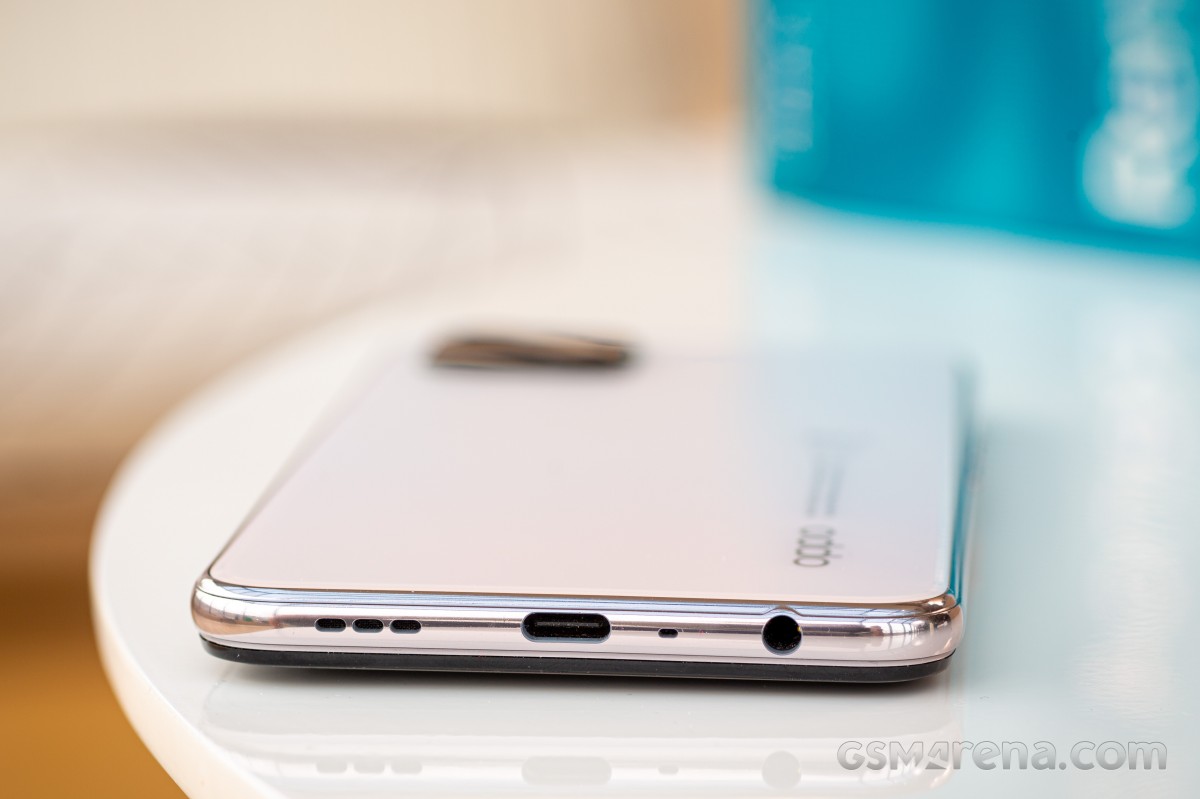 Stereo speakers can be found for the money - on the Mi 10T Lite 5G and the Moto G8 Power, for example, and those are also louder. That Moto doesn't have 5G, though, while the Moto G 5G Plus is mono, quieter too.
Use the Playback controls to listen to the phone sample recordings (best use headphones). We measure the average loudness of the speakers in LUFS. A lower absolute value means a louder sound. A look at the frequency response chart will tell you how far off the ideal "0db" flat line is the reproduction of the bass, treble, and mid frequencies. You can add more phones to compare how they differ. The scores and ratings are not comparable with our older loudspeaker test. Learn more about how we test here.
Audio output quality
We've recently discontinued our audio output quality test.
The reason for that is that most phones that arrived for testing were already excellent in this regard. Whatever difference there was, it was marginal and probably indistinguishable to anything but our lab equipment.