Splendid 6.5-inch Super AMOLED display
The Reno4 Pro is equipped with a 6.5-inch Super AMOLED display with a 1080x2400px resolution in a 20:9 ratio. It supports a 90Hz refresh rate, while the touch sampling goes all the way up to 180Hz.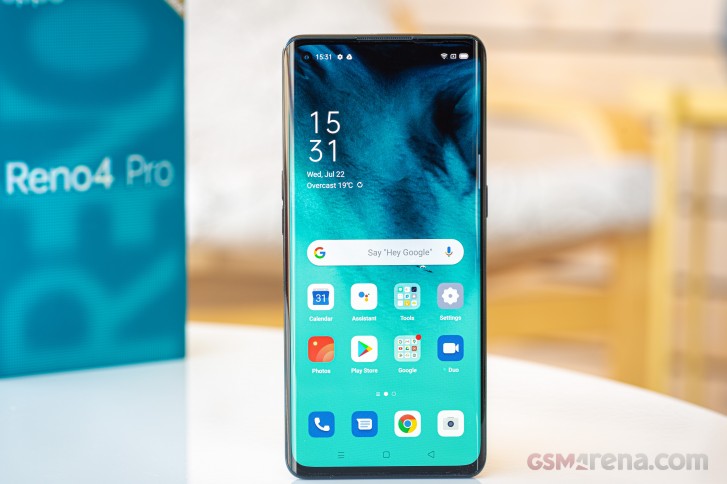 Oppo advertises a peak brightness of 1100nits. We gather they obtained that number when only lighting up a small portion of the display, while we carry our testing at a standardized 75% average picture level (OLED displays can go brighter when they don't have to power up the entire screen area).
We got 843nits out of the Reno4 Pro with adaptive brightness turned on which is an outstanding figure and easily into flagship territory. With the ambient light out of the picture, the phone can go as high as 508nits - another great result with most other OLED capped in the 400-450nit ballpark. We obtained the same results with the display set at 90Hz and at 60Hz.
Display test
100% brightness
Black,cd/m2
White,cd/m2
Contrast ratio
Oppo Reno3 Pro
0
522
∞
Oppo Reno4 Pro
0
508
∞
Oppo Reno4 Pro (Max Auto)
0
843
∞
Oppo Reno3 Pro (Max Auto)
0
892
∞
Oppo Reno3 Pro 5G
0
510
∞
Oppo Reno3 Pro 5G (Max Auto)
0
819
∞
Sony Xperia 10 II
0
379
∞
Sony Xperia 10 II (Max Auto)
0
520
∞
Xiaomi Mi Note 10 Lite
0
424
∞
Xiaomi Mi Note 10 Lite (Max Auto)
0
596
∞
Samsung Galaxy A51 5G
0
410
∞
Samsung Galaxy A51 5G (Max Auto)
0
642
∞
Xiaomi Mi 10 Lite 5G
0
442
∞
Xiaomi Mi 10 Lite 5G (Max Auto)
0
610
∞
vivo X50 Pro
0
489
∞
vivo X50 Pro (Max Auto)
0
503
∞
Xiaomi K20 Pro/Mi 9T Pro
0
453
∞
Xiaomi K20 Pro/Mi 9T Pro (Max Auto)
0
643
∞
Realme X3 SuperZoom
0.332
437
1316:1
OnePlus 7T
0
525
∞
OnePlus 7T (Max Auto)
0
743
∞
Realme X2 Pro
0
500
∞
Realme X2 Pro (Max Auto)
0
708
∞
Realme X50 Pro 5G
0
525
∞
Realme X50 Pro 5G (Max Auto)
0
635
∞
The Reno4 Pro has two color presets - Vivid (the default one), and Gentle. There's an additional Cool-to-Warm slider offering stepless adjustments in either mode. Vivid mode returned an average dE2000 of 4.1 for our set of DCI-P3 test swatches with excellent sub-2 results on the primaries, but way off in terms of white and grayscale rendition - purplish whites some 10 units off the mark. Move the slider all the way to the Warm right, and you'd get an average dE2000 of 3.2 and somewhat better whites and grays (dE2000 ~7, now pinkish).
Gentle mode is where you'd go for sRGB-tuned colors. Again, excellent results on the RGBCMY, but poor white point (dE2000 ~10, purple), and an average dE2000 of 4.0. And, again, we got better overall rendition with the temperature slider at the Warmest setting (2.6 average, white around 4). Overall, reasonably accurate colors from the Reno4 Pro, but a noticeable blue/purple shift in the default state.
The HDR capability of the Reno4 Pro's display is an interesting topic. Oppo doesn't mention HDR in the promo materials, but the phone clearly supports some sort of HDR. YouTube serves the Reno HDR versions of compatible videos and you can clearly see the phone shift its colors and brightness. Amazon Prime too shows HDR icons next to supported titles. Netflix, on the other hand, doesn't want to play nicely and while it does deliver 1080p resolution, it refuses to do so in HDR. This could be a temporary state and a fix could technically be in the making, though our talks with Oppo reps aren't leaving us hopeful. Which would be a shame, since it's a properly capable display.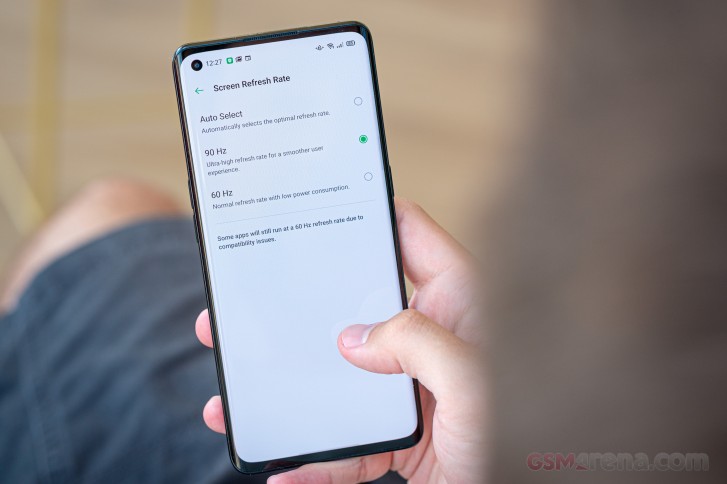 The matter of refresh rates is also quite intriguing. With the phone set to 90Hz, you'll get 90Hz across the UI and in browsers too. It will, however, switch to 60Hz for anything related to video playback - the native player and Netflix once you play something, YouTube (as soon as you open the app). The default browser (Google Chrome) will run in 90Hz in this mode too. That's the same behavior you'll get if you opt for the 'Auto Select' option in the display refresh rate settings menu.
It may make it seem a bit redundant, but we can see where Oppo is coming from on this - you want your phone set to 90Hz, you chose that option in the menu, and it will know better to lower the refresh rate in videos where you don't need it. If, on the other hand, you like your things set to Auto, that option exists too. So what if it's all the same.
When running PUBG, for example, the Reno4 Pro defaults to 60Hz regardless of refresh rate mode. Pac Man, on the other hand, does 90Hz in 90Hz mode and 60Hz in Auto Select, so there's a difference for you.
The 60Hz option locks the display at 60Hz, simple as that.
Oppo Reno4 Pro battery life
The Oppo Reno4 Pro relies on a 4,000mAh battery - perfectly adequate for its combination of screen, chipset and lack of 5G capability. Indeed, in our testing it proved to be a strong performer in terms of endurance.
We clocked almost 19 hours of looping videos on the Reno4 Pro - as established, that's always at 60Hz. With the display set at 90Hz or in Auto (when the browser runs at 90Hz) the Reno4 Pro lasted us 11:30hrs of Wi-Fi web browsing. Switch to 60Hz and you'd be looking at an hour extra - not really worth it if you ask us. The 27:38h result in voice calls is easily enough and the standby endurance was similarly good. In the end, the Reno4 Pro scored an Endurance rating of 96h.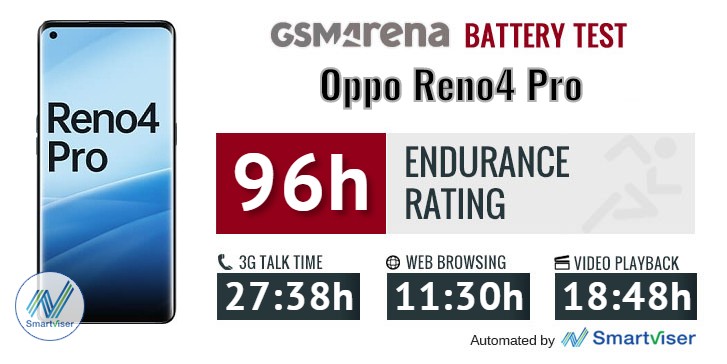 Our battery tests were automated thanks to SmartViser, using its viSer App. The endurance rating above denotes how long a single battery charge will last you if you use the Oppo Reno4 Pro for an hour each of telephony, web browsing, and video playback daily. We've established this usage pattern so that our battery results are comparable across devices in the most common day-to-day tasks. The battery testing procedure is described in detail in case you're interested in the nitty-gritty. You can check out our complete battery test table, where you can see how all of the smartphones we've tested will compare under your own typical use.
One of the Reno4 Pro's standout features is its 65-watt SuperVOOC 2.0 charging capability. Oppo says the Reno4 Pro will charge from empty to full in 36 minutes, but in our experience that was more like 31 minutes - even better then.
Speaker test
There's a single loudspeaker on the Reno4 Pro, firing out the bottom of the phone. It placed in the 'Average' bowl in terms of loudness and that's pretty much what can be said of the quality as well.
Use the Playback controls to listen to the phone sample recordings (best use headphones). We measure the average loudness of the speakers in LUFS. A lower absolute value means a louder sound. A look at the frequency response chart will tell you how far off the ideal "0db" flat line is the reproduction of the bass, treble, and mid frequencies. You can add more phones to compare how they differ. The scores and ratings are not comparable with our older loudspeaker test. Learn more about how we test here.
Audio output quality
We've recently discontinued our audio output quality test.
The reason for that is that most phones that arrived for testing were excellent in this regard and whatever difference there was, is so marginal it was indistinguishable to anything but our lab equipment.