Bright OLED with dual punch-hole
Until recently, Samsung was one of the few, if not the only, manufacturer to offer high-quality OLED panels to the average consumer, but these days, Chinese OEMs like Oppo love to pamper consumers and you can expect to see at least a few of the phones in their portfolio coming out with Samsung-made AMOLED panels. And the Reno3 Pro is one of those phones.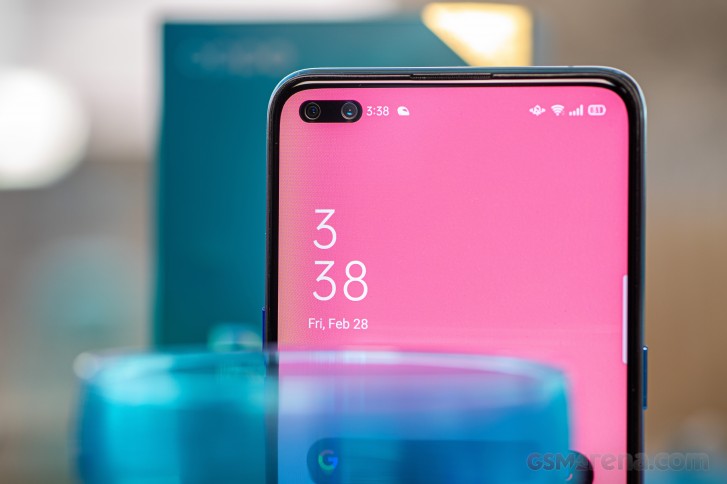 It features a tall 20:9 Super AMOLED screen with 1080 x 2400px resolution. It appears that this panel boasts exceptionally high maximum brightness easily beating some of the best flagships from 2019. Oppo says the panel can go up to 500 nits at maximum brightness, and in a really bright environment, the screen can boost up to 800 nits. Moreover, small patches on the screen can reach up to 1,200 nits. We weren't able to check if the last claim is true, but given the results we got from our standard test, we have every reason to believe Oppo's claims.
At maximum brightness, we recorded 522 nits, and when Max Auto kicked in, the panel reached the staggering 892 nits. That's really bright, and we doubt you will have any trouble using the phone on a bright, sunny day.
Display test
100% brightness
Black,cd/m2
White,cd/m2
Contrast ratio
Realme X2 Pro
0
500
∞
Realme X2 Pro (Max Auto)
0
708
∞
Oppo Reno3 Pro
0
522
∞
Oppo Reno3 Pro (Max Auto)
0
892
∞
Xiaomi Mi Note 10
0
427
∞
Xiaomi Mi Note 10 (Max Auto)
0
597
∞
Xiaomi K20 Pro/Mi 9T Pro
0
453
∞
Xiaomi K20 Pro/Mi 9T Pro (Max Auto)
0
643
∞
Samsung Galaxy A71
0
398
∞
Samsung Galaxy A71 (Max Auto)
0
515
∞
OnePlus 7T
0
525
∞
OnePlus 7T (Max Auto)
0
743
∞
vivo V17 Pro
0
504
∞
Color accuracy, on the other hand, isn't stellar. Reds, blues, greens, and yellows are off - due to some boosting - and whites and grays appear a bit blue-ish. The average dE2000 turned out to be 4.5, which suggests the screen has undergone some color calibration at the factory, but we've seen better results from calibrated phones. You can use the color temperature slider to shift the white point closer to the D65 standard to tame those bluish whites and grays but other than that, the phone doesn't offer any additional color presets for the display.
Battery life
It appears that 4,000 mAh has become the standard go-to capacity for midrange phones these days so we can't say the Reno3 Pro's 4,025 mAh battery is anything special in that respect. However, that combined with the power-efficient 12nm Helio P95 chipset, has resulted in downright impressive endurance from this phone. The device posted excellent screen-on scores in our web browsing and video playback scenarios while the screen-off scores were a tad lower but not far off from excellent. With a total score of 104h, the Oppo Reno3 Pro will probably provide up to two days of battery endurance with normal usage.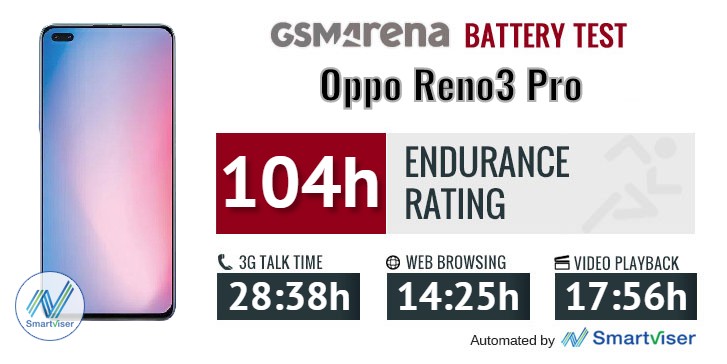 Our battery tests were automated thanks to SmartViser, using its viSer App. The endurance rating above denotes how long a single battery charge will last you if you use the Oppo Reno3 Pro for an hour each of telephony, web browsing, and video playback daily. We've established this usage pattern so that our battery results are comparable across devices in the most common day-to-day tasks. The battery testing procedure is described in detail in case you're interested in the nitty-gritty. You can check out our complete battery test table, where you can see how all of the smartphones we've tested will compare under your own typical use.
Charging times are just as impressive. The 4,025 mAh battery can be filled from flat in just 1:12h, showing 67% at the 30-minute mark, which is quite good. The VOOC Flash Charge 4.0-compliant brick in the box is rated at 30W (5A/6V) and makes it one of the fastest chargers in the price range.
Speaker test
The Reno 3 Pro has a single loudspeaker firing down from the bottom and posted a 'Good' result for loudness in our seven-track music test. It's lacking in low-frequency thump but handles vocals nicely and is easily adequate for its price range.
Use the Playback controls to listen to the phone sample recordings (best use headphones). We measure the average loudness of the speakers in LUFS. A lower absolute value means a louder sound. A look at the frequency response chart will tell you how far off the ideal "0db" flat line is the reproduction of the bass, treble, and mid frequencies. You can add more phones to compare how they differ. The scores and ratings are not comparable with our older loudspeaker test. Learn more about how we test here.