If someone were to ask you what the best selling Android smartphone worldwide was in the first quarter of this year (January to March), what would you say? Probably something starting with "Samsung". But you'd be wrong. The world's best selling Android phone in that period was none other than... Oppo's R9s.
That's quite shocking, but the explanation for it beating all of Samsung's models probably has something to do with the Note7 debacle. Had that device been on sale in Q1 2017, it probably would have bested the R9s.
It's also important to note that Oppo is only selling the R9s officially in a handful of markets, which makes its achievement of moving 8.9 million units in Q1 all the more impressive. Overall, the R9s ranks as the third most popular smartphone for that period, with the iPhone 7 coming in first place and the iPhone 7 Plus netting second place.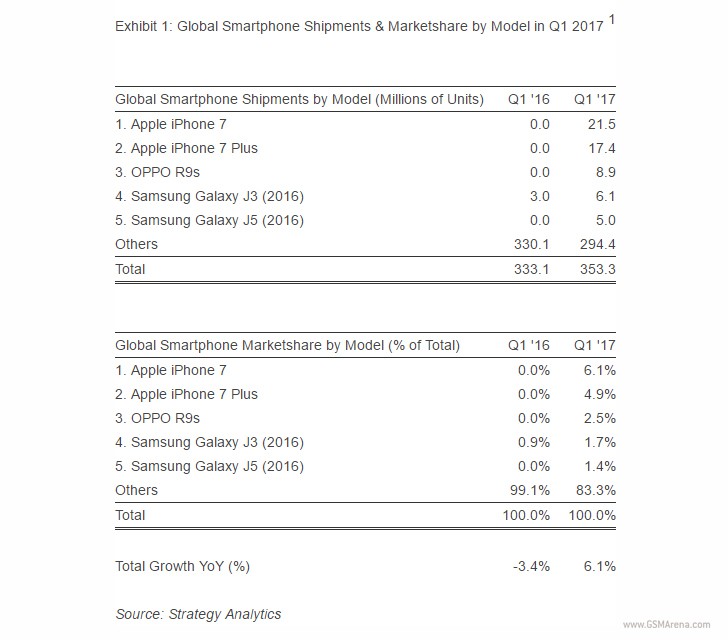 The former sold 21.5 million units, while the latter moved 17.4 million, but again consider that these are available pretty much everywhere across the world, while the Oppo R9s sitting at No.3 most definitely isn't. The first Samsung handset in the list is the Galaxy J3 (2016) at No.4, clocking 6.1 million sales, while the J5 (2016) rounds up the Top 5 with 5 million units sold.
Together, these five models accounted for one in six of all smartphones shipped worldwide during the first quarter.
D
Yes, and somewhat popular in many areas, but refuse to get one...
?
So I guess all can afford a smartphone. Also Sony is also present in there
C
Remember... all people have different needs and usage of a phone. Perhaps they feel R9 is best for them.
ADVERTISEMENT