Display
The Oppo Find X6 Pro employs a 6.82-inch OLED screen with Quad-HD resolution and an adaptive 120Hz refresh rate. It supports HDR10+ and Dolby Vision, and has impressive brightness specs.
Oppo has used a third-generation LTPO OLED panel with 3168 x 1440 pixels resolution (510ppi), 10-bit color depth, and there is Gorilla Glass Victus 2 protection. There is a small punch-hole for the selfie camera.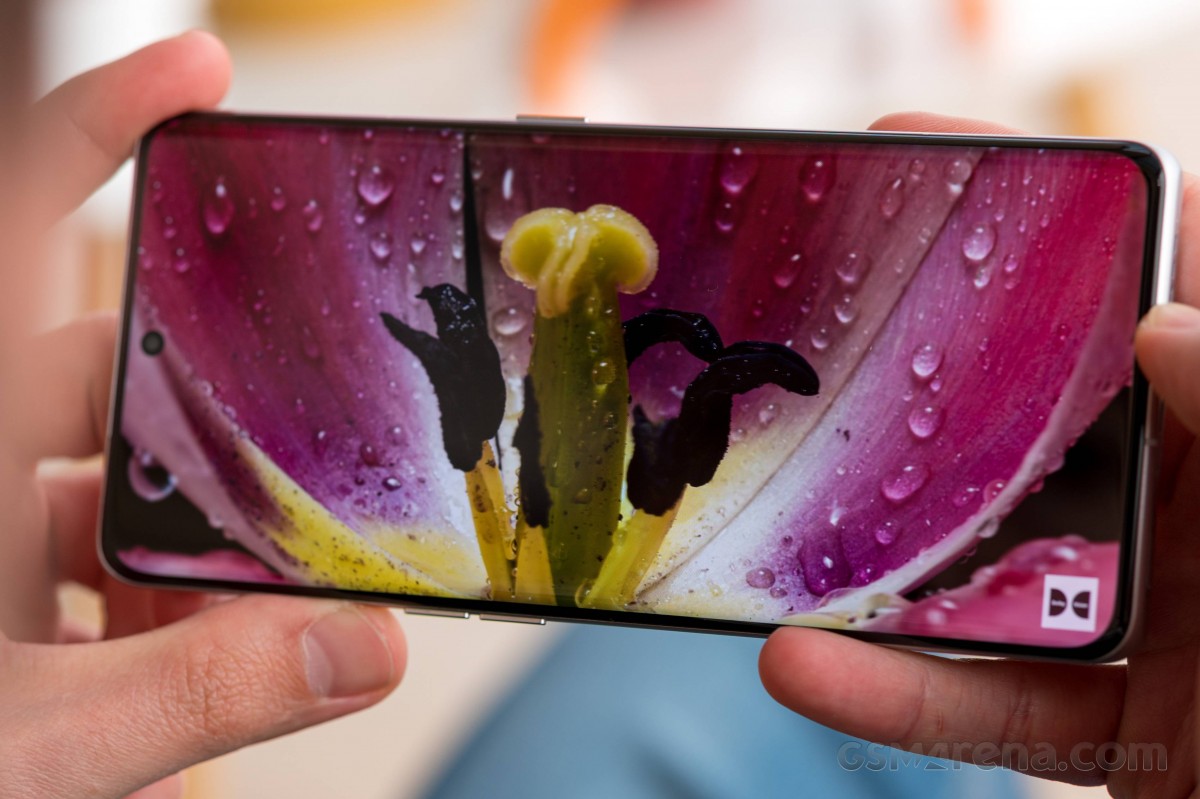 As per the official specifications, the screen supports over 1 billion colors, DCI-P3 color gamut, 1Hz-120Hz dynamic refresh rate, 1440Hz high-frequency PWM dimming, and Dolby Vision content. The maximum peak brightness is listed as 2,500 nits, the maximum HDR brightness - 2,200 nits, while the maximum peak auto brightness is quoted as 1,500 nits.
Let's start with our display test.
Depending on the chosen color mode Natural (default), Pro or Vivid, the screen offers different maximum brightness when it's being adjusted manually. The Natural and Pro modes are limited to 803 nits, while Vivid increases the max brightness to 863 nits.
The maximum automatic brightness we measured was 1,318 nits, not that far off the promised 1,500 nits.
Overall, the screen brightness capabilities are indeed impressive.
Finally, the minimum brightness we captured at point white was only 1.8nits.
Display test
100% brightness
Black,cd/m2
White,cd/m2
Contrast ratio
Oppo Find X6 Pro
0
803
∞
Oppo Find X6 Pro (Vivid)
0
863
∞
Oppo Find X6 Pro (Max Auto)
0
1318
∞
Oppo Find X5 Pro
0
475
∞
Oppo Find X5 Pro (Max Auto)
0
762
∞
Oppo Find X3 Pro
0
493
∞
Oppo Find X3 Pro (Max Auto)
0
774
∞
Samsung Galaxy S23 Ultra
0
517
∞
Samsung Galaxy S23 Ultra (Extra Brightness)
0
831
∞
Samsung Galaxy S23 Ultra (Max Auto)
0
1274
∞
Apple iPhone 14 Pro Max
0
828
∞
Apple iPhone 14 Pro Max (Max Auto)
0
1760
∞
Xiaomi 13 Pro
0
527
∞
Xiaomi 13 Pro (Max Auto)
0
1253
∞
vivo X90 Pro
0
517
∞
vivo X90 Pro (Max Auto)
0
934
∞
Honor Magic5 Pro
0
761
∞
Honor Magic5 Pro (Max Auto)
0
1227
∞
Color accuracy
There are three color modes as part of the Display Settings - Natural, Pro, and Vivid. The Natural and Pro are color accurate toward the sRGB color space, while the Vivid covers DCI-P3. For each of these modes, you can further tweak the white temperature via a dedicated slider.
Natural is the default mode and it offers good accuracy towards sRGB, excluding the slightly bluish white and gray hues. Choosing Pro will fix remove the blue tinge, and we captured outstanding accuracy against sRGB targets.
As we said, Vivid is the only mode to support DCI-P3 color space, and it offers good accuracy with a slight bluish tinge over the white and gray colors.
Refresh rate
The LTPO3 OLED panel offers dynamic refresh rate going between 1Hz and 120Hz. There are three Refresh rate modes - Auto, High (120Hz), and Standard (60Hz). Note that all three modes are adaptive, and the 120Hz and 60Hz are actually refresh rate ceilings. All modes are dynamic and will drop down to the lowest possible refresh rate when displaying a static picture.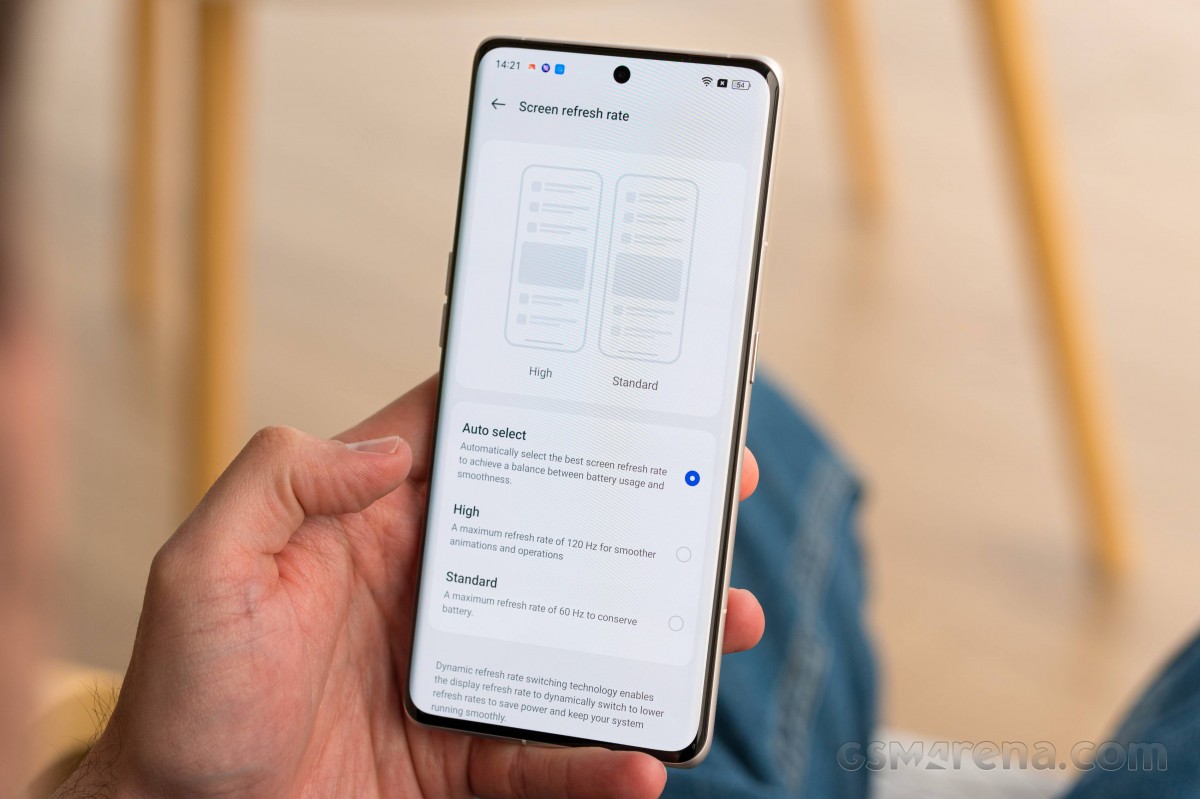 The adaptive refresh rate works as expected - it drops down to 5Hz or 10Hz (depending on the brightness level, applies for 100nits and above) when the screen shows static content and can be incredibly dynamic by constantly changing between 5/10Hz and 120Hz with no fixed steps in browsers and other non-gaming apps. The refresh rate changes according to the video playback, too - it can be 24Hz for 24fps clips, 30Hz for 30fps content, and 60Hz for HFR videos, for example.
There is a slight difference between the High and Auto modes. The Automatic one often uses 60Hz for UI/menus across many apps, especially streaming/media ones.
Apps that are incompatible with dynamic refresh rate adjustments always use 60Hz.
Note that High Frame Rate gaming was not possible on the Find X6 Pro at the time of writing.
Finally, you should know that the adaptiveness of the refresh rate depends on the brightness level. And when the brightness is low (below 100 nits or so), the screen uses the maximum refresh available. That is due to the 1,440Hz PWM dimming, which kicks in such conditions.
By the way, just like on many other QHD phones, the Find X6 Pro also offers options for lower 1080p resolution or auto-select depending on the content - this will reduce the strain on the GPU and the battery.
HDR and streaming
The Oppo Find X6 Pro is HDR10+ and Dolby Vision-certified smartphone, and it supports Widevine L1 DRM support. It is fully supported by popular streaming platforms except for Netflix, which streams 1080p SDR content at the time of writing.
Other display enhancements
Oppo has its own optimization engine baked into the Find X6 Pro. It is called the 01 Ultra Vision Engine and consists of three independent optimization systems. One is the Video Color Enhancer, which claims to intelligently identify common scenes in video and enhance their color and clarity.
Then there is the Image Sharpener which does some on-the-fly upscaling across photos and videos. Both of these work only on supported apps, mostly Chinese ones.
The final option is Bright HDR video mode, which increases the maximum brightness the screen uses when playing HDR videos. Naturally, this will reduce the battery life.
Battery life
The Oppo Find X6 Pro is powered by a large 5,000mAh battery, which has been split into two cells for fast-charging purposes. The phone features the latest generation OLED panel and Qualcomm chipset, which should be power-efficient enough for a flagship.
Indeed, the Find X6 Pro scored an excellent total endurance rating of 114 hours. It did an amazing job across all of our battery tests - calls, web browsing and video playback. It also offers a good enough standby performance for a flagship-grade chipset.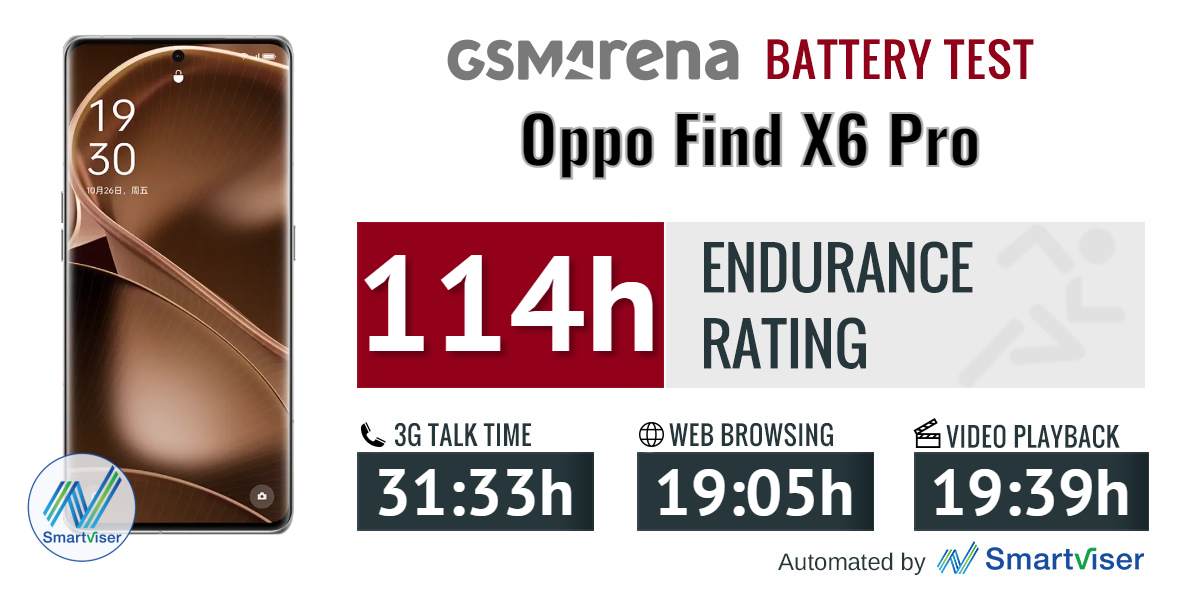 Our battery tests were automated thanks to SmartViser, using its viSerDevice app. The endurance rating denotes how long the battery charge will last you if you use the device for an hour of telephony, web browsing, and video playback daily. More details can be found here.
Video test carried out in 60Hz refresh rate mode. Web browsing test is done at the display's highest refresh rate whenever possible. Refer to the respective reviews for specifics. To adjust the endurance rating formula to match your own usage patterns, check out our all-time battery test results chart, where you can also find all phones we've tested.
Charging speed
The Oppo Find X6 Pro supports 100W SuperVOOC wired charging, and the phone ships with a 100W charger and a 10A-rated USB cable. The battery of the Find X6 Pro actually consists of two cells, which are charged simultaneously - a solution that's common among the 100W+ charging crowd.
The Find X6 Pro also supports up to 50W fast wireless charging, but you will need to find the specific charger model that supports such an output.
And finally, there is support for up to 10W reverse wireless charging on the back of the Find X6 Pro - this can be turned on/off from the drop-down toggles or the battery settings.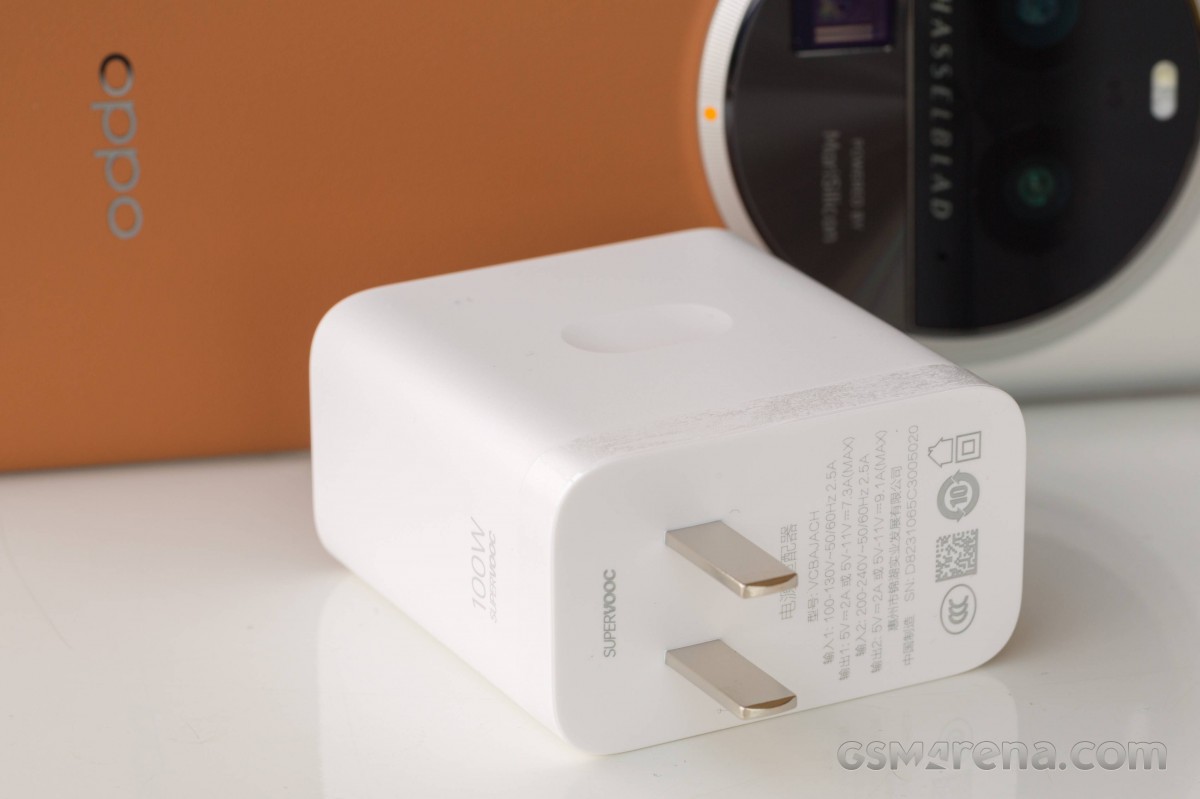 The Battery menu inside settings offer this option called Smart Rapid Charging. If turned on, it will charge the phone a bit faster than regularly, which will heat it up a bit more than usual. It will save you a couple of minutes for each charge cycle.
We tested with and without the Smart Rapid Charging and found out that the difference is negligible - usually 1-2% difference for each 5 minutes, or 1-2 minutes difference in the total charging time.
So, 5 minutes on the 100W charger replenishes 25% of the dead battery, while 15 minutes gave us 64% charge.
15min/30min charging test (from 0%)
Higher is better
Sort by
Name
15 min time
30 min time
Xiaomi 13 Pro

100%

81%

vivo X90 Pro

100%

79%

OnePlus 11

100%

77%

Oppo Find X6 Pro

100%

64%

Oppo Find X5 Pro

91%

58%

Samsung Galaxy S23 Ultra (65W)

74%

44%

Xiaomi 12S Ultra

73%

51%

Samsung Galaxy S23 Ultra

68%

40%

Apple iPhone 14 Pro Max

48%

27%
* Tap/hover over the device names for more info
% charge in 15 minutes % charge in 30 minutes
A full charge took exactly 30 minutes, which is great!
Time to full charge (from 0%)
Lower is better
| | |
| --- | --- |
| Xiaomi 13 Pro | 0:22h |
| OnePlus 11 | 0:22h |
| vivo X90 Pro | 0:24h |
| Oppo Find X6 Pro | 0:30h |
| Oppo Find X5 Pro | 0:40h |
| Xiaomi 12S Ultra | 0:50h |
| Samsung Galaxy S23 Ultra | 0:59h |
| Samsung Galaxy S23 Ultra (65W) | 1:01h |
| Apple iPhone 14 Pro Max | 1:52h |
* Tap/hover over the device names for more info
The Oppo Find X6 Pro offers superb battery charging and we are glad to report that the phone doesn't become hot during charger, and neither does the charger.
Oppo promises that the charging process is stable even in extremely low temperatures such as -20C. And it should take at least 1,600 battery cycles for the active battery capacity to drop below 80%.
Speakers
The Oppo Find X6 Pro has a stereo speaker system - one of the speakers sits at the top of its frame, while the other one is at the bottom. The one above the screen also has a front-facing outlet for earpiece purposes.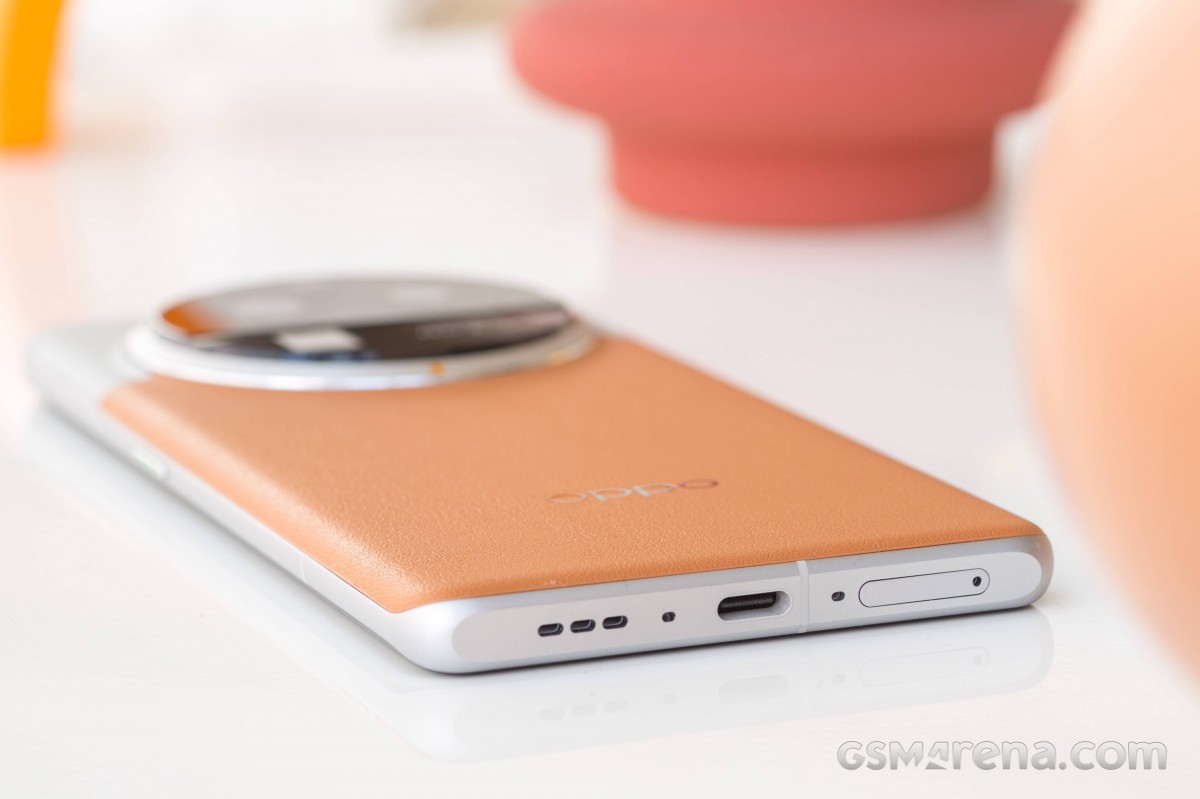 Oppo has developed Active Privacy Protection for Voice Call feature, which identifies your environment and prevents sound leakage through the top outlet during voice calls. This means nobody should be able to eavesdrop on what the other party in your call is saying outside the targeted 50cm perimeter.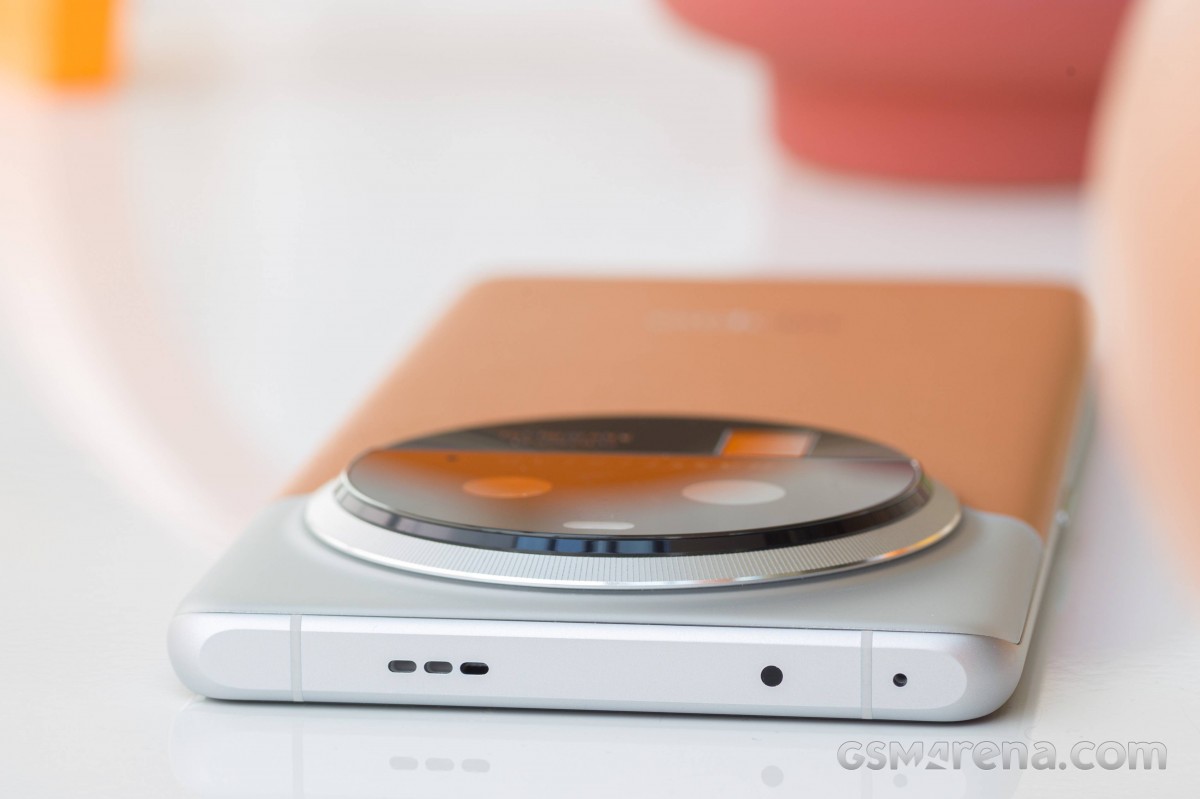 Dolby Atmos is supported only via headphones, and it doesn't appear to work via the speakers.
The hybrid speaker setup on the Find X6 Pro is well balanced even if the top speaker is a bit quieter.
The speakers scored a Very Good mark on our loudness test and indeed, they sound just great when listening to music or watching movies.
The audio quality is also Very Good - there is some bass, the vocals are alright and the high frequencies are well presented. If it were up to us, we would have liked better vocals at the expense of not as great high range.
Use the Playback controls to listen to the phone sample recordings (best use headphones). We measure the average loudness of the speakers in LUFS. A lower absolute value means a louder sound. A look at the frequency response chart will tell you how far off the ideal "0db" flat line is the reproduction of the bass, treble, and mid frequencies. You can add more phones to compare how they differ. The scores and ratings are not comparable with our older loudspeaker test. Learn more about how we test here.