ColorOS 12.1 on top of Android 12
The Find X5 and X5 Pro are technically the first two handsets we get to experience with Oppo's new ColorOS 12 running on top of Android 12. The Oppo Find N got really close, but it had Android 11 underneath the custom bits. In a recent development announced late last year, certain series of Oppo phones will get three major OS updates, and the Find X5 Pro is among them.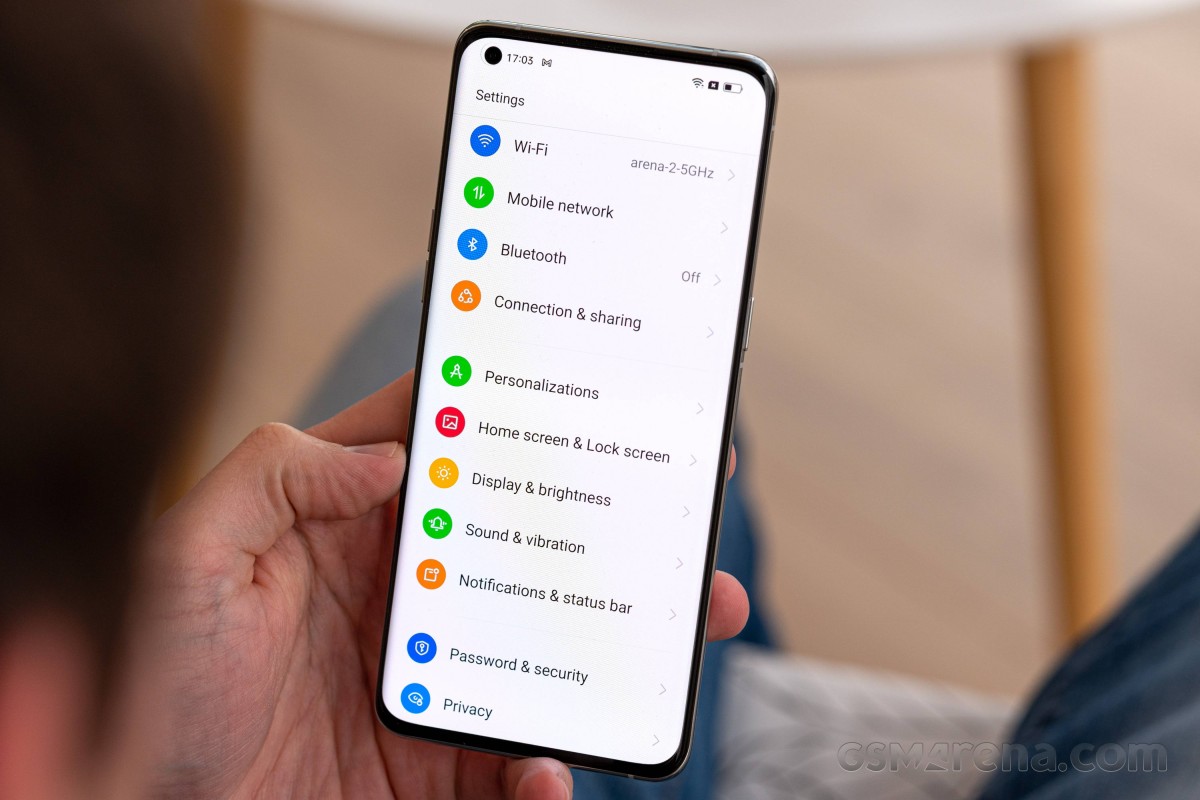 Android 12 or 11 underneath, ColorOS look familiar - it's nearly identical not only to the ColorOS 12 build that came with the Find N but also to the recently introduced Realme UI 3.0. We are talking looks, iconography, quick toggles - pretty much everything. Most of the features are also translated into the .1 version of ColorOS. It's maybe part of BBK Electronic's approach to software development and the idea that the more streamlined and unified OS experience will make support and development much easier to handle for multiple devices.
Anyway, if you've used ColorOS before, or Realme UI for that matter, you will feel right at home. The app drawer is optional - the default state is a single-tiered, everything-on-the-homescreen UI, at least on this unit of ours - somewhat odd, given that the non-Pro Find X5 came with the Drawer pre-enabled. The notification shade, meanwhile, is presented in the standard way. So is the recent apps menu, in the sense that you get side-scrollable vertical cards.
The main Settings menu features Oppo's colorful icons for easier navigation. The only difference we noticed compared to the Realme UI is the absence of an Auto brightness toggle in the notification shade. It's kind of annoying to look for the toggle deep in the settings menus instead of having one right next to the brightness slider.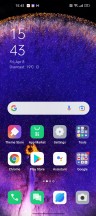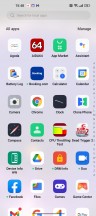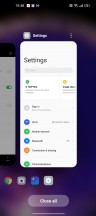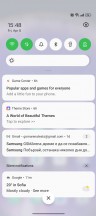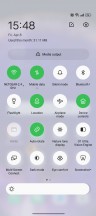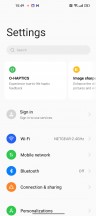 Homescreen • App drawer • Recent apps • Notification shade • Quick toggles • Settings
Android 12's new privacy features are implemented in ColorOS 12, now that it's made the leap to the new core version. You get a summary of all the apps that use your data, location, camera, microphone, etc. all in one place. It's called Privacy Dashboard and is something like Digital Wellbeing but privacy-focused. And in case you don't want certain apps to have your exact location, you might want to give them approximate location instead. Toggles for limiting camera and mic access across the board can be placed in the quick toggles area too.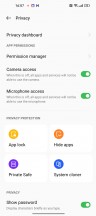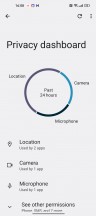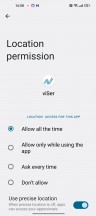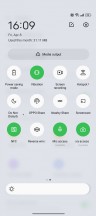 Privacy menu • Privacy dashboard • App gets precise location • Camera and mic access toggles
For a more in-depth look at Android 12, we suggest reading our full Android 12 review as we will try to focus on the ColorOS itself in the following paragraphs.
Most of the UI elements on ColorOS can be customized. We are talking deep customization of app icons, accent colors, quick toggles and their shape, font, fingerprint reader animation, Edge lighting for incoming notifications, the Always-on display - the lot. A theme store is also available.
We also liked the granular notification customization. The system allows for advanced notification handling in the drop-down menu, such as instant replies or other suggested actions. Incoming notifications when the phone is in use will arrive with quieter sound and milder vibration. Notification snoozing is another neat feature that lets you attend to conversations or other apps later without having to keep them in the notification shade and clutter up.
For enhanced privacy, the system will hide the contents of the notification once the front-facing camera detects someone other than you. This requires the facial unlocking feature to be enabled and uses that data to match to your mug.
The Icon pull-down gesture is here to make it way easier to operate with one hand on an overcrowded home screen with plenty of app icons. Just swipe down alongside the edge of the display to bring down the icons close to your thumb and select an app to launch. The gesture is consistent and useful.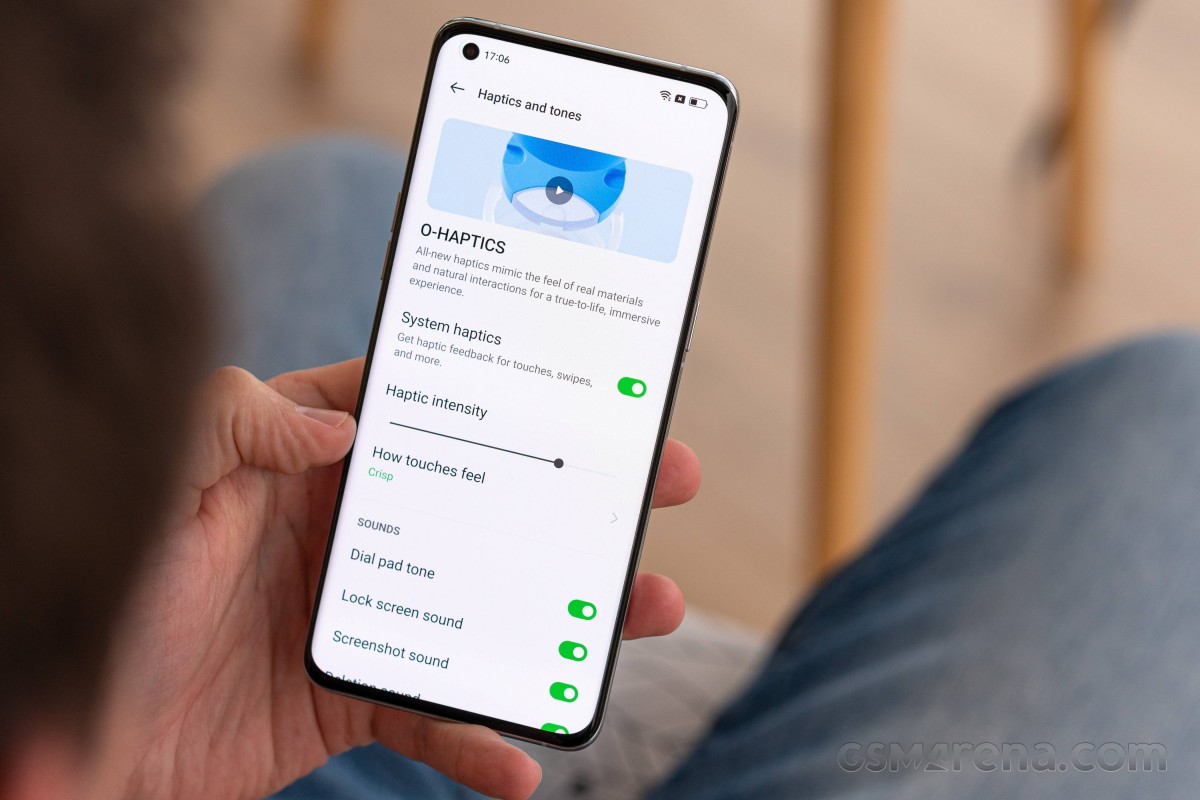 We can't miss mentioning the excellent haptic feedback. Oppo uses an X-axis linear motor and calls the whole experience O-Haptics. You can set the vibration intensity as well as the touch feedback style - it can either be Crisp or Gentle. And that's just for the UI interactions and touches. The O-Haptics support customized vibration patterns for different people in your contact list. Particularly useful for people relying solely on vibration instead of ringtones.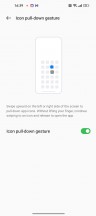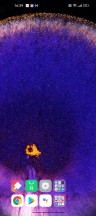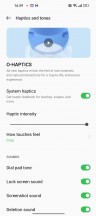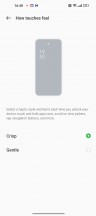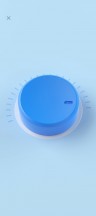 Icon-pull down gesture • Icon-pull down gesture • O-Haptics options
The Special features tabs hold the familiar Smart Sidebar and Flexible windows functions. They are both tailored toward better multitasking. The sidebar offers quick access to some of your favorite apps when turned on. The system allows you to adjust the position of the sidebar, which is crucial because it might interfere with the back gesture if you are using the standard Android gestures. Anyway, tap and hold on an app icon that enters split-screen mode while a single tap opens up the app in a floating window or, as Realme likes to call it, "Flexible window". The supported apps can be opened in small, draggable and size-adjustable windows.
The Quick launch function has been around on OnePlus' OxygenOS-powered phones for a while now, and it's nice to see it making its way to other brands under the BBK Electronics umbrella. Once enabled, you can set up three apps that can launch as soon as the display is unlocked. Tap and hold on the fingerprint reader from a locked screen to open up the Quick launch menu.
The good old screen-off gestures that allow you to launch certain apps or the flashlight by drawing letters on a locked screen are here to stay.
Oppo also offers PC companion functionality called Multi-Screen Connect. You need to install an app on your computer (itself named PC Connect) which lets you drag and drop files between the two devices, edit documents on your phone from your PC, and receive phone notifications. Mind you, the connection between the two only works over Wi-Fi and there doesn't appear to be a wired option.
Performance and benchmarks
The Find X5 Pro has the Snapdragon 8 Gen 1 inside, one of the key differences when comparing against the non-Pro and its year-old SD888. It's one in a long line of SD8G1 devices that we've already seen, so performance isn't going to be a surprise.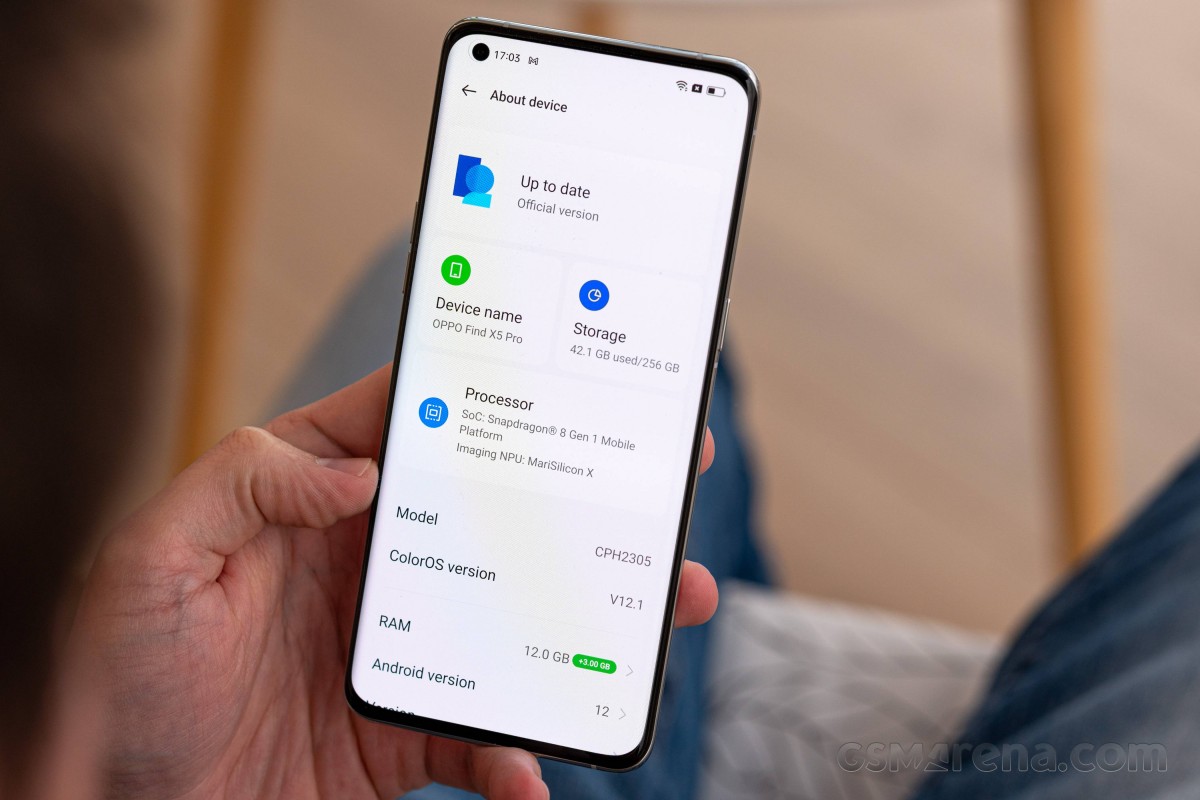 Similarly to the OnePlus 10 Pro with which the Find X5 Pro shares a lot of hardware and software, we saw relatively conservative numbers in GeekBench, particularly in the single-core test, but also under multi-threaded load. Another sister phone, the Realme GT2 Pro recorded significantly higher figures.
GeekBench 5 (single-core)
Higher is better
Realme GT2 Pro
1238
iQOO 9 Pro
1231
Samsung Galaxy S22 Ultra (1440p)
1180
Xiaomi 12 Pro
1169
Oppo Find X5
1110
Huawei P50 Pro
1105
Google Pixel 6 Pro
1042
Oppo Find X5 Pro
1002
OnePlus 10 Pro
975
Oppo Find X3 Pro
926
GeekBench 5 (multi-core)
Higher is better
iQOO 9 Pro
3708
Xiaomi 12 Pro
3682
Samsung Galaxy S22 Ultra (1440p)
3657
Realme GT2 Pro
3501
OnePlus 10 Pro
3447
Oppo Find X5 Pro
3433
Oppo Find X5
3331
Oppo Find X3 Pro
3316
Huawei P50 Pro
3145
Google Pixel 6 Pro
2831
The Find X5 Pro came into its own in Antutu, where it snatched the lead among this select group of top-tier handsets.
AnTuTu 9
Higher is better
Oppo Find X5 Pro
1012896
iQOO 9 Pro
997948
Xiaomi 12 Pro
985226
Samsung Galaxy S22 Ultra (1440p)
968359
Realme GT2 Pro
966251
OnePlus 10 Pro
886248
Oppo Find X5
810715
Huawei P50 Pro
786215
Oppo Find X3 Pro
745653
Google Pixel 6 Pro
719815
In GFXBench, the Find X5 Pro is closely aligned with the rest of 1440p phones powered by the same Snapdragon. The non-Pro has the upper hand in onsreen tests where its 1080p resolution gives it an edge, but it's no match for raw performance, as evidenced by the offscreen results.
GFX Aztek ES 3.1 High (onscreen)
Higher is better
Oppo Find X5
40
OnePlus 10 Pro
37
Xiaomi 12 Pro
36
Realme GT2 Pro
36
iQOO 9 Pro
36
Oppo Find X5 Pro
35
Samsung Galaxy S22 Ultra (1440p)
30
Google Pixel 6 Pro
28
Huawei P50 Pro
27
GFX Aztek ES 3.1 High (offscreen 1440p)
Higher is better
OnePlus 10 Pro
43
Realme GT2 Pro
42
Xiaomi 12 Pro
41
Oppo Find X5 Pro
40
iQOO 9 Pro
40
Samsung Galaxy S22 Ultra (1440p)
31
Google Pixel 6 Pro
31
Oppo Find X5
27
Huawei P50 Pro
22
GFX Aztek Vulkan High (onscreen)
Higher is better
OnePlus 10 Pro
41
Realme GT2 Pro
39
Oppo Find X5
38
Xiaomi 12 Pro
37
iQOO 9 Pro
37
Oppo Find X5 Pro
36
Samsung Galaxy S22 Ultra (1440p)
29
Google Pixel 6 Pro
26
Huawei P50 Pro
26
GFX Aztek Vulkan High (offscreen 1440p)
Higher is better
OnePlus 10 Pro
48
Realme GT2 Pro
46
Xiaomi 12 Pro
45
Oppo Find X5 Pro
44
iQOO 9 Pro
44
Samsung Galaxy S22 Ultra (1440p)
35
Oppo Find X5
30
Google Pixel 6 Pro
30
Huawei P50 Pro
30
GFX Car Chase ES 3.1 (onscreen)
Higher is better
Oppo Find X5
55
OnePlus 10 Pro
48
Realme GT2 Pro
48
Xiaomi 12 Pro
46
iQOO 9 Pro
46
Oppo Find X5 Pro
44
Huawei P50 Pro
44
Google Pixel 6 Pro
39
Samsung Galaxy S22 Ultra (1440p)
37
Oppo Find X3 Pro
33
GFX Car Chase ES 3.1 (offscreen 1080p)
Higher is better
OnePlus 10 Pro
97
Xiaomi 12 Pro
96
Realme GT2 Pro
95
iQOO 9 Pro
95
Oppo Find X5 Pro
94
Samsung Galaxy S22 Ultra (1440p)
76
Oppo Find X3 Pro
70
Google Pixel 6 Pro
70
Oppo Find X5
69
Huawei P50 Pro
64
Similarly tightly packed in 3DMark, the rest of the SD8G1 handsets still fall ever so slightly behind the Find X5 Pro.
3DMark Wild Life Vulkan 1.1 (offscreen 1440p)
Higher is better
Oppo Find X5 Pro
9758
iQOO 9 Pro
9673
Xiaomi 12 Pro
9664
OnePlus 10 Pro
9610
Realme GT2 Pro
9487
Samsung Galaxy S22 Ultra (1440p)
7437
Google Pixel 6 Pro
6602
Oppo Find X5
5851
Oppo Find X3 Pro
5653
Huawei P50 Pro
5651
As is the norm with flagships, those high numbers aren't sustainable, and the score quickly drops with subsequent loops of the Wildlife test. The Find settled at a modest 60-ish percent of its maximum performance as quickly as the fourth loop of the test.
In the CPU throttling test, the Find X5 Pro maintained its composure comparatively well. Its performance waned gradually over the first twenty minutes of the benchmark, and it was only then that a more significant drop was observed. Even so, it maintained performance levels around 70% of its initial result, and it was rock solid in its output - no random dips or spikes.