Display worthy of the class
The Find X5 Pro's display is a 6.7-inch OLED with high resolution, high refresh rate, high brightness, high color fidelity, high everything - as is the norm in the high-end segment. Using a Samsung-made LTPO2 AMOLED panel, the Find overs variable refresh rate in the 1-120Hz range. The native resolution is 1440x3216 in a 20:9 aspect ratio for a pixel density of 525ppi.
Being a 10-bit panel, it also boasts a capability to display up to 1 billion 'colors' for smoother tonal gradations. HDR10+ is supported where the phone could potentially reach 1300nits of brightness, while in ordinary situations, the max brightness is 800nits as per the press materials.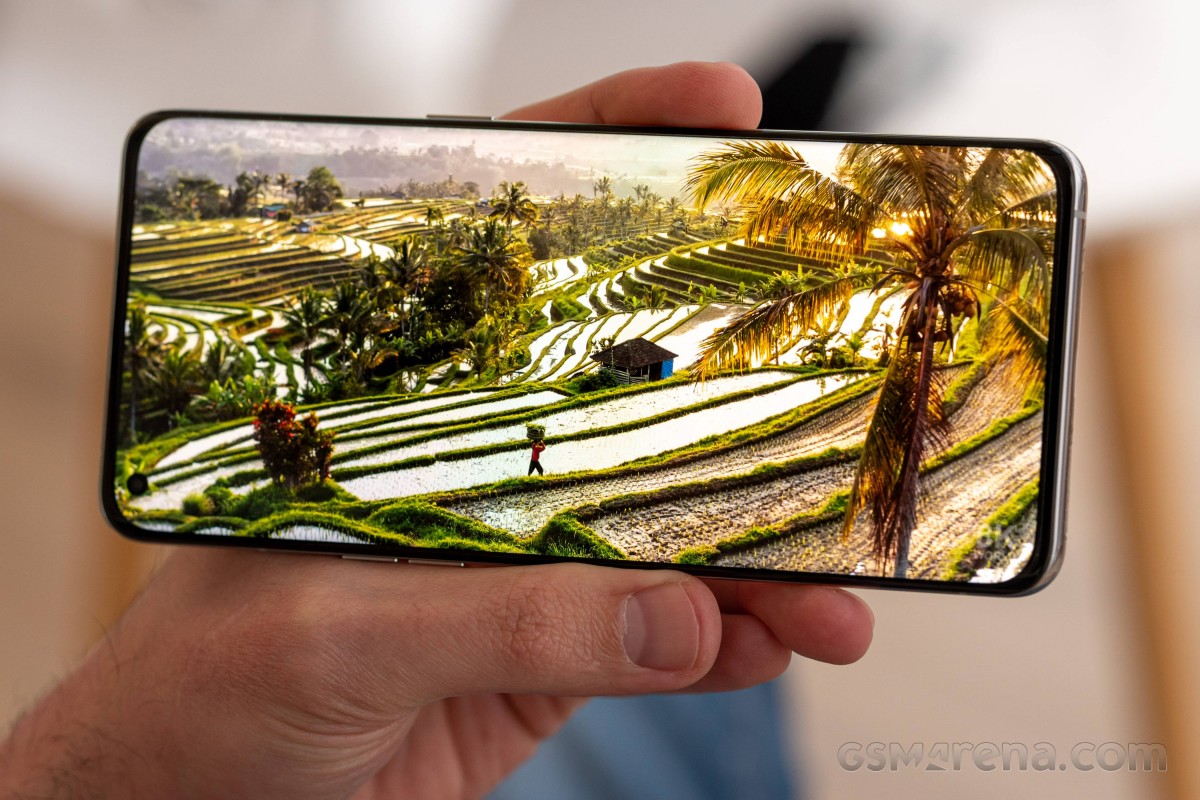 When measuring the Find X5 Pro's max brightness at 75% APL (the fill area of the white pixels on the screen), we got 475nits when operating the slider manually and 762nits when the Auto brightness was left in charge in a bright environment. These are essentially the same numbers as the ones we measured on last year's model, as well as this year's OnePlus 10 Pro, which has basically the same panel.
Having said that, we've been getting 1000nits on rival models while Galaxies and iPhones can go in excess of 1200nits. How much of a practical advantage that is, is debatable, but the point is that Find X5 Pro isn't among the brightest out there.
Display test
100% brightness
Black,cd/m2
White,cd/m2
Contrast ratio
Oppo Find X5 Pro
0
475
∞
Oppo Find X5 Pro (Max Auto)
0
762
∞
Oppo Find X3 Pro
0
493
∞
Oppo Find X3 Pro (Max Auto)
0
774
∞
Samsung Galaxy S22+
0
468
∞
Samsung Galaxy S22+ (Extra brightness)
0
782
∞
Samsung Galaxy S22+ (Max Auto)
0
1214
∞
Samsung Galaxy S22 Ultra
0
494
∞
Samsung Galaxy S22 Ultra (Extra brightness)
0
829
∞
Samsung Galaxy S22 Ultra (Max Auto)
0
1266
∞
Xiaomi 12 Pro
0
506
∞
Xiaomi 12 Pro (Max Auto)
0
1050
∞
Apple iPhone 13 Pro Max
0
852
∞
Apple iPhone 13 Pro Max (Max Auto)
0
1050
∞
Google Pixel 6 Pro
0
497
∞
Google Pixel 6 Pro (Max Auto)
0
860
∞
Huawei P50 Pro
0
609
∞
Huawei P50 Pro (Max Auto)
0
754
∞
OnePlus 10 Pro
0
498
∞
OnePlus 10 Pro (Max Auto)
0
780
∞
Realme GT2 Pro
0
482
∞
Realme GT2 Pro (Max Auto)
0
778
∞
vivo iQOO 9 Pro
0
438
∞
vivo iQOO 9 Pro (Max Auto)
0
1000
∞
It may not be the brightest display, but it can be among the most accurate ones. We measured an average dE2000 of 1.2 for the set of sRGB test swatches in Natural mode, which dropped to 0.8 after a gentle nudge of the temperature slider in the warm direction. Natural isn't the default mode, though - Vivid is, and we got less accurate color rendition with the all-too-common blue shift. That too improved with a temperature adjustment, though - pushing the slider all the way to the right got us an average dE2000 of 2.0 for the DCI-P3 swatches.
There's also a Pro mode with two sub-modes. Cinematic targets accurate Display P3 reproduction and manages to deliver spectacularly, while Brilliant is just an all-out super-saturated mode.
When it comes to HDR, we got Netflix and YouTube to serve HDR streams, but not so much Amazon Prime Video. Both Netflix and Prime happily played back in 1080p - naturally, the phone has the Widevine L1 certification needed for that.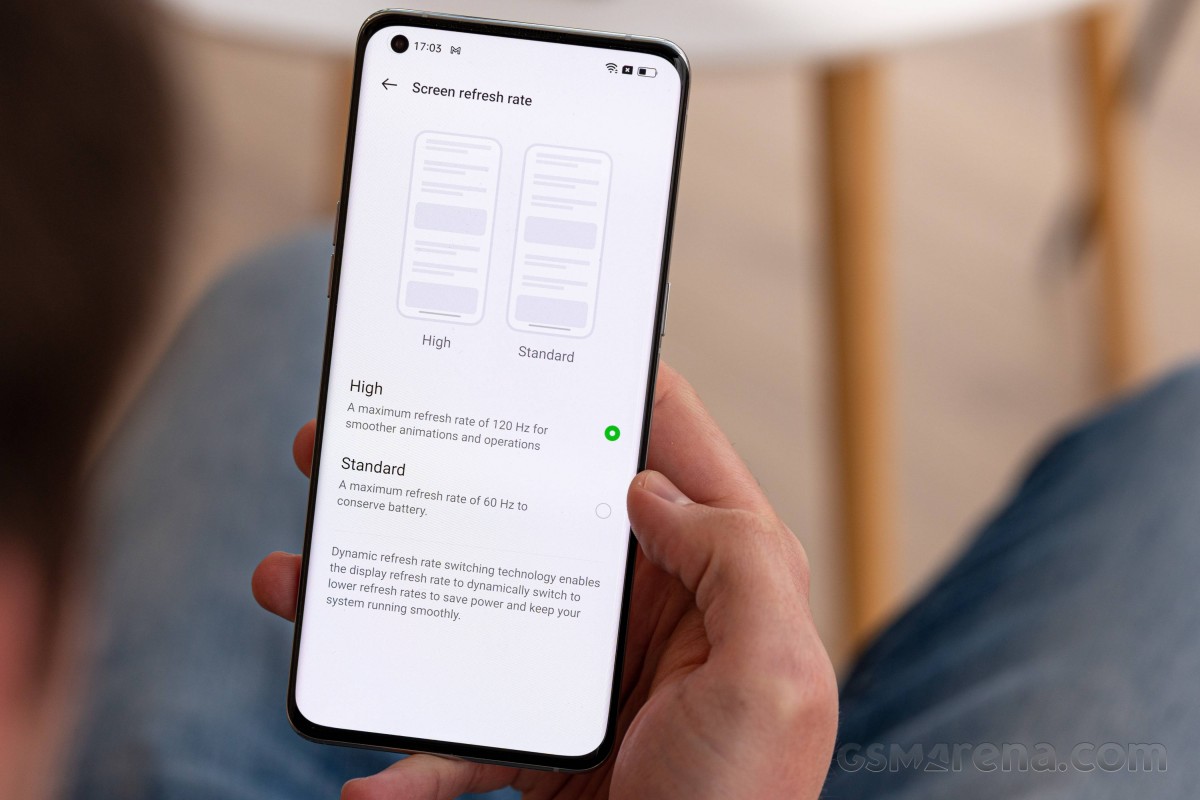 Refresh rate is handled by a simple menu with just two options - Standard and High. Standard sets the RR ceiling at 60Hz, while High allows it to go all the way up to the maximum 120Hz. Both modes employ auto switch-down to whatever RR the software logic decides is most appropriate at the moment based on app, content, and activity.
The minimum screen refresh rate is dependent on the screen brightness level. We observed the phone drop to the promised 1Hz when idling but only when set to nearly its maximum brightness level. Just below that, there's another narrow brightness range where the minimum RR is 5Hz, and below that, for the widest brightness range, the minimum RR when idling is 10Hz. At very low brightness levels, we had constant 120Hz readings.
In general, the Find will seize every opportunity to drop to a minimum refresh rate (the brightness mandated one) when you don't touch it for even a brief instant. That's the behavior across the UI, in social apps, in browsers, and even in video apps (like YouTube or Netflix) as long as there's no video actually playing.
Speaking of, videos were treated somewhat weirdly in our experience, with 24fps clips getting a 30Hz refresh rate and the phone reporting a constantly changing 30Hz-60Hz refresh rate for 48fps videos (maybe a peculiarity in reporting, and it was, in fact, a steady 48Hz?). 30fps and 60fps videos do get as many Hz as fps.
Browsers tend to remain at 60Hz when there's moving content being displayed, but they will both drop to the minimum for static pages when idling and also spike to 120Hz when you touch the screen to scroll. Games appear limited to 60Hz, though.
Oppo Find X5 Pro battery life
The Find X5 Pro is equipped with a 5,000mAh battery - a meaningful increase over the 4,500mAh power pack of the Find X3 Pro and slightly more than the Find X5 non-Pro. It's more or less the norm in the high-end segment of the Android world, with only the Xiaomi 10 Pro at 4,600mAh. There's also the iPhone 13 Pro Max' 4,352mAh capacity, but that's an iPhone, and things work differently there.
On the Find X5 Pro, we clocked 17:21h of looping videos offline (the phone kept a 30fps refresh rate for our video, even in the Standard 60Hz mode) - not a class-leading result, but not half-bad either.
In the Wi-Fi web browsing, the Find was good for 14:14h - a similarly middle-of-the-pack number. Mind you, the phone was reporting to be switching between 30Hz and 10Hz most of the time, with occasional spikes to 60Hz for this test - we didn't observe it going up to 120Hz despite carrying out the test in the High refresh rate mode.
With the above taken into account, it's no wonder that the voice call longevity turned out similarly 'average' at 26:36h. Factoring in a standby performance along those lines, the Find X5 Pro posted an overall Endurance rating of 101h - a lot better than last year's model or this year's Xiaomi 12 Pro, but slightly worse than the Galaxy S22 Ultra and the OnePlus 10 Pro.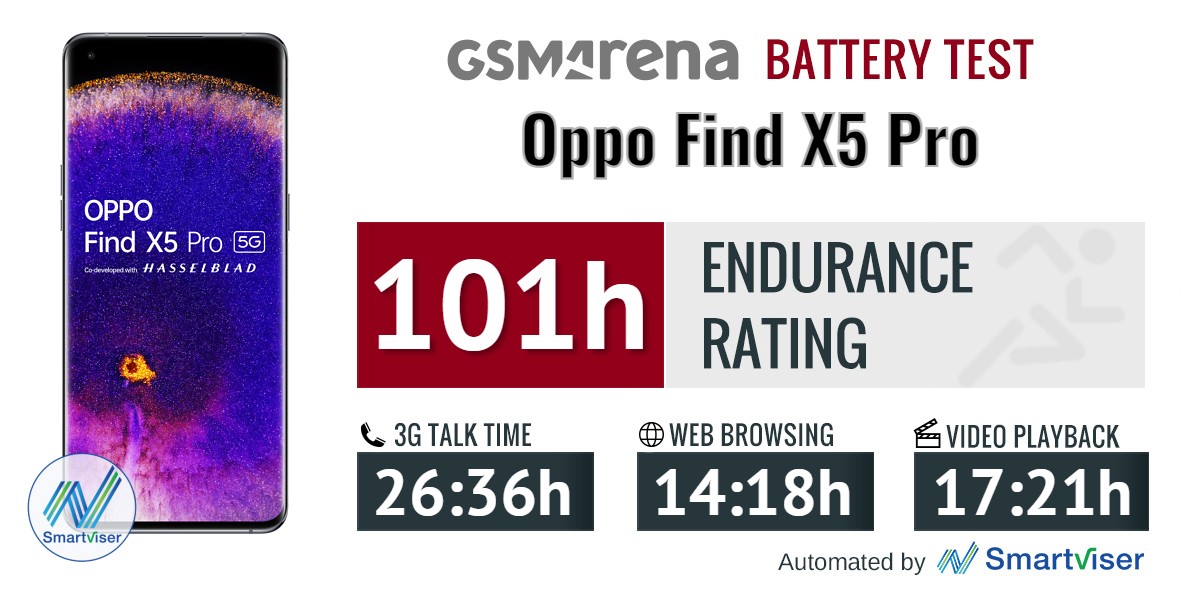 Our battery tests were automated thanks to SmartViser, using its viSerDevice app. The endurance rating denotes how long the battery charge will last you if you use the device for an hour of telephony, web browsing, and video playback daily. More details can be found here.
Video test carried out in 60Hz refresh rate mode. Web browsing test done at the display's highest refresh rate whenever possible. Refer to the respective reviews for specifics. To adjust the endurance rating formula to match your own usage - check out our all-time battery test results chart.
All of the above tests were carried out with the screen set to 1440p resolution, which isn't the default option. We figured we'd rerun the web browsing test at 1080p - just to check, and we got the exact same result as the 1440p test, so dialling down the resolution doesn't make sense, at least from power consumption point of view.
Charging speed
The Find X5 Pro is bundled with an 80W SuperVOOC power adapter, and Oppo says it should charge the phone to 50% in just 12 minutes. That's not among the metrics we keep track of normally, but we specifically checked and only got 40% for 12minutes of charging. That said, we'd still argue that the Find excels at charging speed, if it's not exactly a record-breaker.
It took 40 minutes for a full charge from flat, and it was at 91% at the half-hour mark. That's ever so slightly quicker to 100%, albeit not quite as full at 30 minutes when compared to the Find X5 we tested - apparently, Oppo has implemented different charging curves on the two phones.
Perhaps more importantly, the Find X5 Pro doesn't charge as fast as last year's Find X3 Pro, which took less than half an hour from zero to 100%. We reckon this development has something to do with Oppo prioritizing battery health in the long run - they claim that the Find X5 Pro's battery should be good for 1600 charge cycles, or twice as many as the industry-standard, according to their press materials.
30min charging test (from 0%)
Higher is better
Oppo Find X3 Pro
100%
Xiaomi 12 Pro (120W)
100%
iQOO 9 Pro
100%
OnePlus 10 Pro
98%
Oppo Find X5
94%
Oppo Find X5 Pro
91%
Realme GT2 Pro
91%
Huawei P50 Pro
73%
Samsung Galaxy S22+ (25W)
62%
Samsung Galaxy S22 Ultra (25W)
61%
Google Pixel 6 Pro
48%
Apple iPhone 13 Pro Max (20W Apple)
42%
Time to full charge (from 0%)
Lower is better
Xiaomi 12 Pro (120W)
0:21h
iQOO 9 Pro
0:21h
Oppo Find X3 Pro
0:28h
OnePlus 10 Pro
0:32h
Oppo Find X5 Pro
0:40h
Realme GT2 Pro
0:40h
Oppo Find X5
0:42h
Huawei P50 Pro
0:50h
Samsung Galaxy S22+ (25W)
1:02h
Samsung Galaxy S22 Ultra (25W)
1:04h
Apple iPhone 13 Pro Max (20W Apple)
1:46h
Google Pixel 6 Pro
1:52h
The Find X5 Pro also supports wireless charging. The WPC listing says the phone is capable of taking up to 15W and it adheres to the Extended Power Profile. That's with standard peripherals, however. Using Oppo's proprietary AirVOOC accessories, the phone is listed to support up to 50W of wireless charging for a claimed time of 47 from 'near-empty to 100%'. We haven't been able to test that, though.
It's good to know that the Find can also charge other devices off its back - at up to 10W.
Speaker test
The Find X5 Pro has a stereo speaker setup with one bottom-firing unit and another one up top that also doubles as an earpiece. The software respects the phone's orientation in landscape and sends the correct channels depending on how you're holding it, while in portrait, the earpiece gets the left channel.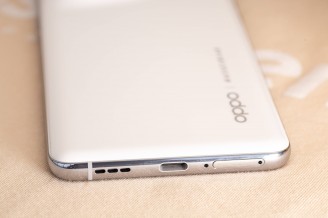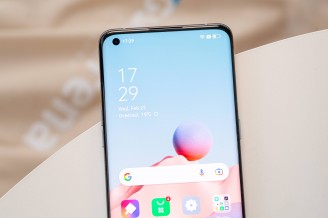 Bottom speaker • Top speaker (between the display glass and the frame)
The Find X5 Pro earned a 'Very Good' rating for loudness in our speaker test, a notch above the non-Pro. It's louder than both the Galaxy S22 Ultra and the Xiaomi 12 Pro, with only the iPhone 13 Pro Max putting out a bit more volume.
The Find sounds pretty great too. It doesn't quite have the iPhone's low-end rumble but offers pleasing vocals, crisp treble and overall great clarity. The two speakers aren't exactly equal in their capabilities, and the bottom one is louder and boomier, but the two work very well in tandem.
Use the Playback controls to listen to the phone sample recordings (best use headphones). We measure the average loudness of the speakers in LUFS. A lower absolute value means a louder sound. A look at the frequency response chart will tell you how far off the ideal "0db" flat line is the reproduction of the bass, treble, and mid frequencies. You can add more phones to compare how they differ. The scores and ratings are not comparable with our older loudspeaker test. Learn more about how we test here.