Curved, 120Hz OLED display
Even though it's not LTPO2 like the Find X5 Pro, the OLED panel used for the standard Find X5 has all the bells and whistles. It's a 1080 x 2400px display in a 6.55-inch diagonal and supports HDR10+, 10-bit color depth, 120Hz refresh rate, and it's supposed to get really bright at up to 1,000 nits. But before we get into those details, let's have a look at some of the proprietary features.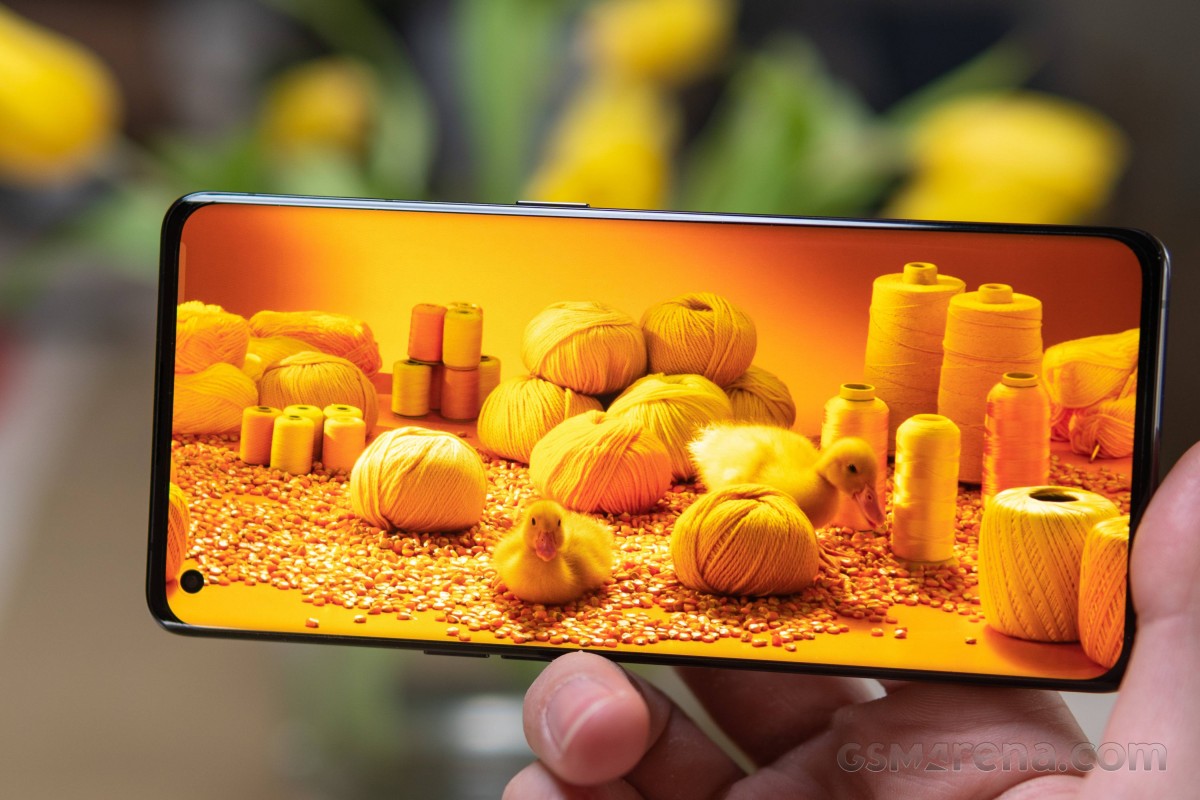 In addition to the color presets that set a certain color temperature, there's an option to let the software decide the best one depending on the ambient lighting. It's called "Nature tone display". Sounds like a broken translation, but we will let it slide.
The bright HDR video mode increases the screen brightness once it detects HDR-enabled content playing. It makes video content pop but consumes a lot more battery. And it might be unpleasant in really dark conditions.
Now off to some real tests. The maximum brightness in manual mode is 498 nits. In automatic brightness mode, however, the handset peaked at 807 nits - just about the advertised brightness. Oppo says that on a smaller surface area, the panel can go up to 1,000 nits, and we think that's definitely possible. Either way, 800 nits and above is perfectly fine for unobstructed use under direct sunlight. That's definitely in flagship territory.
Display test
100% brightness
Black,cd/m2
White,cd/m2
Contrast ratio
Oppo Find X5 Pro
0
475
∞
Oppo Find X5 Pro (Max Auto)
0
762
∞
Oppo Find X5
0
498
∞
Oppo Find X5 (Max Auto)
0
807
∞
Samsung Galaxy S22+
0
468
∞
Samsung Galaxy S22+ (Extra brightness)
0
782
∞
Samsung Galaxy S22+ (Max Auto)
0
1214
∞
Apple iPhone 13 Pro
0
856
∞
Apple iPhone 13 Pro (Max Auto)
0
1063
∞
Google Pixel 6 Pro
0
497
∞
Google Pixel 6 Pro (Max Auto)
0
860
∞
Realme GT2 Pro
0
482
∞
Realme GT2 Pro (Max Auto)
0
778
∞
Xiaomi 12 Pro
0
506
∞
Xiaomi 12 Pro (Max Auto)
0
1050
∞
Xiaomi 12
0
494
∞
Xiaomi 12 (Max Auto)
0
896
∞
Color accuracy isn't all that bad with the default Vivid color mode. Blue-ish whites and grays, and oversaturated reds are the most noticeable drawbacks. Switching to the so-called Natural mode significantly improves preproduction bringing down the average dE2000 as low as 1.0. Even more impressive is the maximum dE2000 of just 1.9. That's one of the most color-accurate smartphone displays we've tested.
HRR control
There's no granular control over refresh rate, and the software gives you just two options - Standard and High refresh rate. The Standard limits it to 60Hz, while the High one is fairly adaptive but pushes 120Hz whenever possible. In static images or when playing full-screen videos in the default Gallery app, Netflix or YouTube, the system dials back to 60Hz. All other system menus and most of the third-party apps we've tried run at 120Hz. The Chrome browser is a small exception where the system locks it at 90Hz for some reason. Bringing out the keyboard sets the refresh rate to 60Hz as well, no matter the app.
Now, when it comes to gaming, the HRR control is rather limited. We didn't find a single game that can go beyond 60Hz, even on the ones we were sure to get 120Hz, such as Sky Force: Reloaded and Real Racing 3.
Battery life
The Oppo Find X5 runs on a respectable 4,800 mAh battery, given the size of the handset and the hardware limitations that fast charging and wireless charging features bring. More hardware for those two equals less actual battery capacity. Even so, the device scored excellently in almost all of our tests. Flagships tend to have shorter battery runtimes due to the energy-sipping flagship SoCs but the Find X5's score is comparable to some midrangers.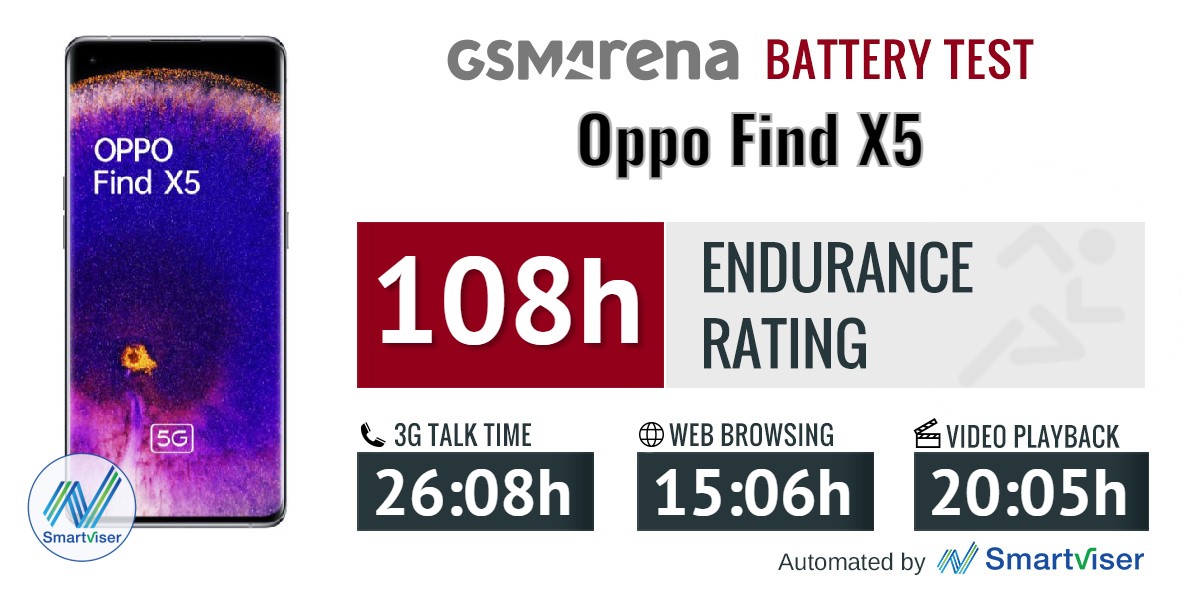 Our battery tests were automated thanks to SmartViser, using its viSerDevice app. The endurance rating denotes how long the battery charge will last you if you use the device for an hour of telephony, web browsing, and video playback daily. More details can be found here.
An overall score of 108 hours is more than respectable as well as the screen-on tests - 15 hours for web browsing and 20 hours for video playback. The standby was also pretty good, leaving the 3G talk time sub-optimal. Or at least we've seen better talk times in the past.
Video test carried out in 60Hz refresh rate mode. Web browsing test done at the display's highest refresh rate whenever possible. Refer to the respective reviews for specifics. To adjust the endurance rating formula to match your own usage patterns check out our all-time battery test results chart where you can also find all phones we've tested.
Either way, the Find X5 offers competitive battery life and even places ahead of some big-name flagships falling short only compared to some of its close siblings, such as the Realme GT2 family, which runs the same software and chipsets (the GT2 Pro employs a Snapdragon 8 Gen 1, though).
Charging speed
The Oppo Find X5 supports the same 80W SuperVOOC fast charging as its bigger and more expensive sibling, the Find X5 Pro. But having a smaller 4,800 mAh battery means that it should charge faster. However, that's not exactly the case, as it turns out. The charging curve is slightly different, as in, the Find X5 charges a tad faster in the first 30 minutes but slows down towards the end. Keep in mind that we are talking about a slim difference - just two minutes, so it's not that big of a deal and it might be due to statistical error.
30min charging test (from 0%)
Higher is better
Xiaomi 12 Pro (120W)
100%
Realme GT2
97%
Oppo Find X5
94%
Oppo Find X5 Pro
91%
Realme GT2 Pro
91%
Realme GT2 Pro
91%
Xiaomi 12
87%
Samsung Galaxy S22+ (45W)
64%
Samsung Galaxy S22+ (25W)
62%
Xiaomi 12 Pro (65W PD)
62%
Google Pixel 6 Pro
48%
Time to full charge (from 0%)
Lower is better
Xiaomi 12 Pro (120W)
0:21h
Oppo Find X5 Pro
0:40h
Realme GT2 Pro
0:40h
Realme GT2
0:40h
Realme GT2 Pro
0:40h
Oppo Find X5
0:42h
Xiaomi 12
0:46h
Xiaomi 12 Pro (65W PD)
0:50h
Samsung Galaxy S22+ (45W)
1:01h
Samsung Galaxy S22+ (25W)
1:02h
Google Pixel 6 Pro
1:52h
All in all, the Find X5 has one of the fastest charging solutions on the market, and it falls short to only a few rivals and not by much too. What difference does it make a few minutes more to a full charge? Probably not much.
Speakers
The device runs a pair of stereo loudspeakers in the usual manner - one bottom-firing main speaker and one that doubles as an earpiece hiding behind the grille at the top of the display. However, after some listening and testing, we found those two to be fairly balanced loudness-wise, that is. That's not the case usually, so kudos for that.
Additionally, the sound quality is great. Even at higher volumes, it was hard to tell if there was significant distortion in the mids and highs. Bass was fairly decent as well, giving audio tracks some much-needed fullness. It's important to note that the Dolby Atmos feature is enabled by default and can't be turned off unless you connect a pair of headphones. The good news is that the speakers sound good with Dolby Atmos on, unlike the Realme GT2 duo.
As far as loudness goes, the speakers aren't exactly loud. Our -26.3 LUFS score rates it as "Good" so we've heard considerably louder phones.
Use the Playback controls to listen to the phone sample recordings (best use headphones). We measure the average loudness of the speakers in LUFS. A lower absolute value means a louder sound. A look at the frequency response chart will tell you how far off the ideal "0db" flat line is the reproduction of the bass, treble, and mid frequencies. You can add more phones to compare how they differ. The scores and ratings are not comparable with our older loudspeaker test. Learn more about how we test here.