QHD 120Hz AMOLED screen
The Oppo Find X3 Pro employs a similar display to the one we enjoyed on the Find X2 Pro. It's a 6.7" LPTO AMOLED screen of 3,216 x 1,440 px resolution or 525ppi density. The panel supports 10-bit color and can display more than 1 billion colors vs. 16 million on most competing phones. Quite expectedly, it is HDR10 and HDR10+ certified.
The Find X3 Pro screen also supports a 120Hz adaptive refresh rate, while the touch matrix works with 240Hz sampling rate.
And to wrap up the specs, the screen misses a few pixels as it has a punch hole for the selfie camera. Finally, it is protected by a slightly curved Gorilla Glass 5 piece.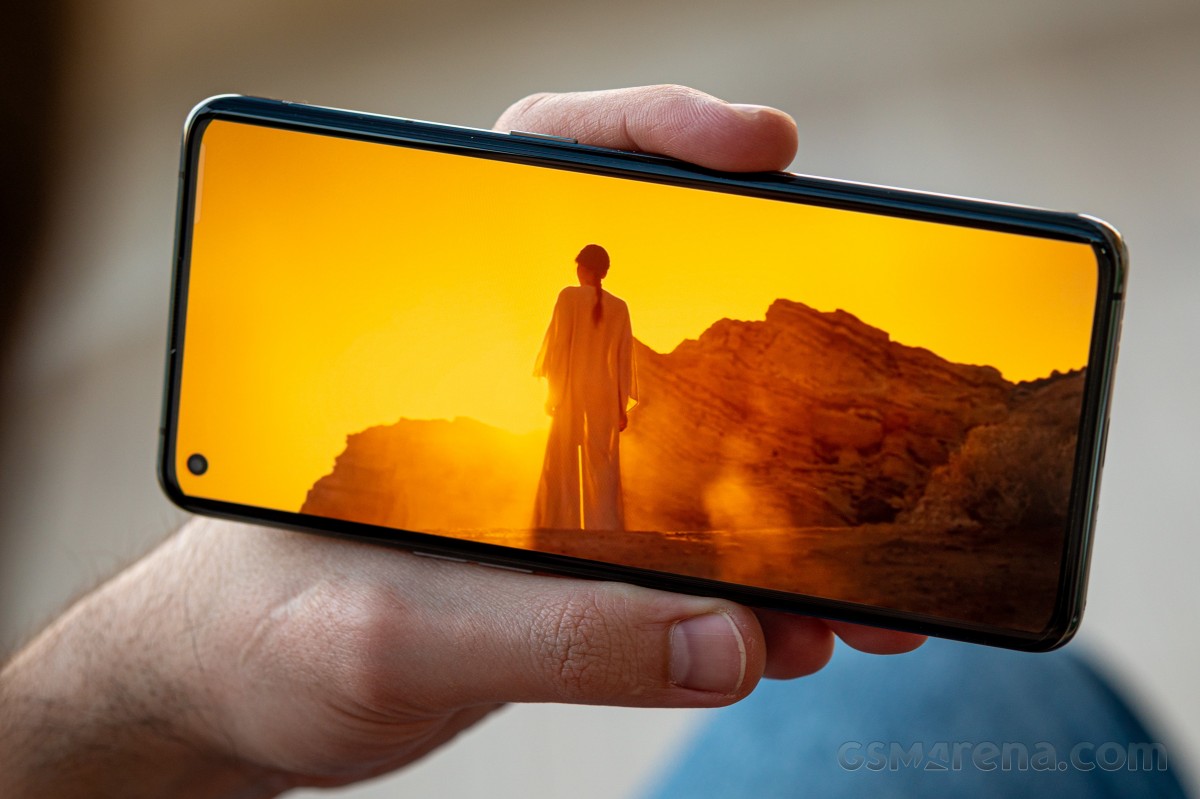 Oppo promises 500 nits of typical manual brightness, 800 nits of typical auto (sunlight) brightness, and up to 1,300 nits of peak brightness in a small screen area. We can't really measure the peak brightness, which is usually achieved when viewing HDR content, but we can measure the rest.
Well, the screen lives up to the promises - we captured 493 nits at the end of the brightness slider, but it can go up to 505nits when using different color modes. When the screen brightness is set on Auto, the panel can light up as bright as 774 nits.
Finally, the minimum brightness is excellent at just 2.2 nits!
Display test
100% brightness
Black,cd/m2
White,cd/m2
Contrast ratio
Oppo Find X3 Pro
0
493
∞
Oppo Find X3 Pro (Max Auto)
0
774
∞
Oppo Find X2 Pro
0
536
∞
Oppo Find X2 Pro (Max Auto)
0
871
∞
Oppo Find X2
0
518
∞
Oppo Find X2 (Max Auto)
0
850
∞
Oppo Find X
0
426
∞
Samsung Galaxy S21 Ultra 5G
0
458
∞
Samsung Galaxy S21 Ultra 5G (Max Auto)
0
1023
∞
Samsung Galaxy S21+ 5G
0
459
∞
Samsung Galaxy S21+ 5G (Max Auto)
0
883
∞
Apple iPhone 12 Pro Max
0
822
∞
Xiaomi Mi 11
0
498
∞
Xiaomi Mi 11 (Max Auto)
0
926
∞
OnePlus 8 Pro
0
538
∞
OnePlus 8 Pro (Max Auto)
0
888
∞
Huawei Mate 40 Pro
0
485
∞
Huawei Mate 40 Pro (Max Auto)
0
807
∞
Huawei P40 Pro+
0
455
∞
Huawei P40 Pro+ (Max Auto)
0
760
∞
Xiaomi Mi 10 Ultra
0
498
∞
Xiaomi Mi 10 Ultra (Max Auto)
0
811
∞
Oppo's promises 100% coverage for the DCI-P3 color space for the Find X3 Pro screen with near-perfect accuracy. But before we get down to the numbers, let's talk about the display options.
First, there is a Nature Tone option, off by default, which is the same thing as Apple's True Tone - it adjusts the color saturation depending on the available light and its temperature. We did our measurements with this thing turned off.
The color options are a bit misleading. Both the default Vivid and the optional Cinematic mode mention P3 coverage in the description. Vivid is off the mark - we measured an average deltaE of 3.9 and a maximum of 9 for our set of DCI-P3 test swatches, with white and grays shifted noticeably towards blue.
Switch to Cinematic mode, however, and you'd get the promised accuracy - our readings showed an average deltaE of 1.6 and a maximum deviation of 2.5.
Finally, the Gentle mode is tuned for accurate sRGB reproduction and does an excellent job at it as well - the average deltaE is 1.5.
Now, let's talk about the refresh rate. You can choose between 60Hz or 120Hz, with the latter being adaptive. Oppo is promising the dynamic refresh rate can drop down to 5Hz when needed, say reading an eBook. Well, it's not that adaptive after all - Oppo either sugar-coated this thing, or it is yet to offer a better implementation via a software update.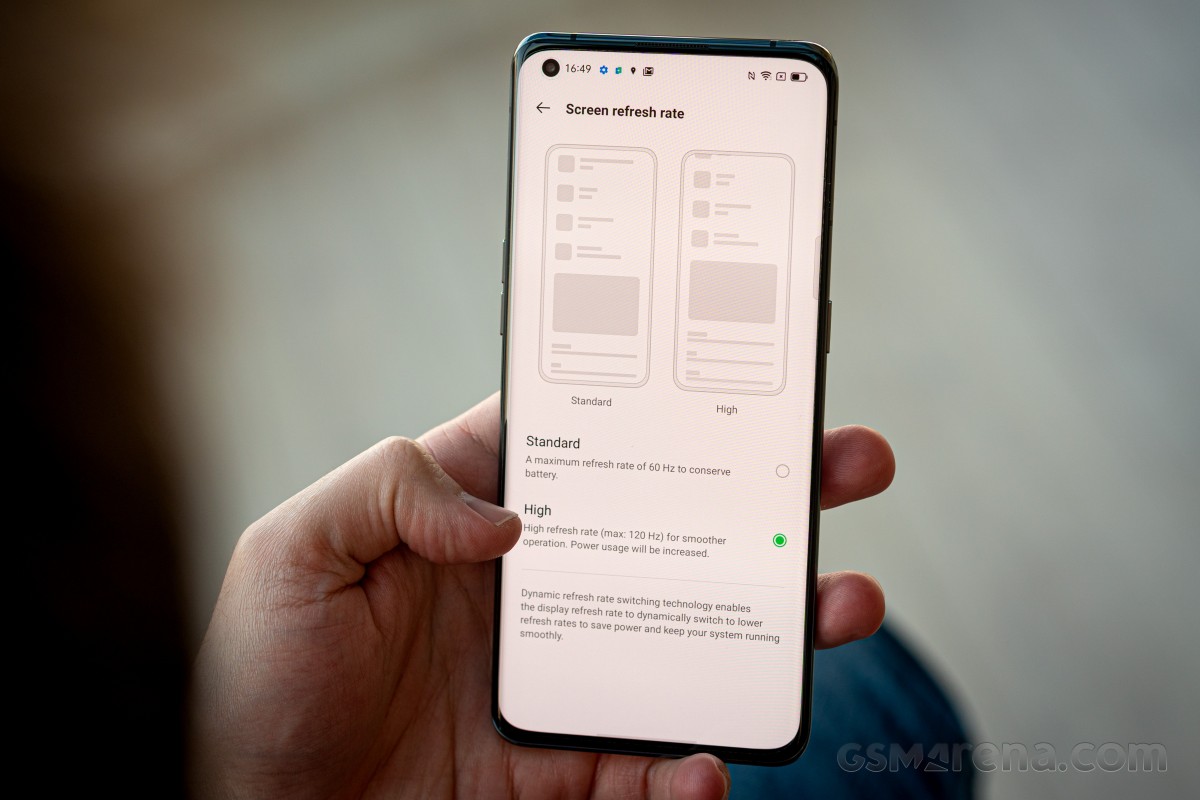 In our experience, the Find X3 Pro is always using 120Hz when showing the UI and the default system apps. It will revert to 60Hz sometimes when the picture is static for battery-saving reasons, as most of the HRR phones do. The default video player and YouTube always work at 60Hz, while Netflix and the likes run their UIs with 120Hz but switch back to 60Hz once the streaming starts. Finally, some games like Dead Trigger 2 run at 120fps, so you can expect compatible games to make use of Find X3 Pro's HRR screen.
And that's about it. We saw no 90Hz, no 30Hz, no 5Hz refresh rates, nor anything in-between. We tried eBook apps, different scenarios, and various games, but alas - the phone used either 60Hz or 120Hz, and that's it.
Finally, for those who wonder, the phone supports Widevine L1 DRM, and you can enjoy your favorite streaming shows and movies in 1080p HDR10 quality.
Battery life
The Oppo Find X3 Pro is powered by a 4,500mAh battery, 5% larger than the one inside the Find X2 Pro. It seems adequate on paper, but we've seen the Xiaomi Mi 11 and its Snapdragon 888+QHD 120Hz OLED to perform average, so we weren't holding our breaths here. And we were right.
The Find X3 Pro posted average times on our tests - it can make calls for 23 hours straight, browse web pages for 11 hours, or play videos for 13+ hours. Combining those with the mediocre standby performance made for an uninspiring 81h Endurance rating.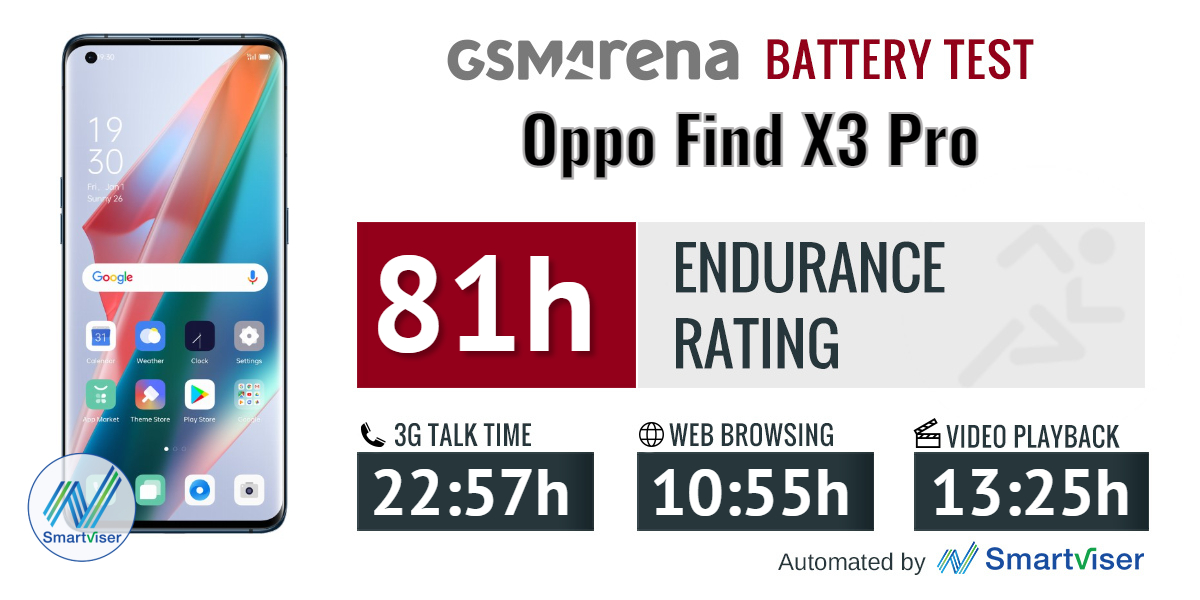 Our battery tests were automated thanks to SmartViser, using its viSerDevice app. The endurance rating denotes how long the battery charge will last you if you use the device for an hour of telephony, web browsing, and video playback daily. More details can be found here.
All test results shown are achieved under the highest screen refresh rate mode. You can adjust the endurance rating formula manually so it matches better your own usage in our all-time battery test results chart where you can also find all phones we've tested.
Charging speed
The Oppo Find X3 Pro supports 65W SuperVOOC 2.0 fast wired charging, and you are getting the VOOC power adapter as part of the retail bundle. The phone also supports 30W AirVOOC wireless fast charging provided you buy the appropriate charger for that. It can also do reverse 10W wireless charging if your Bluetooth accessories need some top-up.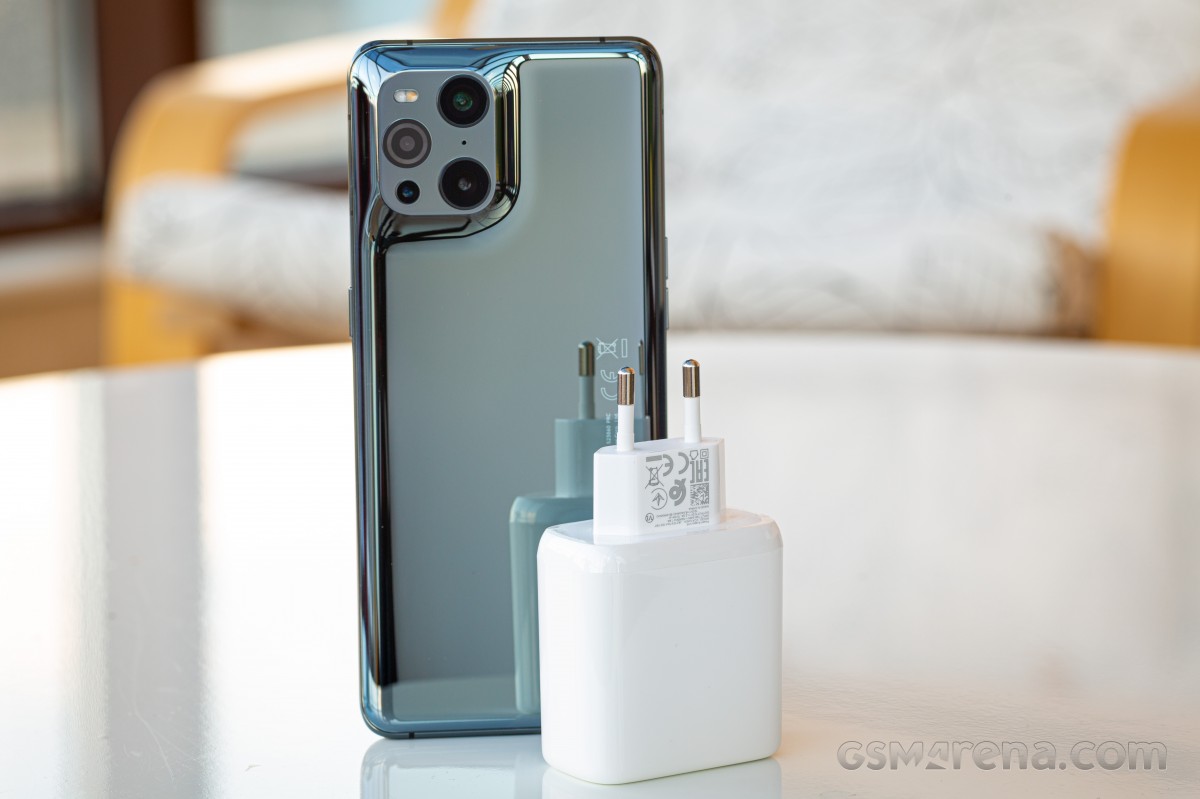 The 65W power adapter should bring a dead battery to 40% in 10 mins. We did test that, and, in fact, the charger replenishes 45% in just 10 minutes, 82% in 20 minutes, and 100% in 28 minutes.
30min charging test (from 0%)
Oppo Find X3 Pro
100%
Xiaomi Mi 10 Ultra
100%
Oppo Find X2 Pro
95%
Oppo Find X Lamborghini Edition
95%
Oppo Find X2
94%
Realme 7 Pro
94%
OnePlus 8T
94%
Huawei Mate 40 Pro (66W bundled)
87%
Xiaomi Mi 11
83%
Huawei P40 Pro+
77%
Realme 7
58%
Apple iPhone 12 Pro Max
55%
Samsung Galaxy S21+ 5G
54%
Oppo Find X
50%
Oddly, the phone displays Charged about 7 minutes after it has reached 100%, so you should have that in mind.
Time to full charge (from 0%)
Xiaomi Mi 10 Ultra
0:27h
Oppo Find X3 Pro
0:28h
Oppo Find X Lamborghini Edition
0:35h
Oppo Find X2 Pro
0:36h
OnePlus 8T
0:36h
Realme 7 Pro
0:37h
Oppo Find X2
0:38h
Huawei Mate 40 Pro (66W bundled)
0:45h
Xiaomi Mi 11
0:50h
Realme 7
1:05h
Huawei P40 Pro+
1:10h
Samsung Galaxy S21+ 5G
1:12h
Apple iPhone 12 Pro Max
1:32h
Speakers
The Oppo Find X3 Pro packs a stereo setup with two symmetrically placed speakers (top and bottom). The sound from the top one is coming through the earpiece grille, though we are not sure if the earpiece and the speaker are the same thing or if there are two pieces of different hardware stuffed in there. That's because the two speakers are balanced perfectly - they both offer equal loudness and sound quality - something that's rare with the hybrid setups.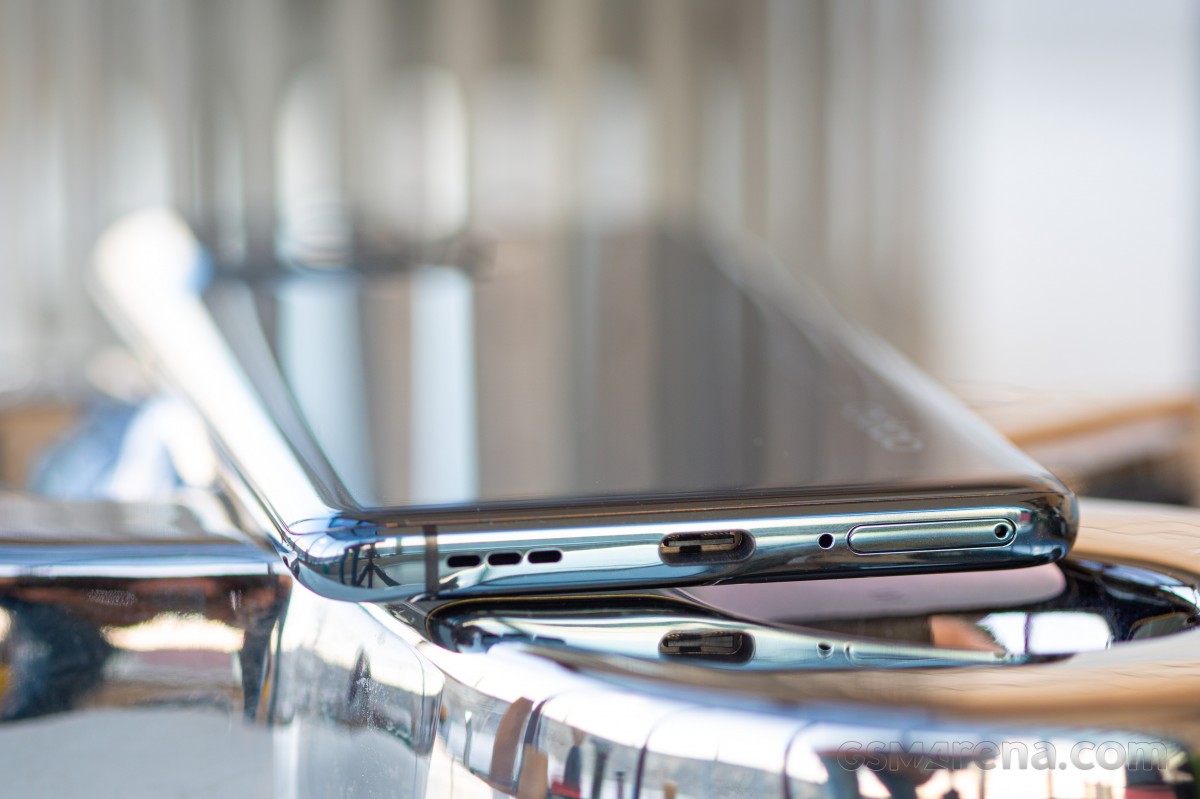 Anyway, no matter how it's done, the setup sounds great, it supports Dolby Atmos, and as far as its loudness is concerned - it scored a Very Good mark on our test.
Unfortunately, the audio quality is average - the speakers offer some bass and high-tones, but they are mostly tuned for making mid-tones sound great. The Find X2 Pro sounds noticeably richer if you play the tracks in our speaker tool below. The new X3 Pro isn't bad; it's just not as great as the competition.
Use the Playback controls to listen to the phone sample recordings (best use headphones). We measure the average loudness of the speakers in LUFS. A lower absolute value means a louder sound. A look at the frequency response chart will tell you how far off the ideal "0db" flat line is the reproduction of the bass, treble, and mid frequencies. You can add more phones to compare how they differ. The scores and ratings are not comparable with our older loudspeaker test. Learn more about how we test here.