Can Oppo out-display Samsung?
Well, looking at that spec sheet, the Find X2 Pro is at least a match for the recent Galaxy S20s. Oppo's phone has a 6.7-inch AMOLED screen with a 1440x3168px resolution (32px short of the Galaxies along the Y-axis) in a 19.8:9 aspect ratio, or 2.2:1 if you prefer, for a pixel density of 513ppi.
The Find X2 Pro's panel has a 120Hz refresh rate capability and boasts a 240Hz touch sampling rate. More importantly, and that's where Oppo>Galaxy, is that the Find X2 Pro can be set at 120Hz and 1440p at the same time, while the Samsungs limit resolution to 1080p when using the max refresh rate. The Oppo has Auto options for both settings too, letting you delegate that responsibility to the phone's software.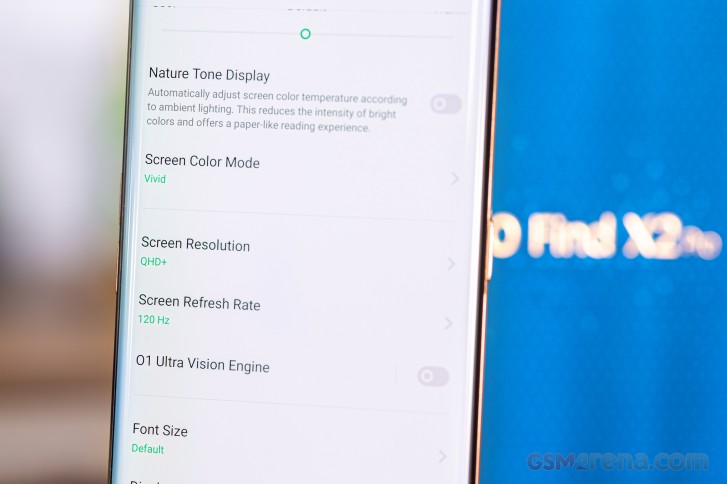 Oppo promises 500nits of brightness with a possible boost to 800nits when the phone is under direct light. We take it these numbers are for a white pattern with a 100% coverage of the screen because we measured higher numbers under our standardized 75% average picture level. Just as a reminder, OLED displays have different maximum brightness depending on what portion of the display needs to be illuminated. The smaller the test pattern, the higher the peak brightness.
In our testing, when in the default Vivid display mode, the Find X2 Pro put out 536nits if we adjusted brightness manually, which went all the way up to 871nits under direct light with the auto toggle engaged. It's worth pointing out that the phone will boost its brightness if the ambient conditions are particularly bright even if you've disabled the auto brightness, a behavior we're not entirely opposed to.
Oppo specifies contrast at 5,000,000:1 which in our book is as good as infinite, and we couldn't pick up any illumination when trying to display 'black' on the Find X2 Pro, even with the auto boost enabled - the Mate 30 Pro, for example, had the tiniest bit of light seeping out of its black pixels.
Display test
100% brightness
Black,cd/m2
White,cd/m2
Contrast ratio
Oppo Find X2 Pro
0
536
∞
Oppo Find X2 Pro (Max Auto)
0
871
∞
Oppo Find X (new)
0
426
∞
Samsung Galaxy S20 Ultra 5G
0
398
∞
Samsung Galaxy S20 Ultra 5G (Max Auto)
0
894
∞
Samsung Galaxy S20
0
397
∞
Samsung Galaxy S20 (Max Auto)
0
814
∞
Samsung Galaxy Z Flip
0
377
∞
Samsung Galaxy Z Flip (Max Auto)
0
596
∞
Google Pixel 4 XL
0
436
∞
Apple iPhone 11 Pro Max
0
820
∞
LG G8X ThinQ
0
330
∞
LG G8X ThinQ (Max Auto)
0
603
∞
LG V50 ThinQ
0.002
388
194000:1
LG V50 ThinQ (Max Auto)
0.008
533
66625:1
Sony Xperia 1
0
391
∞
Sony Xperia 1 (Max Auto)
0
665
∞
Huawei Mate 30 Pro
0
464
∞
Huawei Mate 30 Pro (Max Auto)
0.028
683
24393:1
Oppo's documentation details that the Find X2 Pro is capable of displaying 100% of the DCI-P3 color space, and will do so with near-perfect accuracy. Every unit is factory tuned for accuracy, we've been told.
For starters, the display options are a bit misleading, with both the default Vivid and the optional Cinematic mode mentioning P3 in the description. Vivid is off the mark - we measured an average deltaE of 4.3 and a maximum of 8.9 for our set of DCI-P3 test swatches, with whites shifted noticeably towards blue. Switch to Cinematic, however, and you'd get the promised accuracy - our readings showed an average deltaE of 0.7 and a maximum of 1.3. Finally, the Gentle mode is tuned for accurate sRGB reproduction and does an excellent job at it as well.
The Find X2 Pro has HDR10+ support, which is some more indication of where the panel is sourced if the above brightness and color properties weren't enough. HDR10+ is a Samsung-backed standard for HDR video with embedded dynamic metadata, similar to DolbyVision, but minus the royalty fees. You can't get HDR10+ content in particular from many vendors, with Amazon Prime Video being the single most notable one, but the Find X2 Pro will still happily play HDR10 stuff from wherever.
Oppo Find X2 Pro battery life
The Oppo Find X2 Pro has a total of 4,260mAh worth of battery, split into two equally sized cells for faster concurrent charging. That's a bit less than the current Galaxy of comparable size, the S20+ (4,500mAh). The Ultra packs even more juice (5,000mAh). The Mi 10 Pro 5G packs a 4,500mAh battery itself, and only the upcoming Xperia 1 II has a smaller power pack than the Oppo. Out of these, we've only tested the Ultra, but it'll do for comparison.
With the display resolution set to 1440p and the refresh rate at 120Hz, we got a rather lowly 9 hours of Wi-Fi web browsing out of the Find X2 Pro. Switching to 60Hz but keeping the resolution at the maximum setting, we clocked nearly 12 hours. On the Galaxy S20 Ultra at 1080p/120Hz we were looking at 10:32 (so a significant hour and a half more, but at a lower resolution), while going for 1440p/60Hz resulted in 12:08, a mere 18minutes more than the Find X2 Pro.
Weirdly enough, we observed no meaningful difference in video playback endurance, whether the phone is set to 120Hz or 60Hz. Apparently, the Find X2 Pro recognizes there's no point in refreshing at that high rate when the content doesn't require it. On the other hand, with an auto option available in settings, we'd expect it not bto e playing smart when the user has made their choice to force 120Hz. Either way, the seventeen and a half hours of looping videos offline is an excellent result, an hour more than the Ultra when set to 1440p/60Hz.
The Find X2 Pro was good for a little over 25 hours of voice calls over a 3G network, about an hour more than the Galaxy S20 Ultra. Standby draw wasn't too high in our testing either.
Overall, the Oppo Find X2 Pro got an Endurance rating of 88 hours with its display at 1440p/120Hz, and 96 hours when halving the refresh rate.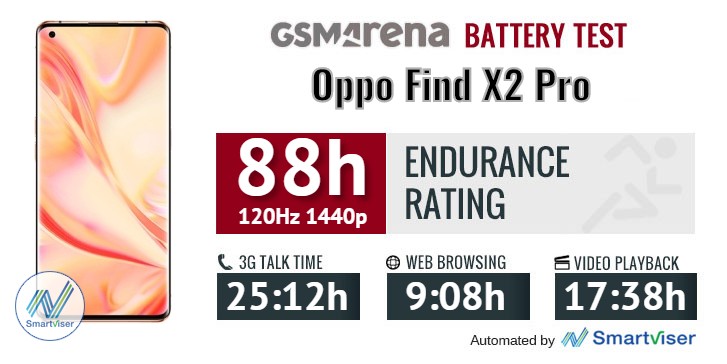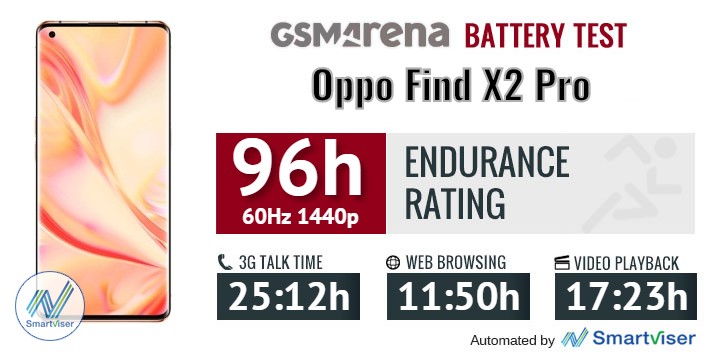 Our battery tests were automated thanks to SmartViser, using its viSer App. The endurance rating above denotes how long a single battery charge will last you if you use the Oppo Find X2 Pro for an hour each of telephony, web browsing, and video playback daily. We've established this usage pattern so that our battery results are comparable across devices in the most common day-to-day tasks. The battery testing procedure is described in detail in case you're interested in the nitty-gritty. You can check out our complete battery test table, where you can see how all of the smartphones we've tested will compare under your own typical use.
Charging the Find X2 Pro with the included 65W adapter took us 36 minutes, which is 2 minutes faster than the advertised number. At the 30-minute mark, you can count on a 95% charge - that's SuperVOOC 2.0 for you right there. Sadly, there's no wireless charging capability on this Find.
Speaker test
The Find X2 Pro has a dual loudspeaker system with the earpiece doubling up as a second channel in the stereo pair. Oppo advertises it's using a 0.65 cubic centimeter chamber for its main speaker, which is probably big in smartphone terms - picture, say, a 2cm by 1cm chamber, 3.25mm high - sounds like a lot of space to occupy in a phone.
Anyways, the Find X2 Pro posted a 'Very Good' result in our speaker test, in line with the likes of the Galaxy S20 Ultra and the iPhone 11 Pro, even if it's a little quieter altogether. The Find is a bit boomier than the Galaxy, but not as much as the iPhone.
Use the Playback controls to listen to the phone sample recordings (best use headphones). We measure the average loudness of the speakers in LUFS. A lower absolute value means a louder sound. A look at the frequency response chart will tell you how far off the ideal "0db" flat line is the reproduction of the bass, treble, and mid frequencies. You can add more phones to compare how they differ. The scores and ratings are not comparable with our older loudspeaker test. Learn more about how we test here.