Largest of cover screens, great inner one
The Find N2 Flip builds on the 'classic' clamshell foldable formula. There's a large bendy panel inside that opens up to a regular smartphone size, and a smaller cover screen on the outside tries to take on lighter tasks and serve as camera viewfinder for some special use cases.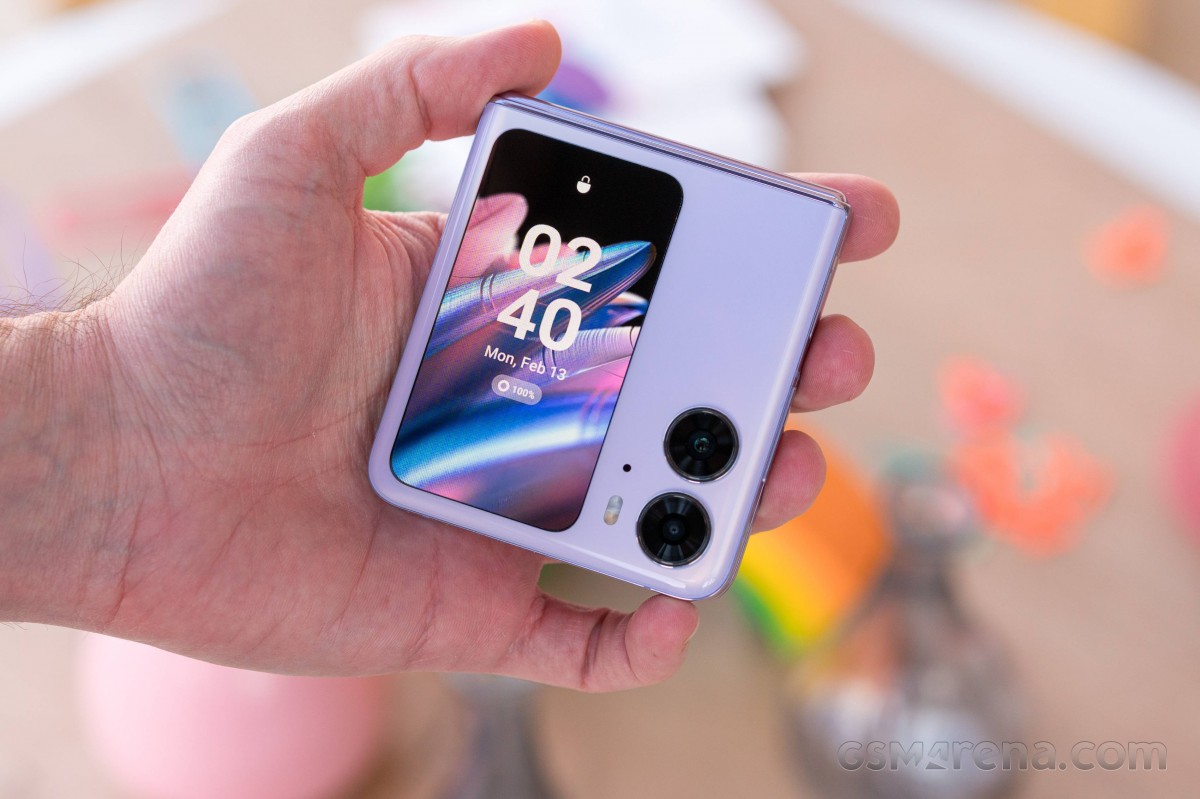 But this Flip does take its own path with the cover display, the biggest one to date on a handset with this form factor. If you go by the numbers, it occupies a little under half the area of the folded phone, but subjectively it's even more than that. At 3.26 inches in diagonal, it offers a 28.4cm² area (not accounting for the rounded corners), which is appreciably more than the next biggest, the Razr 2022 (2.7", 22.3cm²). The Oppo's 382x720px resolution in a 17:9 aspect makes for a low-ish 250ppi pixel density, however - the Razr stands at 364ppi. Next to those, the Z Flip4's 1.9-inch display is proper tiny (9.4cm², 302ppi).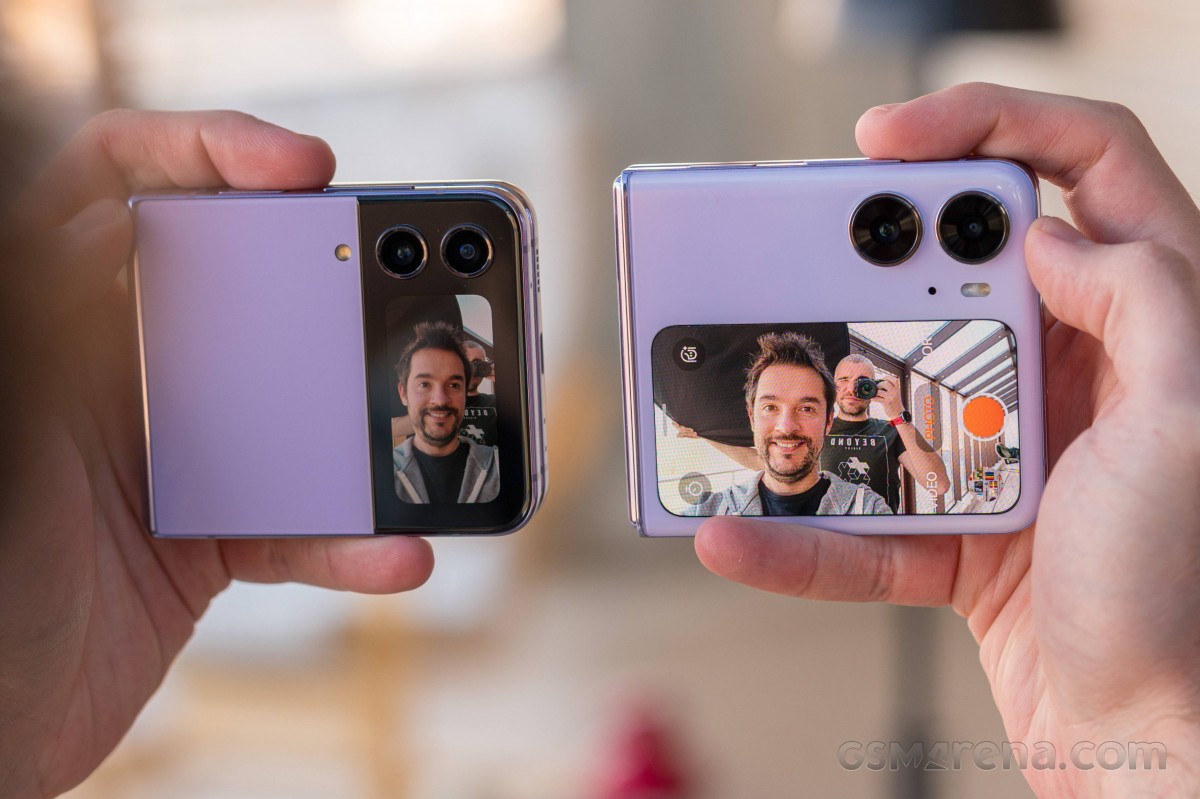 The cover display on the Find N2 Flip is the largest we've seen
On the inside, you're getting a 6.8-inch AMOLED panel with a 1080x2520px resolution (21:9 aspect, 403ppi pixel density). This one is capable of a 120Hz maximum refresh rate (the cover only gets a standard 60Hz), has HDR10+ support and a claimed brightness of 1200nits in high-brightness mode.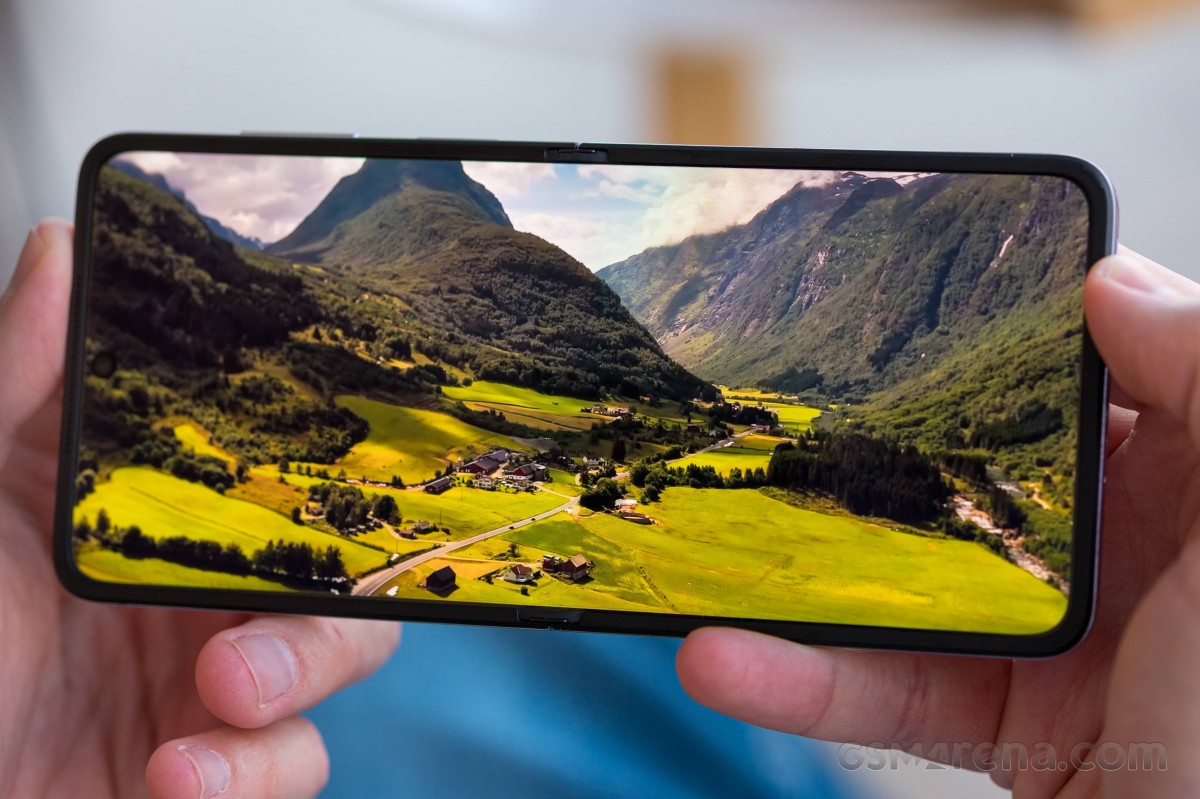 We tested the inner screen's brightness and measured 1039nits in bright ambient conditions with the auto brightness toggle enabled. That's a little short of the specified number, but we don't think it makes it any less impressive. With the auto disengaged, the Find N2 Flip's brightness maxes out at 547nits - a fairly standard result.
You'll note that Oppo's Flip is brighter than Samsung's Flip when it matters - in bright ambient light. The Razr does match the Find under the same conditions, while the Huawei P50 Pocket maxes out at 800-ish nits.
Display test
100% brightness
Black,cd/m2
White,cd/m2
Contrast ratio
Oppo Find N2 Flip
0
547
∞
Oppo Find N2 Flip (Max Auto)
0
1039
∞
Oppo Find N2
0
502
∞
Oppo Find N2 (Max Auto)
0
1216
∞
Samsung Galaxy Z Flip4
0
505
∞
Samsung Galaxy Z Flip4 (Extra Brightness)
0
802
∞
Samsung Galaxy Z Flip4 (Max Auto)
0
919
∞
Motorola Razr 2022
0
496
∞
Motorola Razr 2022 (Max Auto)
0
1033
∞
Huawei P50 Pocket
0
521
∞
Huawei P50 Pocket (Max Auto)
0
803
∞
Samsung Galaxy S22
0
465
∞
Samsung Galaxy S22 (Extra brightness)
0
757
∞
Samsung Galaxy S22 (Max Auto)
0
982
∞
Apple iPhone 14 Pro
0
842
∞
Apple iPhone 14 Pro (Max Auto)
0
1791
∞
Apple iPhone 13 mini
0
831
∞
Oppo Find X5 Pro
0
475
∞
Oppo Find X5 Pro (Max Auto)
0
762
∞
We didn't really test the brightness on the cover display, because unlike the Razr 2022, where you can essentially run a fully-functional instance of Android (and thus our testing software), the Find N2 Flip's outer screen is limited to displaying a narrow selection of in-house widgets. Oppo claims it should be good for 800nits in high-brightness mode. We can say that in practice, we had no issues with visibility, even in bright sunlight outdoors.
When it comes to color reproduction, the Find N2 Pro exhibits a familiar behavior. The default wide-gamut Vivid mode looks colorful and is not the most accurate for our DCI-P3 color swatches showing a noticeable cold hue. Similarly predictable is the spot-on sRGB rendition in Natural mode. If you are after an accurate DCI-P3 rendition, opt for the Cinematic flavor of Pro mode - we got an average dE2000 of 0.8, or essentially perfection.
The Find N2 Flip supports HDR10 and HDR10+, and we did get HDR streams both from YouTube and Netflix.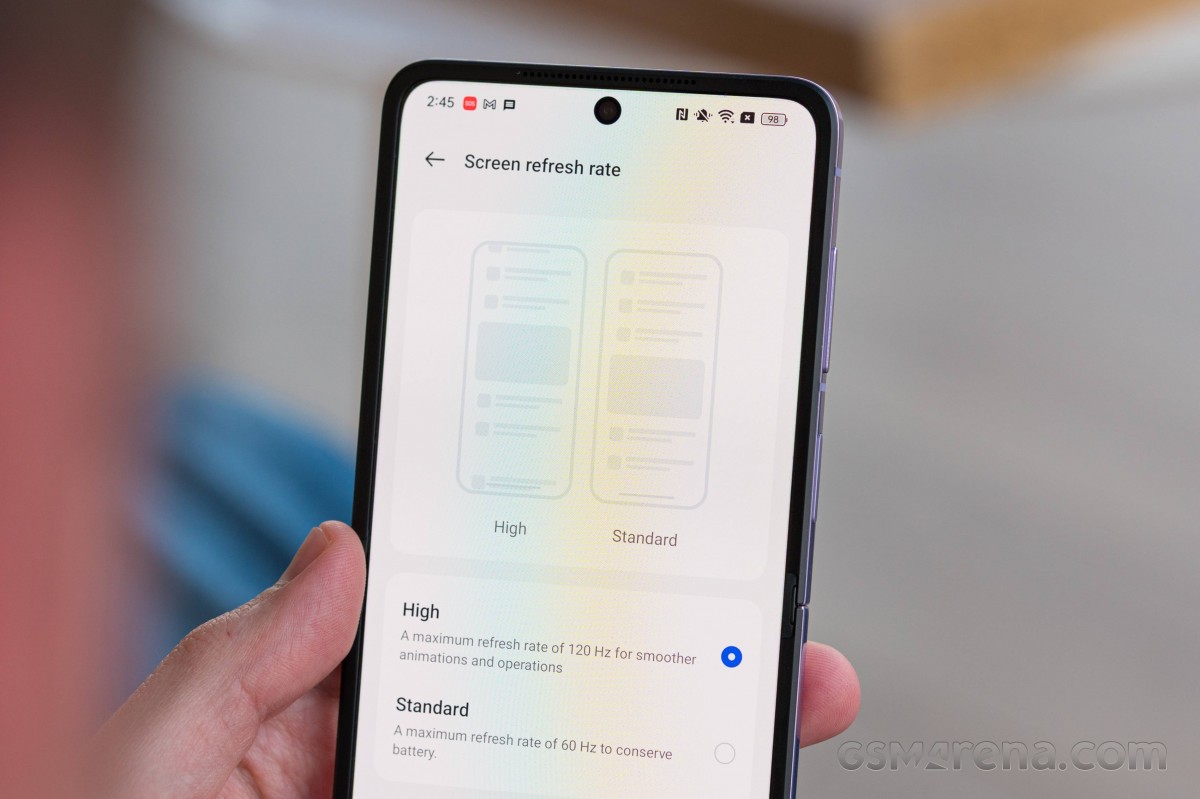 Refresh rate is handled in a relatively simple way with two modes in the Display settings menu. High is the one that will give you the full 120Hz, while Standard limits things to 60Hz.
There are, of course, more layers to that High mode behavior. Apps that don't support high frame rates (the likes of Google Maps and the Camera) will force a downswitch to 60Hz, but so too will games that we know for a fact can support a high frame rate - a long-standing limitation of ColorOS phones in our experience. Then there's also the matter that the phone will switch to rendering at 60fps when you're not touching it, while still refreshing at 120Hz - something we verified with our own software.
Oppo does specify the Find N2 Flip's main display to be able to adjust refresh rate all the way down to 1Hz, but with the tools at our disposal, we were only able to see 60Hz and 120Hz modes.
Oppo Find N2 Flip battery life
The Oppo Find N2 Flip's battery capacity is rated at 4,300mAh, which gives it a significant advantage compared to other devices with the same form factor. The Galaxy Z Flip4, for example, relies on a 3,700mAh power pack, and that's after a few previous generations, which only had 3,300mAh units. The Motorola Razr 2022's capacity is even smaller than the Flip4's, at 3,500mAh, and only the Huawei P50 Pocket comes somewhat close to the Oppo's battery with its 4,000mAh cell.
A ton of variables are at play when it comes to how efficiently capacity turns into longevity, so we were eager to find out if the Find can keep the promise its specsheet makes.
Things were off to a good start in the call test. The Find N2 Flip's 27:05h result is comfortably ahead of the P50 Pocket's and the Z Flip4's, and way better than the Moto. In standby power draw, the Oppo proved longer lasting than both the Razr and the Pocket by a significant margin, and outlasted the Galaxy Z Flip4 too.
The Find N2 Flip did come into its own in the onscreen tests. In our web browsing test, the N2 Flip clocked 15:24h, which is almost 5 hours better than the Galaxy Flip4. The other clamshell foldables didn't even stand a chance, posting runtimes of below 10 hours in this test.
In video playback, the Find N2 Flip continued to impress, recording a result of 19:04h. That's some 60% longer than the Galaxy Flip4 and, again, way better than what both the Razr (12:31h) and the Pocket (11:00h) could offer.
The Oppo Find N2 Flip scored an overall Endurance rating of 97h in our suite of battery tests. It leads the pack in the all-important screen-on tests, beating every other foldable in its class by a wide margin.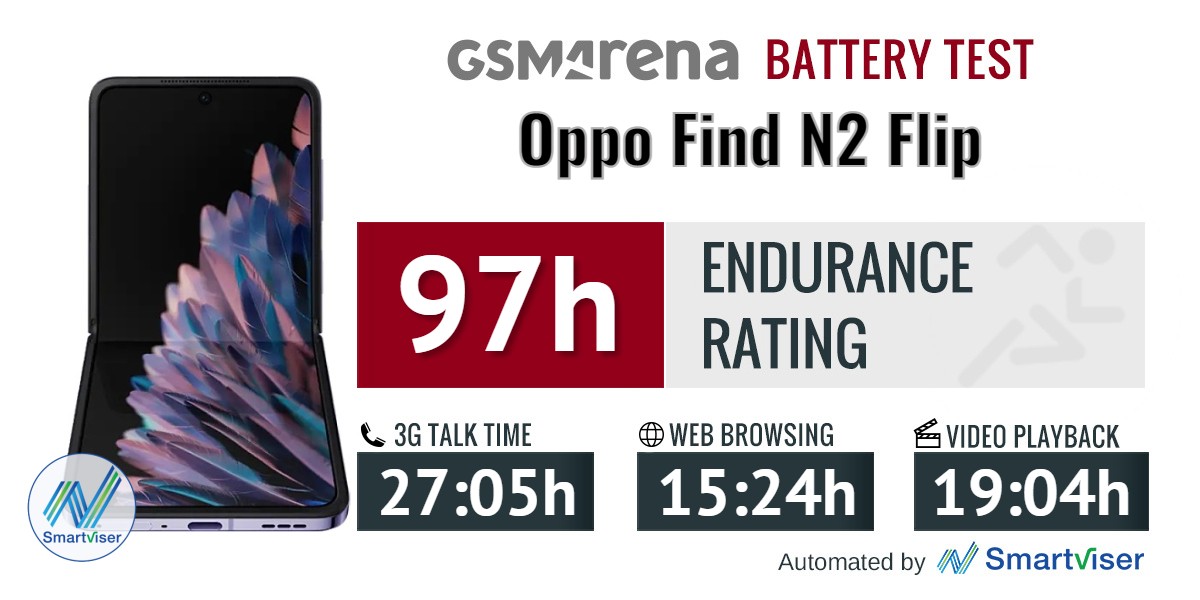 Our battery tests were automated thanks to SmartViser, using its viSerDevice app. The endurance rating denotes how long the battery charge will last you if you use the device for an hour of telephony, web browsing, and video playback daily. More details can be found here.
Video test carried out in 60Hz refresh rate mode whenever possible. Web browsing is carried out at the display's highest refresh rate whenever possible. Refer to the respective reviews for specifics. To adjust the endurance rating formula to match your own usage - check out our all-time battery test results chart.
Charging speed
The Find N2 Flip is specced to support up to 44W charging, which is an unusual number for the lineup. Indeed, our review unit arrived with a 67W adapter - the same one we found in the Find N2 non-Flip's box. In practice, charging peaked at 36W, and we reckon that's close enough to the specsheet.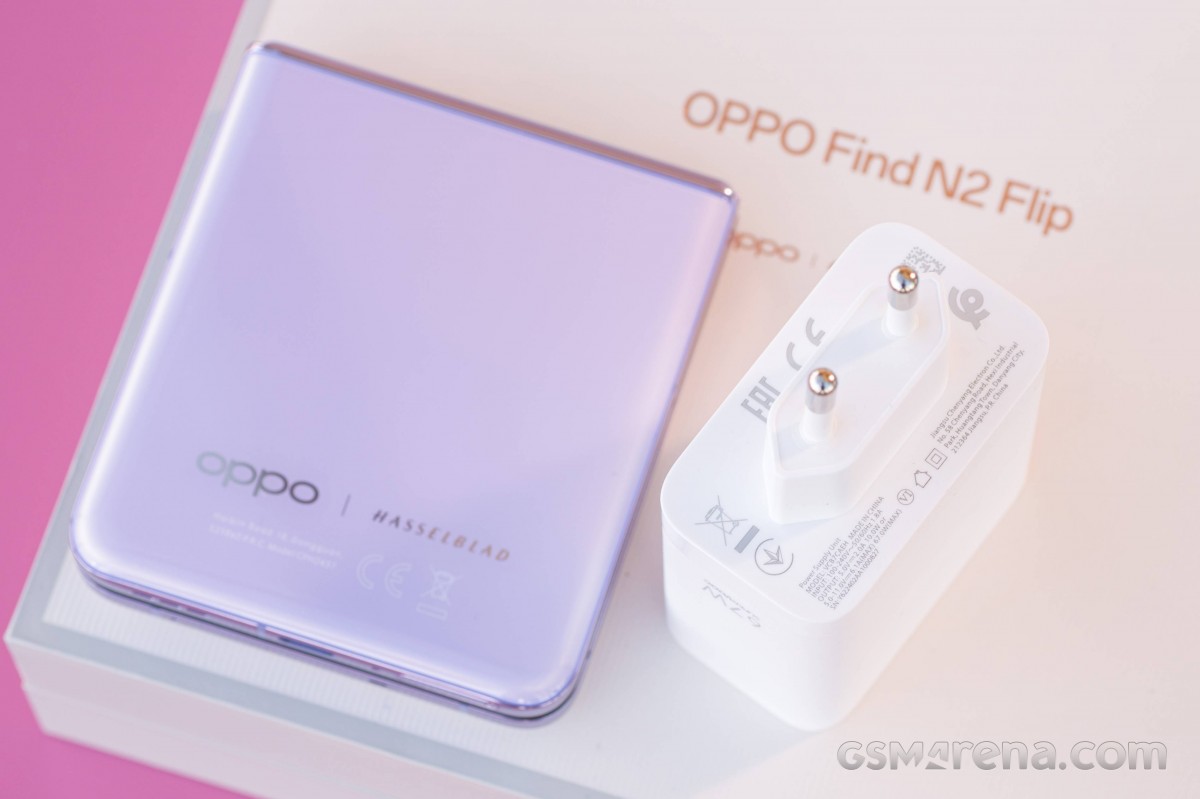 The results we got for charging speed were slightly better than the Galaxy Z Flip4 in both the 30-minute and time to 100% metrics, though the Huawei P50 Pocket was in turn marginally quicker than the Oppo. The Razr 2022 is significantly slower than all three. Outside of clamshell foldables, the 62% in half an hour and 58 minutes to 100% are nothing spectacular, but not too bad either.
30min charging test (from 0%)
Higher is better
| | |
| --- | --- |
| Oppo Find N2 | 87% |
| Huawei P50 Pocket | 70% |
| Oppo Find N2 Flip | 62% |
| Apple iPhone 14 Pro | 60% |
| Samsung Galaxy S23 | 57% |
| Samsung Galaxy Z Flip4 | 55% |
| Motorola Razr 2022 | 37% |
* Tap/hover over the device names for more info
Time to full charge (from 0%)
Lower is better
| | |
| --- | --- |
| Oppo Find N2 | 0:41h |
| Huawei P50 Pocket | 0:54h |
| Oppo Find N2 Flip | 0:58h |
| Samsung Galaxy Z Flip4 | 1:15h |
| Samsung Galaxy S23 | 1:16h |
| Motorola Razr 2022 | 1:34h |
| Apple iPhone 14 Pro | 1:41h |
* Tap/hover over the device names for more info
The Find N2 Flip, much like the Find N2, doesn't support wireless charging - that seems to have died with the original Find N in the Oppo foldable lineup. The Galaxy Z Flip4 does have that induction coil inside, something that's been a feature since the original Z Flip, but other compact foldables omit it - Razrs and Pockets alike.
Speaker test
The Find N2 Flip has the hybrid stereo setup that's become the norm. There's a primary speaker on the bottom, while the other channel is handled by the earpiece. In Oppo's implementation, either speaker will also output the other speaker's channel, at a much lower volume. Otherwise, they will observe the phone's orientation in space to assign the correct channel to the correct speaker, with the earpiece taking on the left channel when in portrait orientation.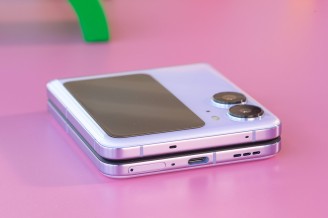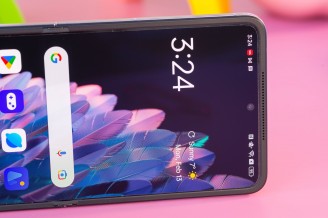 Bottom speaker • Earpiece/top speaker
The Find earned a 'Very good' rating for loudness in our testing, on par with the Razr, but a notch louder than the Galaxy (and audibly so). In terms of quality, the Oppo is okay, but it's not the most universally satisfying output. It's a bit too mid-forward, and low-frequency response isn't as pronounced as on the otherwise not-as-loud Galaxy.
Use the Playback controls to listen to the phone sample recordings (best use headphones). We measure the average loudness of the speakers in LUFS. A lower absolute value means a louder sound. A look at the frequency response chart will tell you how far off the ideal "0db" flat line is the reproduction of the bass, treble, and mid frequencies. You can add more phones to compare how they differ. The scores and ratings are not comparable with our older loudspeaker test. Learn more about how we test here.