Two AMOLED screens, one is foldable
The Oppo Find N has two displays, obviously. The cover screen is a 5.49-inch AMOLED with a punch-hole, while the inner one uses a 7.1-inch foldable LTPO AMOLED, also perforated.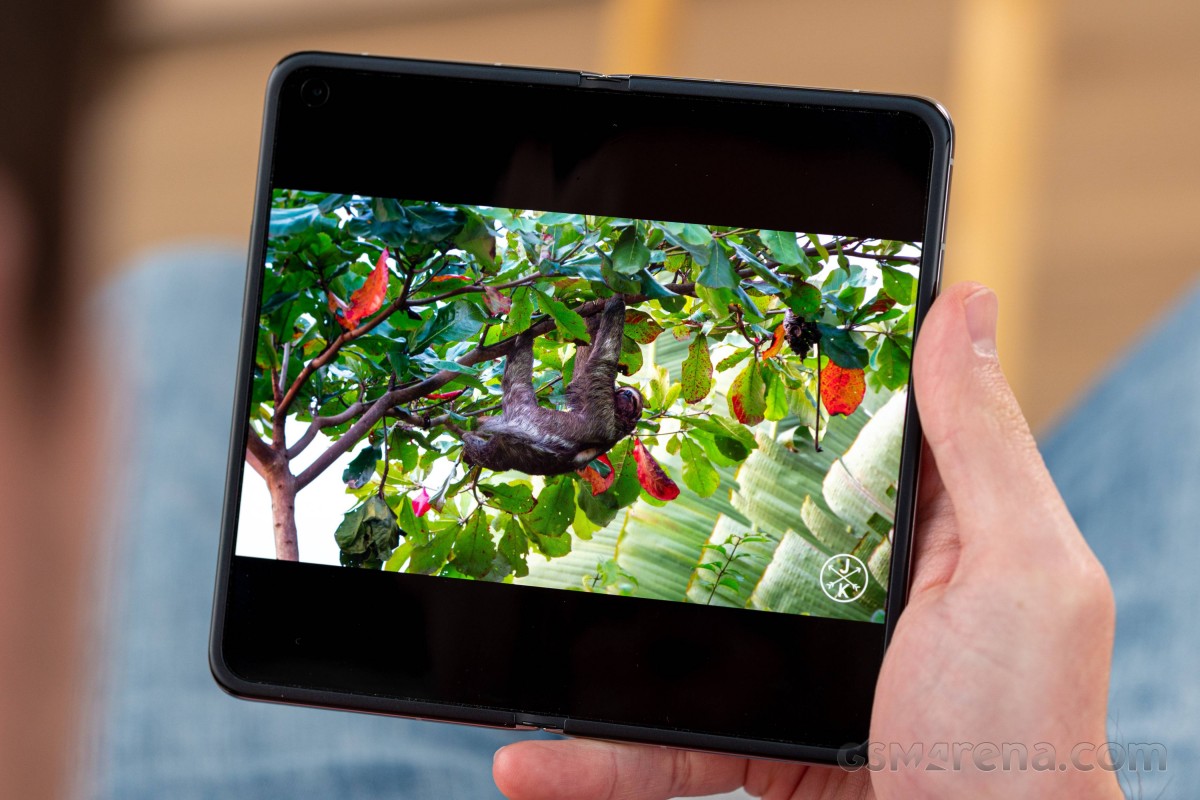 The cover screen is protected with a Gorilla Glass Victus sheet, while the foldable one relies on an Ultra-Thin Glass and an additional thin plastic layer. Both panels support HDR10+ and offer up to 1000 nits of peak brightness. Oppo also advertises the panels for their 10,240 brightness levels when using Auto Brightness. And we can confirm there are two ambient light sensors on the Find N - one under each screen -and they work well.
The cover display has a fixed refresh of 60Hz, and we'd say that was a bit disappointing.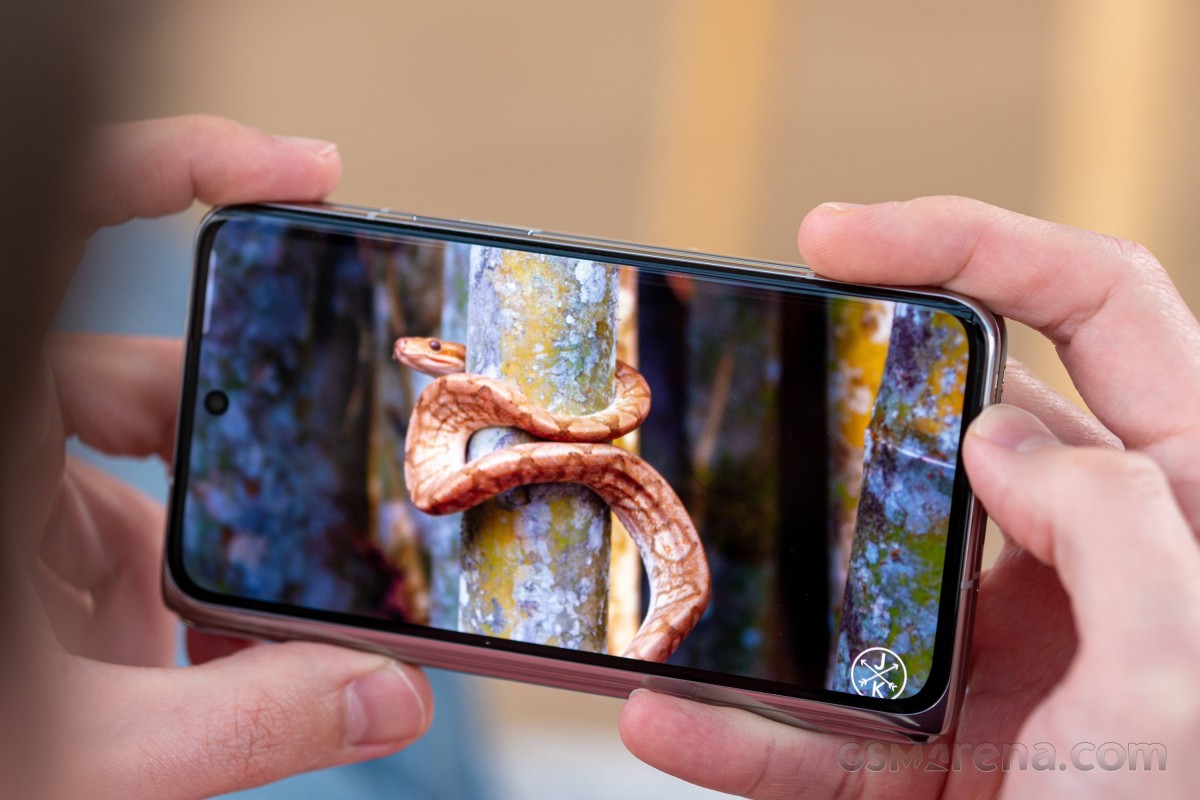 The foldable screen supports (High) 120Hz dynamic refresh rate, and it can switch between 1Hz and 120Hz on the go depending on the content. You can opt for (Standard) 60Hz if you are not a fan of smoother animations.
The Oppo Find N's 120Hz mode allows for up to 120fps in all compatible apps but games. Just like many other BBK smartphones (OnePlus, Realme), the Find N has no high-refresh-rate gaming support at launch. Video players and video streaming apps usually run at 60Hz, while the actual playback can drop even lower depending on its frame rate.
So, we've completed our display test on both panels, and the numbers are great.
The cover display's maximum manual brightness is 505 nits, but it can light up as high as 785 nits when the Auto Brightness boost kicks in.
The foldable screen has a maximum manual brightness of 490 nits, while its Auto boost can make it go as bright as 580 nits.
Both screens can be impressively dim - they are just under 3 nits at point white and the minimum brightness level.
Display test
100% brightness
Black,cd/m2
White,cd/m2
Contrast ratio
Oppo Find N
0
490
∞
Oppo Find N (Max Auto)
0
582
∞
Oppo Find N Cover
0
505
∞
Oppo Find N Cover (Max Auto)
0
785
∞
Samsung Galaxy Z Fold3 5G
0
489
∞
Samsung Galaxy Z Fold3 5G (Max Auto)
0
922
∞
Samsung Galaxy Z Fold3 5G (cover display)
0
479
∞
Samsung Galaxy Z Fold3 5G (cover display, Max Auto)
0
1001
∞
Huawei Mate X2
0
469
∞
Huawei Mate X2 (Max Auto)
0
542
∞
Huawei Mate X2 (cover display)
0
472
∞
Huawei Mate X2 (cover display, Max Auto)
0
601
∞
Samsung Galaxy Z Fold2
0
461
∞
Samsung Galaxy Z Fold2 (Max auto)
0
714
∞
Samsung Galaxy Z Fold2 (cover display)
0
425
∞
Samsung Galaxy Z Fold2 (cover display, Max Auto)
0
741
∞
Samsung Galaxy Z Flip3 5G
0
503
∞
Samsung Galaxy Z Flip3 5G (Max Auto)
0
935
∞
Oppo promises matching color accuracy for both screens, and we can confirm this. They both offer a fairly accurate presentation of the DCI-P3 gamut, with the minor exception of slightly bluish white and gray hues.
The default color mode is Vivid, which corresponds to the DCI-P3 color space. You can further tune the color temperature to your liking - this way, you can even get a more accurate white color representation. Then there is the Natural mode, which corresponds to the sRGB color space, and its accuracy is quite good, too.
Both displays support HDR10 and HDR10+, and with the combination of Widevine L1 DRM support, you should be able to enjoy FHD HDR content from all available streaming services. At the time of writing, Netflix was incompatible with the phone.
Oppo offers three video optimizations within the display options - Bright HDR video mode, video color enhancer and Video image sharpener. The Bright HDR mode increases the brightness when playing HDR videos (we didn't notice much of a difference, though). The Image sharpener is like a resolution upscaler for videos, while the Color enhancer tries to widen the color range of SD videos. The last two video modes are compatible with a limited section of apps, though, and all of them are Chinese.
Working with the two displays
Switching between the two screens is seamless - content from the one transfers automatically to the other, properly resized and with the correct aspect ratio. Split-screen and floating windows also switch hassle-free, and we encountered no major hiccups. We didn't experience force-closed or restarted apps, which is nice. Oh, and the transition is fast and smooth, too.
The only thing we weren't excited about is the change of the refresh rate when switching from the foldable to the cover screen. The lack of smoothness is immediately noticeable and leaves a bitter taste.
On the positive side, the color accuracy is consistent across the two screens and the brightness, too. Setting 200 nits on either of the screens means 200nits for the other. Nice!
And of course, the foldable screen is absolutely great to use, especially since it has no visible or feelable crease in the middle. That's something other makers should learn from for their next foldable smartphones.
Battery life
The Oppo Find N has a 4,500mAh battery, and it seems adequate for the job. The phone supports 33W fast charging and ships with such a power adapter.
The primary objective of the Find N is to be used in its unfolded state for browsing and video playback, and that's why we ran our first batch of battery tests in this mode. These are also the scores we are putting in our specs.
So, the Oppo Find N scored a 90-hours endurance rating - that's 15-hours more than the Galaxy Fold3. The Find N clocked good times across all three test scenarios, slightly better than the Fold 3 on calls and web browsing. Its standby performance turned out to be more efficient than the Fold's (about 300h vs. 200h) and hence the 15h difference in the final rating.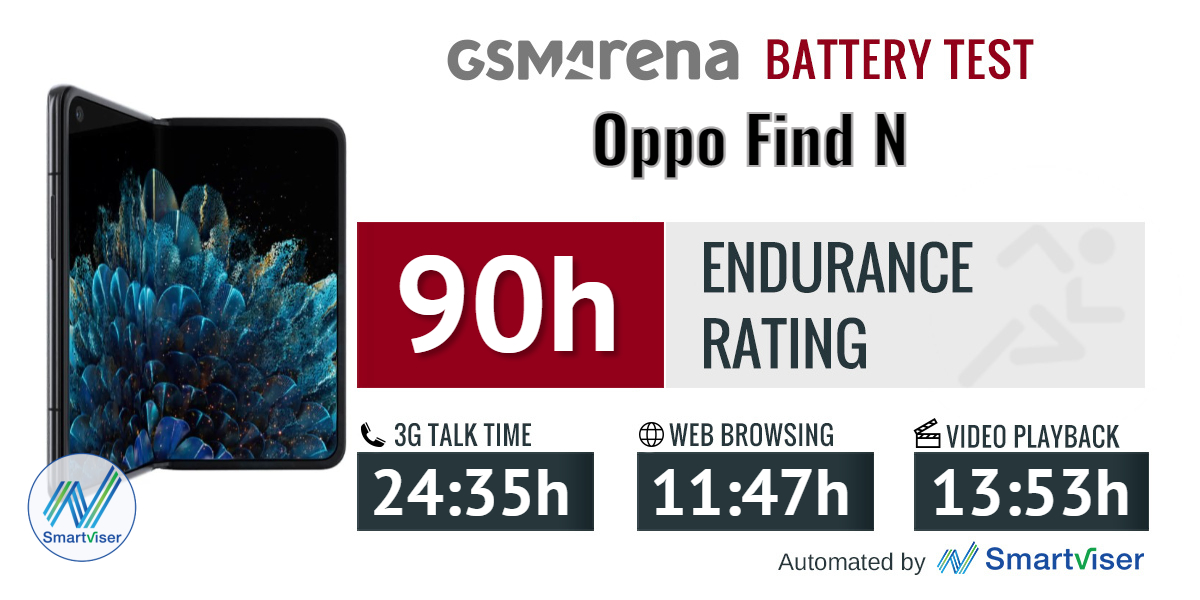 Our battery tests were automated thanks to SmartViser, using its viSerDevice app. The endurance rating denotes how long the battery charge will last you if you use the device for an hour of telephony, web browsing, and video playback daily. More details can be found here.
Of course, we also ran the on-screen tests on the Find N's cover screen. Since it's smaller and with a fixed refresh rate, the Find N managed to increase its endurance rating up to 106 hours (vs. 82h on Fold3's cover). It scored 5+ additional hours on web browsing and 4 more hours in video playback than the foldable display.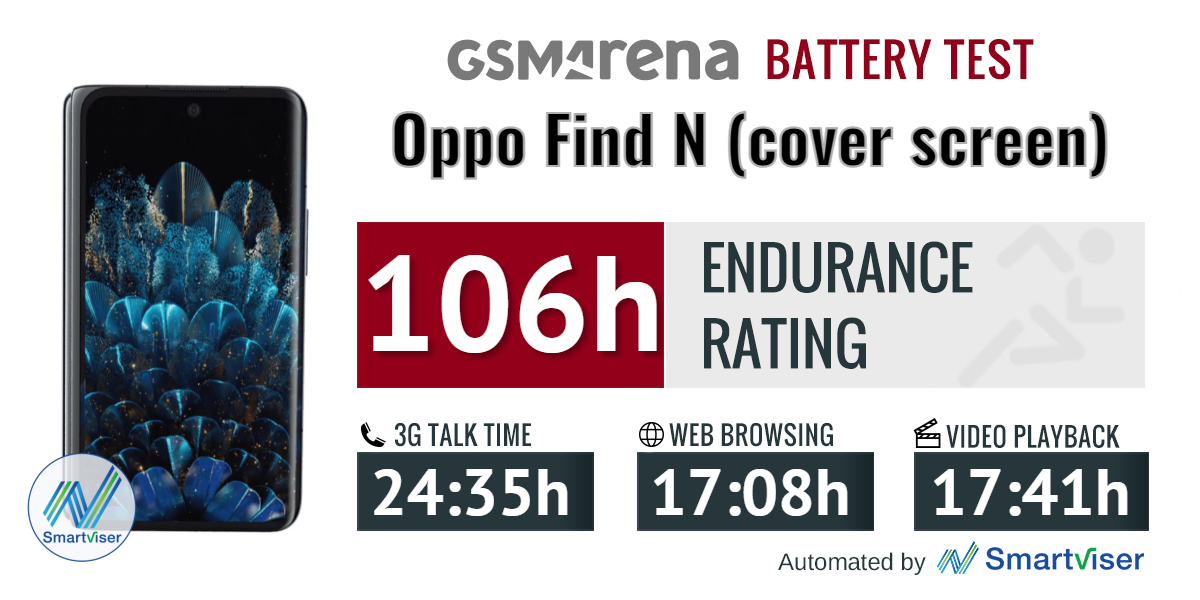 Charging speed
The Oppo Find N ships with a 33W SuperVOOC power adapter and a 3A-rated USB-A-to-C cable. The phone also supports 15W fast wireless charging with compatible Qi chargers. And finally, it can also provide up to 10W reverse wireless charging on its back, in case you need to charge a Qi-compatible accessory or phone.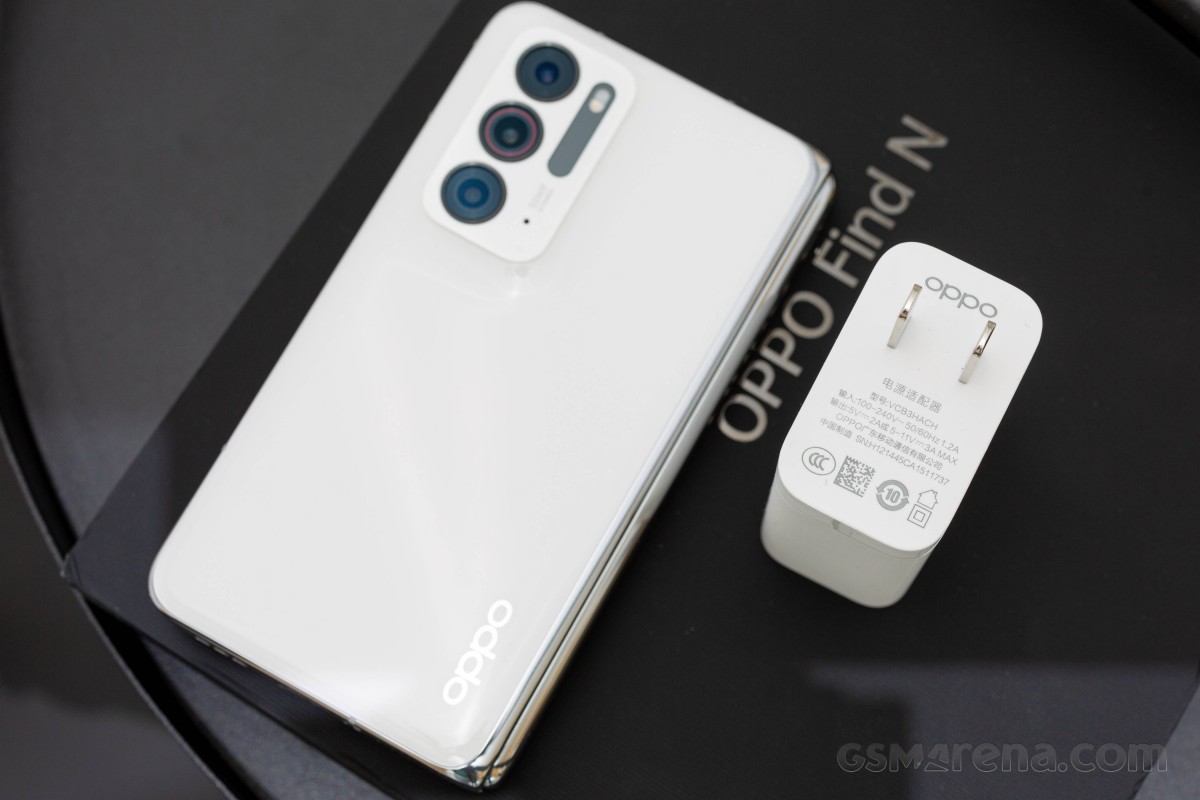 The Find N is powered by a 4,500mAh battery, and Oppo claims its 33W charger will recharge 55% in half an hour and 100% in 70 minutes. And we can confirm those numbers.
The bundled 33W power adapter takes the Find N battery from dead to 57% in half an hour.
30min charging test (from 0%)
Higher is better
Oppo Find X3 Pro
100%
Huawei Mate Xs
80%
Huawei Mate X2
80%
Oppo Find N
57%
Samsung Galaxy Z Flip3 5G
40%
Samsung Galaxy Fold
37%
Samsung Galaxy Z Fold3 5G
33%
In our charging test, we hit 100% at the 65-minute mark, but just like other fast charging-capable BBK phones (OnePlus, Realme, Oppo), it takes another 4-5 minutes extra for the Find to bring up the "Charged!" sign on the screen. And this corresponds to Oppo's promised full charge of 70 minutes.
Time to full charge (from 0%)
Lower is better
Oppo Find X3 Pro
0:28h
Huawei Mate Xs
0:57h
Huawei Mate X2
0:58h
Oppo Find N
1:05h
Samsung Galaxy Z Flip3 5G
1:30h
Samsung Galaxy Z Fold3 5G
1:46h
Samsung Galaxy Fold
1:50h
Speakers
The Oppo Find N has stereo speakers placed symmetrically on its bottom. We'd prefer them to be on the sides for a more immersive experience, but we guess that wasn't possible here.
Unfortunately, if you are using the Find N closed, these two speakers are next to each other, and the stereo effect is completely lost. On the positive side, the volume gets amplified.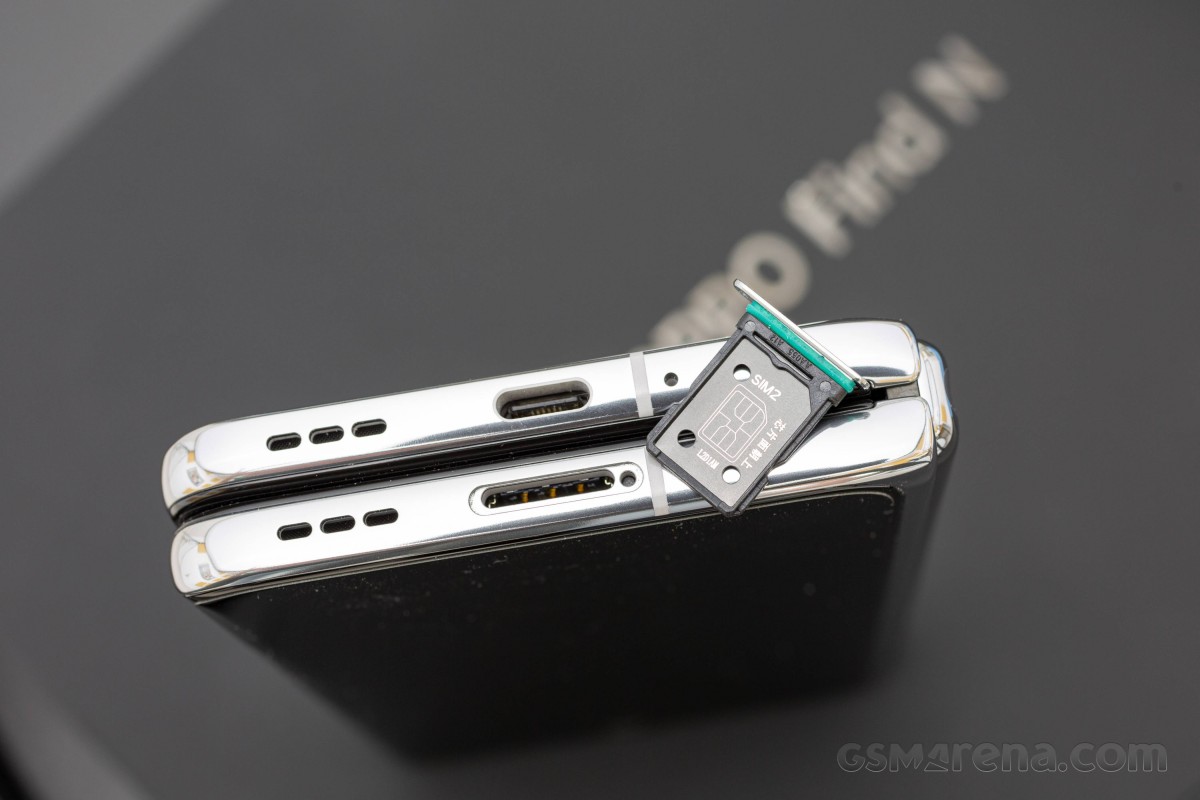 Dolby Atmos is available, but only for headphones, and we couldn't activate the enhancement on the loudspeakers.
So, the speakers on the Find N scored an Average mark on our loudness test. If you are playing music on the cover screen and the phone is closed, the sound gets a bit louder, and it can improve up to a Good mark.
Finally, the audio quality is also best described as average - the mid-tones sound alright, but the high-notes are muted, and the bass is barely there.
Use the Playback controls to listen to the phone sample recordings (best use headphones). We measure the average loudness of the speakers in LUFS. A lower absolute value means a louder sound. A look at the frequency response chart will tell you how far off the ideal "0db" flat line is the reproduction of the bass, treble, and mid frequencies. You can add more phones to compare how they differ. The scores and ratings are not comparable with our older loudspeaker test. Learn more about how we test here.