Oppo's camera-centric F series has been growing fast since the original F1 came out in January this year. We were surprised to see Oppo make haste with a successor of the "Selfie Expert" but they seemed to have a point. The Oppo F1 Plus was an all-inclusive upgrade: better CPU, more RAM, a bigger AMOLED screen. Most-importantly though, it doubled the front cam resolution with a 16MP front-facing camera.
So, the F-series tried to live up to that Selfie Expert moniker but the upgrades fetched a hefty price. At around $400, the F1 Plus is in a whole different league with tougher competition.
This is likely why we're having the pleasure of the Oppo F1s. It brings the hardware down a notch - and closer to the original concept - while making no compromise with the selfie experience, at least on paper that is. It should theoretically appeal to the same demographic Oppo was targeting with the original F1 - while taking into account the intense price competition.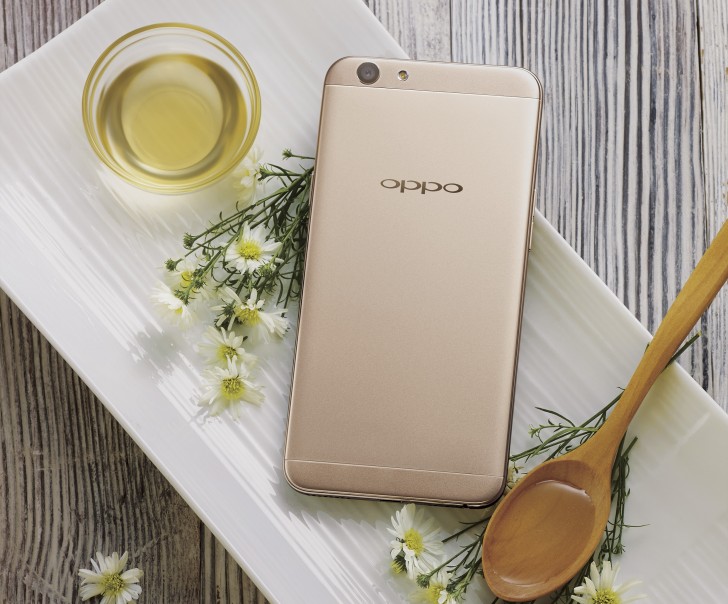 So, what are the main differences? For starters, Oppo went for a 5.5" screen, like the F1 Plus, but it's a 720p IPS unit (like the original F1). RAM is back at 3GB (down from 4GB in the Plus model) and storage is set at 32GB. In terms of chipset, there is a downgrade of sorts, although not so easy to spot. The MediaTek MT6750 uses the same true octa-core Cortex-A53 configuration as the Helio P10 inside the F1 Plus, only clocked at 1.5GHz. The Mali-T860MP2 is clocked-down as well. All this, of course, for the sake of keeping the 16MP front-facing camera.
If you just happen to be well familiar with Oppo's lineup, then by now, you have surely noticed that the F1s is strikingly similar to another one of the company's recent models - the A59. In fact, the only difference between the pair seems to be the upgraded front-facing camera with the striking similarity extending to the exterior as well.
Oppo has stayed true to its design language: a metal body with subtly rounded corners and chamfered edges, although not particularly grippy. The body itself feels nice and uniform with a smooth finish all around, which is definitely a compliment since it is not a unibody design. The top and bottom bits of the back are actually plastic to not interfere with reception. Speaking of the back, it is really clean and decluttered.
The same can be said about the front as well. Nothing is really out of place. Above the 5.5-inch screen, there are only the earpiece, ambient light and proximity sensors and, on the left, the high-res 16MP front camera. The latter is really understated and doesn't come with a huge lens or a ring or anything else that commands attention, which is generally the case with many other selfie-centric phones.
Below the screen, there is a rounded home button that integrates a fingerprint reader, a pair of capacitive buttons on either side. These are absolutely invisible when not backlit.
Speaking of the fingerprint reader, Oppo has really upped its game this time around. The sensor is really accurate and blazing fast at 0.22 seconds per read, as rated by Oppo. However, the whole experience isn't quite seamless as the fingerprint reader isn't always on. This means you have to wake the phone up first and then unlock it. This might actually be a conscious power-saving choice. If you simply make it a habit of actually pressing the home button (to wake the phone up) before touching it (scan to unlock), you won't even notice the missing always-on.
Moving on to the guts of the Oppo F1s and the performance it delivers. Oppo is gunning toward the upper end of the starter segment, or the lower midrange. Depending on your point of view, the phone may come across as very generous in some respects, or far from perfect in others. Like most midrangers, it is all about finding the balance that is right for you.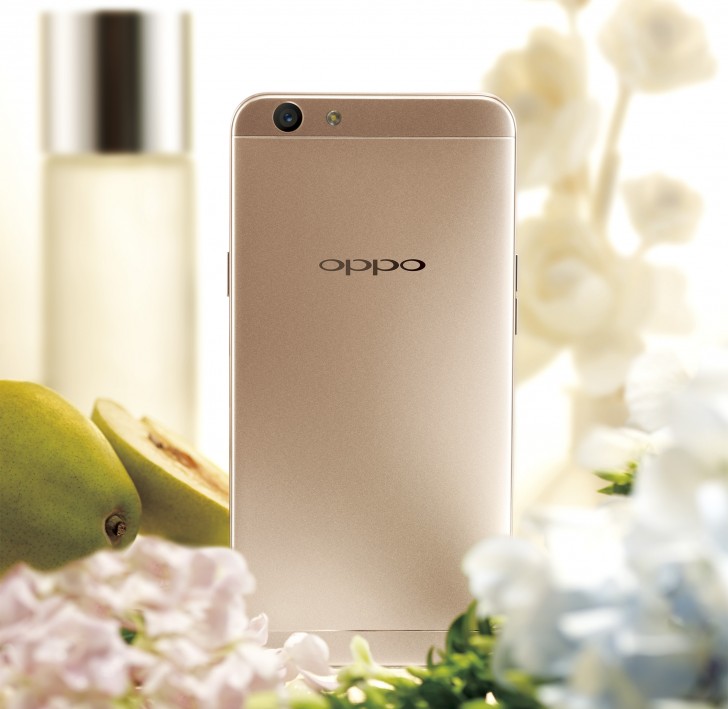 Our main concern with the F1s is the 720p display, which frankly is only just enough on a 5.5-inch diagonal. But even with this handicap, you have to look really hard to start noticing any sharpness issues. Plus, we are willing to forgive Oppo on this point, considering it did opt for a quality IPS panel. It offers nice and vivid colors, ample brightness and good sunlight legibility. Also, 720p is easier on the GPU during graphics intensive tasks.
The slightly under-clocked processor is another quite valid point for concern. The Helio P10 doesn't really have a reputation as a good performer and its MT7650 sibling has even less raw power. Our benchmarks even show that the original Oppo F1, with its Snapdragon 616 SoC has an edge over the F1s. Perhaps Oppo should have gone with Qualcomm again.
GeekBench 3 (multi-core)
Higher is better
Xiaomi Redmi Note 3 (Helio X10)
4537
Huawei Honor 5c
3933
Huawei P9 Lite
3799
Xiaomi Redmi Note 3 (S650)
3695
LG Nexus 5X
3527
Xiaomi Mi 4c
3321
Oppo F1 Plus
3242
Xiaomi Mi 4s
3147
Samsung Galaxy A5 (2016)
3061
Huawei Honor 5X
3053
Samsung Galaxy A7 (2016)
3039
Oppo F1
3014
Oppo F1s
2967
Xiaomi Redmi 3
2842
Asus Zenfone Max
1550
GeekBench 3 (single-core)
Higher is better
Xiaomi Redmi Note 3 (S650)
1543
Xiaomi Mi 4s
1254
Huawei P9 Lite
899
Huawei Honor 5c
898
Oppo F1 Plus
857
Oppo F1s
706
Huawei Honor 5X
705
Asus Zenfone Max
493
GPU performance isn't really all that better. The Mali-T860MP2 inside the MT6750 has apparently been under-clocked as well. This is clearly evident in that it does worse at off-screen rendering than the F1 Plus, which should have an identical graphics solution. The only saving grace here seems to be the 720p resolution, which makes for some more respectable on-screen frame rates.
GFX 3.0 Manhattan (1080p offscreen)
Higher is better
LG Nexus 5X
16
Xiaomi Mi 4c
15
Xiaomi Redmi Note 3 (S650)
14
Xiaomi Mi 4s
13
Xiaomi Redmi Note 3 (Helio X10)
8.5
Huawei P9 Lite
7.8
Huawei Honor 5c
7.8
Oppo F1 Plus
7
Oppo F1
5.8
Xiaomi Redmi 3
5.8
Samsung Galaxy A5 (2016)
5.7
Samsung Galaxy A7 (2016)
5.7
Huawei Honor 5X
5.6
Oppo F1s
5.1
Asus Zenfone Max
1.8
GFX 3.0 Manhattan (onscreen)
Higher is better
LG Nexus 5X
17
Xiaomi Mi 4c
15
Xiaomi Redmi Note 3 (S650)
14
Xiaomi Mi 4s
12
Xiaomi Redmi 3
12
Oppo F1
11
Oppo F1s
10
Huawei P9 Lite
8.3
Huawei Honor 5c
8.3
Xiaomi Redmi Note 3 (Helio X10)
7.9
Oppo F1 Plus
7
Huawei Honor 5X
6.1
Samsung Galaxy A5 (2016)
5.7
Samsung Galaxy A7 (2016)
5.7
Asus Zenfone Max
3.9
GFX 3.1 Manhattan (1080p offscreen)
Higher is better
LG Nexus 5X
11
Xiaomi Mi 4c
10
Xiaomi Redmi Note 3 (S650)
9
Xiaomi Mi 4s
8.1
Huawei P9 Lite
4.6
Huawei Honor 5c
4.5
Xiaomi Redmi Note 3 (Helio X10)
4
Oppo F1 Plus
3.3
Oppo F1s
2.4
GFX 3.1 Manhattan (onscreen)
Higher is better
LG Nexus 5X
11
Xiaomi Mi 4c
9.7
Xiaomi Redmi Note 3 (S650)
9
Xiaomi Mi 4s
7.9
Oppo F1s
6
Huawei P9 Lite
4.9
Huawei Honor 5c
4.8
Xiaomi Redmi Note 3 (Helio X10)
3.9
Oppo F1 Plus
3.3
Software doesn't really help the performance either. While generally quite user-friendly with its iOS-inspired approach to Android, Oppo's Color OS doesn't have a reputation for being remarkably optimized. The V3.0.0.i ROM in the Oppo F1s is still based on Android 5.1 Lollipop meaning you don't get any of Google's more recent platform improvements, like runtime permissions or the battery-friendly Dozing feature.
However, you might not miss those particular two all that much, since Color OS does offer alternatives of its own. You can't really micro-manage permissions, but you can get notifications when an app wants access to something more sensitive and there is an excellent level of notification control on a per-app basis. As for process management, it is really powerful indeed. You can easily limit the background activity of almost every third-party app and save on battery, just be careful with messengers.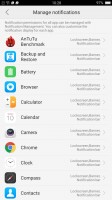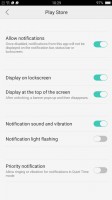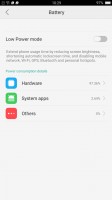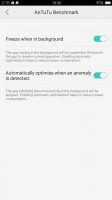 Notification and process management
The Settings menu offers access to quite a few other options as well. Quiet time is a great feature to have built in. Gestures are also really well executed. You get a full-featured system, including screen-off and custom ones.
The F1s also offers an interesting feature that allows you to map a certain fingerprint to a given action, like calling a number or launching an app. Put all of this together and you can really create a unique and elaborate scheme of operation shortcuts, provided you can memorize them all.
Oppo has carried the iOS approach over to Settings as well. Most of the bundled apps have their preferences laid out here, rather than inside the app itself. This does get a little confusing, especially for apps like Camera and Video, which end up having options both inside and outside the app.
Other than that, what you get out of the system UI is pretty clean and straightforward. The lockscreen comes with a single camera shortcut, but is never really boring if you opt to use Oppo's magazine feature. It allows you to subscribe to themes and enjoy high-quality images on the lockscreen.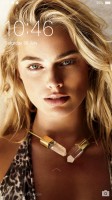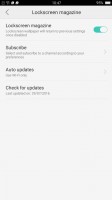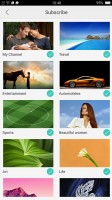 Clean lockscreen • Magazine feature
The main interface itself is flat and colorful. You don't really get an app drawer, so you just have to make do with homescreen panes and folders. The notification shade is very clean as well with quick toggles conveniently placed one swipe away to the right.
Overall, the UI and all core apps work very smoothly despite the less than stellar hardware. This goes for the camera app as well. It offers a clean experience and yet manages to squeeze quite a few interesting modes and little tweaks to play with. However, we do feel the need to point out the lack of organization yet again. Some shooting modes, like Time Lapse, Beauty mode and Panorama get quick access shortcuts alongside the main photo and video modes (the latter has a dedicated viewfinder, which is always a plus). However, other things like Ultra HD mode, which stitches stills together to up the resolution, Double Exposure mode, GIF animation creator, as well as all the filters and the Expert mode are in a whole different menu. Also, there is no clear indication of resolution or aspect ratio, so you are never exactly sure when the camera is cropping.
We do have to point out though that the manual controls cover more than just the basics - exposure compensation, ISO, Shutter speed, Manual focus and even RAW support.
What about quality, how good does the new "Selfie Expert" deliver where it promises the most? Well, in one word, acceptable. Nothing really special to note. The level of detail by the primary shooter isn't really all that impressive, neither is the dynamic range. The camera also often struggles with exposure and can't seem to make up its mind in subsequent shots. Edge to edge sharpness could've been better as well.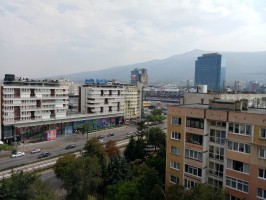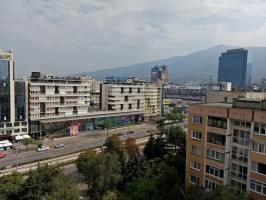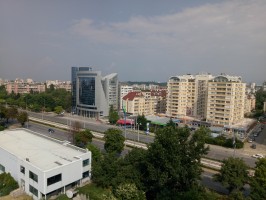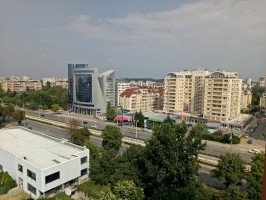 HDR OFF • HDR ON • HDR OFF • HDR ON
As for the positives, HDR mode seems to work quite well. The shift in exposition can be seen in the shots below taken a seconds apart under the same conditions.
As for selfie shots, well the 16MP shooter definitely holds its own. Detail is ample and shots look really sharp, perhaps even sharper than the 13MP main shooter. The experience should satisfy even the most demanding social-savvy users.
Oppo does advertise a new Beautify algorithm in the F1s and it does subjectively look sort of better than previous iterations, but the level of weird in the end results is still a bit too high for us. All samples were taken with a medium amount of "rosyness" in case you were wondering.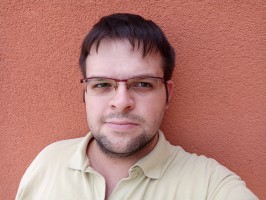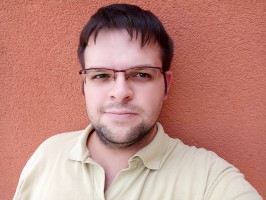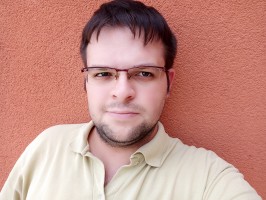 Beautify OFF • Beautify on medium • Beautify on high
All things considered, our initial impression of the Oppo F1s is that it's the result of Oppo finally making up its mind about what the F-series should be like. It may seem a little weird at first that it mixes together features of the two preceding models. The F1s has a screen as big as the F1 Plus' but at the resolution of the original F1. It's less powerful than the Plus - but obviously not as expensive either.
If we accept that performance isn't really the selling point here and rather focus on the selfie experience instead, then the F1s clearly merits the "Selfie Expert" title more than the original.
?
we are all oppo neo7 or a33f want to face unlock feature and new system update
?
Hello, Purchased an Appo F1S 64 GB Gold phone on the 22nd of Dec'16.The shop is barely 100 metres from my residence.As soon as I opened the Phone Box after reaching home I observed that the front glass is broken.Within 5 minutes I went back to t...
ADVERTISEMENT