5.5-inch FullHD AMOLED
We already raved quite a bit about the display on the Oppo F1 Plus and with good reason. It is one of the areas in which the handset definitely shines compared to the basic F1. Not only has the panel become bigger, now at 5.5 inches, but the plain LCD has been swapped for an AMOLED panel. With that comes a due change in the subpixel arrangement to diamond pentile, as our microscope shot reveals.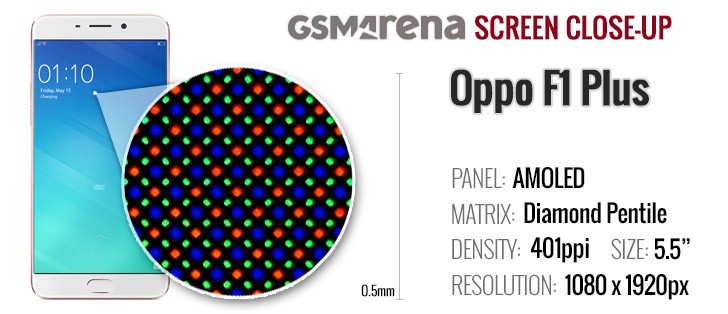 Our usual tests revealed a maximum brightness of 351 nits, a bit low in absolute terms, but about average for an AMOLED unit. Then again, the Samsung Galaxy A7 (2016) can produce substantially higher brightness (some 50% more), if need be. Being an AMOLED, the display doesn't light up pixels at all, if they're meant to show black, hence the infinite contrast.
Display test
100% brightness
Black, cd/m2
White, cd/m2
Contrast ratio
Oppo F1 Plus
0.00
351
∞
Oppo R7s
0.00
365
∞
Samsung Galaxy A7 (2016)
0.00
425
∞
Samsung Galaxy A7 (2016) max auto
0.00
536
∞
OnePlus Two
0.30
399
1334
Meizu MX5
0.00
346
∞
Meizu Pro 5
0.00
321
∞
LG Nexus 5X
0.30
455
1542
LG G4
0.43
532
1238
Motorola Moto X Play
0.41
620
1520
Apple iPhone 6 Plus
0.52
705
1361
AMOLEDs were long criticized of inaccurate color reproduction, but that's mostly a thing of the past. While the Oppo F1 Plus does give colors a bit of extra punch, its average DeltaE of 5.6 is an okay value. You can't call it properly calibrated (average DeltaE of 3 or less is a good indicator), but it produces truer colors than a Galaxy S7 edge in default mode. In the Samsung flagship's defense, it has multiple color modes, one capable of achieving an average DeltaE of 0.8. Sadly, there are no such modes on the F1 Plus. The IPS panel on the LG G5 posted a DeltaE of 5.6 too, so in a way you could call the F1 Plus' display flagship-grade in color accuracy.
Out in direct sunlight, however, AMOLEDs rule, and the Oppo F1 Plus is no exception. It's clearly legible in bright daylight, but even so Oppo's own R7s does that little bit better in this test.
Sunlight contrast ratio
Samsung Galaxy S6 edge+
4.615
Samsung Galaxy S7 edge
4.439
Samsung Galaxy S7
4.376
HTC One A9
4.274
Samsung Galaxy A3
4.241
Samsung Galaxy S6 edge
4.124
Samsung Galaxy Note5
4.09
Huawei Nexus 6P
4.019
OnePlus X
3.983
Oppo R7s
3.964
Samsung Galaxy A7 (2016)
3.918
Samsung Galaxy A5
3.895
Samsung Galaxy J7 outdoor
3.879
Samsung Galaxy J2 outdoor
3.873
Samsung Galaxy A8
3.859
Apple iPhone 6
3.838
Microsoft Lumia 950XL
3.837
Samsung Galaxy A9 (2016)
3.817
Motorola Moto X (2014)
3.816
Samsung Galaxy A5 (2016)
3.789
Apple iPhone 6s
3.783
Meizu Pro 5
3.781
Microsoft Lumia 650
3.772
Oppo F1 Plus
3.709
Vivo X5Pro
3.706
Apple iPhone SE
3.681
Samsung Galaxy A7
3.679
BlackBerry Priv
3.645
Apple iPhone 6s Plus
3.53
Acer Jade Primo
3.521
Microsoft Lumia 950
3.512
Oppo R7 Plus
3.499
Samsung Galaxy J7
3.422
Meizu MX5
3.416
Oppo R7
3.32
Samsung Galaxy J2
3.235
Motorola Moto X Play
3.222
Huawei P9
3.195
Lenovo Vibe Shot
3.113
LG Nexus 5X
3.092
Huawei Mate S
3.073
Microsoft Lumia 640 XL
3.065
Apple iPhone 6 Plus
3.023
Samsung Galaxy Note
2.97
Huawei Mate 8
2.949
LG G5
2.905
HTC One S
2.901
Sony Xperia Z5
2.876
Microsoft Lumia 550
2.851
Sony Xperia Z5 compact
2.784
LG V10
2.744
Xiaomi Redmi 3
2.735
Sony Xperia M5
2.69
Xiaomi Mi 4i
2.641
Xiaomi Mi 4c
2.574
Microsoft Lumia 640
2.563
Oppo F1
2.528
Sony Xperia Z5 Premium
2.525
Sony Xperia M4 Aqua
2.503
Motorola Moto G
2.477
Lenovo Vibe K5 Plus
2.473
Huawei G8
2.471
Sony Xperia Z
2.462
Huawei Honor 7
2.406
ZUK Z1 by Lenovo
2.382
LG G4
2.317
HTC One E9+
2.305
Alcatel One Touch Hero
2.272
Apple iPhone 4S
2.269
Lenovo Vibe K4 Note
2.254
Sony Xperia C5 Ultra
2.253
Xiaomi Redmi Note 3 (MediaTek)
2.249
Sony Xperia C4 Dual
2.235
Motorola Moto G (2014)
2.233
LG Nexus 5
2.228
Huawei P8
2.196
Xiaomi Redmi Note 2
2.166
OnePlus Two
2.165
HTC One X
2.158
LG Aka
2.145
Archos 50 Diamond
2.134
Xiaomi Redmi Note
2.119
Huawei P8lite
2.078
Moto G 3rd gen max manual
2.026
Sony Xperia E4g
1.972
OnePlus One
1.961
Meizu m2 note
1.892
BlackBerry Leap
1.892
HTC Butterfly
1.873
ZTE Nubia Z9 mini
1.759
Sony Xperia U
1.758
Asus Zenfone Selfie
1.68
Motorola Moto E (2nd Gen)
1.675
ZTE Nubia Z9
1.659
Motorola Moto E
1.545
Sony Xperia M
1.473
Xiaomi Redmi 2
1.311
Sony Xperia C
1.283
Meizu MX
1.221
Oppo F1 Plus battery life
The Oppo F1 Plus is powered by a 2850mAh battery. The capacity is in no way exceptional, but it is a perfectly reasonable fit within a 6.6 mm body. This is only a bit more than the 2500mAh inside the original Oppo F1, but the one true trick that the F1 Plus has learned during the upgrade is the splendid VOOC fast charging feature.
If you are familiar with it, the patented Oppo technology employs a sort of divide and conquer approach to charging. The battery pack itself is sort of split into two, with each part getting its own charging board and power channel. This speeds up charging immensely and as we have found time and time again, VOOC is the most efficient fast charging solution out there (at the cost of requiring a proprietary cable).
A test we don't typically carry out, but figured we might just try on the F1 Plus, charging from completely flat 0% to full 100% took just under an hour (50-60 minutes). While the speed in itself is impressive, what's also good about VOOC is that not once did the phone get warm, as opposed to rival technologies such as Qualcomm's Quick Charge that cause the phone to heat up significantly.
Speaking of actual battery life, the Oppo F1 Plus does pretty well, notably better than the original F1. The F1 Plus can go on playing videos just upwards of 12 hours, perhaps the best aspect of its performance. A bit underwhelming is the mileage when browsing over Wi-Fi - the smartphone dies in a little over 8 hours, some 20 minutes longer than the F1. 21 hours on a 3G voice call is a good number too.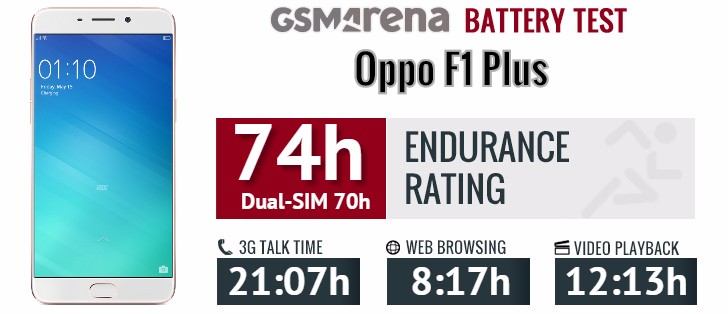 The battery testing procedure is described in detail in case you're interested in the nitty-gritties. You can also check out our complete battery test table, where you can see how all of the smartphones we've tested will compare under your own typical use.
Connectivity
The Oppo F1 Plus employs the powerful modem bundled with the MediaTek Helio P10 SoC, which offers support for a total of 8 LTE bands. While our review unit lacks Europe's most common FDD LTE band 20 800MHz, the version meant for sale in the EU will actually support that one too, for a total of 9 bands. There is also quad-band GSM support, as well as quad-band 3G with HSDPA.
As already mentioned, the F1 Plus is a Dual-SIM device and can take two nano-SIM cards. The hybrid tray design, however, forces you to choose between the second SIM and a microSD card.
The rest of the wireless connectivity features include dual-band Wi-Fi a/b/g/n/ac support and Wi-Fi Direct. There is also support for Bluetooth 4.0, GPS and GLONASS. Other than that, there is a standard micro USB connector for data exchange, rather than the new USB Type-C standard.
There is also USB OTG functionality thrown in the mix. The phone comes without NFC and an IR blaster.