Software overview
The F1 is one of a growing number of Oppo handsets, which are running on a Lollipop-based Color OS build. In this case, it is version 2.1.0i, but little has actually changed since Oppo upgraded to an Android 5.1.1 core. In this respect, The Oppo F1 has it better than the original R7, which launched on KitKat, as it did take Oppo quite some time to jump on the Lollipop bandwagon.
This is quite understandable, seeing how ColorOS is simply based on an Android core and makes it nearly unrecognizable, with a custom lockscreen, homescreens, icon packs, a custom task switcher and settings menu, as well as extensive theming support.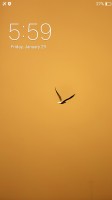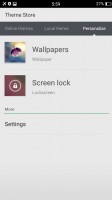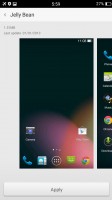 Lockscreen and powerful theming engine
If you have never come across ColorOS before, then there are just a few basic facts you need to know about the OS and its design ideology. We already mentioned the Android core and you can generally expect most any app to run on the platform, but optimization and performance are sometimes an issue.
Also, process management is not exactly standard, so your mileage may vary with apps depending on specific services running in the background. So far we've found only one such app, but it's enough to prove that Oppo's phones handle background process differently than the phones by major brands.
Another big piece of the ColorOS proposition, as with many other custom ROM's out of China, is a customized permission and notification management model. You can generally allow or deny granular permissions per app, the same goes for notifications and the autostarting of processes. It's certainly a lot more than what vanilla Android 5.1.1 would give you.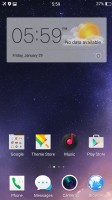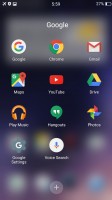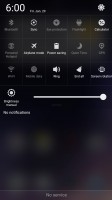 Launcher home panels and folders
The UI itself is slick, filled to the brim with lots of animations, transitions, as well as lots and lots of styling and customization options. There is no app drawer within the launcher, you have to make do with the home screen panels.
Another big notable part of ColorOS is the myriad of gestures it supports, from double tab to wake and sleep, all the way to quick navigation, fast app launching and even custom gestures, you can define yourself.
Performance
Like we already mentioned, the Oppo F1 is lodged firmly in the mid-ranger realm in terms of hardware. The observation that a 720p display is a little underwhelming considering its price tag and today's market is also absolutely valid. We also made the point that the F1 resembles the R7 line so closely that it is odd it is not actually part of it. However, be that as it may, the handset has one quite definitive feature to set it apart from said sibling, namely a new chipset.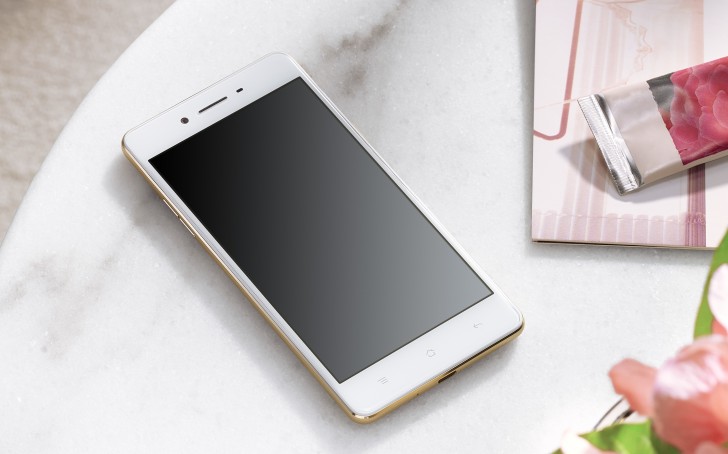 It might not be a benchmark breaker on any kind, but the Snapdragon 616 inside the Oppo F1 is a clear upgrade over the 615 model. Despite the single number increment in the model name, the new silicon is undoubtedly more powerful with all eight of its ARM Cortex-A53 cores running at 1.7GHz. This might not come close to the bit-churning power of any of Qualcomm's 800 series chips, but is still quite sufficient for a complete Android experience.
In order to illustrate our point, we put the Oppo F1 through our standard benchmark routine and pit it up against a few other devices that we deemed close enough rivals. We won't go into too much detail, but the definitive conclusion is that the F1 can definitely hold its own against the competition.
Speaking of which, there are quite a few new mid-range offers that generally compete for the same crowd, like the Xiaomi Redmi 3 or the Samsung Galaxy A5 (2016). There are also some other notable offers, often slightly aging flagships in the mix, that happen to currently fit the budget and still pack quite a punch, like the Xiaomi Mi 4i or the LG G2.
GeekBench 3
Higher is better
Xiaomi Mi 4c
3321
Oppo R7s
3206
Xiaomi Mi 4
3175
Samsung Galaxy A5 (2016)
3061
Oppo F1
3014
Asus Zenfone 2 ZE551ML (Z3580)
2887
Xiaomi Redmi 3
2842
Huawei P8lite (Snapdragon 615)
2717
Oppo R7 (retail)
2683
Meizu m2 note
2649
Sony Xperia M4 Aqua
2375
Xiaomi Mi 4i
2336
LG G2
2243
Huawei Ascend P7
1895
Moto G (3rd gen) 2GB of RAM
1589
Samsung Galaxy A5
1460
Samsung Galaxy J5
1418
Samsung Galaxy A3
1400
AnTuTu 6
Higher is better
Oppo R7s
35959
Samsung Galaxy A5 (2016)
35689
Oppo F1
35353
Basemark OS 2.0
Higher is better
Xiaomi Mi 4c
1233
Asus Zenfone 2 ZE551ML (Z3580)
1222
Oppo F1
961
Oppo R7s
930
Sony Xperia M4 Aqua
858
Samsung Galaxy A5 (2016)
833
Xiaomi Redmi 3
804
Oppo R7 (retail)
757
Meizu m2 note
673
Samsung Galaxy A5
569
Huawei Ascend P7
552
Samsung Galaxy A3
531
Xiaomi Mi 4i
296
Basemark OS 2.0 (single-core)
Higher is better
Xiaomi Mi 4c
5739
Xiaomi Mi 4i
3008
Oppo F1
2708
Sony Xperia M4 Aqua
2628
Samsung Galaxy A5 (2016)
2469
Oppo R7 (retail)
2452
Oppo R7s
2418
Huawei Ascend P7
2240
Xiaomi Redmi 3
2169
Samsung Galaxy A5
1861
Samsung Galaxy A3
1801
Meizu m2 note
1709
Basemark OS 2.0 (multi-core)
Higher is better
Samsung Galaxy A5 (2016)
16466
Oppo F1
15275
Xiaomi Mi 4c
14276
Oppo R7s
13882
Xiaomi Mi 4i
13521
Sony Xperia M4 Aqua
13167
Xiaomi Redmi 3
12172
Oppo R7 (retail)
9755
Huawei Ascend P7
8737
Meizu m2 note
8105
Samsung Galaxy A5
7492
Samsung Galaxy A3
7100
Graphics are typically a weak point for both the Snapdragon 615 and the Snapdragon 616, due to their shared use of the Adreno 405 GPU. However, one of the Oppo F1's weaknesses in terms of specs - the 720p resolution, is somewhat of a lifesaver when it comes to onscreen graphics performance. If you are into mobile gaming then opting for the lower resolution panel actually makes a lot of sense in this price group. That of course assumes graphic-intensive games are rendered in higher than 720p resolution on competing phones.
GFX 3.0 Manhattan (1080p offscreen)
Higher is better
Xiaomi Mi 4c
15
Xiaomi Mi 4
11.6
Xiaomi Mi 4i
6.2
Huawei P8lite (Snapdragon 615)
6
Oppo R7s
5.9
Oppo R7 (retail)
5.9
Sony Xperia M4 Aqua
5.84
Xiaomi Redmi 3
5.8
Oppo F1
5.8
Samsung Galaxy A5 (2016)
5.7
Meizu m2 note
2.3
Samsung Galaxy A3
1.8
Samsung Galaxy A5
1.8
Samsung Galaxy J5
1.8
Moto G (3rd gen) 2GB of RAM
1.7
GFX 3.0 Manhattan (onscreen)
Higher is better
Xiaomi Mi 4c
15
Sony Xperia M4 Aqua
12.2
Xiaomi Redmi 3
12
Huawei P8lite (Snapdragon 615)
12
Xiaomi Mi 4
11.3
Oppo F1
11
Samsung Galaxy A3
6.4
Xiaomi Mi 4i
6.2
Oppo R7s
6.2
Oppo R7 (retail)
5.9
Samsung Galaxy A5 (2016)
5.7
Samsung Galaxy A5
3.9
Moto G (3rd gen) 2GB of RAM
3.9
Samsung Galaxy J5
3.8
Meizu m2 note
2.3
Basemark X
Higher is better
Asus Zenfone 2 ZE551ML (Z3580)
12426
Xiaomi Mi 4c
12096
LG G2
11101
Oppo R7 (retail)
5382
Oppo F1
5314
Oppo R7s
5302
Xiaomi Redmi 3
5108
Sony Xperia M4 Aqua
5105
Huawei P8lite (Snapdragon 615)
5062
Samsung Galaxy A5 (2016)
4947
Xiaomi Mi 4i
4875
Samsung Galaxy J5
4034
Meizu m2 note
3946
Samsung Galaxy A5
1897
Samsung Galaxy A3
1895
Moto G (3rd gen) 2GB of RAM
1866
To top the performance section off, here are a couple of Browser tests. Bear in mind that in keeping with our testing procedure, these were executed using the default Color OS browser, which, in our opinion, performs overwhelmingly and should generally be avoided. Google Chrome is loaded on by default so you have an alternative.
Kraken 1.1
Lower is better
Xiaomi Mi 4c
4506
Asus Zenfone 2 ZE551ML (Z3580)
5232
Xiaomi Mi 4
6137
Oppo R7 (retail)
11257
Xiaomi Mi 4i
11439
Oppo R7s
11679
Xiaomi Redmi 3
11715
Moto G (3rd gen) 2GB of RAM
12272
Samsung Galaxy A5
13083
Samsung Galaxy A5 (2016)
13507
Sony Xperia M4 Aqua
13609
Samsung Galaxy J5
14435
Meizu m2 note
14462
Samsung Galaxy A3
18323
Huawei P8lite (Snapdragon 615)
18665
Oppo F1
21177
BrowserMark 2.1
Higher is better
Xiaomi Mi 4c
2113
Samsung Galaxy A5 (2016)
1560
Oppo R7 (retail)
1433
Oppo R7s
1411
Xiaomi Mi 4i
1396
Moto G (3rd gen) 2GB of RAM
1359
Oppo F1
1308
Samsung Galaxy J5
1236
Samsung Galaxy A5
1171
Sony Xperia M4 Aqua
1171
Xiaomi Redmi 3
1152
Xiaomi Mi 4
744
Meizu m2 note
656
Huawei P8lite (Snapdragon 615)
501
Samsung Galaxy A3
465