Oppo is mainly known for its smartphones, but the company has been slowly expanding its portfolio of audio products. Oppo launched a bunch of wireless earphones last year, including the Enco X that reached Indian shores just this year, and we have with us today.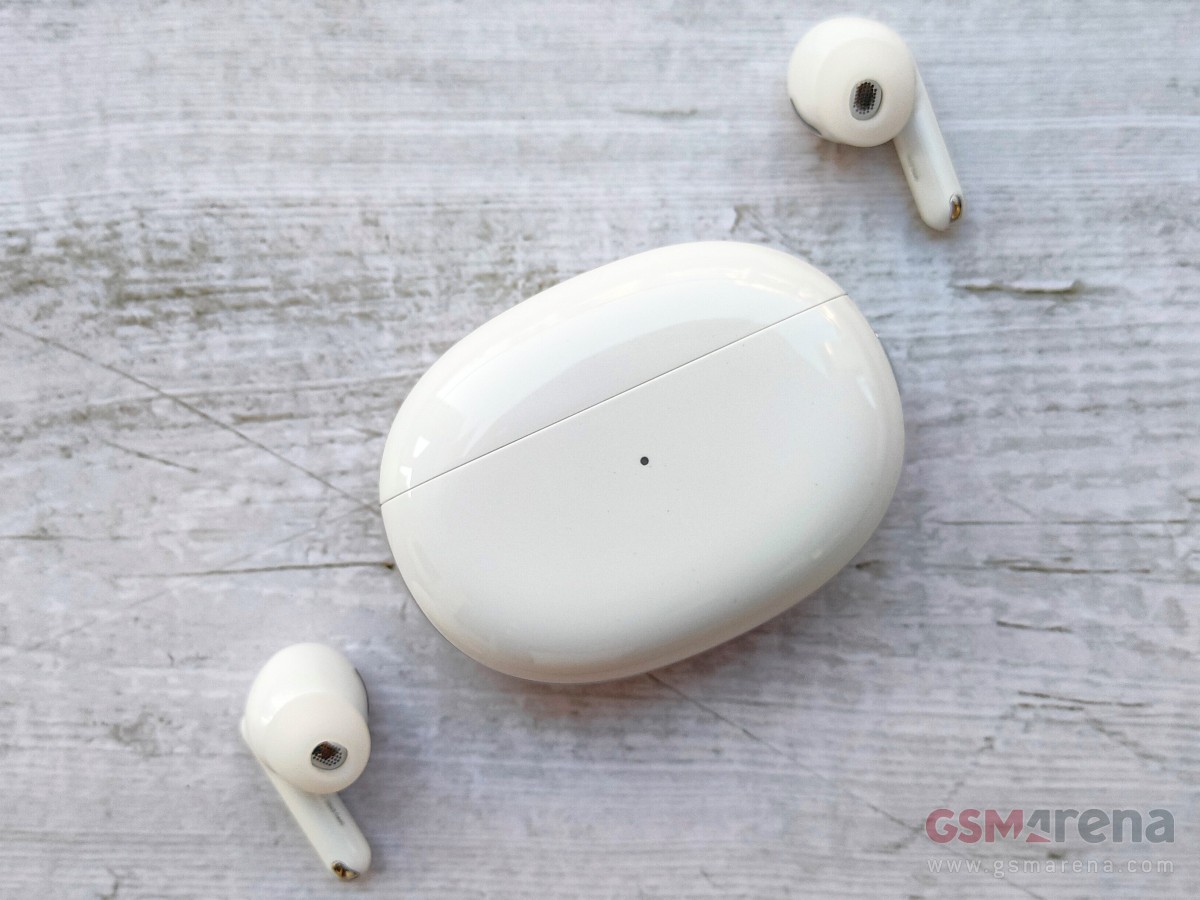 The Oppo Enco X are packed to the brim as they come with touch controls, noise cancellation, wireless charging, and IP54 rating. They also support LHDC - an advanced Bluetooth audio codec - and are claimed to offer up to 25 hours of battery life. While all that sure looks impressive on paper, do the Enco X perform equally well in the real world too? We try to find that out with this review.
Oppo Enco X specifications
Driver size: 11mm dynamic + 6mm balanced membrane
Speaker sensitivity: 104dB @1KHz
Frequency response range: 20Hz ~ 20kHz
Bluetooth codecs: LHDC, AAC, SBC
Bluetooth version: Bluetooth 5.2
Wireless range: 10 meters
Battery of earphones: 44 mAh
Battery of charging case: 535 mAh
Wired charging time (advertised): 110 minutes with charging case
Misc: USB-C, IP54 rating, Qi Wireless Charging
Colors: Black, White
Weight of each bud: 4.8 grams
Weight of charging case: 42.5 grams
Unboxing
The Oppo Enco X come in a white-colored package inside which is a black-colored box with Dynaudio and Enco X branding. The letters all have a shiny, rainbow-like effect, and the box, along with the holders inside it, has a nice finish. It felt quite premium and good to touch and made us go "Wow!" when we unboxed it.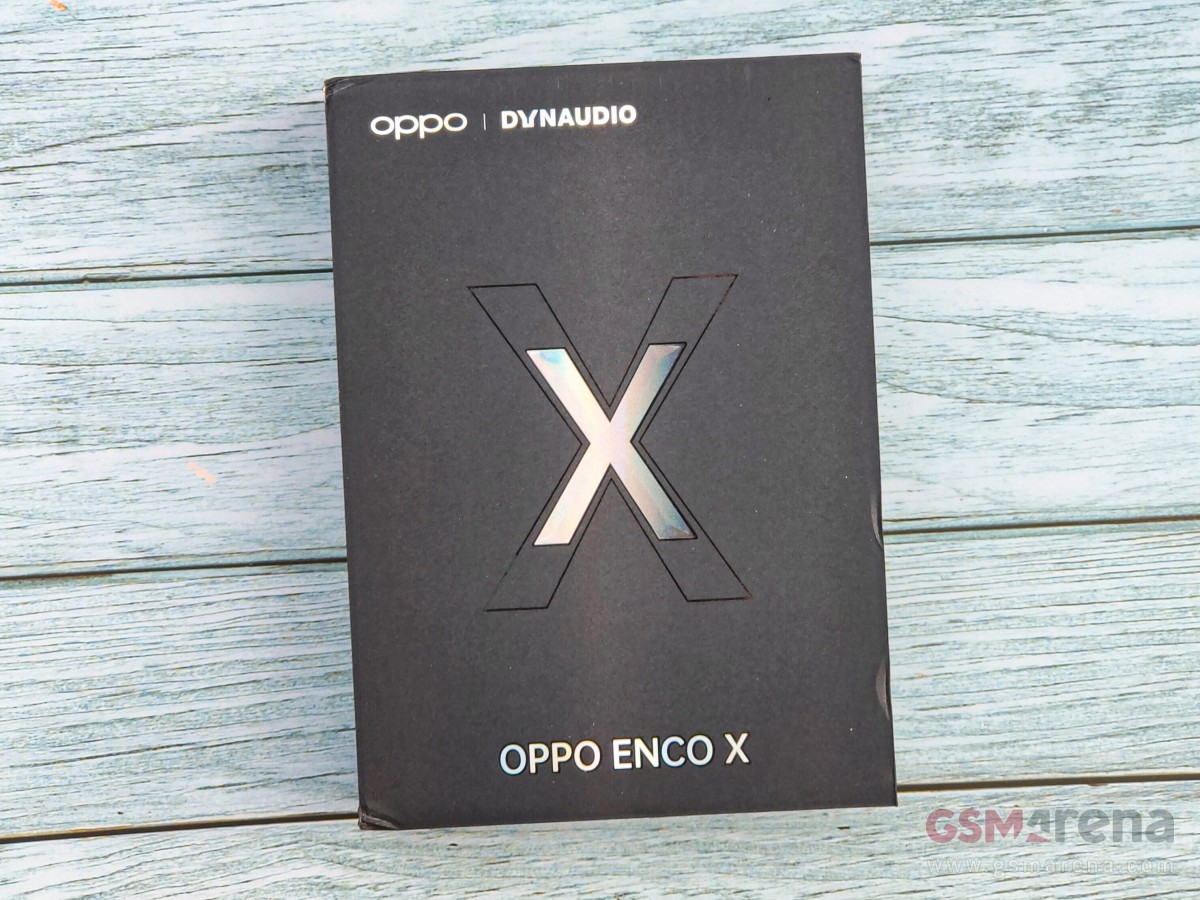 The package includes safety and quick start guides, a USB-C cable, and a total of three pairs of silicone ear tips in different sizes - Small, Medium, and Large. The medium ones come mounted on the Enco X earphones.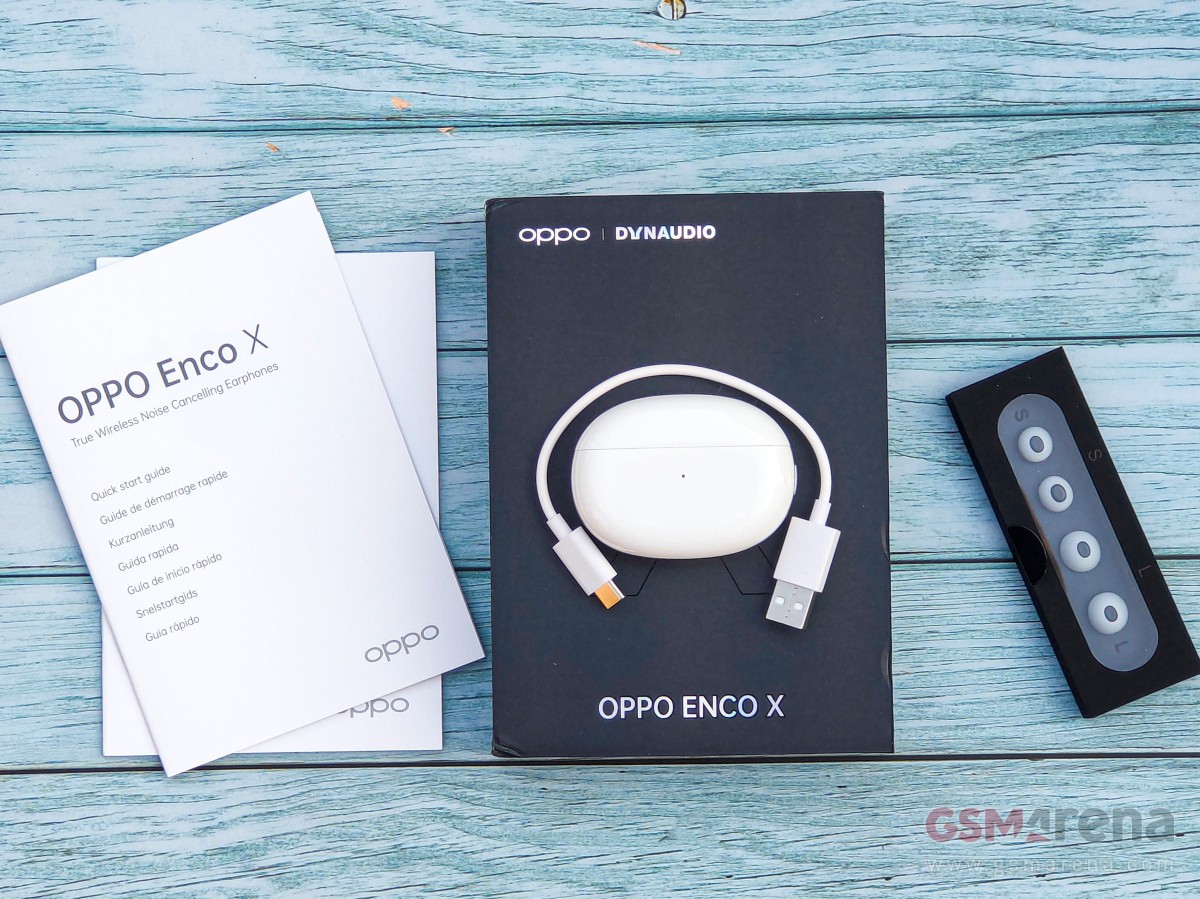 Design, Build, and Comfort
The Oppo Enco X are offered in two colors - Black and White. The charging case, which packs a 535 mAh battery, weighs 42.5 grams and is very easy and compact to carry around.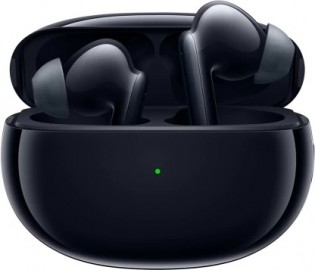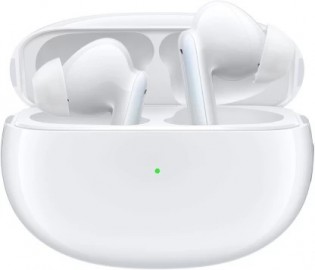 Oppo Enco X in Black and White colors
The case has a glossy finish, with the silver frame made out of metal. This design language is inspired by Oppo's MP3 X3 launched over a decade ago and makes the Enco X look premium.
It's not just the looks, though. The Enco X's charging case is premium to touch as well. But it's prone to scratches, and our unit even had scuffs out of the box for some reason, which isn't ideal. However, the white-colored model does a decent job at hiding those.
The charging case has an LED light on the front, which shows the connection status and doubles up as a charging indicator. Around the back, you get the Dynaudio branding with a rectangular metallic border since the Enco X are co-created with the Danish brand. Although that branding is not visible when you open the case since it's a part of the lid.
That said, on the right side of the case's frame is the pairing button with nice feedback, up top is the Oppo logo, and at the bottom is the USB-C port.
On the inside, we have the Enco X TWS earphones that are easy to remove from the case. And like the outer side, the slots for these buds are also glossy, but the surrounding area has a matte finish. There are no labels here to tell you which bud goes where, but that's not needed either since the one on the left goes inside the left ear, and the other in the right.
Design and aesthetics aside, the charging case is built sturdy, and the lid has a metal hinge which is confidence-inspiring and adds to the durability. You can also open the case with one hand effortlessly, which is very much appreciated.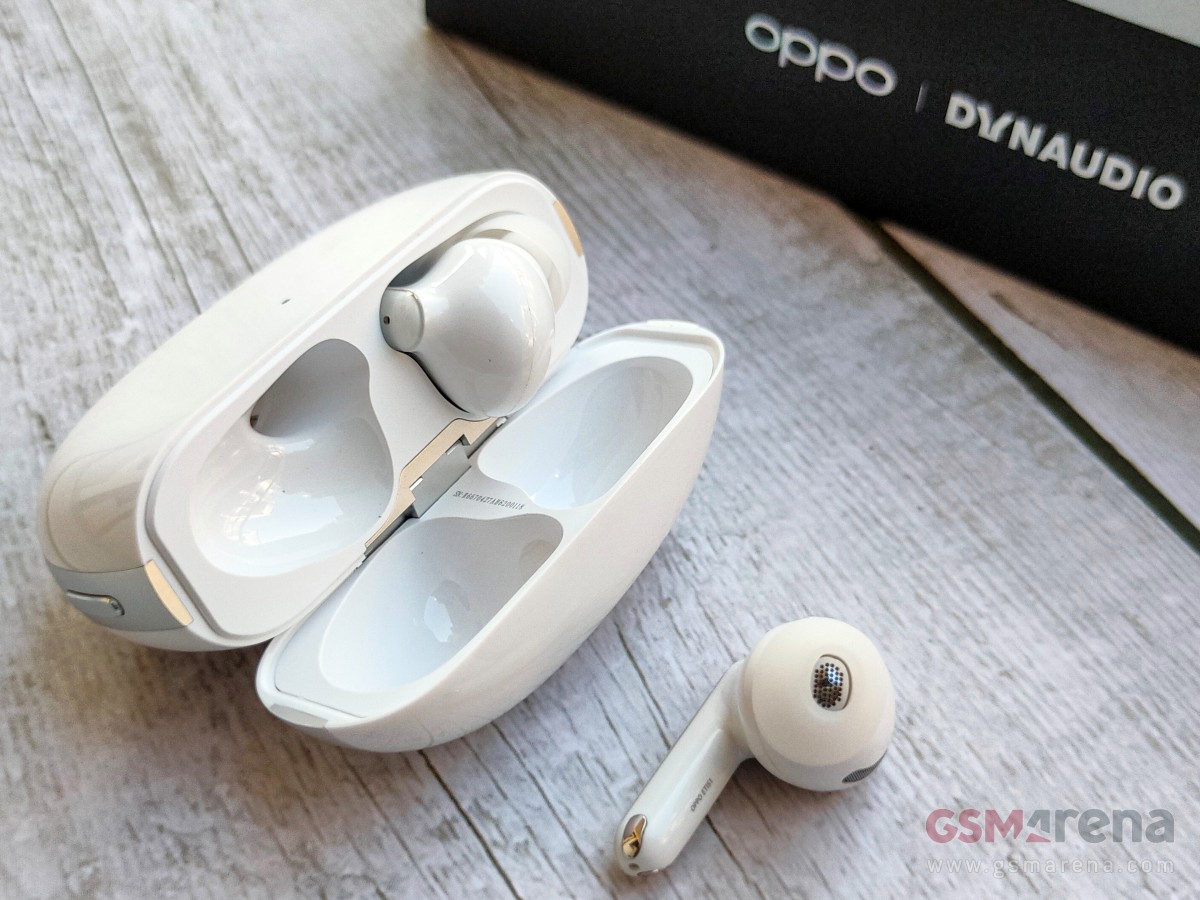 Like their charging case, the Enco X earphones feel premium, and with a weight of 4.8 grams each, they are lightweight and comfortable to wear for extended periods. The silicone tips that come bundled are smooth and of good quality and improve the wearing experience.
The Enco X earphones have a small footprint, and the medium-sized silicone ear tips fit this reviewer snugly, but there are two more sizes if the default ones don't offer a proper fit. There's even a feature called "Earbuds fit test" which helps you choose ear tips that would achieve a good seal with your ears for better noise-canceling and audio experience.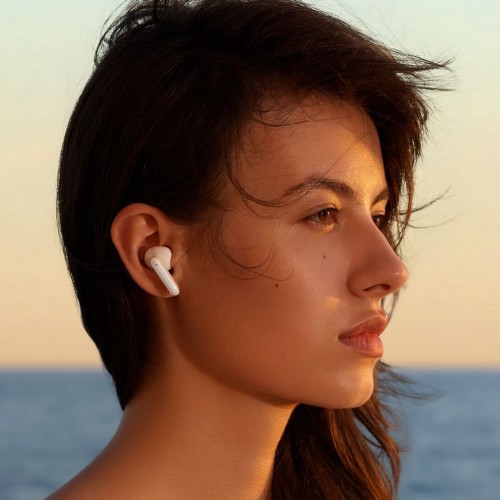 That said, unlike the charging case, which is a mixture of glossy and matte finishes, the Enco X earphones are entirely glossy, with the bottom part of the inner side having tiny mirror-like charging points having letters 'L' and 'R' written on the respective buds. These aren't easily visible and Oppo could've done a better job at it.
The Enco X's touch-sensitive stems aren't as flat as the Enco W51's, although they do have a glass-like finish and a subtle iridescent effect. The earphones didn't pick up any scratches during our usage, but they do accumulate grime and look dirty over time, so it's advisable to keep cleaning them regularly to keep them in their pristine condition.
The Enco X earphones are IP54 dust and water-resistant, allowing you to wear them during a workout or in the rain.
Software and Connectivity
The Oppo Enco X TWS earphones come with Bluetooth 5.2 and have an advertised range of 10 meters. These also support Binaural Low-Latency Bluetooth Transmission on Android and iOS devices and allow you to use only one bud at a time if you prefer and put the other back in the case.
We used the Enco X with the Oppo Find X2 most of the time for the review and didn't face any connectivity issues when streaming music through the 2020 flagship. The earphones maintained the connection when we walked around in the room and even moved to a different floor inside the house.
Not just that, the Enco X also responded to the touch controls and in-ear detection very well when the connected smartphone was on another floor. However, with another smartphone, the Enco X did drop connection for about a second at regular intervals when both devices were on different floors.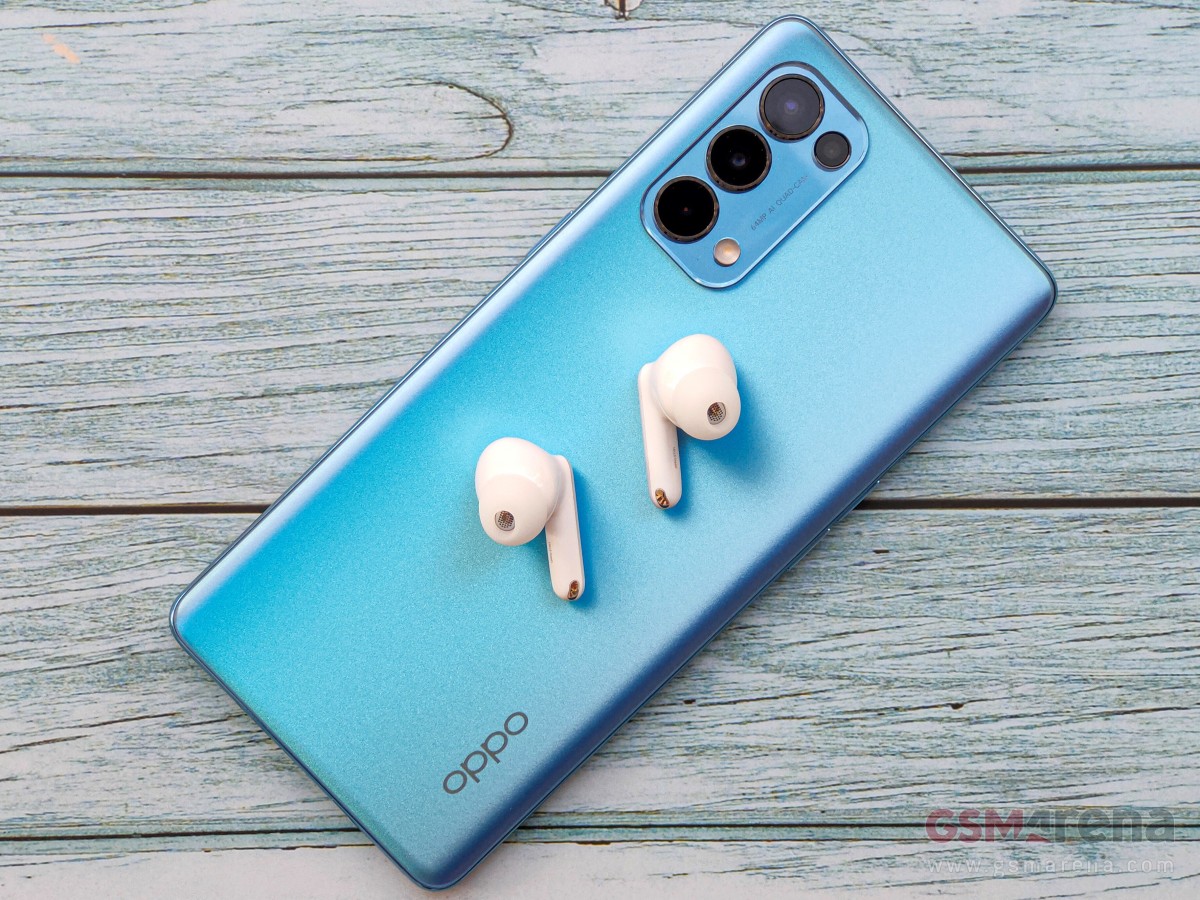 The Oppo Enco X work with Android and iOS devices and support Quick Connection, although it only works with Oppo smartphones running ColorOS 7.0 or above. Other features easily accessible on compatible Oppo smartphones are touch control customization and earbuds fit test, which can be accessed from the Bluetooth settings of the earphones on the smartphones.
Those who own an incompatible smartphone can download the HeyMelody app, which allows users to customize touch controls and use the earbuds fit test. It also lets you upgrade the Enco X's firmware and check the battery level of the buds and the charging case. But things aren't all hunky-dory, though, since the HeyMelody app is only available on Android, leaving iOS users with no option to upgrade the firmware or customize touch controls.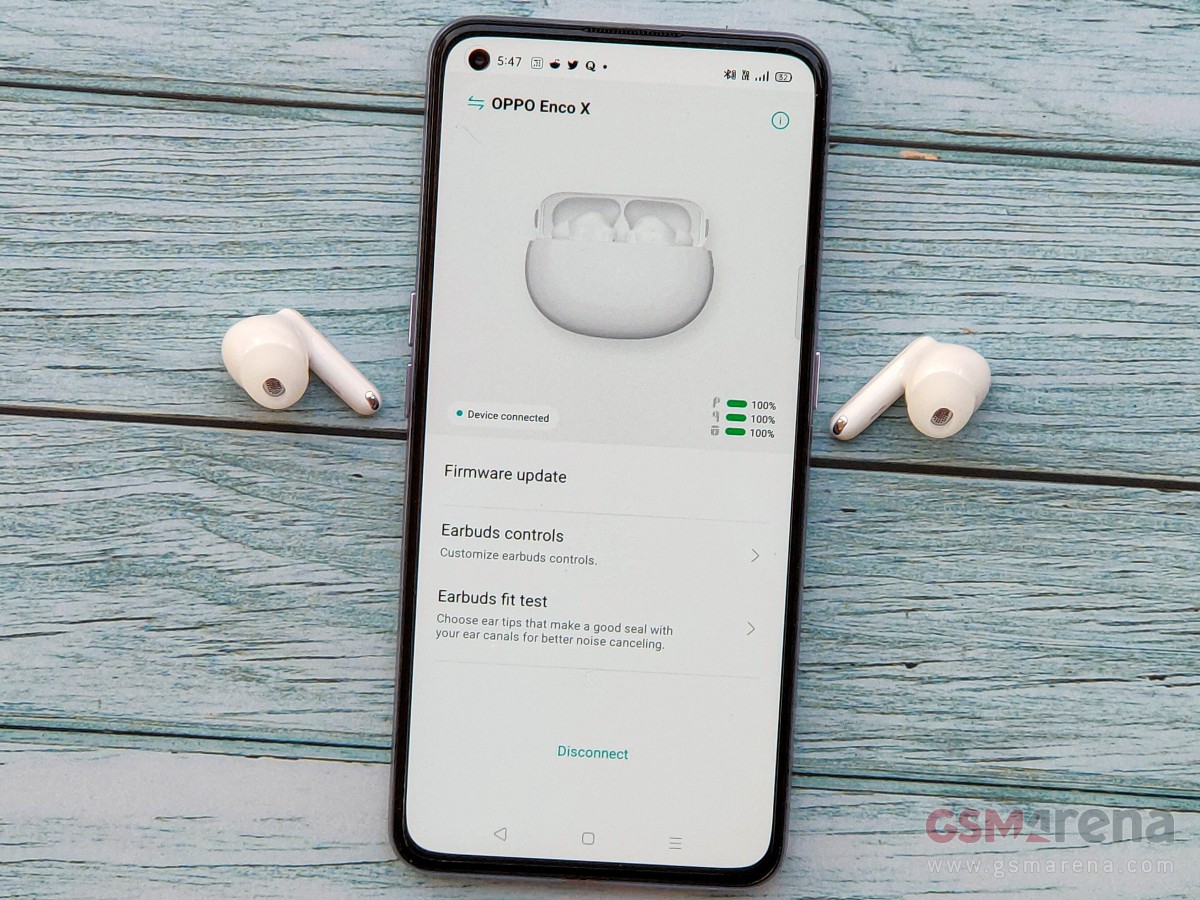 Oppo Enco X paired with the Realme X7 Pro running the HeyMelody app
It's about time Oppo developed an iOS app if they aim to expand their portfolio of wireless earphones because without that, it could be difficult for them to allure iOS users into buying their wireless audio products.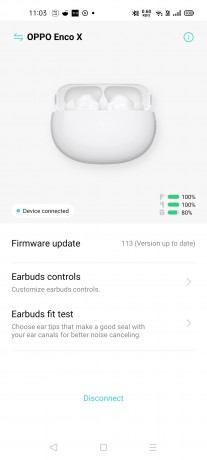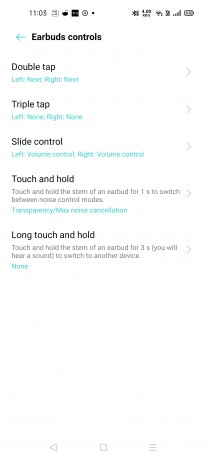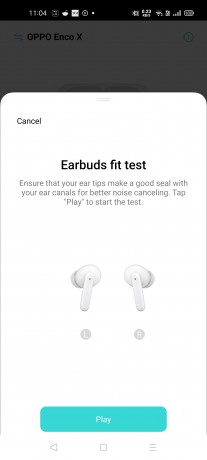 HeyMelody app on Realme X7 Pro
Features and Performance
The Oppo Enco X pack 11mm dynamic and 6mm balanced membrane drivers in each bud and are claimed to have a frequency response range of 20Hz ~ 20KHz. They also come with noise cancellation, feature touch controls, and have LHDC support.
Noise Cancellation
The Enco X come with a dual-microphone design and feature a dual-core chip, which Oppo says "improves the signal-to-noise ratio" to optimize the "noise cancellation capabilities from every aspect".
Oppo doesn't tell us by how much decibels the noise is reduced, but it does say that noise cancellation on the Enco X is effective in the low-frequency range such as airplanes and train environments and less effective in high-frequency ranges such as nearby voices.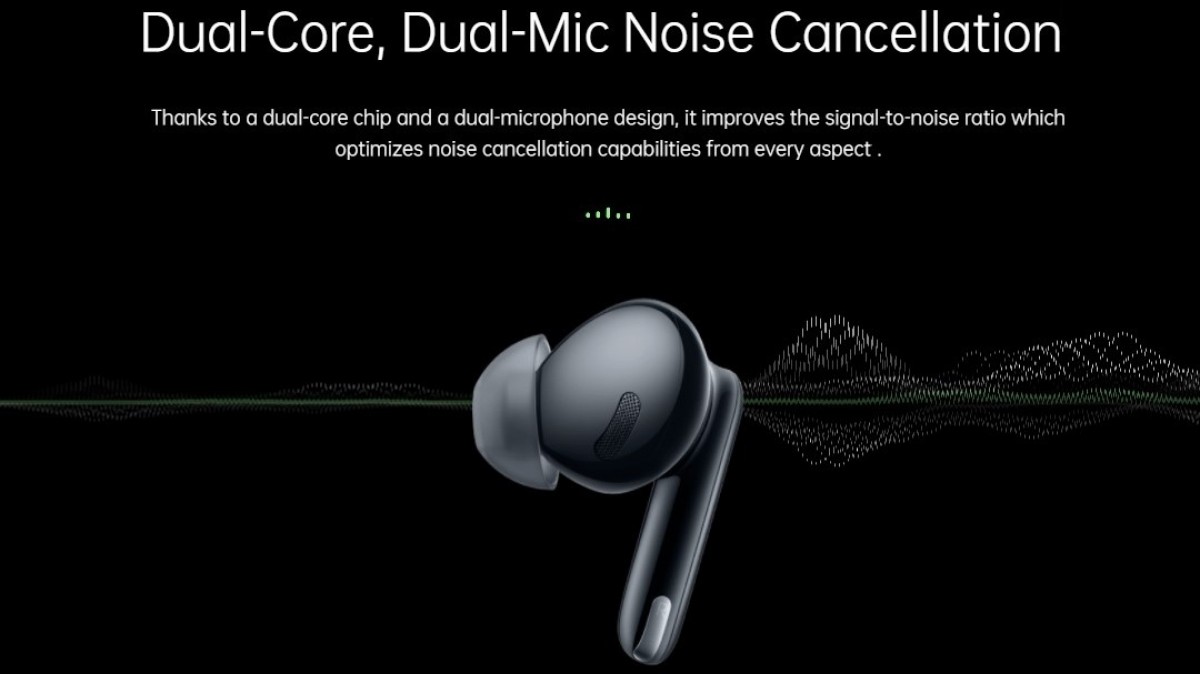 The Enco X have four noise cancellation modes - Noise Cancellation Off, Transparency, Noise Cancellation, and Max Noise Cancellation. The first one is self-explanatory, but Transparency lets some external noise pass through to help you stay aware of your surroundings. Noise Cancellation, on the other hand, mildly reduces the external noise, whereas Max Noise Cancellation offers the highest level of noise reduction on the Enco X, and we kept it enabled throughout our usage.
Max Noise Cancellation does reduce the sound of ceiling fans, televisions, home appliances like the washing machine, and distant human voices, and the noise reduction is more noticeable when the music is playing. But without any audio, some noise manages to creep in. The ANC on Enco X doesn't entirely block the outside world as the premium headphones do, but as expected, it's better than the Oppo Enco W51 we reviewed last year.
Touch Controls and Wear Detection
The Oppo Enco X feature touch controls, which include double-tap, triple-tap, up and down sliding, touch and hold, and long touch and hold gestures for both the left and right earbuds.
You can tinker with these by heading to the Bluetooth settings if you own a compatible smartphone. If not, you'll have to download the HeyMelody app on your device. And like we mentioned in the Software section, this app is Android-exclusive, so iOS users have no way to customize touch controls, which could be a deal-breaker for many.
The double-tap gesture for both the left and right buds has four choices - None, Play/Pause, Previous, and Next. The triple-tap gesture, on the other hand, has two options - None and Google Assistant - meaning you can only use it to summon Google Assistant, which is wasteful since not everyone uses the digital assistant to need a shortcut on earphones to invoke it.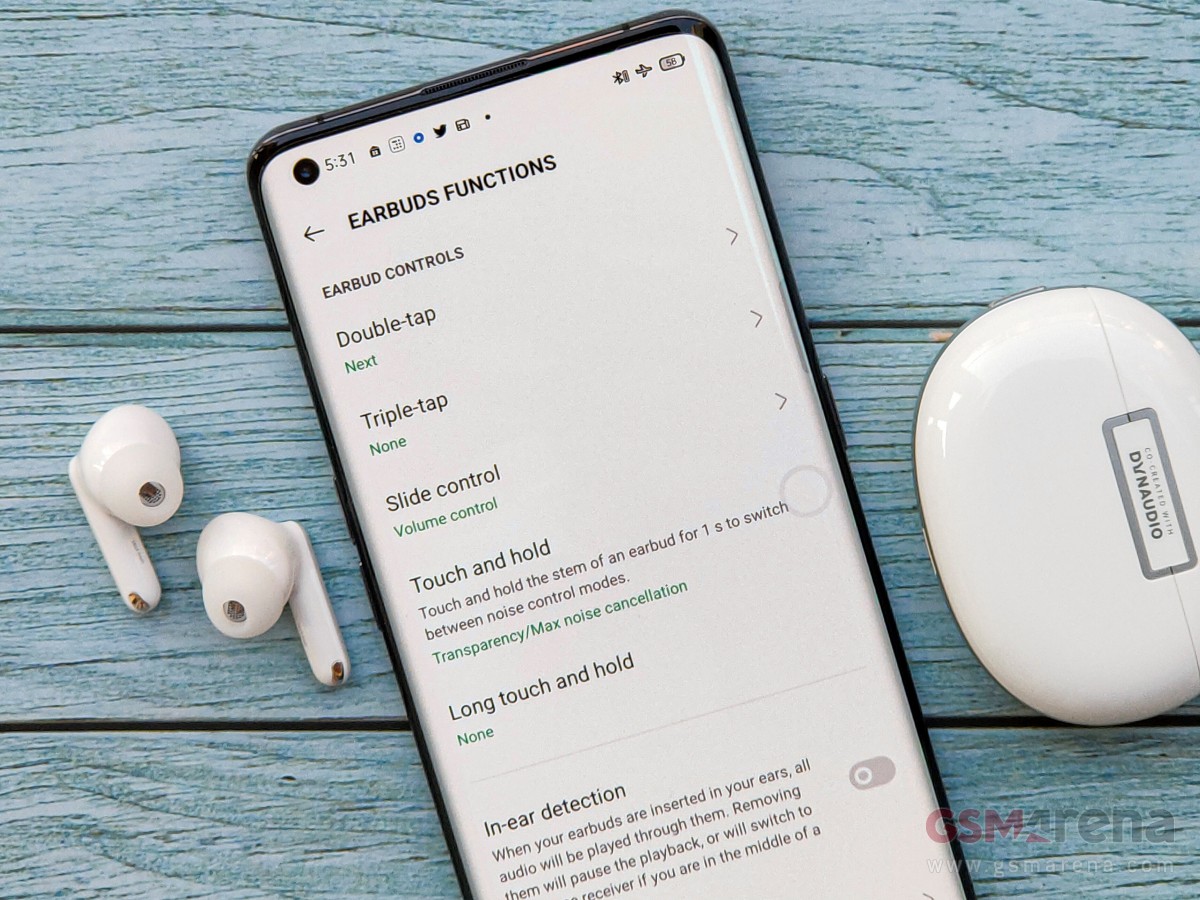 Enco X's touch controls are customizable on Oppo Find X2
The up/down slide controls let you adjust the volume or switch tracks, whereas the touch and hold gesture lets you toggle noise cancellation modes. There are four modes - Noise Cancellation Off, Transparency, Noise Cancellation, and Max Noise Cancellation.
By default, the Enco X switch between Transparency and Max Noise Cancellation, but you can customize the settings to your liking. However, it's worth mentioning that the earphones can only switch between any two of the four modes, and while we are fine with that, some might find it limiting. We'd have also liked Oppo to pause the music during the switch when the audio prompt is played to indicate the mode toggling. In fact, instead of playing a sound, Oppo could've used a human voice like the Enco W51 to tell users about the toggle.
The fifth gesture - long touch and hold - lets you switch between the two most recently connected devices by touching and holding the stem of an earbud for three seconds. This was a hit or miss in our experience since the gesture often toggled the noise cancellation modes instead of switching to the other device. The same happened when trying to adjust the volume.
The rest of the touch controls and wear detection worked fine.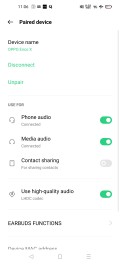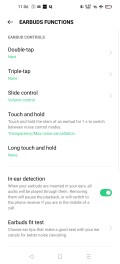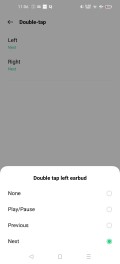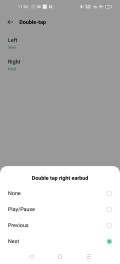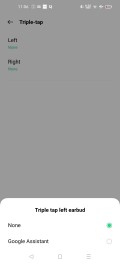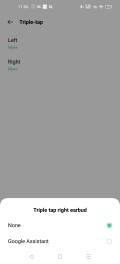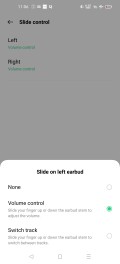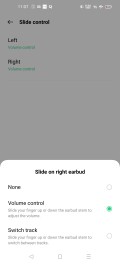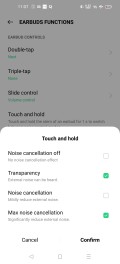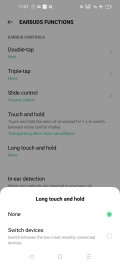 Enco X's touch control customization options
With all that being said, the sliding controls remain our favorite, and we'd like to see more brands implement them on their TWS earphones.
Audio and Call Quality
The Oppo Enco X have three microphones in each bud for noise cancellation in voice calls - a Feedback microphone, a Feed-forward microphone, and an Internal mic. The Enco X performed well in our voice call tests as the person on the other end of the call could hear us clearly, and we didn't have any issues hearing them either. Even on Google Meet calls, the voice of the person on the other end came through crisp.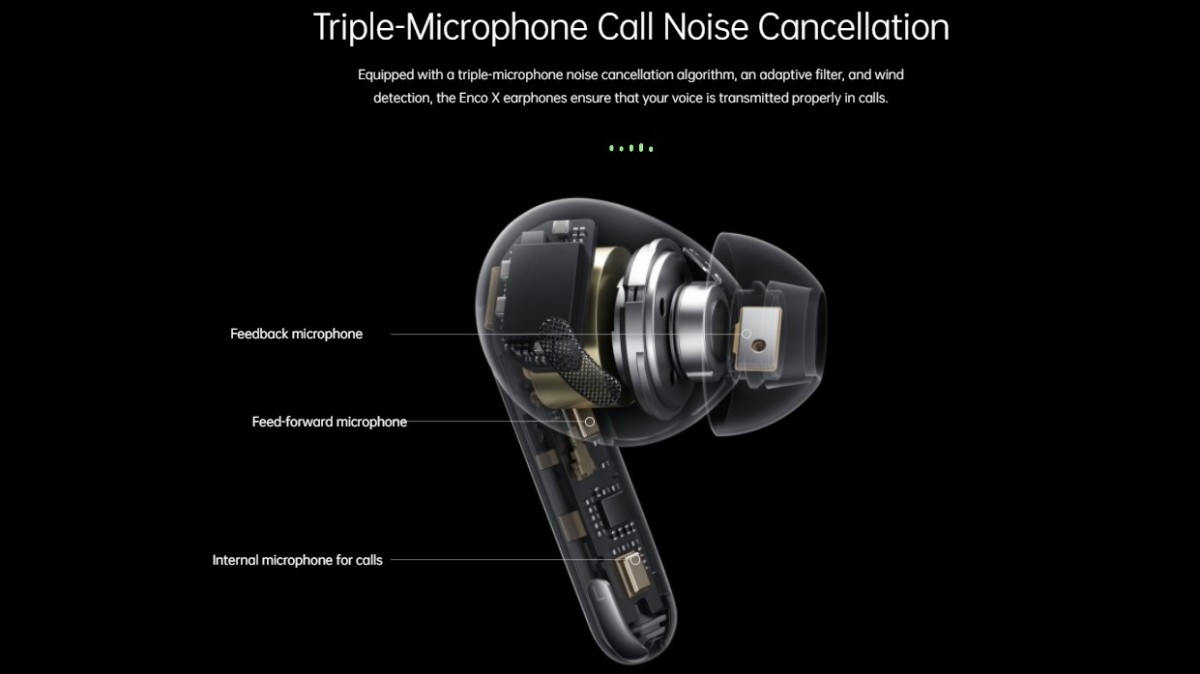 The Enco X are co-created with Danish Hi-Fi brand Dynaudio and feature Oppo's DBEE 3.0 Sound System. They have a coaxial dual-driver setup on the inside, and each bud packs a 6mm magnetic balanced driver to handle the highs and an 11mm triple-layer composite dynamic driver for the middle and low frequencies.
The Enco X also support LHDC (Low Latency High-Definition Audio Codec), which is said to be better than the SBC and AAC Bluetooth codes and offers a maximum bit rate of 900kbps, but the smartphones that support LHDC aren't a dime a dozen right now.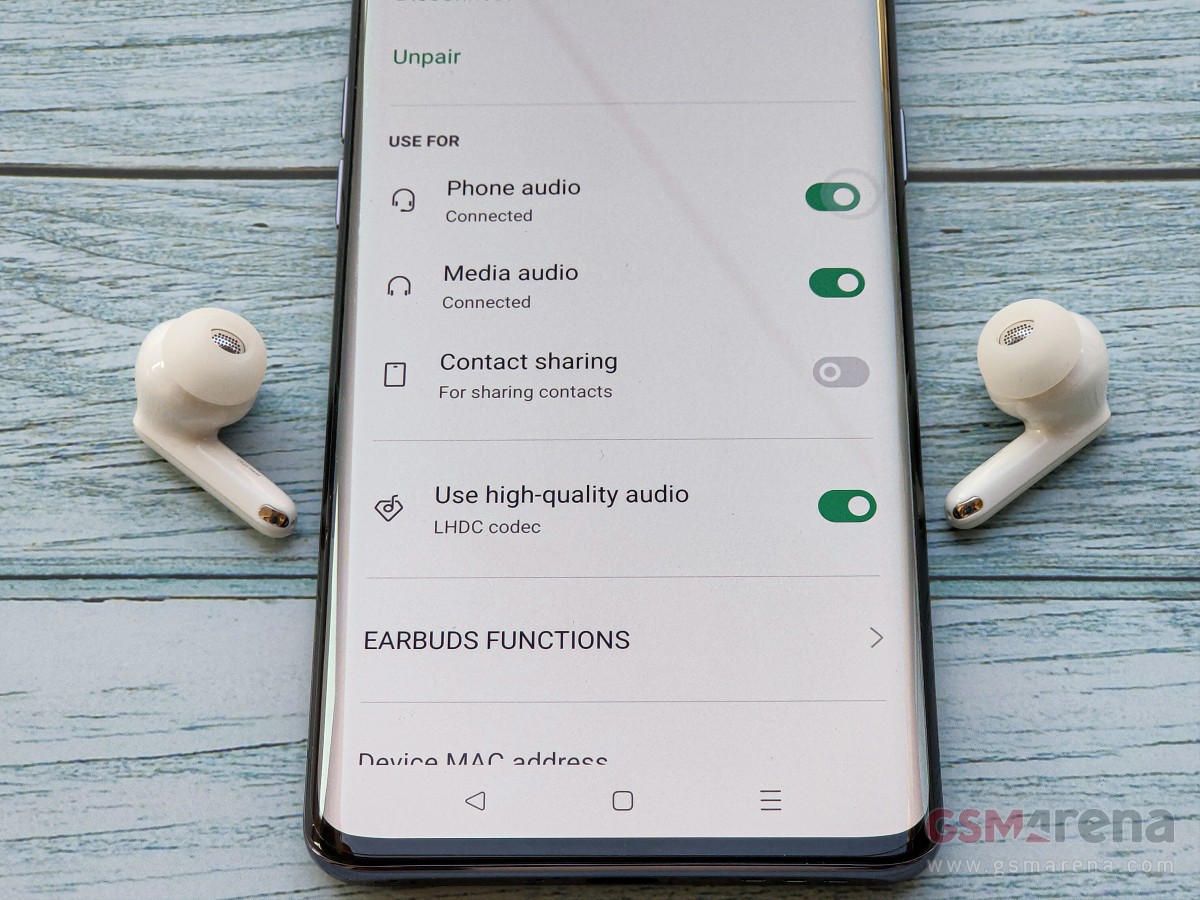 Oppo's Find X2 and Find X2 Pro are the only smartphones having LHDC support, but the company has promised to bring it to more smartphones soon.
We had the Find X2 around during the review period, and after using the Enco X with LHDC enabled, we are happy to report that the codec and earphones both live up to the hype. The Enco X offer an immersive and enjoyable sound. The trebles are crip, vocals are clear, and we don't have many complaints about the bass either.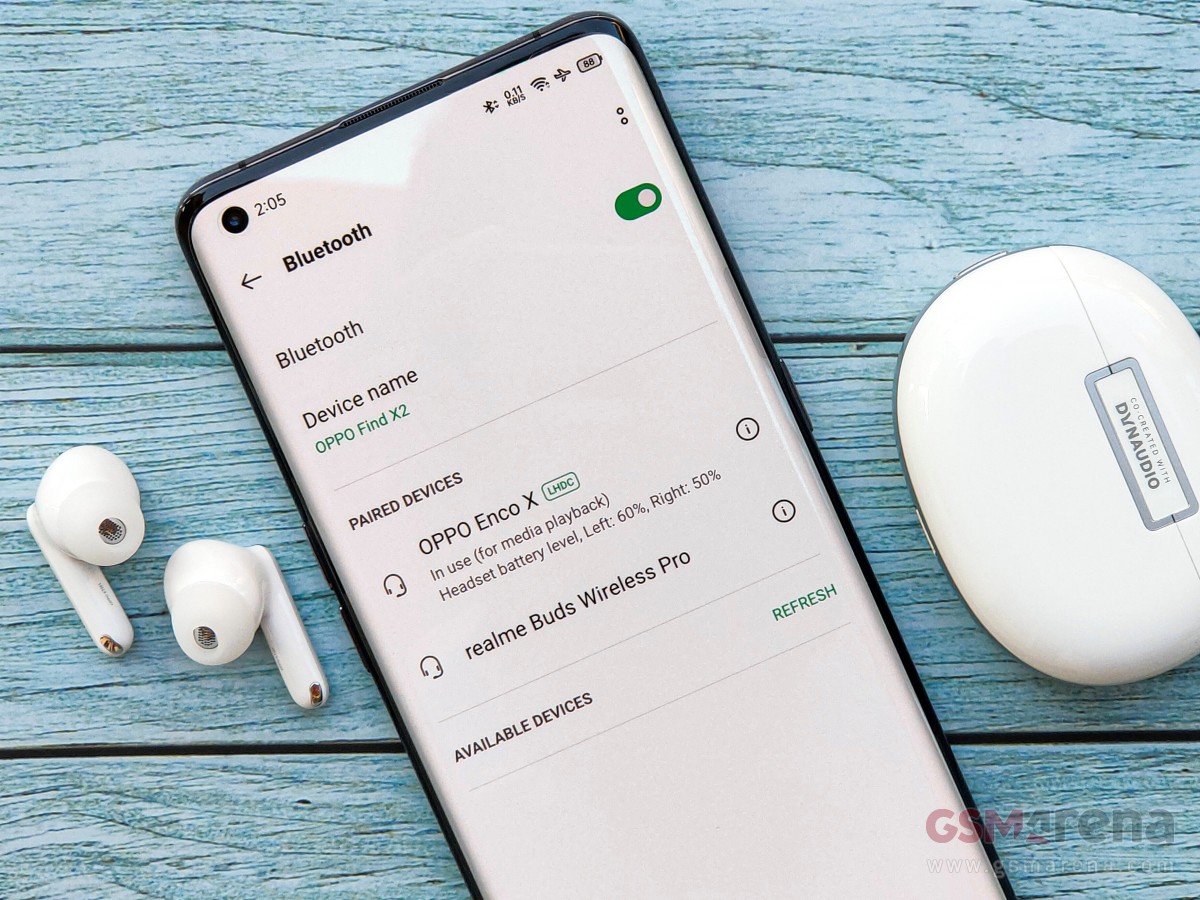 Oppo Find X2 with LHDC support
The tracks were quite detailed and we were able to pick up the faint details in the background. The earphones also have a wide soundstage and handled multiple instruments at the same time very well.
However, without LHDC, the trebles felt a bit harsher and the audio was slightly less detailed and immersive, but the earphones still delivered a pretty good audio experience.
Latency
The Oppo Enco X come with Bluetooth 5.2 chip and support Binaural Low-Latency Bluetooth Transmission for reduced audio delay, improved audio-visual synchronization, and lower connection interference.
We didn't face any audio delay during our usage when watching videos on YouTube and Amazon Prime Video, although we did notice some lag when playing games, so you are better off using a wired headset or buying wireless earphones with lower latency if you are into competitive gaming.
Battery
The Oppo Enco X pack a 44 mAh battery in each bud, while the charging case has a 535 mAh cell inside. Oppo says at 50% volume and Max Noise Cancellation mode enabled, the Enco X provide four hours of playback on a single charge, and with the noise cancellation turned off, you get 5.5 hours of endurance. And with the charging case paired, you can get a total of 20 hours of endurance with Max Noise Cancellation enabled and 25 hours without it.
Oppo told us they used the LHDC codec for battery tests. In our testing, with 50% volume and LHDC and Max Noise Cancellation enabled, the earphones lasted us about six hours on a single charge. But do note that you'll get less endurance if you play music at a higher volume.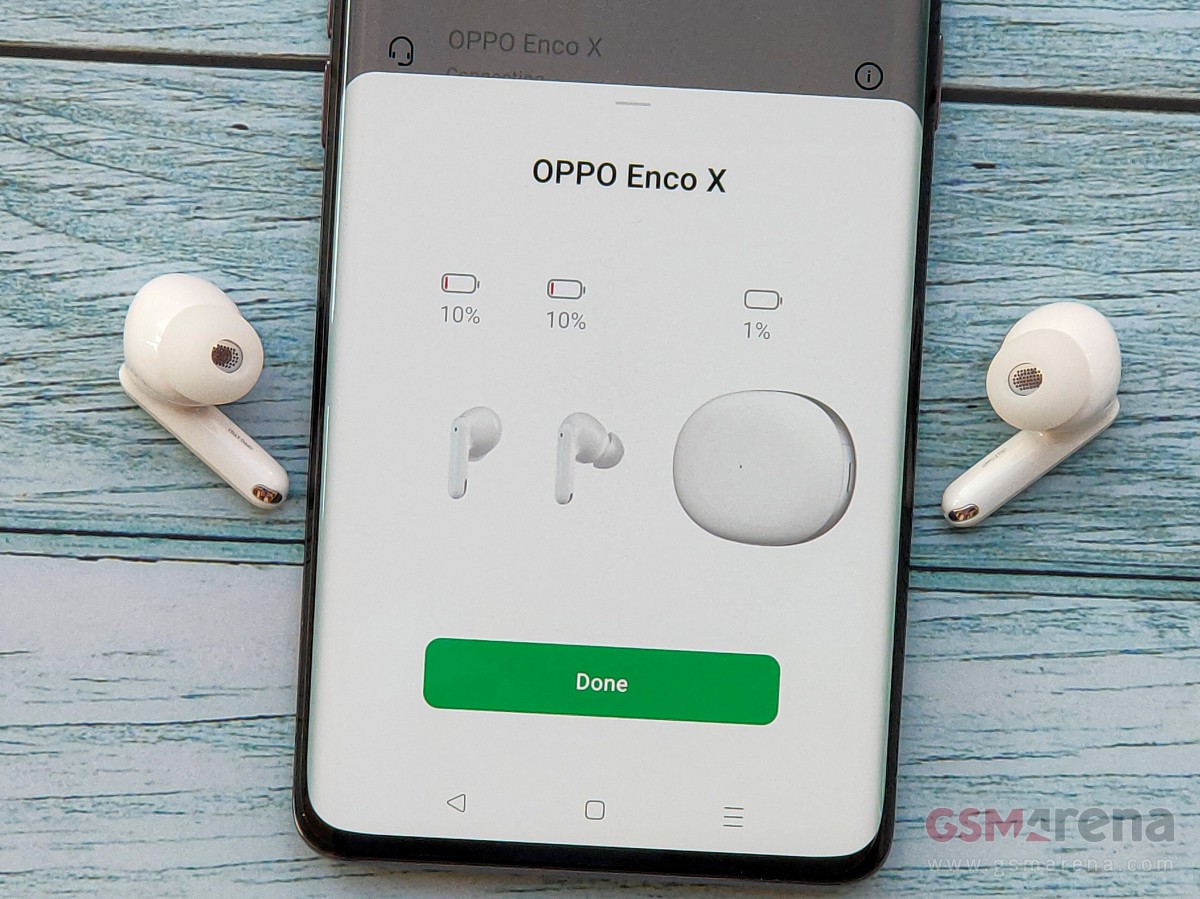 It's also worth mentioning that one bud always drained out entirely before the other, which isn't ideal since you don't want to end up with just one working bud when gaming or binge-watching videos. Although this happens with most other TWS earphones available in the market, so there's not much point in complaining.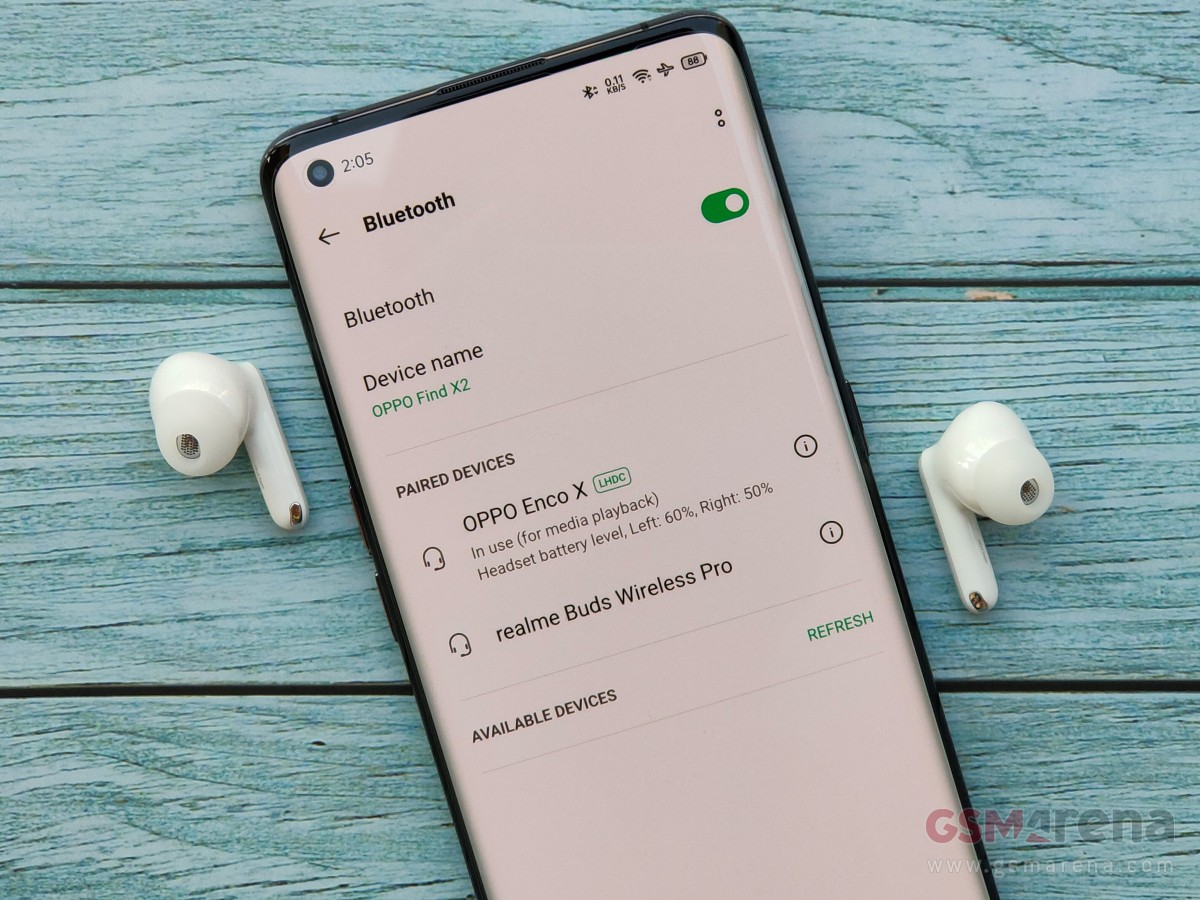 One bud lost charge quickly than the other at times
That said, once the batteries in the buds and the charging case are drained, you can charge them through the USB-C port. Oppo says the charging case with the Enco X inside goes from flat to 100% in 110 minutes, but it took about 90 minutes in our testing.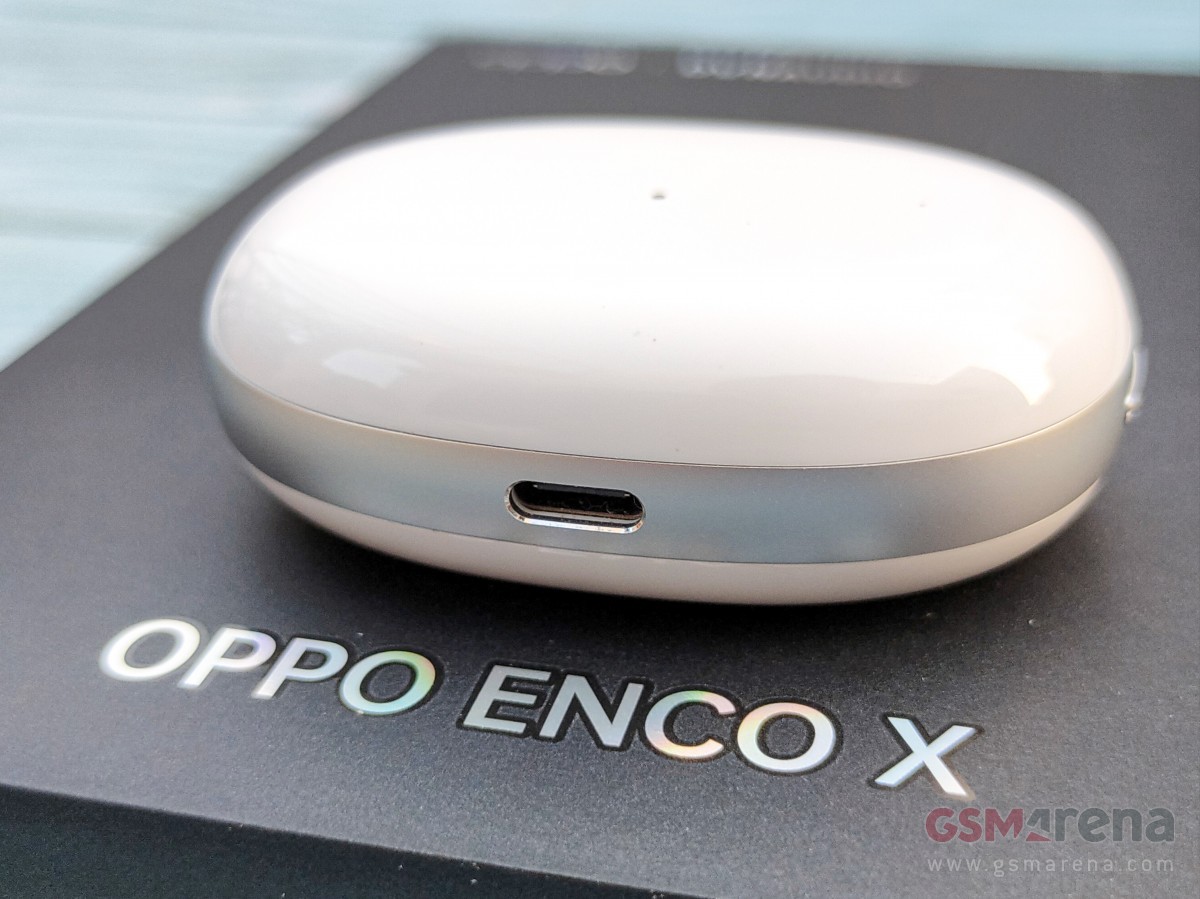 The Enco X also support Qi wireless charging, allowing you to charge them through a compatible wireless charger or a smartphone with reverse wireless charging. We didn't have either of those available during the review period to check how long it takes to charge the Enco X wirelessly, and Oppo also doesn't share any official numbers for the same.
Verdict
The Oppo Enco X are a fantastic pair of TWS earphones that have a lot going for them. They are lightweight and comfortable to wear and flaunt a premium design. They also feature noise cancellation, have an IP54 rating, and support wireless charging.
Additionally, the Enco X come with touch controls, which are a hit or miss at times, but the earphones deliver where it matters the most. The Enco X have a nice call quality and offer an impressive audio experience, which gets better and sounds more immersive with an LHDC-compatible device.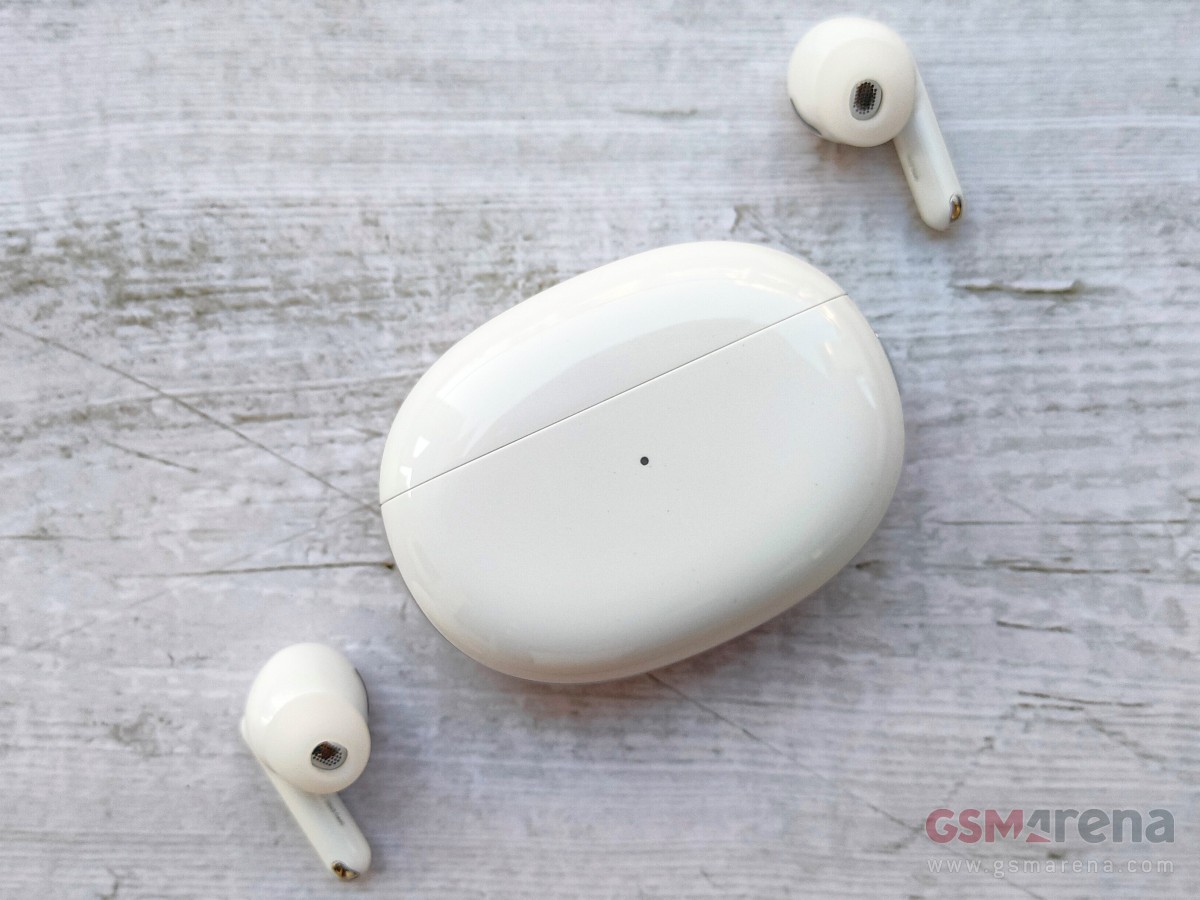 One of our biggest complaints about the Enco X is the lack of the HeyMelody app for iOS, which leaves its users with no way to customize touch controls. Besides, Oppo should stop limiting the triple-tap gesture on its TWS earphones to invoking digital assistants.
That said, with a price tag of INR9,990 ($135/€110) in India, the Oppo Enco X are an excellent pair of TWS earphones and get an easy recommendation from us.
Pros
Immersive sound
Premium design
Lightweight and comfortable
Noise cancellation
IP54 rated
Call quality
Wireless charging
Cons
Triple-tap gesture can only be used to summon Google Assistant
Touch controls are a hit or miss at times
No companion app for iOS
t
Very bad touch controls. 1s Touch for enabling/disabling ANC is terrible. Unresponsive and cluncky. Sometimes swipe to volume up/down doesnt work on one earbud but wortks on the other. Not worth the money. Gladly i got those for free with the Reno 6 ...
?
if you own a current xiaomi it will work
S
I have the Enco X for more than a month now. Better theb the W51. Bought it for 790RMB (around 100€). Great device, but must be careful not to lose it, because it's so small
ADVERTISEMENTS