When opportunity strikes
OnePlus One review: When opportunity strikes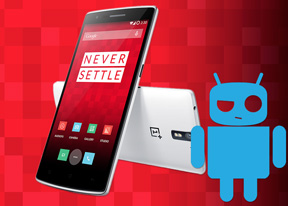 A large, 5.5" 1080p display
The OnePlus One comes with a Japan Display-made 5.5" screen of 1080 x 1920 resolution for a pixel density of 401ppi which is pleasingly sharp, even at this diagonal. QHD would've made a difference in web pages or optimized apps, but 1080p is fine.
The display is an LTPS unit, a low temperature polysilicone LCD, meaning it shouldn't heat up too much even with the brightness cranked up for long periods of time. The LCD is also an IPS unit, which should favor wider viewing angles. Finally, the screen is covered by Gorilla Glass 3 for extra protection.
The OnePlus One's LCD has a standard RGB (red, green, blue) matrix with equally-sized sub-pixels of each color.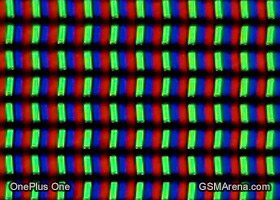 Looking at the numbers the OnePlus One's display is good but certainly far from the best. On the positive side, it's good really wide side viewing angles and it's also very bright at it maximum. But the contrast ratio is not really good as the black levels are pretty high.
When you crank the brightness all the way up, the OnePlus One outputs almost 600 nits, which is respectably bright.
Unfortunately, the blacks aren't very deep neither at 50% brightness, nor at 100% and that affects the effective contrast ratio negatively.
In layman's terms the display has only an okay contrast due to the poor blacks, which aren't very pronounced. Brightness is quite good though.
Display test
50% brightness
100% brightness
Black, cd/m2
White, cd/m2
Contrast ratio
Black, cd/m2
White, cd/m2
Contrast ratio
OnePlus One
0.39
317
805
0.75
598
799
Oppo Find 7
0.22
248
1135
0.40
448
1123
LG G3
0.14
109
763
0.72
570
789
Sony Xperia Z2
-
-
-
0.41
488
1195
Sony Xperia Z1
-
-
-
0.38
580
1513
Sony Xperia Z
-
-
-
0.70
492
705
Oppo Find 7a
0.33
280
842
0.68
580
852
Samsung Galaxy S5
0
274
∞
0
529
∞
Samsung Galaxy S4
0
201
∞
0
404
∞
HTC One (M8)
0.20
245
1219
0.46
577
1256
LG G2
0.10
149
1522
0.45
667
1495
HTC Butterfly S
0.15
165
1117
0.43
451
1044
Apple iPhone 5
0.13
200
1490
0.48
640
1320
The next test reveals how the contrast of the screen does in outside conditions. This test is mainly dependent on the maximum brightness output and the reflectivity of the glass on top of the display. Here the OnePlus One gets a good result but again far from the best in this class.
Sunlight contrast ratio
Nokia 808 PureView
4.698
Apple iPhone 5
3.997
Samsung Galaxy Note 3
3.997
Samsung Galaxy S5
3.549
Samsung I9300 Galaxy S III
3.419
Nokia Lumia 925
3.402
Samsung I9505 Galaxy S4
3.352
Samsung Omnia W
3.301
Samsung Galaxy S
3.155
Samsung Galaxy S4 mini
3.127
Samsung Galaxy S4 zoom
3.118
Nokia N9
3.069
Samsung Galaxy Note
2.970
Sony Xperia Z1
2.950
HTC One S
2.901
BlackBerry Q10
2.856
Samsung Galaxy S II
2.832
Samsung Galaxy S II Plus
2.801
BlackBerry Z30
2.790
Huawei Ascend P1
2.655
Sony Xperia ZR
2.672
Nokia Lumia 900
2.562
HTC One Max
2.537
Nokia Lumia 720
2.512
HTC One
2.504
Sony Xperia Z
2.462
Samsung Galaxy S III mini
2.422
HTC One (M8)
2.371
Motorola RAZR i
2.366
Samsung Galaxy Note II
2.307
Oppo Find 7a
2.279
Apple iPhone 4S
2.269
HTC Desire 600 dual sim
2.262
LG Nexus 5
2.228
HTC One X
2.158
Nokia N8
2.144
Oppo Find 5
2.088
BlackBerry Z10
2.051
Apple iPhone 4
2.016
HTC One mini
2.003
LG G2
1.976
OnePlus One
1.961
Sony Ericsson Xperia ray
1.955
Sony Xperia Z2
1.944
Samsung Galaxy Camera
1.938
LG G Pro 2
1.922
HTC Butterfly
1.873
Huawei Ascend P6
1.865
LG G3
1.820
Sony Xperia V
1.792
Sony Xperia U
1.758
Meizu MX3
1.754
Sony Xperia T2 Ultra
1.740
Oppo Find 7
1.691
LG Optimus 4X HD
1.691
HTC One V
1.685
BlackBerry Q5
1.682
LG Optimus Vu
1.680
LG Optimus GJ
1.666
HTC Desire V
1.646
Samsung Galaxy Ace 3
1.622
Sony Xperia Z Ultra
1.578
Samsung Galaxy Core
1.563
LG Optimus G Pro
1.552
LG Optimus 3D
1.542
Samsung Galaxy Core LTE
1.542
Nokia Asha 302
1.537
Sony Xperia M
1.473
Nokia Lumia 610
1.432
Samsung Galaxy Grand Neo
1.393
Gigabyte GSmart G1355
1.361
Samsung Galaxy Grand
1.321
HTC Desire C
1.300
Nokia Asha 501
1.270
LG Optimus L7
1.269
LG Optimus L9
1.227
Meizu MX
1.221
Sony Xperia E dual
1.203
Samsung Galaxy Pocket
1.180
Sony Xperia tipo
1.166
Samsung Galaxy mini 2
1.114
Battery life test
With a 3,100Ah battery, the OnePlus One sounds well covered in the battery life department, but the real-world results fail to truly excel.
While it managed almost 20 hours of call time, close to 10 hours of browsing and 11 hours of video playback, the One was let down by its power management in stand-by as compared to other devices. Indeed, despite that shortcoming, the OnePlus One scored a respectable overall rating of 66 hours - the expected time between charges if you use the device for an hour each of calls, browsing and video playback a day.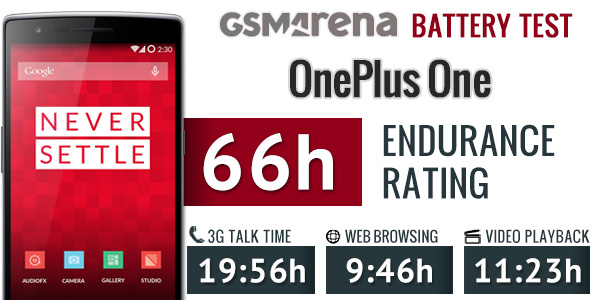 That's by no means a bad result, meaning you can reasonably expect a full day or more of heavy use - after all, there's a big and quite bright display to consider.
Our proprietary score also includes a standby battery draw test, which is not featured in our battery test scorecard but is calculated in the total endurance rating. Our battery testing procedure is described in detail in case you want to learn more about it.
You can check out a detailed battery life test of the OnePlus One here.
Connectivity
The OnePlus One offers a great connectivity package out of the box with the only noteworthy exception being an IR blaster.
With quad-band GSM, penta-band HSPA and hexa-band LTE on its resume, the One is a true globetrotter. There's a full set of a/b/g/n/ac Wi-Fi standards on both 2.4GHz and 5GHz bands, Wi-Fi Direct, hotspot and DLNA sharing of media with supported devices like TVs and PCs.
NFC is supported and there's stereo Bluetooth 4.1, as well as microUSB 2.0 with On-the-go support.