Dual cameras, but only one is useful
The Nord N300 is an entry-level device and in recent years we have seen 48MP cameras trickle all the way down to this price segment. The Nord N300 is no different - it's paired with a less useful camera.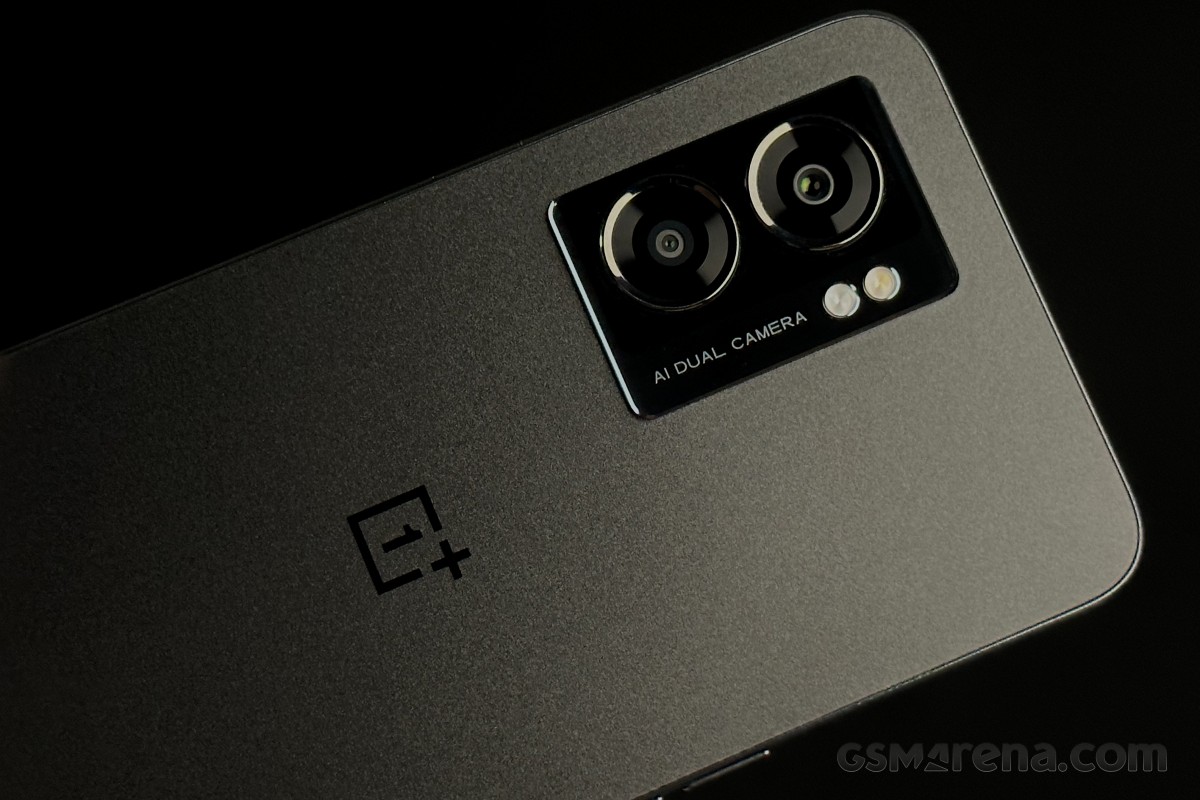 The N300 has two main cameras and one selfie camera. The 48MP main camera has an f/1.8 aperture lens and outputs 12MP images with 4 to 1 pixel binning. It can also take full-resolution JPEGs. Meanwhile, the useless secondary 2MP camera is for capturing depth information, solely used when taking portrait photos.
We do wish OnePlus opted for a basic but more useful 8MP ultrawide camera here instead, as we have come to expect one across most price points.
The front facing camera, meanwhile, is a 16MP sensor with f/2.0 aperture and fixed focus lens.
Camera app
The camera app is easy to use. There are a few camera modes, including Night, Video, Photo, Portrait, Pro, Pano, Slo-mo, and Time Lapse. There's also an Extra HD shooting mode that upscales a photo to 108MP, not that you'd want to do that with this camera.
The standard photo mode has toggles for HDR, AI processing, 48MP mode, and flash. There's also a shortcut for the retouching effect and some built-in filters. There are also options for a timed shutter and to change from the native 4:3 aspect ratio to either 1:1, 16:9, or fullscreen.
The Camera settings let you add a watermark, grid lines, a level, option to mirror the selfies, and you can enable to "tap to capture" or "show palm". HEVC recording is also an option. The camera will also display a dirty lens warning when taking photos.
Daylight photo quality
Daytime photos shot with the 48MP camera are output as 12MP images, and the resulting photos are decent enough. In ideal lighting, most images appear sharp with good dynamic range, but details may look soft upon closer inspection. Plus, we noticed color fringing in some of the more demanding scenes where there are both light and dark areas.
We didn't see any issues with white balance; the phone was able to consistently capture accurate white points and render colors properly. Colors are pleasing to the eye and not too saturated. Dynamic range could be better, but good enough for the price point. Contrast is good as well.
The Nord N300 has an AI toggle in the camera app, which outputs punchier colors and exposes the image to look brighter overall by lifting shadows and some midtones. There's also some extra sharpening that may result in more noise and, in some cases, more color fringe. The added saturation may make the images appear a tad magenta toned.
With AI turned on, greens are brighter and more vivid, blues are deeper, but if the highlights are white clouds, they can become clipped and wash out color. In most cases, shots with the AI turned on are better suited for enjoying on social media.
We also took some of the shots in full-resolution mode. You can still toggle the AI mode when shooting full-resolution photos.
Full-resolution images certainly capture more detail than the default way. Upon closer inspection, we can see that these images captured the details softly but then sharpened in post-processing. There is also a noticeable amount of noise throughout images here as well - though just visible when pixel peeping.
Like with regular shots, 48MP shots with AI-enabled are more vivid, and generally brighter than their non-AI-enabled counterparts. There's no difference in the amount of noise - if anything, it may be a little more noticeable when peeping due to the brighter shadows.
The best time to use AI is when there's a challenging lighting situation, such as when shooting a building against a background that's brighter than the subject.
2X Zoom
There's no dedicated zoom camera on the Nord N300, but there's a 2X zoom preset in the camera app. Here are some shots captured with the camera mode.
Zoomed images look great. There's some more noticeable noise when pixel peeping, and there's some added sharpness to compensate for the crop of the main camera. Resolved details aren't the best, but the images' processing does a good job of hiding that.
Like with the other modes, AI mode can be enabled with the 2X camera as well.
Like with the 1X shots, those taken with the AI toggled on will have more vivid colors and brighter overall images thanks to more exposed shadows and high contrast.
Portraits
Portrait mode photos can only be captured in the camera's full 1X view, though we wish there was an option for 2X portraits. Anyway, here are some portrait photos.
Portrait photos have nice bokeh that does take some of the depth sensor's information into account for a more natural-looking photo, which we do appreciate.
Selfies
The front-facing camera captures good-looking selfies with nice colors and plenty of details in good lighting conditions.
Exposures are well managed with good colors and great contrast. Selfies look most flattering in soft lighting, and the dynamic range is good. Generally, selfies are flattering, but details look crunchy when pixel peeping. The photos are suitable for social media.
Portrait selfies show this camera's weakness, particularly if you are taking selfies against bright backgrounds. Clipping highlights in the background look better when synthetic bokeh is applied to the image.
Background aside, subject separation is generally okay. Glasses and hats will trip the subject line, though.
Video quality
Both the main and front cameras on the N300 max out at 1080p@30fps. Neither camera is optically nor electronically stabilized, so the video is going to be shaky whenever you go handheld. As you can tell in the video, even a tripod on a windy day can shake things up badly.
The main camera can capture 1080p video at up to 30fps with the option to switch to 2X zoom, though it will crop from the same camera.
We figured we'd try to test the selfie camera's video, but sadly it has no electronic image stabilization, so the video will always come out shaky.