Oxygen OS 12
The Android 12 update was not well received by OnePlus customers when it initially launched. It had major bugs, and the look and feel were drastically different than what OnePlus users were accustomed to.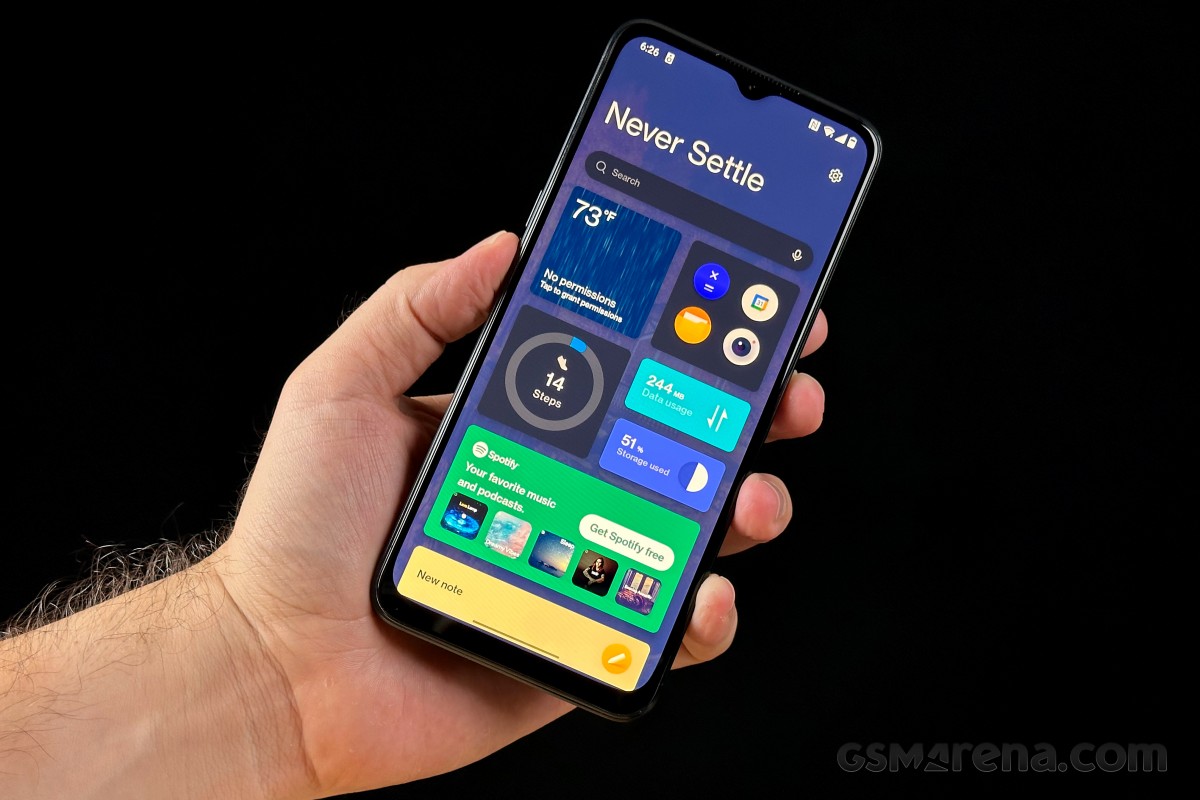 Stability and performance of OxygenOS 12 are better now. Although it no longer has a stock-Android vibe, Oxygen OS 12 is still feature-rich with plenty of things to customize.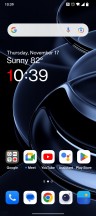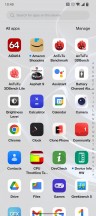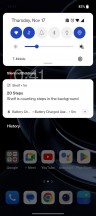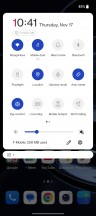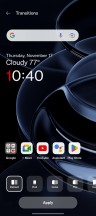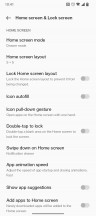 Home screen • App drawer • Notifications • Quick settings • Customize: Home screen
You can choose between gesture and button navigation. There are a couple of layouts for button control, and there are some customization to the behavior for gesture navigation.
Like many Android devices that T-Mobile sells, the Nord N300 comes with a second newsfeed. This one contains "curated" content from T-Mobile, including TV shows and movies, with ads supporting T-Mobile's free content that ranges from movies and TV shows to news (video and written articles) and sports.
One unique element of Oxygen OS is the "OnePlus" shelf. A quick pulldown from the upper right corner of the corner reveals a drawer that you can customize with widgets, apps, or action shortcuts. You can also disable the feature altogether.
Aside from Shelf, Work Life Balance and Scout are two more core features of OxygenOS. Work Life Balance lets you create notification profiles for different scenarios like Work or Study time. Scout is a universal search built into the launcher. It searches for apps, documents, contacts, news, articles, weather, nearby locations, SMS, notes, and more.
App switching brings you to a carousel of apps. Tapping on the three-dot-menu lets you Lock the app, so the RAM manager doesn't close it in the background, start split screen for supported apps, or tap on "Manage" to see which apps are locked.
There's a "Dirac Audio Tuner" that lets you choose from preset sound profiles. There's no custom EQ, nor is there an option to disable the tuner. Otherwise, there's Live Captioning available, as well as settings for haptic feedback.
You'll find plenty of preloaded apps on the Nord N300, including a calculator, Clone Phone for data transfer, My Files, Notes, Recorder, Weather, and Zen Mode.
Performance
MediaTek's Dimensity 810 is a midrange chipset that we've encountered before. It's a 5G chipset built on the efficient 6nm manufacturing process. It has two quad-core clusters: four "big" Cortex A-76 cores clocked at 2.4GHz and four "little" Cortex-A55 cores running at up to 2.0GHz.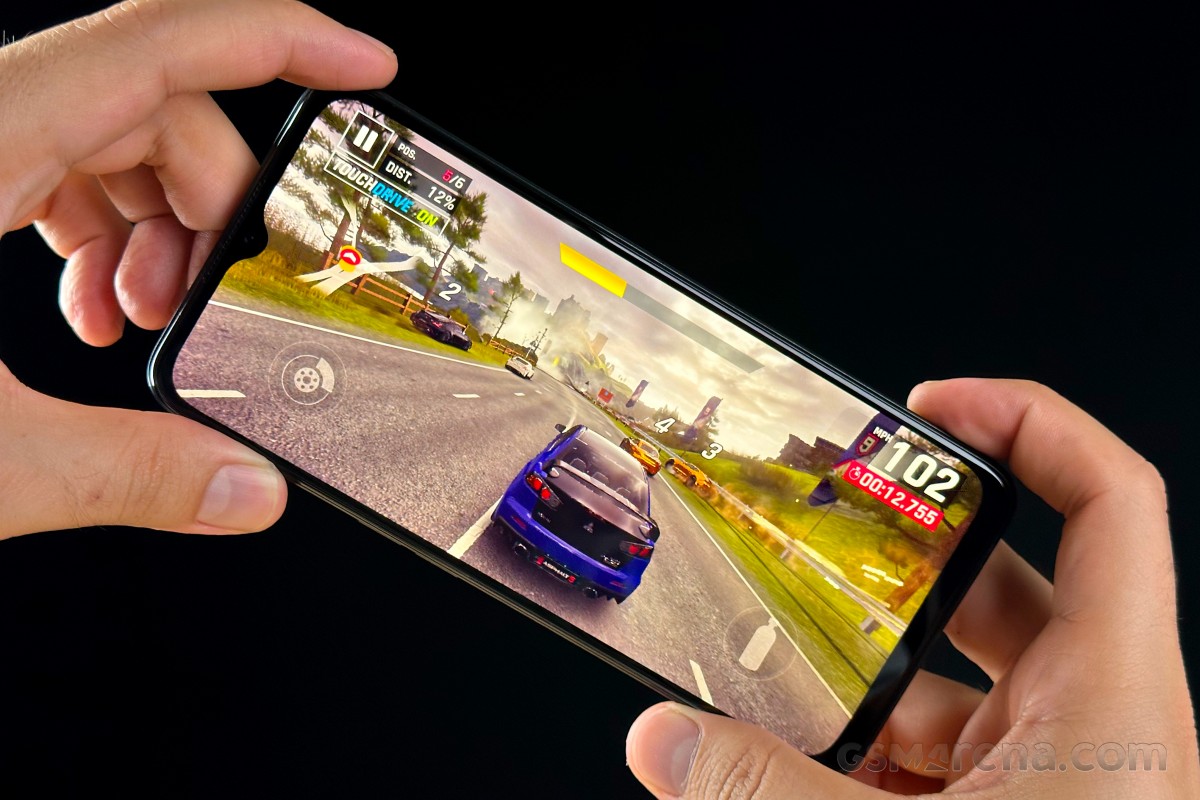 Graphics are powered by a modest Mali G-57 MC2 with two cores, which likely won't yield any impressive benchmark scores. Most games these days, even graphic-intensive ones, are playable on midrange devices like this one. The display can handle gaming at 90fps, but only for a select handful of games.
In CPU benchmarks, the Nord N300's Dimensity 810 managed to get slightly higher single-core scores when compared to the Snapdragon 680. Multi-core scores were comparable to other devices of this class: devices with both the Snapdragon 680 and Snapdragon 695.
GeekBench 5 (multi-core)
Higher is better
Apple iPhone SE (2022)
4629
Xiaomi 12T
3756
OnePlus Nord N20 5G
1945
Nokia G60 5G
1908
OnePlus Nord N300 5G
1780
Oppo Reno7
1653
Samsung Galaxy A23
1632
Realme 9
1601
GeekBench 5 (single-core)
Higher is better
Apple iPhone SE (2022)
1729
Xiaomi 12T
925
OnePlus Nord N20 5G
676
Nokia G60 5G
668
OnePlus Nord N300 5G
596
Samsung Galaxy A23
380
Realme 9
380
Oppo Reno7
380
The GPU performed well in its range, and that's partly thanks to the display's lower 720p+ resolution. Even so, the promise of gaming is quite good with decent frame rates, though do expect to see some reduced graphics to achieve them.
GFX Car Chase ES 3.1 (onscreen)
Higher is better
Apple iPhone SE (2022)
60
OnePlus Nord N300 5G
23
Nokia G60 5G
17
OnePlus Nord N20 5G
16
Realme 9
7.3
Oppo Reno7
7.2
Samsung Galaxy A23
6.7
GFX Car Chase ES 3.1 (offscreen 1080p)
Higher is better
Apple iPhone SE (2022)
97
OnePlus Nord N20 5G
20
Nokia G60 5G
20
OnePlus Nord N300 5G
15
Samsung Galaxy A23
8.3
Realme 9
8.2
Oppo Reno7
8.1
GFX Manhattan ES 3.1 (onscreen)
Higher is better
Apple iPhone SE (2022)
60
OnePlus Nord N300 5G
51
Nokia G60 5G
30
OnePlus Nord N20 5G
29
Oppo Reno7
14
Realme 9
13
Samsung Galaxy A23
12
GFX Manhattan ES 3.1 (offscreen 1080p)
Higher is better
Apple iPhone SE (2022)
146
OnePlus Nord N20 5G
35
Nokia G60 5G
34
OnePlus Nord N300 5G
27
Oppo Reno7
20
Samsung Galaxy A23
15
Realme 9
15
3DMark SSE Vulkan 1.0 (offscreen 1440p)
Higher is better
OnePlus Nord N20 5G
2744
OnePlus Nord N300 5G
2585
Samsung Galaxy A23
1261
Antutu 9 fared reasonably well. The score sits right between the Snapdragon 680 and 695.
AnTuTu 9
Higher is better
Xiaomi 12T
780204
Apple iPhone SE (2022)
723486
Nokia G60 5G
402664
OnePlus Nord N20 5G
380672
OnePlus Nord N300 5G
335440
Realme 9
290097
Oppo Reno7
289250
Samsung Galaxy A23
273554
OxygenOS 12 lets you configure up to 3GB of additional RAM borrowed from the storage space. You may not feel a noticeable difference, but you may notice that apps will stay in the system memory for longer before they are purged from recent apps.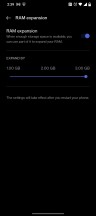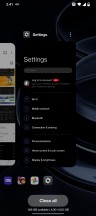 RAM expansion • Additional RAM shown at the bottom
Performance stability here is excellent. We saw no throttling throughout the 1-hour CPU test. Even under intense use, the Nord N300 stays surprisingly comfortable to the touch: the plastic body doesn't really get warm.
The 90Hz display and the Dimensity 810 make this a decent gaming device and one that you can expect to see pretty good frame rates with. Both casual players and children will be able to enjoy games on this device with no issues. More demanding games are possible but likely to come with a reduction in frame rate.
There's a game launcher included with Oxygen OS, and it lets you adjust the phone's resources when playing games in full screen. It even lets you tweak how the touch input behaves.