Display
The 6.53-inch display is of the IPS LCD kind, and it features a water-drop notch that houses a 16MP selfie camera. The display is the most representative of the device's 'budget factor' with a 1616 x 720 px resolution that will be noticeable to the trained eye. Good enough for most, but it might turn off a tech enthusiast. The display has a pixel density of 269 ppi with an aspect ratio of 20.15:9.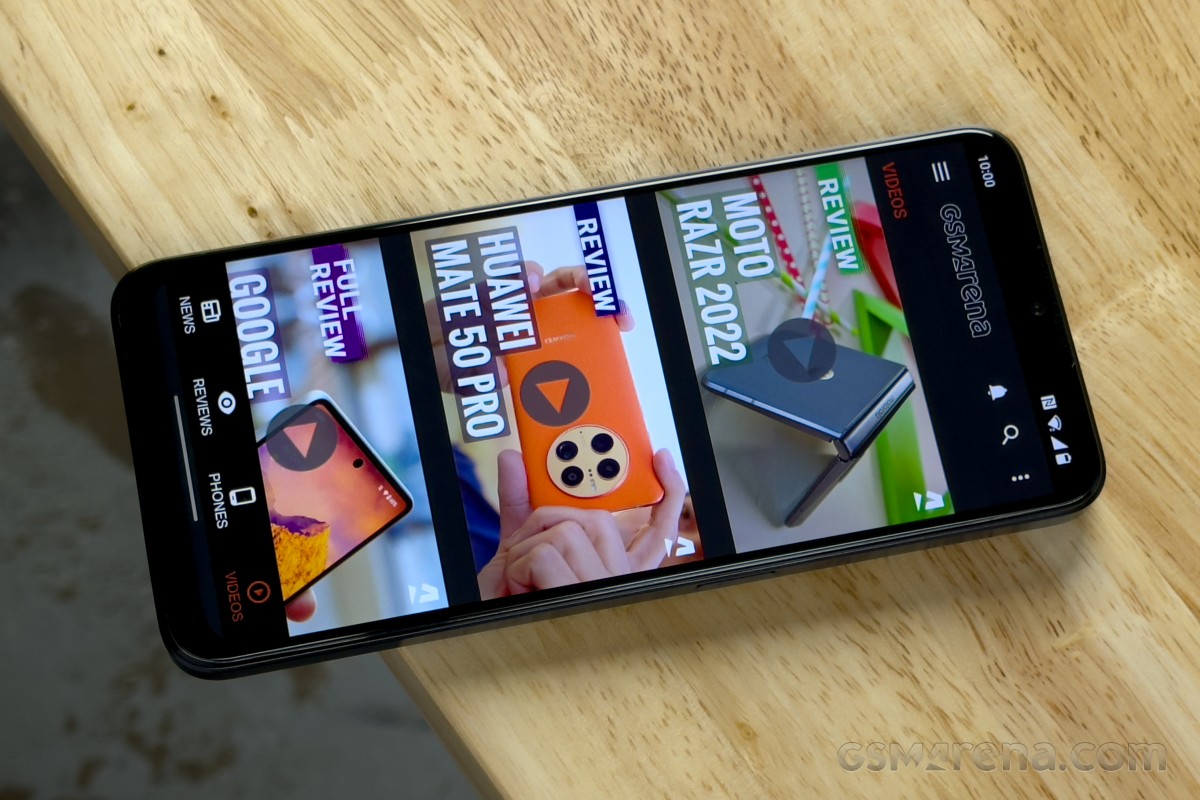 The display does support 90Hz refresh rate. We confirmed that the display will ramp up to 90Hz when scrolling or tapping around but will switch down to 60Hz after a few seconds. We also confirmed that the display will not stay limited to 60Hz when watching a YouTube video in PIP mode, but the YouTube app itself is limited to 60Hz when playing a video and scrolling through the comments, for example.
There's a setting that lets you disable the higher refresh rate to where it will revert to the standard 60Hz.
In the Display settings, you'll also find options for dark mode, hiding the notch, and you can set whether apps use the full screen or not. There's also an option for eye comfort (blue light filter), and video color enhancer.
The Nord N300 gets decently bright. In our display test, the LCD panel output 511 nits with the manual brightness slider and pumped out 623 nits with adaptive brightness enabled. The minimum brightness dropped all the way down to 1.4 nits.
Display test
100% brightness
Black,cd/m2
White,cd/m2
Contrast ratio
Xiaomi 12T (Max Auto)
0
954
∞
Sony Xperia 10 IV
0
683
∞
OnePlus Nord N20 5G (Max Auto)
0
647
∞
Realme 9 (Max Auto)
0
647
∞
Oppo Reno7 (Max Auto)
0
624
∞
OnePlus Nord N300 5G (Max Auto)
0.199
623.2
3132:1
Apple iPhone SE (2022)
0.425
605
1424:1
Xiaomi 12T
0
513
∞
OnePlus Nord N300 5G
0.339
511
1506:1
Samsung Galaxy A23
0.374
464
1241:1
OnePlus Nord N20 5G
0
461
∞
Realme 9
0
455
∞
Nokia G60 (Max Auto)
0.289
444
1536:1
Oppo Reno7
0
439
∞
Nokia G60
0.256
390
1523:1
Don't expect a perfectly tuned display here. The Nord N300 yielded an average deltaE of 6.1 with a maximum deviation of 12.2. Remember, a deviation of 1 or 2 is indistinguishable to the eye. The display shows whites and grays with a bluish-magenta cast while colors all lean cool. Otherwise, the "Natural" color profile shows slightly less saturated colors, and while the accuracy is a little better in the numbers, it is still not very close to accurate.
The most accurate reading we managed was in the Natural mode, with the color temperature slider moved all the way towards "warm". Even then, whites and grays remain cooler than the targets.
None of this will matter to the average user. Are the pixels visible? If you know what that means, then yeah, they're visible. This, however, doesn't take from the fact that videos and photos look pleasing to the eye. Average users will have no issues watching YouTube videos or scrolling social media apps. Viewing angles are great as well, with no visible color shifting.
Battery life and charging
This device is packed with a 5,000 mAh battery, and it achieved great battery endurance scores. In our lab tests, the Nord N300 achieved a respectable 114h of overall endurance. 3G talk time was 40:16h with strong web and video scores as well: 20:36h and 18:32h, respectively.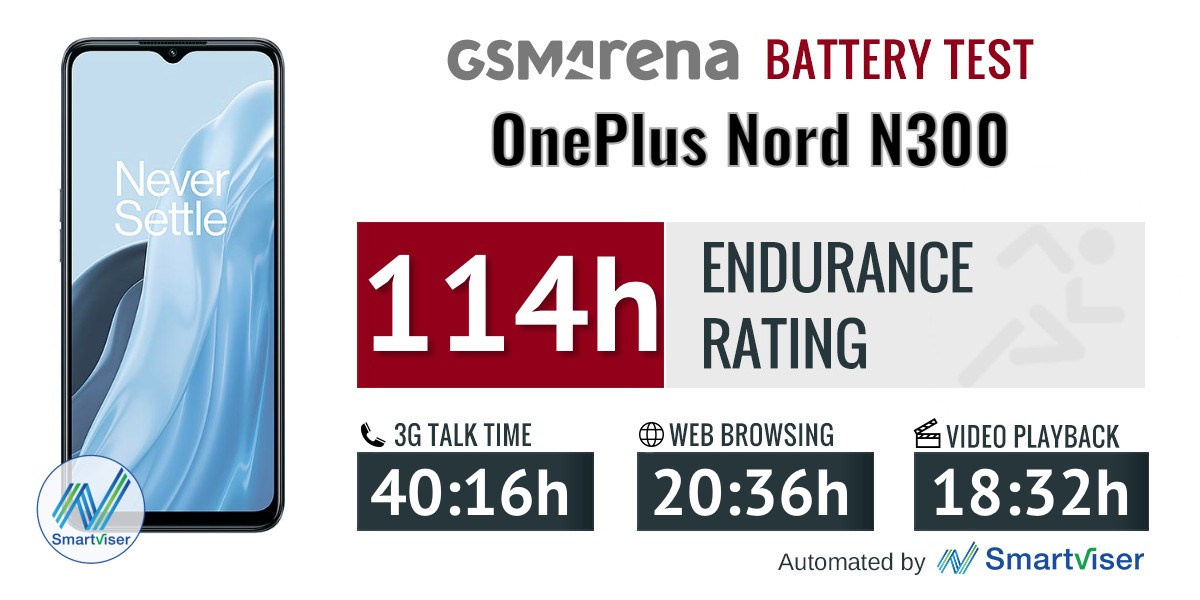 With its large battery and power-efficient 6nm chipset, the Nord N300 will not disappoint when it comes to battery life.
The Nord N300 comes included with a SuperVOOC 33W power adapter for its 5,000 mAh battery. During the first half hour of charging, the Nord N300 reached 51% from depletion. It took 1:14h to fully recharge the battery.
30min charging test (from 0%)
Higher is better
Oppo Reno8
90%
Apple iPhone SE (2022)
61%
OnePlus Nord N20 5G
57%
OnePlus Nord N300
51%
Oppo Reno7
50%
Realme 10
48%
Samsung Galaxy A23
32%
Time to full charge (from 0%)
Lower is better
Oppo Reno8
0:42h
OnePlus Nord N20 5G
1:08h
Oppo Reno7
1:10h
OnePlus Nord N300
1:14h
Realme 10
1:16h
Apple iPhone SE (2022)
1:18h
Samsung Galaxy A23
1:43h
There is an "Optimized night charging" option in the charger settings, but keep in mind that this won't fully charge the phone until the next morning. You'll see a notification when Optimized charging is enabled, and you'll have the option to override it. There's also an option for "Sleep standby optimization" that reduces background usage overnight while you're asleep, and "High-performance mode" keeps the system in high gear.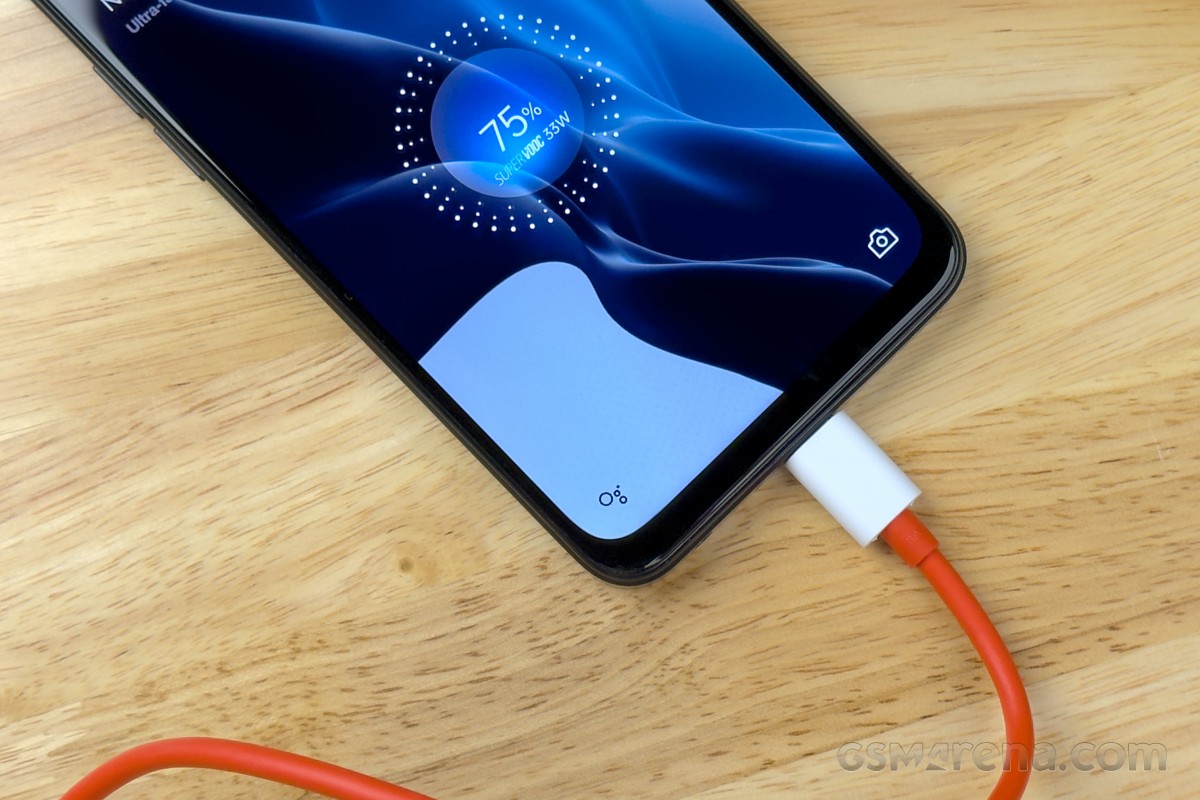 In the mid and entry-level price points in the US, fast charging of this caliber does not come standard - well... in the US market, at least.
Loudspeaker
Despite its price point, the Nord N300 is capable of outputting stereo sound. It combines the downward-facing loudspeaker, and the in-call receiver acts as the secondary speaker. The top speaker is always the left channel and doesn't flip when turning the phone the other way around.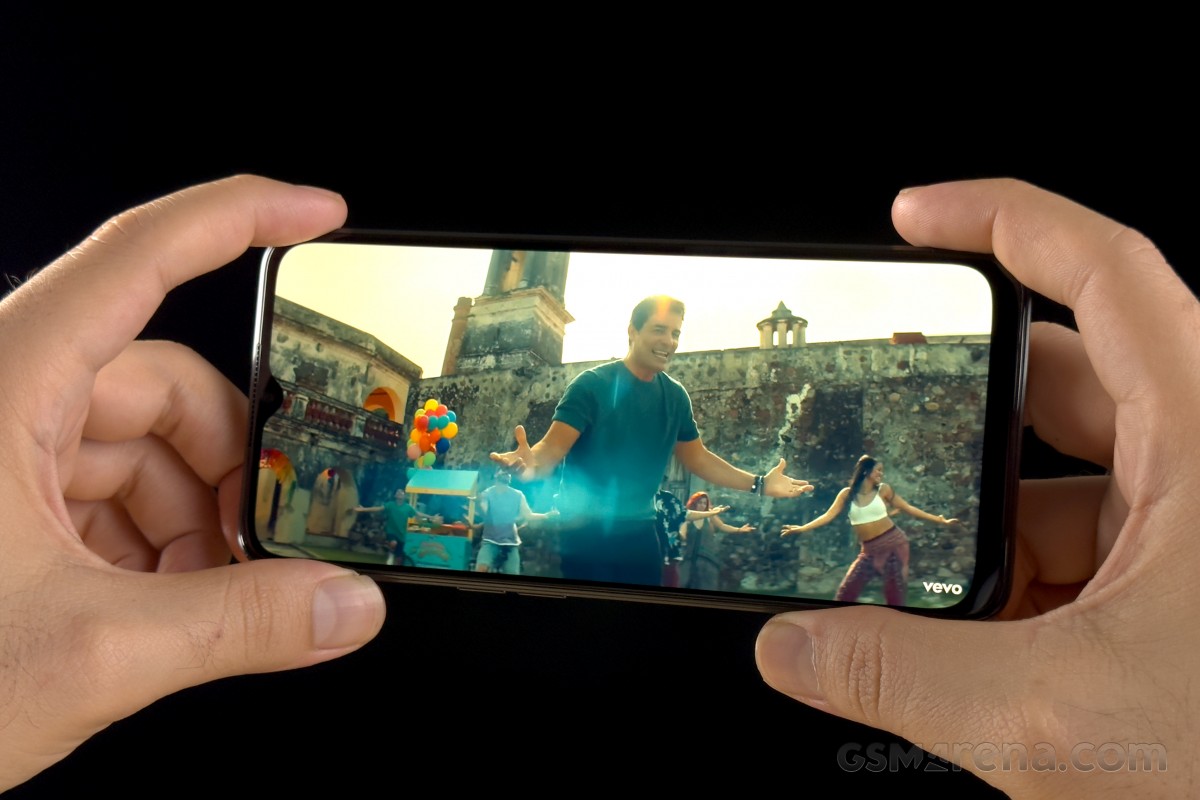 As is the case with most loudspeakers with this setup, watching videos can sound unbalanced as the lower speaker is always louder than the earpiece. High-energy genres of music can sound distorted above 90% volume. Spoken audio sounds good and clear at maximum volume. Although we're unable to perform our usual loudspeaker tests outside of our labs at HQ, we can say that the Nord N300's speakers are loud enough.