AMOLED
With the Nord N20, the display has been updated to an AMOLED panel. Although it drops the 90Hz refresh rate support from the N10's LCD screen, we'd still take a 60Hz AMOLED screen over a 90Hz LCD any day. Plus, the switch to an AMOLED screen made it possible to include an in-display fingerprint scanner - not a common feature to find on a 5G smartphone of this price point.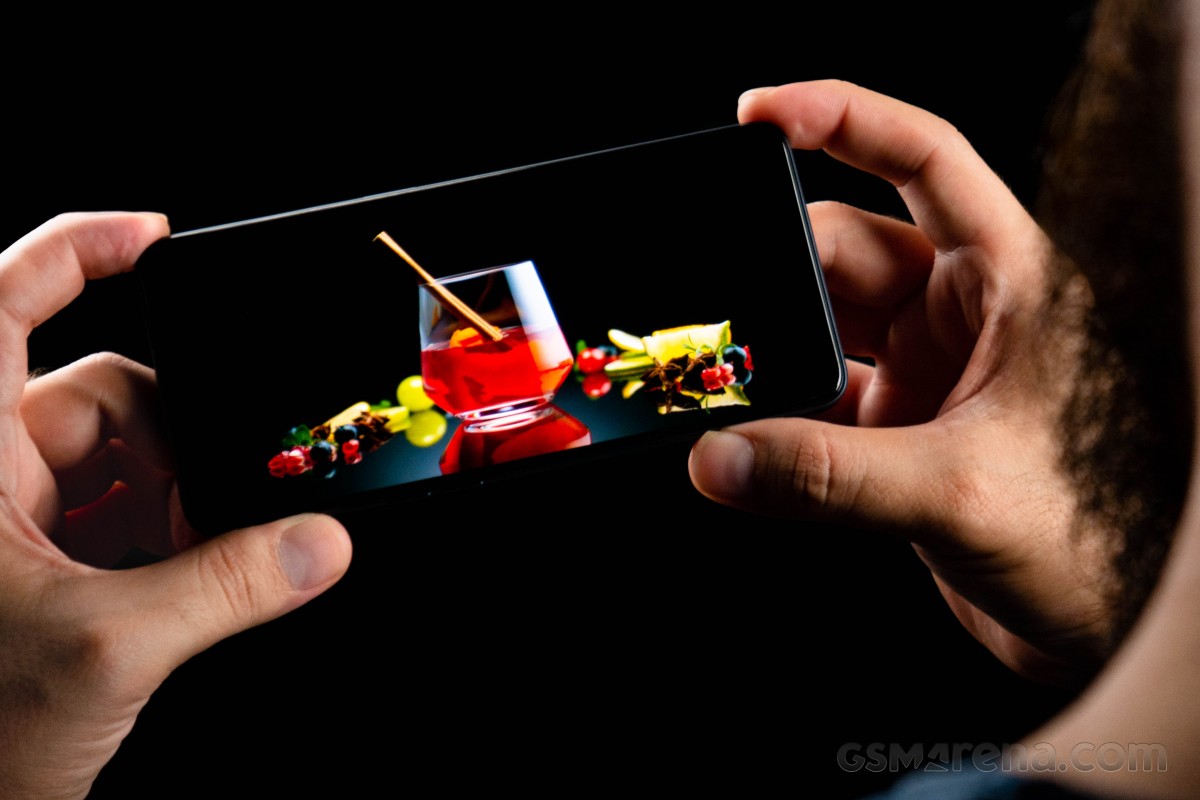 This is a 6.43-inch AMOLED panel with a resolution of 1080x2400 px. With an aspect ratio of 20:9, the display is tall and amply sized for consuming content or scrolling through feeds. The upper left corner of the display has a punch-hole cut out for the 16MP selfie camera. The cover glass is made by Schott and called Xensation Up.
The N20's display has two color profiles and an adjustable color-temperature slider. Not that we're expecting perfect color accuracy in this class, but the AMOLED panel was decent, though not as accurate as the N10's LCD display was. Even so, the display's color rendering and contrasty picture is good enough. Viewing angles are also quite good on this panel, we've not experienced much color-shift here.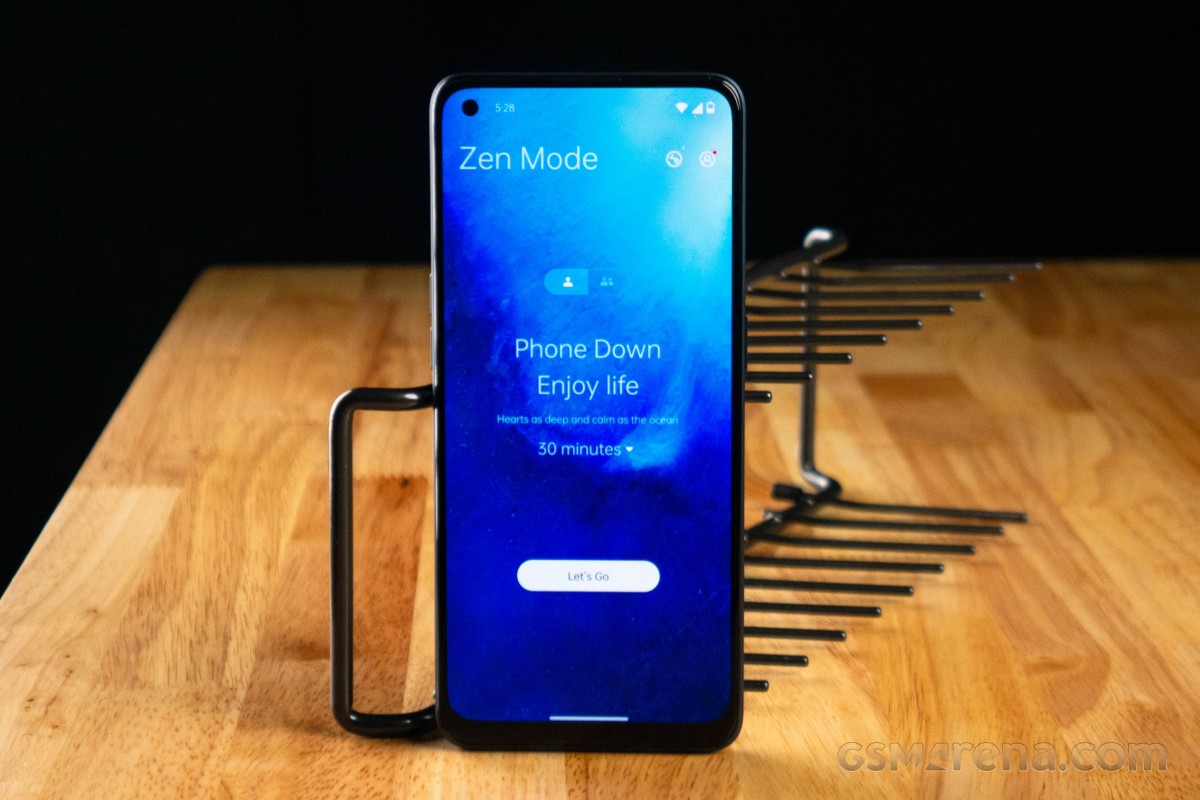 The good news is that this panel is brighter than that of its predecessor's. Using the manual brightness adjustment slider, the Nord N20 achieved 461 nits of brightness at the maximum level. Switching on the adaptive brightness setting (Smart Ambient Brightness), yielded a higher maximum brightness of 647 nits.
Display test
100% brightness
Black,cd/m2
White,cd/m2
Contrast ratio
Xiaomi Mi 11T (Max Auto)
0
798
∞
Poco X4 Pro (Max Auto)
0
754
∞
Poco F3 (Max Auto)
0
716
∞
Motorola Edge 20 (Max Auto)
0
650
∞
OnePlus Nord N20 5G (Max Auto)
0
647
∞
OnePlus Nord 2 5G (Max Auto)
0
633
∞
Apple iPhone SE (2022)
0.425
605
1424:1
Poco F3
0
511
∞
Xiaomi Mi 11T
0
498
∞
Samsung Galaxy A32 5G (Max Auto)
0.338
497
1470:1
Poco X4 Pro
0
477
∞
Motorola Edge 20
0
466
∞
OnePlus Nord N20 5G
0
461
∞
OnePlus Nord N10 5G
0.304
440
1447:1
OnePlus Nord 2 5G
0
438
∞
Samsung Galaxy A32 5G
0.286
426
1490:1
That extra boost in brightness gives the N20 an edge in sunlight legibility. The display is not difficult to see outdoors.We can see the device well without having to squint or cover the display with a palm.
We measured an average deltaE of 3.8 and a maximum deltaE of 9.6 using the default "Vivid" setting based on the DCI-P3 color space. The most accurate color mode is the "Gentle" one based on the sRGB color space. The Gentle profile measured an average deltaE of 3.2 with a maximum detlaE of 9.3, though pulling the slider all the way to the warm side yielded an average deltaE of 2.7 and a maximum deltaE of 6.1. By the way, all the maximum deviations were measured by the whites, which all carried a magenta-cast, even at the warmest setting. Perhaps a tint slider could have helped in this minor regard.
Battery life
There's a 4,500 mAh battery cell in the N20 5G with support for 33W SuperVOOC charging. We expect to see excellent battery endurance from this device due to the more efficient Snapdragon 695 5G and switch to an AMOLED panel.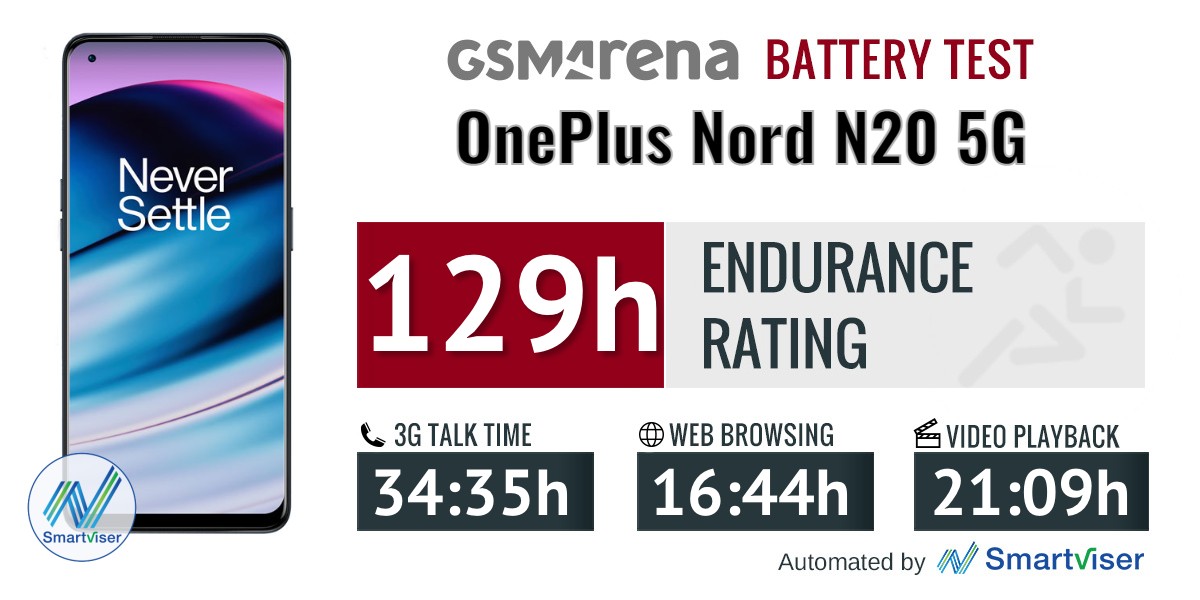 The Nord N20 exceeded our expectations in battery performance. We can't say we're surprised however, as our experience with the handful of other Snapdragon 695-powered smartphones is that this 6nm chipset is a marathon runner. We are also happy with the screen-on times and standby power draw - high scores all around.
Our battery tests were automated thanks to SmartViser, using its viSerDevice app. The endurance rating denotes how long the battery charge will last you if you use the OnePlus Nord N20 5G for an hour of telephony, web browsing, and video playback daily. More details can be found here.
Video tests carried out in 60Hz refresh rate mode. Web browsing test done at the display's highest refresh rate whenever possible. Refer to the respective reviews for specifics. To adjust the endurance rating formula to match your own usage patterns check out our all-time battery test results chart where you can also find all phones we've tested.
Fast charging
The included charger topped up the N20's battery in one hour and eight minutes while a 30-minute charge managed to regain 57% battery life. A full charge was achieved in 1:08h, while not as impressive as its Chinese competition, it is admirably fast amongst the other budget 5G competitors on display at the T-Mobile store.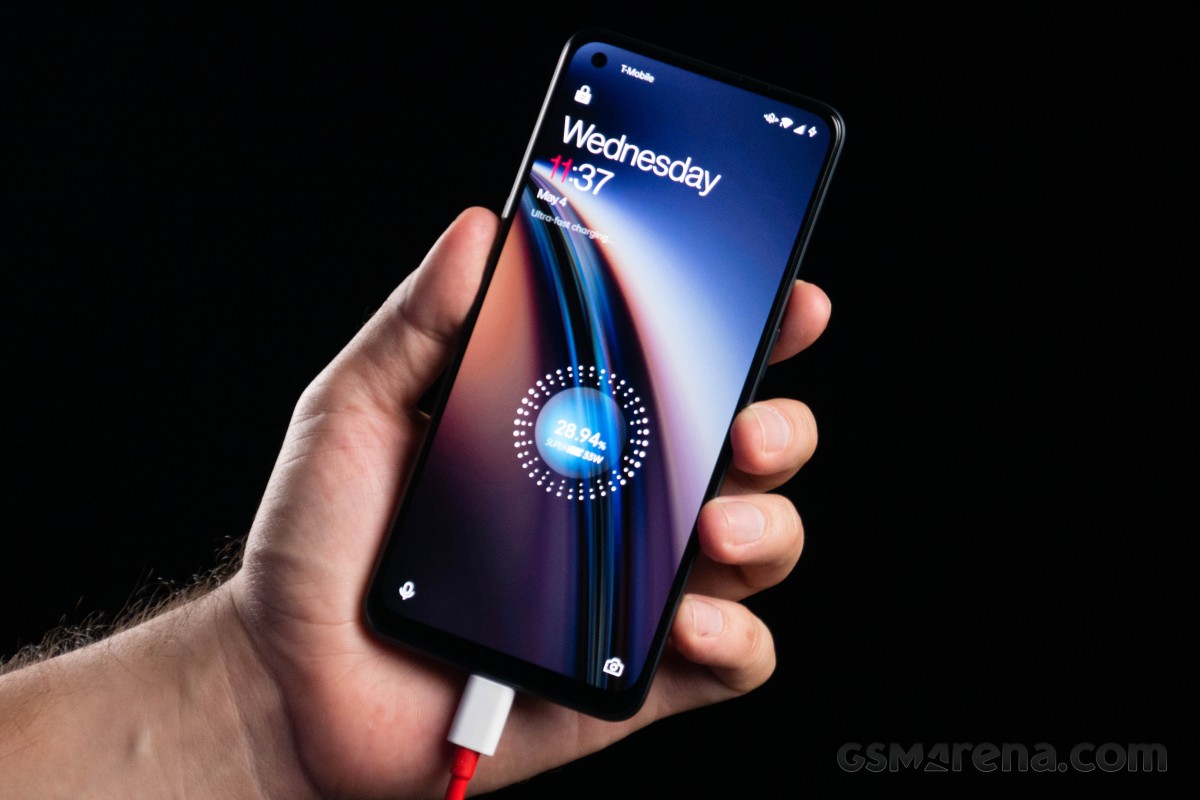 30min charging test (from 0%)
Higher is better
Realme GT Master
100%
OnePlus Nord 2
98%
Honor Magic4 Lite
77%
Xiaomi Redmi Note 11 Pro 5G
74%
Motorola Edge 20
68%
Poco F3
67%
OnePlus Nord N10 5G
65%
Apple iPhone SE (2022)
61%
OnePlus Nord N20 5G
57%
Realme 9 Pro
52%
Poco X3 Pro
50%
Samsung Galaxy A32 5G
23%
Time to full charge (from 0%)
Lower is better
Realme GT Master
0:30h
OnePlus Nord 2
0:31h
Xiaomi Redmi Note 11 Pro 5G
0:45h
OnePlus Nord N10 5G
0:52h
Poco F3
0:56h
Honor Magic4 Lite
0:59h
Motorola Edge 20
1:01h
OnePlus Nord N20 5G
1:08h
Poco X3 Pro
1:08h
Realme 9 Pro
1:14h
Apple iPhone SE (2022)
1:18h
Samsung Galaxy A32 5G
2:24h
The N20 has a few power-management features like optimized night charging, standby battery saving modes, and a high-performance mode.
Loudspeaker
The Nord N20 has a single loudspeaker that's amply loud for notifications, calls, and alerts. The sound quality is nothing to write home about, though. Mid volume is okay, speaker is very clear for listening to dialogue from TV shows and podcasts with minimal distortion at higher volumes. Music doesn't sound as good, though. There's not enough detail in the lower and treble ranges - but will otherwise do just fine for an impromptu TikTok dance session.