Starting last year with the 7 Pro, OnePlus has been all about the smoothness of its 'fluid displays', featuring 90Hz and 120Hz refresh rates. This features prominently in the company's marketing for all its recent devices... except one.
We're talking about the Nord N100, unveiled alongside the Nord N10 in late October. We've already received the N10 for review and are dutifully working on it, by the way. The Nord N100's spec list mentions a 60Hz panel, although that was always surprising to us, given how it's basically just a slightly tweaked version of the Oppo A53 and A53s, and both of those phones have 90Hz screens.
The mystery has been demystified today by OnePlus itself, with the company confirming that the N100 does indeed have a 90Hz panel. The Refresh rate selector is also available in Settings, although the default option is 60Hz.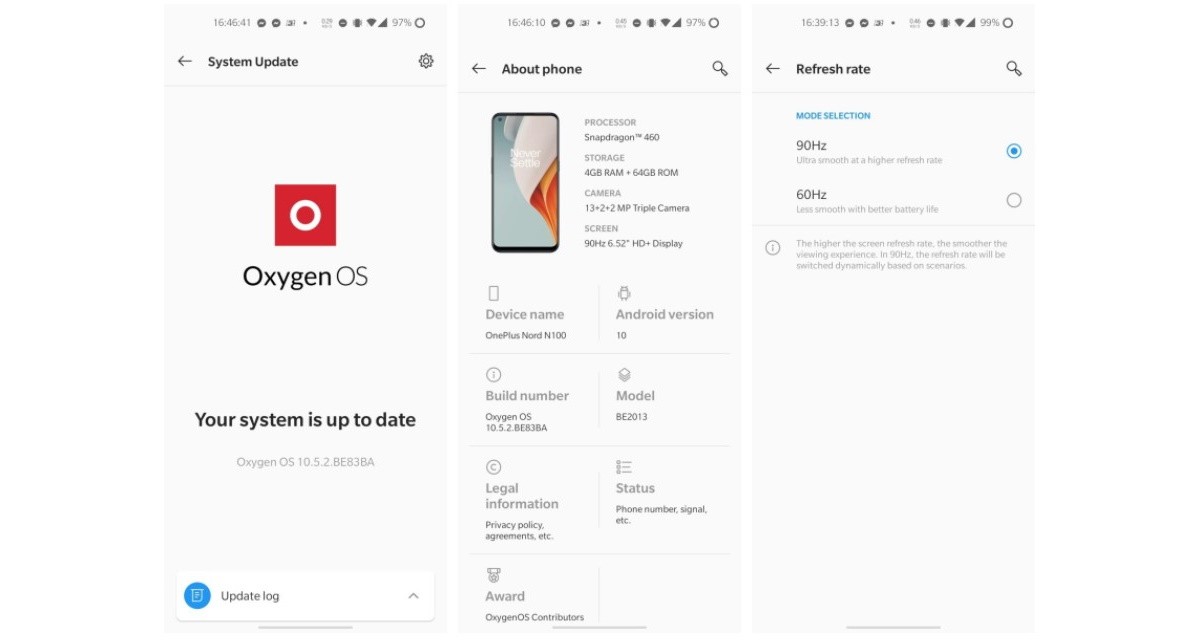 After Android Authority purchased a Nord N100 in the UK and found it to have a 90Hz panel, OnePlus retracted its previous statements about the phone shipping with a 60Hz screen, now saying that "the N100 is equipped with a 90Hz display. Actual refresh rate depends on settings, applications used, and processing limitations".
That final phrase there might hold the clue as to why OnePlus hasn't marketed this feature for this phone - "processing limitations". Its Snapdragon 460 chipset may not be capable of providing a smooth enough experience all the time if you go with the 90Hz setting, which could be why the company just pretended this wasn't available in the first place.
Even if that's the case, it's a weird situation to be in to purposefully discount something present on a device, especially since marketing departments usually love doing the exact opposite - making even gimmicky features sound like things you couldn't possibly live without.
?
They don't care about update no. X which is just an illusion that your device is running the latest. IOS updates are 10 years behind Android. Even 10 years later, iOS doesn't even have proper file management. Functionally handicapped me...
J
more features and functionality? Like how? 90% of the people who update don't care about the new features of the new updates, they care about security and longevity management.
?
Phones don't automatically stop working after 3 years. They just don't get future updates. Android from 6 years back already has more features and functionality than current iOS. This is why no one cares about updates on Android.
ADVERTISEMENTS