Fluid 90Hz AMOLED display
OnePlus pays a lot of attention to the choice of displays. Midrange or not, the Nord still managed to benefit from this extra care and attention. At 6.44-inches in diagonal and lacking curved sides, the Fluid AMOLED panel on the Nord is a bit smaller and less "trendy" than that found in the OnePlus 8. Still, it delivers in pretty much every other important aspect.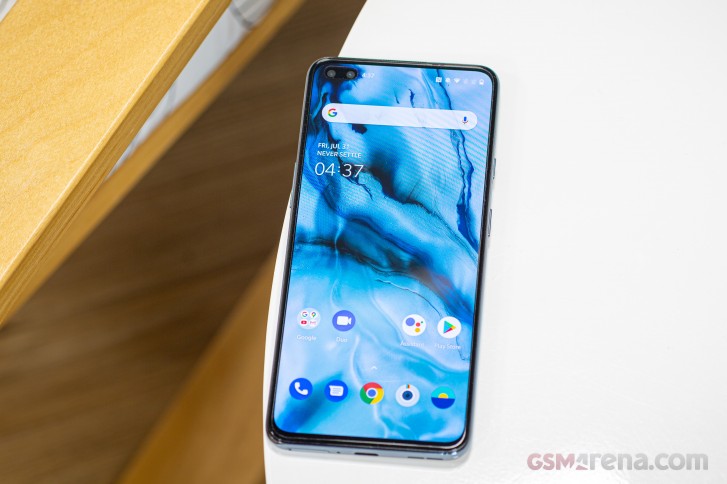 Starting with image sharpness and resolution, you get the familiar FullHD+ (1080 x 2400 px.), 20:9 affair, typical for non-Pro OnePlus devices. Since the OnePlus Nord has a slightly smaller panel, its pixel density actually ends-up being slightly higher than the OnePlus 8, at a respectable and perfectly crisp 408ppi. No complaints there.
Thanks to OLED tech, the Nord delivers technically infinite contrast, with perfect blacks. Quantifying brightness on the OnePlus Nord is a bit hard and that's an aftereffect of the advanced automatic adjustment systems, put in place by OnePlus. The Nord has 2048 levels of automatic brightness and advertises advanced awareness and smart brightness response, based on both ambient lighting conditions and currently displayed content.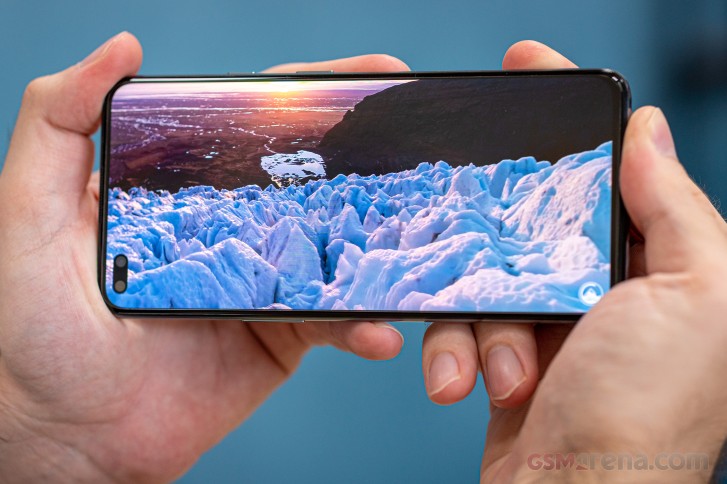 These automatic brightness systems, or at least a subset, continue to be active even when the auto brightness toggle is turned off in settings. We can definitely appreciate the positive aspects of such an approach. For instance, looking at a mostly white webpage for a few seconds in a dark room often results in the Nord automatically lowering its brightness, even with auto brightness off. That's a justified move in practical, real-world terms, though we are not necessarily ok with the software essentially overriding the user in this way.
As far as our testing procedures are concerned, we had a tough time properly setting the display to a fixed 200 nits for battery test runs. Just something worth keeping in mind.
Display test
100% brightness
Black,cd/m2
White,cd/m2
Contrast ratio
Oppo Reno3 Pro (Max Auto)
0
892
∞
Xiaomi Poco F2 Pro (Max Auto)
0
854
∞
Oppo Reno4 Pro (Max Auto)
0
843
∞
OnePlus 8 (Max Auto)
0
803
∞
OnePlus Nord (Max Auto)
0
756
∞
OnePlus 7T (Max Auto)
0
743
∞
Realme X50 Pro 5G (Max Auto)
0
635
∞
Huawei P30 (Max Auto)
0
635
∞
Xiaomi Mi Note 10 Lite (Max Auto)
0
596
∞
Motorola One Fusion+ (Max Auto)
0.4
562
1405:1
Motorola Moto G 5G Plus (Max Auto)
0.466
543
1165:1
OnePlus 7T
0
525
∞
Realme X50 Pro 5G
0
525
∞
Oppo Reno3 Pro
0
522
∞
Sony Xperia 10 II (Max Auto)
0
520
∞
Xiaomi Poco F2 Pro
0
516
∞
Samsung Galaxy A71 (Max Auto)
0
515
∞
Oppo Reno4 Pro
0
508
∞
vivo X50 Pro (Max Auto)
0
503
∞
OnePlus 8
0
496
∞
vivo X50 Pro
0
489
∞
Motorola One Fusion+
0.319
454
1423:1
Huawei P30
0
449
∞
Motorola Moto G 5G Plus
0.349
443
1269:1
Xiaomi Mi Note 10 Lite
0
424
∞
Realme 6 Pro
0.318
421
1324:1
Samsung Galaxy A71
0
398
∞
Sony Xperia 10 II
0
379
∞
OnePlus Nord
0
323
∞
We managed to measure a maximum brightness of a rather unimpressive 323 nits on the Nord, in its default vivid color mode and with all of the auto brightness systems turned-off. This is a case of the Nord being a bit too smart for its own good, as far as synthetic measurements go. You shouldn't judge it harshly based on that number. What you should note, though, is the impressive 756 nits of brightness we got out of the Nord in max auto mode, when in bright ambient light. Top stuff. The Nord's screen is great to use outdoors, even in direct sunlight.
Color reproduction is potentially an even more-complicated affair than brightness on the Nord. You get a choice between vivid, natural, AMOLED Wide Gamut, sRGB and Display P3 modes in the settings menu, as well as custom white point correction, with any of the latter three.
The out-of-the-box vivid mode should be great for most users, delivering a nice balance between "punchy" OLED color science and a respectably-low average deltaE of 5.5 and a maximum of 9.1. Natural brings down otherwise more exaggerated colors, like green and results in a more balanced, but a bit "duller" average deltaE of 3.5 and a maximum of 5.8. That's not technically "color-accurate", but again - a good balance for regular users. Beyond that, in the advanced menu, you can either go with AMOLED Wide Gamut, which boosts most colors for an even punchier look.
If color-accuracy is what you are really after, there are the Display P3 and sRGB profiles, clearly meant to go after the two respective color spaces. We tested them against the corresponding patterns, with good, but not perfect results. Our Nord unit just seemed to have a slightly colder profile out of the box, regardless of color mode. Thankfully, we were able to address that fully with some fiddling with the custom white point, ending up with great DCI-P3 color accuracy with an average deltaE of 2 and a maximum of 4.4.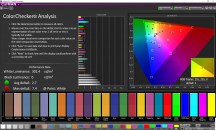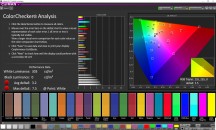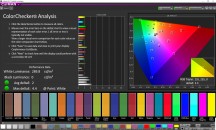 sRGB color mode • Display P3 color mode • Display P3 color mode, corrected for warmth
Calibration might not be perfect from the factory on a per-unit basis, but we still award the Nord top points in this department for both its versatility and the fact that we managed to tune it with little effort. Here are our custom white point settings, for reference.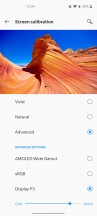 Custom while point settings for DCI-P3 accuracy
In more practical color aspects, the OnePlus Nord has HDR 10+ certification. Its HDR reproduction is far from the best we have seen on a phone, but we can't expect more from a midranger. Widevine L1 support means that you can enjoy HDR content from the major providers in HD and high resolution.
As of writing this review, certain OnePlus 8 units are experiencing software issues with Widevine certification, with some users reporting a drop to Widevine L3, without any intervention on their end. In light of that, we double-checked. As of writing this review, our OnePlus Nord unit has no such issues.
90Hz refresh rate assessment and behavior
A 90Hz refresh rate is kind of the expectation on a modern OnePlus phone. The Nord delivers in that respect, as well. Toggling ON the 90Hz mode in the display settings has a tangible effect on snappiness and responsiveness. Of course, high refresh rate does not make the phone run any quicker, it's just perceived smoothness. But that, alone, is enough to make the user experience more enjoyable even boost your own speed in certain actions, like typing and swiping, purely due to the immediacy of the visual response you get. The jump from 60Hz to 90Hz is not as significant as going straight to 120Hz or 144Hz, but is noticeable and appeciated. Especially if this is the first high refresh rate display in your life.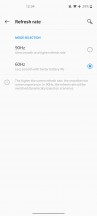 60Hz and 90Hz refresh rate settings
There is a lot of subtlety that goes into implementing high refresh rate on a modern Android device that often gets left out. Some manufacturers, like Samsung, opt for a very straight-forward approach, with little to no auto-detection and "trickery" behind the scenes. You get the refresh rate you set. On the opposite side of the spectrum, OnePlus is one of the companies that tend to put a lot of subtle nuances and automation its high refresh rate implementation.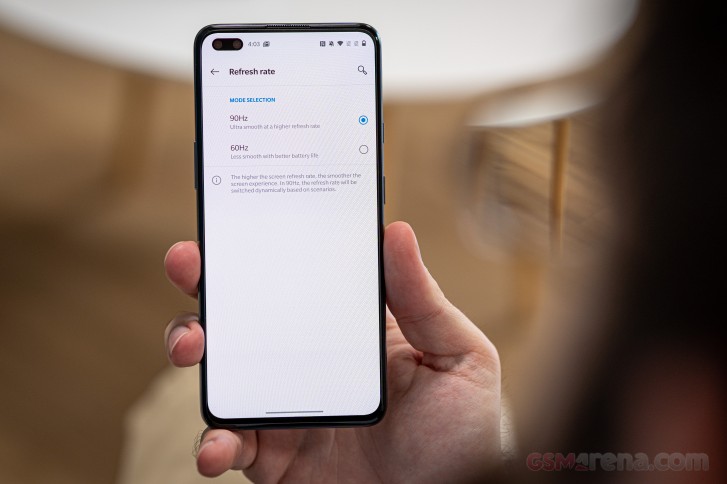 The OnePlus Nord refresh rate menu has two options - 60Hz and 90Hz. The former is straight-forward. Most every app out there and most games are already made to push 60fps and saturate that refresh rate. The OnePlus 90Hz mode has some automatic smarts to it, mostly in the bane of battery efficiency.
Once you turn on 90Hz, you can expect to get 90fps consistently across the entire Android OS UI. That means all the menus and the app drawer. The Nord never drops its refresh rate down.
This is in contrast with general app behavior. Most applications tend to support 90fps rendering and operate in that once launched. Here is Chrome doing just that. Wait a few seconds, however, and the Nord notices that you are not interacting with the display and quickly drops its refresh rate automatically down to 60Hz. The open app, naturally, follows that and starts outputting 60fps.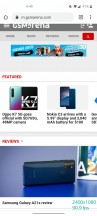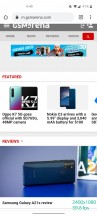 Chrome automatically dropping from 90fps to 60fps
The rationale behind this is that 90Hz and correspondingly 90fps have the most pronounced effect to smoothness while you are operating the phone. Most content likely to be inside a none-game does not benefit from higher than 60Hz, when not in motion. Pretty sound thinking on OnePlus' part, but it is worth noting that this automatic behavior does lead to some occasional oddities, like trying to do a "UDF" blue test in Chrome, seeing 90fps for a few seconds and then "inexplicably" being dropped down to 60fps. In practical terms, though, it's a sound decision and one that can save on battery life.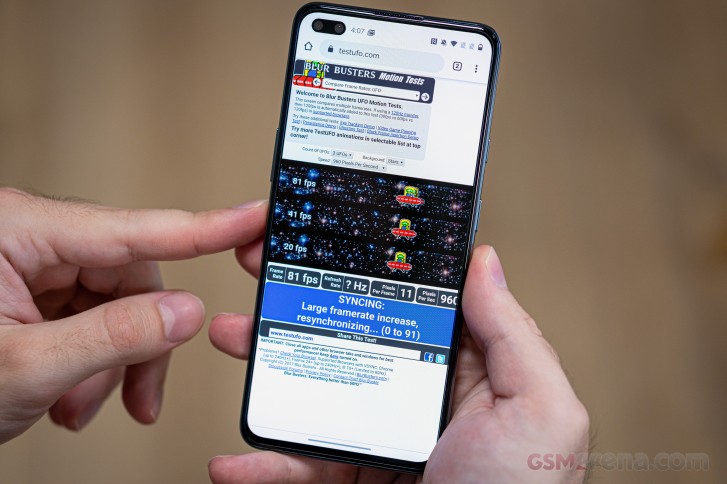 Another layer of automation OnePlus seems to have in place for its refresh rate switching has to do with video playback. Most video content never really goes beyond 30fps, with 60fps already looking quite weird and seeing little actual use in practice. Either way, once a video is playing, the Nord drops down to 60Hz mode. That's what happens when you play a clip from the Gallery app.
The real interesting video logic, however, happens outside of apps that are clearly marked and known as video players. For those OnePlus does the best it can to detect fullscreen video playback and then drops down to 60Hz. This is exactly the kind of behavior we observed in the YouTube Music app. The general UI stays at 90fps for the added smoothness. Only once there is a video playing and only while it is in full-screen mode does 60Hz kick in.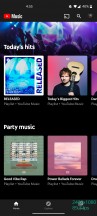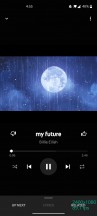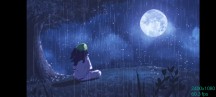 YouTube Music automatically switches to 60Hz for fullscreen video
Netflix exhibits the exact same smart and battery-conscious behavior. 90Hz within the UI and then 60Hz once actually playing a video.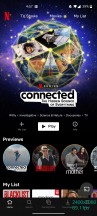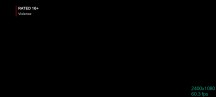 Netflix automatically switches to 60Hz for fullscreen video
There are certain hiccups with the automatic logic, though. For instance, unlike YouTube Music, the regular YouTube app simply launches in 60Hz mode and never makes use of the high refresh rate. Not even for browsing the UI.
Social networks tend to behave a bit odd, as well. Since it is likely that most of these rely on some sort of WebView implementation, instead of native Android components, it is a lot hard for the algorithm to do its auto video detection magic. Instead, what you get is a similar behavior to the general Browser one - 90Hz while you are scrolling and an auto drop down to 60Hz, when you stop interacting.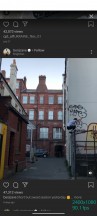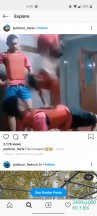 Instagram behaves like a browser
Since you are unlikely to be touching the display and watching a video at the same time, this works out well-enough for Instagram. Most videos on there are not long enough to realistically be saving on 60Hz for video, either. Plus, there is no real fullscreen video mode to detect.
Facebook is in the same boat. It does have a full-screen video player, of sorts, but the OnePlus software fails to detect it as fullscreen video. Instead, you get the general behavior of 90Hz while interacting and 60Hz while idle.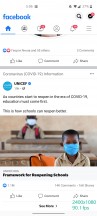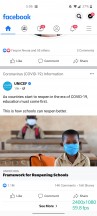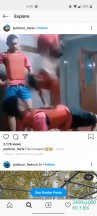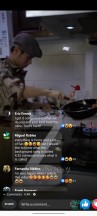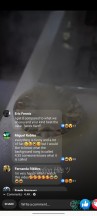 Facebook also behaves like a browser
Gaming is a bit harder to properly test without a proprietary refresh rate testing setup. We can't easily hook into a game's engine and tell you exactly how many frames it is outputting like we can with rendering standard Android component, as found within other apps.
Still, the couple of known high-refresh-rate-capable games we did try, appeared just to be running at 60fps.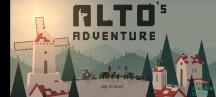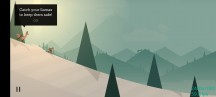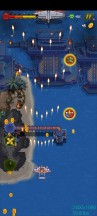 Games appear to be running at 60fps
All things considered, we admire the extra layers of automation OnePlus has put into its high refresh rate controls. It is one of the most complicated and, in our mind, user-friendly implementations in the industry. The out-of-the-box behavior does a good job of balancing the benefits of high refresh rate and its power-efficiency drawbacks in a manner that does not require average users to understand or manually intervene. We do wish that there was a bit more manual control on a per-app basis, baked into Oxygen OS for advanced users. But, before that becomes a reality, there is a nifty AutoHz app on the Google Play Store that somewhat fills the gap.
We used it to bring 90Hz to the YouTube app, but that meant locking at 90Hz even during video playback. There is room for improvement. Even so, currently, AutoHz is well worth the asking price and complicated setup.
Battery life and charging
The OnePlus Nord is rocking a 4,115 mAh battery. A little bit below the capacity of its OnePlus 8 sibling, but noticeably more than the OnePlus 7T. With its relatively efficient Snapdragon 765G chipset, made on a 7nm Samsung EUV LPP node, complete with an internal X52 5G modem, as opposed to the external solution on Qualcomm's flagship Snapdragon 865, the OnePlus Nord appeared set up for success in the battery endurance department.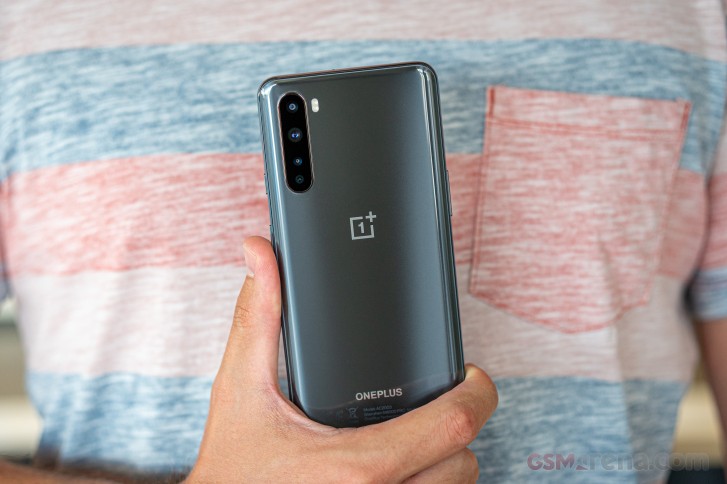 There is the matter of occasional 90Hz refresh rate to consider, which we already explained in detail in the previous section. Basically, both on-screen portions of our battery test procedure (video playback and web browsing) ended-up running at 60Hz out fop the box, since they involved no interaction with the display. That's simply OnePlus' automatic logic kicking-in and seems to be the fairest way to conduct the tests anyway, since it falls in line well with real-world usage. At least, sort of.
An argument can be made that you would be constantly interacting with a web browser, forcing the Nord to stay at 90Hz more often than not. Hence, for the sake of thoroughness, we forced 90Hz and 90fps on one of our browser test runs to see just how much of a difference it can make. Turns out, really not a lot. Pinning our browser to a forced 90Hz only resulted in about 40 minutes less in browsing endurance. It seems like advancements in display tech, combined with OnePlus software and hardware optimizations and the simple fact that the jump from 60Hz to 90Hz is not that substantial, have resulted in negligible detrimental effects to endurance. That is only valid for the Nord and web browsing in particular, though, running the entire UI at a fixed 60Hz instead of 90Hz will likely get you better endurance, if you spend a lot of time browsing menus and doing productivity tasks.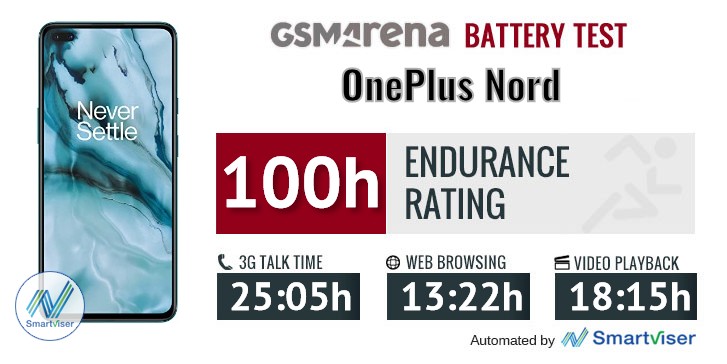 With semantics out of the way, we can properly praise the OnePlus Nord for delivering a solid 100 hours of endurance in our proprietary test. It manages to either match or beat the scores that we have seen thus far from other handset, rocking the Snapdragon 765 or 765G chipset and a similarly-sized battery. OnePlus is making the most out of the hardware they have in this department.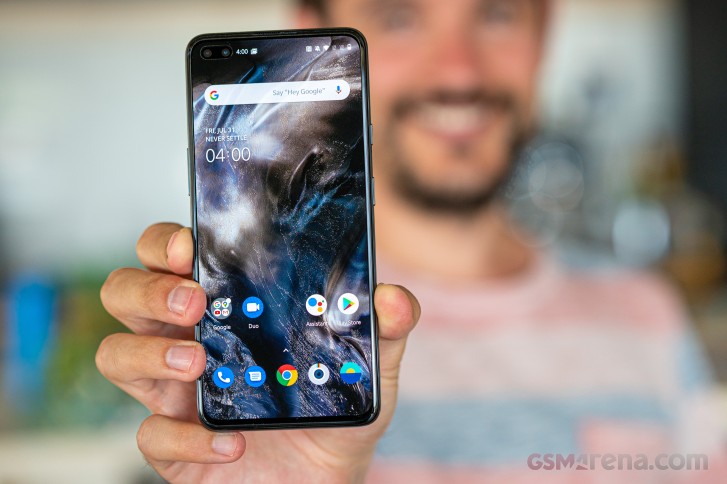 It is worth noting that our review unit managed to squeeze out some extra hours of standby endurance after a couple of charging cycles and following a pop-up, informing us that automatic sleep optimization has been enabled. As per the provided pop-up, having it on can cause slowdowns in certain app notifications, which makes sense. We experienced nothing along that line. Still, it is worth keeping in mind if you happen to rely on apps with particular standby behavior. Plus, extra points to Oxygen OS for bringing-up the feature prompt and making the situation abundantly clear.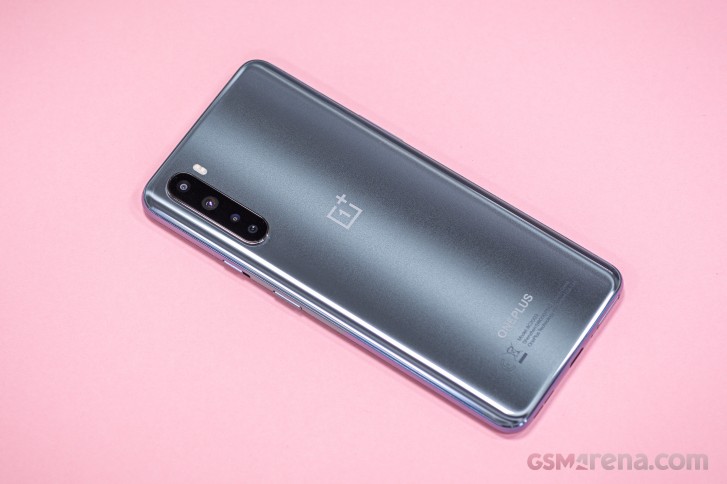 The OnePlus Nord offers 30W Warp Charge support and so does the included wall charger. That's hardly chart-topping in a mobile realm now pushing the 100W wired threshold. What it is, though, is quite sensibly-quick, in our book, without needlessly putting extra wear and tear on the battery in the long run.
OnePlus advertises 70% charge in 30 minutes on the Nord. We didn't quite manage to replicate these results. Instead, we got around 60% in 30 minutes, reaching the 50% mark in just around 25minutes, prior to that. A full charge to 100% then took an hour and five minutes. Perfectly respectable, even if not flagship-grade.
Our battery tests were automated thanks to SmartViser, using its viSer App. The endurance rating above denotes how long a single battery charge will last you if you use the OnePlus Nord for an hour each of telephony, web browsing, and video playback daily. We've established this usage pattern so that our battery results are comparable across devices in the most common day-to-day tasks. The battery testing procedure is described in detail in case you're interested in the nitty-gritty. You can check out our complete battery test table, where you can see how all of the smartphones we've tested will compare under your own typical use.
Speaker Test
The OnePlus Nord only has a single bottom-firing speaker at its disposal. There is no hybrid stereo setup with the earpiece either. Just one speaker. Even so, at least some attention appears to be dedicated to audio output, as evidenced by the dedicated Dirac Audio Tuner menu. Despite the reputable name, it's not actually a true equalizer menu, but only offers what OnePlus calls "scenario-based enhancement" with a total of three presets - Dynamic (default), Movie and Music.
We tested all three and got consistently average loudness results every time. The Movie mode does, noticeably, boost the treble, making dialog a bit easier to hear. Music mode only manages to very slightly boost a limited range of bass frequencies, but it's only distinguishable with lab equipment. Other than that, both Music and the default Dynamic mode offer nearly identical frequency response behavior. And it's not particularly impressive. Highs are kept well-balanced, without any unnecessary or unpleasant screeching, and that's about as much praise as we can offer.
Use the Playback controls to listen to the phone sample recordings (best use headphones). We measure the average loudness of the speakers in LUFS. A lower absolute value means a louder sound. A look at the frequency response chart will tell you how far off the ideal "0db" flat line is the reproduction of the bass, treble, and mid frequencies. You can add more phones to compare how they differ. The scores and ratings are not comparable with our older loudspeaker test. Learn more about how we test here.
Shame, really, since a slightly better-optimized speaker output probably wouldn't have cost that much extra—especially one incorporating a hybrid setup with the earpiece. In return, the Nord would have gotten speaker output at least good enough to pair adequately with its excellent display experience. In its current state, the speaker output on the OnePlus Nord, unfortunately, drags down its impressive visual output capabilities as part of the overall multimedia consumption experience.