Next-gen Fluid Display
The OnePlus 8 Pro's display makes a jump from the previous generation 90Hz screens to 120Hz, doubling the conventional refresh rate of 60Hz. While the first jump to 90Hz was a notable difference, the jump to 120Hz is a whole different game.
The Galaxy S20 Ultra also has a 120Hz display, but the 120Hz setting works with the 8 Pro's full resolution (the S20 Ultra is limited to FHD+). The 8 Pro has a QHD+ resolution spanning 3168x1440 pixels. OnePlus also claims a maximum brightness of 1,300 nits, which we certainly won't reach in our standardized brightness test, but we'll tweak it a bit to see if we can achieve the advertised number.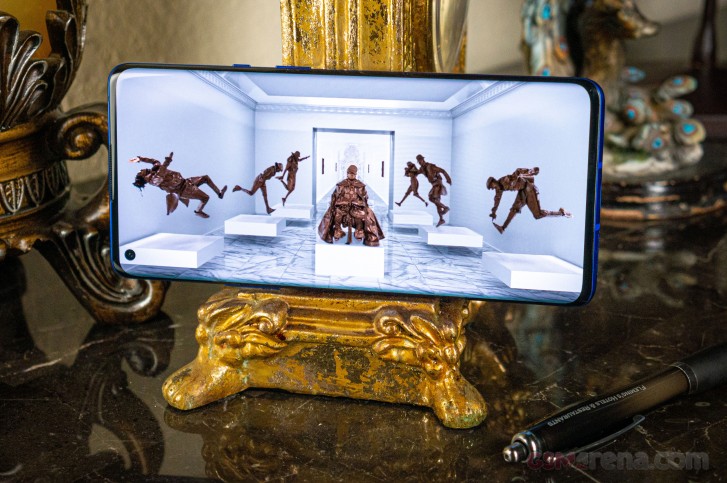 In our standardized brightness test - the one that we use to compare displays across devices - the OnePlus 8 Pro maxed out at 538 nits with the manual brightness slider, but when we tested its Automatic brightness in bright daylight, it reached 888 nits.
Not quite the 1,300 it advertised, but there's a reason why - the max brightness AMOLEDs are able to pump out depends on the size of the test pattern on the screen. Our white test pattern with which we measure max brightness takes up 75% of the screen during measurement and this is consistent across all measurements we do. Manufacturers, however, are free to choose their preferred testing methodology. In the case of OnePlus, we were able to reach up to 1,180 nits, however, this was with a much smaller test pattern.
Display test
100% brightness
Black,cd/m2
White,cd/m2
Contrast ratio
Samsung Galaxy S20 Ultra 5G (Max Auto)
0
894
∞
OnePlus 8 Pro (Max Auto)
0
888
∞
Oppo Find X2 Pro (Max Auto)
0
871
∞
Xiaomi Mi 10 Pro (Max Auto)
0
858
∞
Apple iPhone 11 Pro Max
0
820
∞
LG V60 ThinQ 5G (Max Auto)
0
622
∞
OnePlus 7 Pro (Max Auto)
0
616
∞
OnePlus 7T Pro (Max Auto)
0
596
∞
OnePlus 8 Pro
0
538
∞
Oppo Find X2 Pro
0
536
∞
LG V60 ThinQ 5G
0
511
∞
Xiaomi Mi 10 Pro
0
510
∞
Google Pixel 4 XL
0
436
∞
OnePlus 7 Pro
0
436
∞
OnePlus 7T Pro
0
429
∞
Samsung Galaxy S20 Ultra 5G
0
398
∞
OnePlus is also advertising a highly color-accurate display. The screen is also compatible with HDR10+ and can add some saturation and colors to your viewing experience when watching supported apps.
In our tests, the OnePlus 8 Pro's default Vivid setting has slightly cooler whites and based on the DCI-P3 color space. This profile yielded an average deltaE of 3.1 and a maximum deltaE of 5.9. We found the Natural profile to be very color accurate: average deltaE of 2.5 and max deltaE of 4.1 in the sRGB space. Meanwhile, the Advanced DCI-P3 profile had an average deltaE of 2.5 and max of 4.3.
There are two features of the 8 Pro's display: "Vibrant Color effect Pro" and "Motion graphics smoothing". The latter is the first time a phone maker has ever implemented motion smoothing into a smartphone display. This feature will essentially make any 24fps (or above) video playback as if it were of a higher framerate by interpolating additional frames in between the original ones.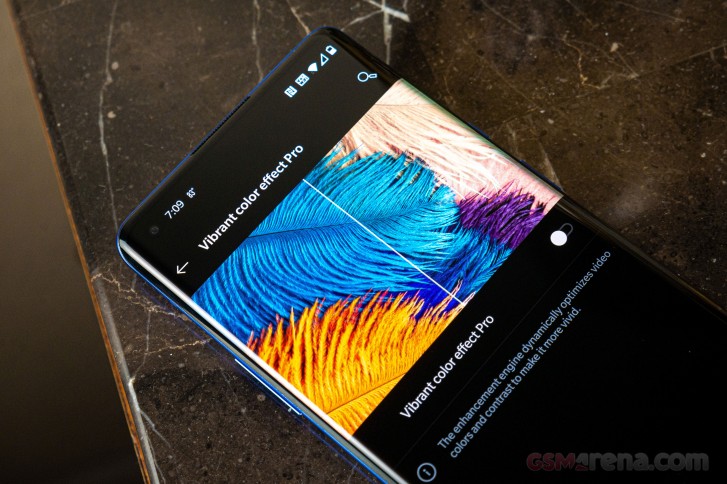 The use of motion smoothing is controversial in the film industry since directors and actors argue that watching TV shows or films with this feature alters the intended viewing experience originally envisioned by their creators. Motion smoothing has become a way for TV makers to sell higher refresh-rate TVs, even if the content being viewed on it isn't meant for it.
The actual MEMC feature works as advertised for the most part - it makes content in supported video apps appear smoother than their original frame rates. In practice, however, this isn't consistent. It really depends on whether you're watching cartoons, vlogs, or live-action TV shows with actors in the frame. We personally found it a little distracting when the motion smoothing drifted in and out between scenes.
Battery life
Update July 3 2020: We've updated the battery section with new web browsing, video playback runtimes and overall endurance rating in both the 120Hz and the 60Hz display modes.
The OnePlus 8 Pro packs a 4,510 mAh battery inside. Considering the phone's larger display, we were hoping for a more significant battery upgrade. We were not, however, disappointed with the battery results.
For our battery tests of the 8 Pro, we have two resulting battery endurance scores. One for the phone's default 120Hz display setting - which, naturally, consumes more battery - and another for the conventional 60Hz setting. So, how did the OnePlus 8 Pro do? Not bad.
With the 120Hz mode, which remains at full resolution, the OnePlus 8 Pro yielded an endurance score of 103h. It managed a call time of 28:35h, and 10:58h of web browsing, which is a respectable time. Meanwhile, video playback was excellent at 18:03h. Of course, since the OS switches back to 60Hz when it detects full-screen video playback, we didn't find any difference in the video playback test.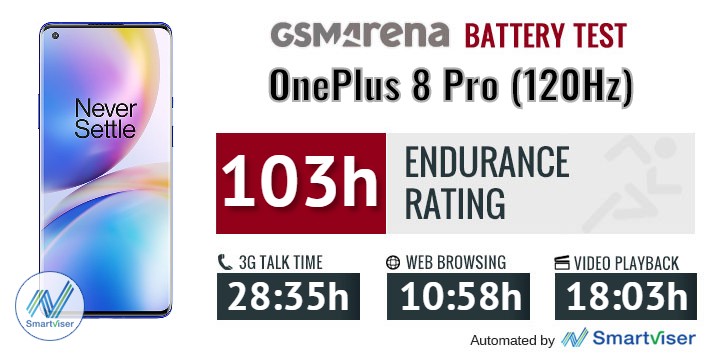 Switching to the display's standard 60Hz setting gave us a tad higher numbers in web browsing times. There was a 109h endurance score in this mode, which confirms that you can pull some extra hours from the battery, but at the expense of the phone's most note-worthy feature - the 120Hz display.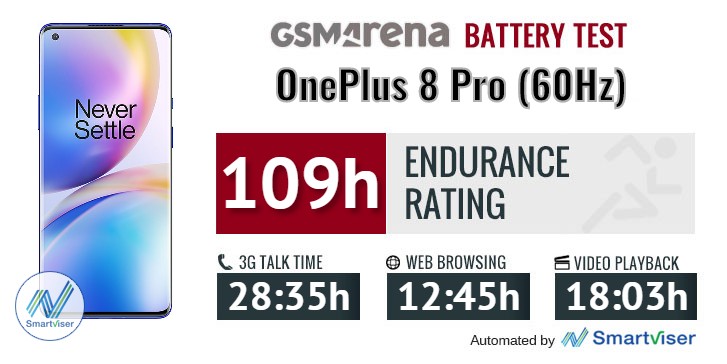 This did manage to squeeze almost two hours of web browsing (12:45h) and video playback.
Our battery tests were automated thanks to SmartViser, using its viSer App. The endurance rating above denotes how long a single battery charge will last you if you use the OnePlus 8 Pro for an hour each of telephony, web browsing, and video playback daily. We've established this usage pattern so that our battery results are comparable across devices in the most common day-to-day tasks. The battery testing procedure is described in detail in case you're interested in the nitty-gritty. You can check out our complete battery test table, where you can see how all of the smartphones we've tested will compare under your own typical use.
This does bring us to the point of fast charging. Although this isn't quite the 5,000 mAh battery that we're seeing in flagships from Samsung and LG, the OnePlus 8 Pro's Warp Charge 30T makes up for that. The Warp Charge 30T was able to recharge the OnePlus 8 Pro from 0 to 63% in half an hour.
New to the battery menu is an "Optimized charging" option that can learn your usage patterns and temporarily slow or suspend charging while the 8 Pro is plugged in. If you go to bed at, say 11 PM and plug it in, the phone will suspend charging throughout the night and will finish its charge by the time you normally wake up in the morning.
Since COVID-19 has messed up everyone's normal sleep schedules, we weren't able to test this thoroughly.
OnePlus introduced wireless charging on any of its smartphones and the Warp Charge 30 Wireless charger is a beast.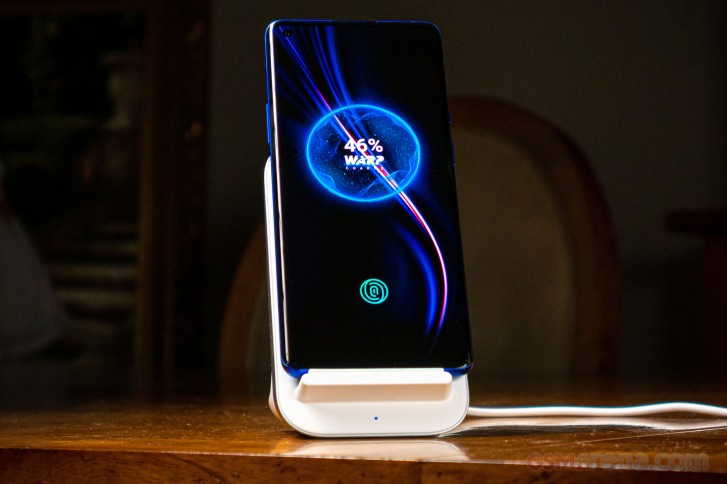 OnePlus promises a 30-minute charge on the Warp Charge 30 Wireless will yield a 50% charge. We managed just under the promised number at 48%. The second time around, however, the 8 Pro recharged to 51% in the same amount of time.
The charger unit has a fan in it that actively pushed air in from the back of the charger and forces it up along the backside of the phone to keep it cool while Warp charging. The fan tends to be distracting if you're in a quiet room, so OnePlus built-in an option into the UI called "Bed time mode". This silences the fan during bedtime hours you specify at the expense of slower wireless charging.
OnePlus was against adding the feature to its devices until it deemed the feature would be worth the added cost. Well... the cost is certainly present because the Warp Charge 30 Wireless charger is sold separately for $69. Is it worth this price? It really depends on whether you think wireless charging should be about speed over convenience.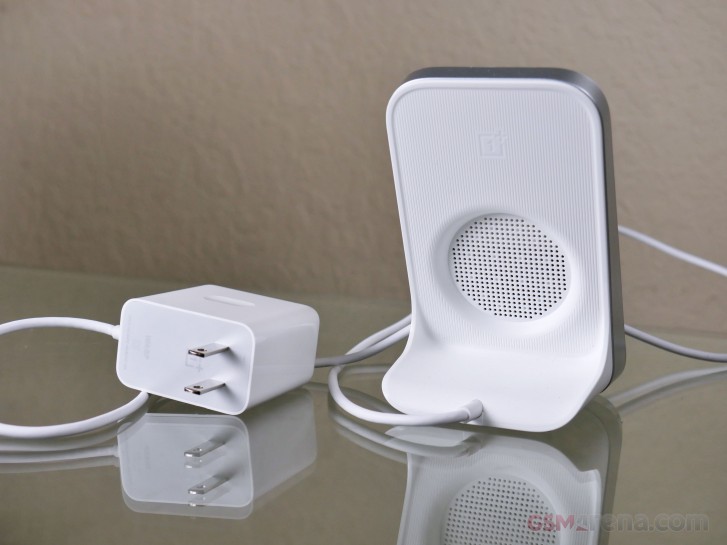 One complaint about the charger is that the charging cable is permanently tethered on both ends. This means you won't be able to replace a cable if it gets damaged, and you may not be able to feed it through a wiring management setup you may have at a desk or table.
Speakers
The OnePlus 8 Pro showed similar results to the OnePlus 8 on our loudspeaker test but with some small improvements. Maybe the vanilla 8 sounds a bit flat when put against the Pro. The former, on the other hand, is just a tad louder. Only a few phones can match the 8 Pro in terms of loudness and sound quality at the same time. The bass is deep - as far as smartphone speakers go, of course - without sounding muddy while vocals are clear and the mids contribute to the overall fullness. Perhaps the Xiaomi Mi 10 Pro 5G is one of those phones that sound noticeably better than the OnePlus 8 family. You can hear for yourself and compare the charts.
Use the Playback controls to listen to the phone sample recordings (best use headphones). We measure the average loudness of the speakers in LUFS. A lower absolute value means a louder sound. A look at the frequency response chart will tell you how far off the ideal "0db" flat line is the reproduction of the bass, treble, and mid frequencies. You can add more phones to compare how they differ. The scores and ratings are not comparable with our older loudspeaker test. Learn more about how we test here.
Audio output quality
We've recently discontinued our audio output quality test.
The reason for that is that most phones were already excellent in this regard and whatever difference there was, it was marginal and probably indistinguishable to anything but lab equipment.