Display
We're excited to talk about the OnePlus 7 Pro's display. OnePlus' "Fluid AMOLED" display offers two firsts for the company. The first first (hah!) is QHD+ resolution (3120x1440px @ 516ppi) on a OnePlus flagship. Up until now, all of OnePlus' flagships have featured Full HD displays. The other first is that this display offers a 90Hz refresh rate. We'll get to the refresh rate in a bit.
The display itself is gorgeous. It's a hefty-sized display at 6.7-inches (6.46-inches if you account for the rounded corners) and the bezels are very thin. Of course, thanks to the pop-up selfie camera, there's no need for a notch, nor a hole-punch.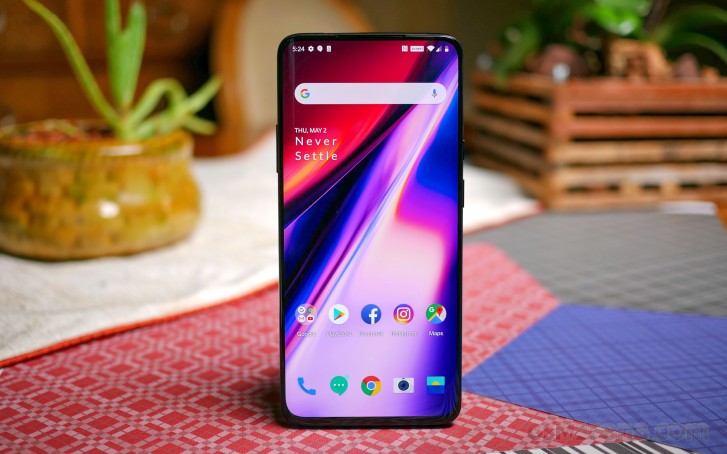 Although the lower bezel is slightly thicker than the other three, it is still thinner than the lower bezel on the OnePlus 6T. This display is a tall 19.5:9 aspect ratio.
Shifting focus to the display's dual curve along the edges, this is a whole new design element for OnePlus and the execution is great. The curves in the glass are not too acute that it distorts light when watching video. This was something many folks disliked about curved displays and we're glad to see it doesn't happen here. The curves in the glass are gradual and the fitment of both panes of glass and the frame are well executed.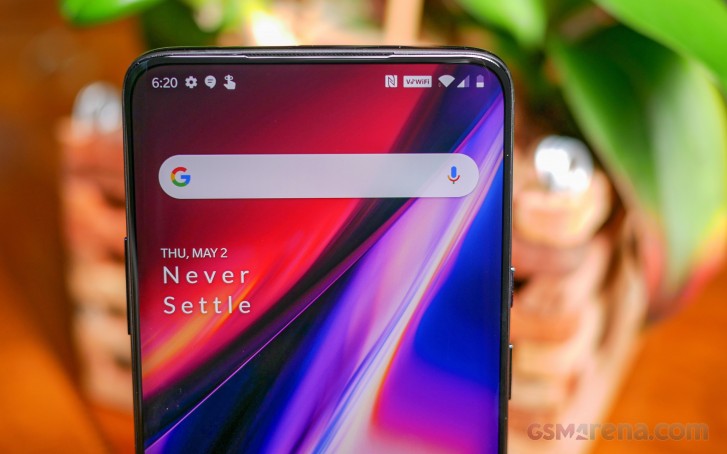 The OnePlus 7 Pro has a huge potential to reshape the smartphone industry with its 90 Hz display. This refers to the number of times the display refreshes itself per second. For the past several years, all other smartphone makers have been shipping devices with 60Hz displays (except for the odd gaming-centric phone or two) and this meant users could watch content at a max framerate of 60 frames per second.
While this doesn't mean 90 fps content will be more prevalent, it does make the well-optimized Oxygen OS experience even better with the added smoothness to transitions throughout the phone. Every scroll and swipe will feel very smooth and look awesome. It really is something that you need to see in person.
This isn't something the average person would notice right off the bat, but it sure does push the spec race forward and potentially offers a superior gaming experience for mobile games, which can support the higher frame rates on this hardware.
The display maxes out at 436 nits of brightness when adjusted manually and when set to the Adaptive setting and faced with bright light, it will go as high as 616 nits. We've certainly seen brighter displays on other flagships, particularly from Samsung and Apple. This translates into somewhat average sunlight legibility when exposed to a brightly lit day. It isn't the greatest, but it is certainly still visible.
Display test
100% brightness
Black, cd/m2
White, cd/m2
Contrast ratio
Samsung Galaxy S10+ (Max Auto)
0
793
∞
Apple iPhone XS
0
660
∞
Apple iPhone XS Max
0
653
∞
Samsung Galaxy Fold (cover) (Max Auto)
0
623
∞
Xiaomi Mi 9 (Max Auto)
0
620
∞
OnePlus 7 Pro (Max Auto)
0
616
∞
Huawei P30 Pro (Max Auto)
0
605
∞
Huawei P30 Pro
0
571
∞
Samsung Galaxy Fold (Max Auto)
0.006
557
92833
OnePlus 6T (Max Auto)
0
455
∞
OnePlus 6T
0
453
∞
OnePlus 7 Pro
0
436
∞
Xiaomi Mi 9
0
428
∞
Oppo Find X
0
426
∞
Samsung Galaxy S10+
0
385
∞
Samsung Galaxy Fold (cover)
0
380
∞
Samsung Galaxy Fold
0.002
370
185000
The screen is also tuned to comply to the DCI-P3 and sRGB color spaces. We particularly like how the phone asks you which color setting you'd like to use (Vivid or Natural) upon setting up the device. The Vivid calibration has a more pleasant and saturated appearance while Natural is tuned closer to accurate colors. This display has excellent picture quality, and you won't see individual pixels.
Color accuracy is quite good as well. The Vivid profile is not too saturated; Color is just punchy enough but not overwhelming. As usually is the case with a more pumped up profile, whites lean slightly to blue (cool white). In this mode, we measured an average color deviation of deltaE=3.7 and a max deltaE=8.2 @ reds.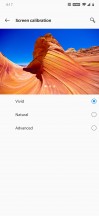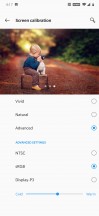 Screen color calibration profiles
The Natural profile does yield significantly better color accuracy scores: it's got an average deltaE=2.2 and a max deltaE=4, which makes it perfectly accurate by our books.
There's no significant color shifting with this display either. There are two more display profile modes to play with: Display P3 and sRGB. Each mode offers a single adjustment slider between "warm" and "cool to get those whites just right. All in all, a great display from OnePlus for the 7 Pro and a significant upgrade from the OnePlus 6T.
In terms of night-time mode, this display has a minimum brightness of 1.9 nits, but OnePlus claims that its advanced Night Mode 2.0 can further dim the display to just 0.27 nits. We put this claim to the test and found that night mode further dimmed the display to just 0.5 nits when we set the Night mode setting to "Darkest". We got 0.4 nits when we set the other slider to the warmest setting. Although it wasn't the 0.27 nits that was advertised, it is still impressively dim.
Update - May 15: An OTA update enabled a "DC dimming" feature in the OnePlus Laboratory utility that tests new features. It is able to adjust the circuit power of the display to reduce flicker at low brightness. When enabled, this further brought the minimum brightness to 0.3 nits with night mode tuned to the darkest setting.
The UI also offers a Reading Mode. You can add apps that would automatically enter Reading mode when launched. The colors are muted, and the whites are toned down so you can get an e-reader vibe for more comfortable reading sessions.
Battery Life
There's a large 4,000 mAh battery inside the OnePlus 7 Pro which is a modest 300mAh (8.1%) bump in battery capacity over the OnePlus 6T. We wondered if the slight increase is enough to match or exceed the 90h overall endurance score that the OnePlus 6T yielded in our test. Remember, there's a larger display with higher resolution and a 50% higher refresh rate. Each of those things alone contributes to an increase in battery draw.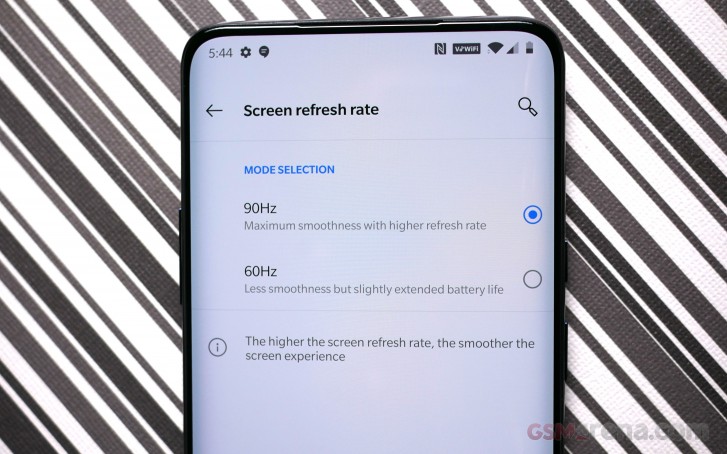 The default mode is 90Hz, so we ran our tests with this screen refresh rate first. The results aren't impressive considering the rather generous battery capacity of 4,000 mAh. The video playback was okay, but the web browsing test is particularly disappointing. The standby test also showed a contradicting result when taking into account the big battery. However, the 3G talk time test returned surprisingly good results.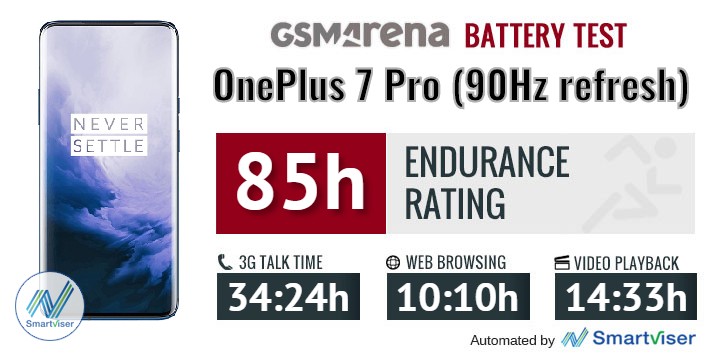 Of course, we've also run the on-screen tests with the display mode set to 60Hz.
We saw a significant increase in both scenarios - web browsing and video playback. It was to be expected. And the overall endurance score is slightly higher than on the OnePlus 6T despite the higher resolution and bigger screen. Keep in mind, though, that the web browsing test is mainly static while the video runs at 30 fps so if there's some kind of adaptive frame sync in the works, that's the reason why we don't see much of a difference between 60 and 90Hz modes. Which also means that there will be a significant battery gain in 60Hz mode in normal day-to-day usage. The animations, transitions and app switches in 60Hz mode should make all the difference. So it's up to you to determine whether or not the 90Hz mode is worth just for navigating through the menus and apps.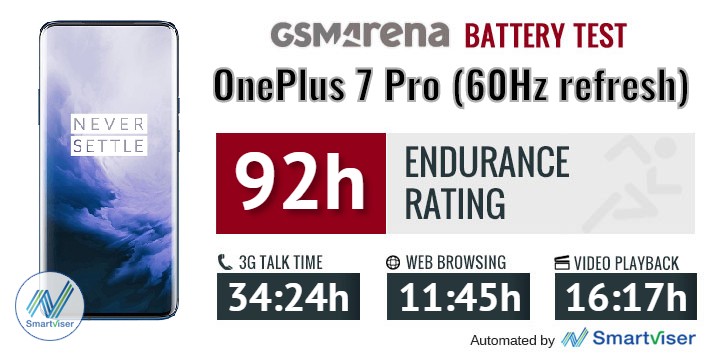 Our battery tests were automated thanks to SmartViser, using its viSer App. The endurance rating above denotes how long a single battery charge will last you if you use the OnePlus 7 Pro for an hour each of telephony, web browsing, and video playback daily. We've established this usage pattern so that our battery results are comparable across devices in the most common day-to-day tasks. The battery testing procedure is described in detail in case you're interested in the nitty-gritty. You can check out our complete battery test table, where you can see how all of the smartphones we've tested will compare under your own typical use.
First debuted with the OnePlus 6T McLaren Edition, 'Warp Charge' is the rebranded successor to Dash Charge. The new adapter supports quicker charging speeds (30W vs 20W) and the phone is backward-compatible with older Dash Charge adapters so you can still use the previous-gen chargers.
In our testing with the supplied charger, the OnePlus 7 Pro managed to recover from 0 to 60% of its 4,000mAh battery charge in 30 minutes. Not too shabby. But we didn't stop there. We wanted to try out the older charger as well, which caps at 20W. And to our surprise, it got a pretty similar result - 47% in 30 minutes from flat.
The phone will warn you every once in a while when it detects an app that's consuming too much power. In the Advanced battery optimization menu, you can decide whether you want your device to enter a deeper sleep when in idle for longer periods like when you go to sleep. It can even disable network connections to save power but know that you might miss notifications until you wake up.
Speaker test (old, new one below)
This is the first time OnePlus has used dual stereo speakers on one of its phones. There's a downward-firing speaker along the bottom edge of the phone and the in-call speaker doubles as a loudspeaker.
This dual-speaker setup sees a definite improvement in loudness. Not only this, but the speakers also sound quite good with no distortion at higher volumes. The bottom-firing speaker produces clear lows and mids while the upper earpiece speaker handles higher range treble tones. The 7 Pro's dual speakers scored "Excellent" in our loudness test.
| | | | | |
| --- | --- | --- | --- | --- |
| Speakerphone test | Voice, dB | Pink noise/ Music, dB | Ringing phone, dB | Overall score |
| OnePlus 6T | 67.2 | 72.5 | 84.5 | Very Good |
| Xiaomi Mi 9 | 70.1 | 74.2 | 81.6 | Very Good |
| Oppo Find X | 70.7 | 75.2 | 81.2 | Very Good |
| Huawei Mate 20 Pro | 70.3 | 73.4 | 83.8 | Very Good |
| Samsung Galaxy S10e | 71.2 | 76.8 | 80.6 | Excellent |
| Apple iPhone XS Max | 70.5 | 74.0 | 84.7 | Excellent |
| Apple iPhone XR | 76.9 | 74.8 | 79.3 | Excellent |
| Samsung Galaxy S10+ | 74.4 | 74.2 | 83.6 | Excellent |
| Huawei P30 Pro | 70.9 | 73.8 | 90.9 | Excellent |
| OnePlus 7 Pro | 79.6 | 77.7 | 87.2 | Excellent |
| Google Pixel 3a XL | 79.3 | 77.1 | 91.1 | Excellent |
The speakers are reliable enough to play music while you take a shower, and they are loud enough so they won't be drowned out by the sound of the running water. We are also able to hear the full range of instruments in many types of music - we like the audio setup this phone has.
The in-call speaker is loud and clear for handling phone calls and the speakerphone function is also loud when it needs to be. Our recipients could hear us very well from the other end.
Speaker test (new)
Use the Playback controls to listen to the phone sample recordings (best use headphones). We measure the average loudness of the speakers in LUFS. A lower absolute value means a louder sound. A look at the frequency response chart will tell you how far off the ideal "0db" flat line is the reproduction of the bass, treble, and mid frequencies. You can add more phones to compare how they differ. The scores and ratings are not comparable with our older loudspeaker test. Learn more about how we test here.
Audio quality
The OnePlus 7 Pro put in a great performance in our audio quality test. Its loudness was very high both with an active external amplifier and when we plugged in our standard headphones. The clarity was spotless in the first case and almost as good in the second one too.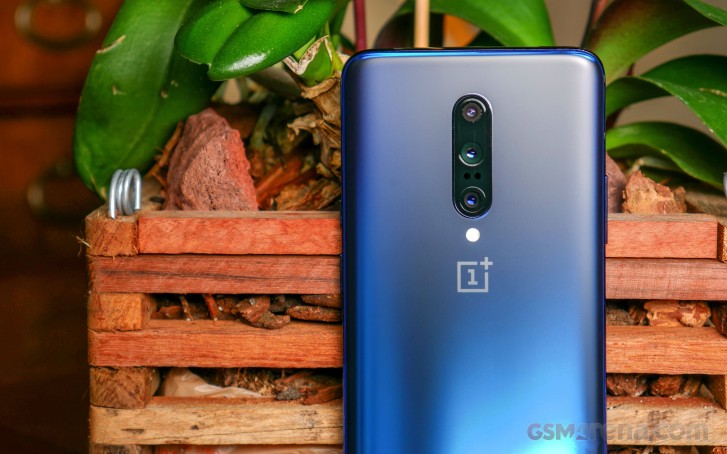 We have to note that since our 7 Pro unit didn't have a USB-C to 3.5mm adapter in its retail package, we used the passive adapter from the OnePlus 6T box. If you get an active adapter, the results won't be representative because they will very much depend on the DAC in the adapter.
| | | | | | | |
| --- | --- | --- | --- | --- | --- | --- |
| Test | Frequency response | Noise level | Dynamic range | THD | IMD + Noise | Stereo crosstalk |
| OnePlus 7 Pro | +0.03, -0.01 | -93.0 | 92.6 | 0.0023 | 0.021 | -89.6 |
| OnePlus 7 Pro (headphones) | +0.10, -0.05 | -92.0 | 91.4 | 0.0034 | 0.106 | -74.8 |
| Huawei P30 Pro | +0.04, -0.02 | -90.5 | 90.4 | 0.0014 | 0.013 | -93.0 |
| Huawei P30 Pro (headphones) | +0.14, -0.23 | -90.4 | 90.3 | 0.0046 | 0.211 | -47.0 |
| Samsung Galaxy S10 | +0.03, -0.04 | -92.2 | 92.0 | 0.0015 | 0.0079 | -92.7 |
| Samsung Galaxy S10 (headphones) | +0.06, -0.03 | -91.9 | 91.7 | 0.0020 | 0.037 | -77.0 |
| LG G8 ThinQ | +0.01, -0.03 | -94.1 | 93.5 | 0.0013 | 0.0069 | -87.6 |
| LG G8 ThinQ (headphones) | +0.05, -0.05 | -93.8 | 93.1 | 0.0041 | 0.063 | -61.8 |
| LG G8 ThinQ (headphones, QuadDAC) | +0.03, -0.02 | -93.7 | 93.1 | 0.0014 | 0.030 | -67.4 |
| Nokia 9 PureView | +0.01, -0.02 | -94.0 | 94.0 | 0.0013 | 0.0064 | -93.2 |
| Nokia 9 PureView (headphones) | +0.06, -0.04 | -93.6 | 93.5 | 0.045 | 0.097 | -54.8 |
| Xiaomi Mi 9 | +0.02, -0.01 | -93.9 | 93.1 | 0.0015 | 0.0066 | -91.9 |
| Xiaomi Mi 9 (headphones) | +0.05, -0.04 | -92.6 | 93.5 | 0.0026 | 0.072 | -58.7 |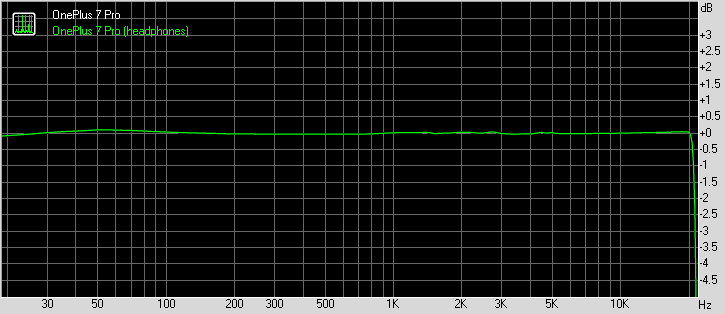 OnePlus 7 Pro frequency response
You can learn more about the tested parameters and the whole testing process here.