Digitally remastered
OnePlus 3T review: Digitally remastered
Display
This is yet another department, which OnePlus approached with the "if it ain't broke, don't fix it" mentality and thankfully so. A 5.5-inch panel still seems to be right in the sweet spot for many mobile users - especially on the Asian markets.
As for the choice of 1080p resolution, at the risk of fueling the seemingly endless flame war on the matter, we still firmly believe that you don't need more pixels. Plus, there is the battery life benefit of using the lower screen resolution, and with OpenGL ES 3.1 gaming becoming even more advanced in graphics, the GPU will appreciate the extra breathing room. Just stick around for the graphics benchmarks if you don't believe us.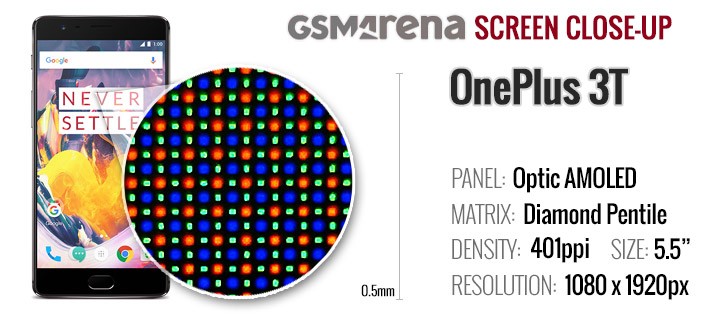 The AMOLED panel in question comes courtesy of Samsung and is specially made for the OnePlus, hence the Optic AMOLED moniker. Still, it looks just as gorgeous as any other Samsung Super AMOLED panel, and unless you place it next to a QHD phone, the difference between the two is hardly noticeable. Sure, the diamond pentile pixel arrangement isn't the best possible choice, but the screen more than makes up for that with its great contrast.
What we will touch upon instead is the VR argument. Yes, 1080p is not ideal for virtual reality, and yes, OnePlus does have a VR headset, of sorts - the Loop VR Headset. However, the company has made it clear that from its standpoint, strapping a phone to your forehead is more of a gimmick than a viable approach to VR in its current form, and as such is not considered a priority. We agree, these are some rather mixed messages they are sending, but then again, the VR headset in question is merely a fancy Google Cardboard-style viewer, so the whole thing is more for show and marketing than anything else.
Anyway, back to the Optic AMOLED panel. It offers a quite respectable 401ppi, and at 439 nits at full blast, it is bright enough for most scenarios. That is even a few nits brighter than the 433nits, which we managed to register on the original OnePlus 3. Contrast is naturally great, given the AMOLED technology and the perfectly deep blacks associated with it.
Display test
100% brightness
Black, cd/m2
White, cd/m2
Contrast ratio
OnePlus 2
0.30
399
1334
OnePlus 3
0.00
433
∞
OnePlus 3T
0.00
447
∞
Xiaomi Mi Note 2
0.005
341
68200
Xiaomi Mi 5
0.51
628
1227
Xiaomi Mi 5s
0.51
660
1294
Xiaomi Redmi Pro
0.00
408
∞
Asus Zenfone 3 ZE552KL
0.45
607
1349
LeEco Le Max 2
0.30
426
1444
ZTE Axon 7
0.00
352
∞
nubia Z11
0.43
513
1196
LG G5
0.17
306
1855
Meizu PRO 6
0.01
360
40000
Meizu MX6
0.34
457
1344
Huawei Honor 8
0.34
374
1101
Huawei P9
0.46
500
1094
Huawei P9 Plus
0.00
400
∞
Huawei Mate 8
0.346
471
1361
Lenovo Moto Z Droid
0.00
371
∞
Sunlight legibility is superb. The panel on the OnePlus 3T surpasses most of Samsung's 2015 offers in this respect and is up to par with its current models.
Sunlight contrast ratio
Samsung Galaxy S6 edge+
4.615
Samsung Galaxy S7 edge
4.439
OnePlus 3
4.424
Samsung Galaxy S7
4.376
HTC One A9
4.274
Samsung Galaxy Note7
4.247
Samsung Galaxy A3
4.241
OnePlus 3T
4.232
Google Pixel XL
4.164
ZTE Axon 7
4.154
Samsung Galaxy S6 edge
4.124
Samsung Galaxy Note5
4.09
Huawei Nexus 6P
4.019
OnePlus X
3.983
Vivo Xplay5 Elite
3.983
Oppo R7s
3.964
Apple iPhone 7
3.964
Huawei P9 Plus
3.956
Samsung Galaxy A7 (2016)
3.918
Samsung Galaxy C5
3.911
Samsung Galaxy C7
3.896
Samsung Galaxy A5
3.895
Samsung Galaxy J7 outdoor
3.879
Samsung Galaxy J2 outdoor
3.873
Samsung Galaxy A8
3.859
Samsung Galaxy A9 (2016)
3.817
Motorola Moto X (2014)
3.816
Samsung Galaxy J7 (2016) outdoor mode
3.802
Xiaomi Redmi Pro
3.798
LG V20 Max auto
3.798
Sony Xperia XZ
3.795
Samsung Galaxy A5 (2016)
3.789
Apple iPhone 6s
3.783
Meizu Pro 5
3.781
Microsoft Lumia 650
3.772
Samsung Galaxy J7 (2016)
3.756
Oppo F1 Plus
3.709
Vivo X5Pro
3.706
Sony Xperia X Compact
3.694
Apple iPhone SE
3.681
Samsung Galaxy A7
3.679
Meizu PRO 6
3.659
BlackBerry Priv
3.645
Apple iPhone 7 Plus
3.588
Apple iPhone 6s Plus
3.53
Samsung Galaxy J3 (2016)
3.523
Samsung Galaxy J3 (2016) outdoor mode
3.523
Acer Jade Primo
3.521
Microsoft Lumia 950
3.512
Oppo R7 Plus
3.499
nubia Z11
3.466
Samsung Galaxy J7
3.422
Meizu MX5
3.416
LG V20
3.402
Oppo R9s
3.352
Oppo R7
3.32
Xiaomi Mi 5s
3.276
Xiaomi Mi 5
3.24
Samsung Galaxy J2
3.235
Sony Xperia X Performance
3.234
Motorola Moto X Play
3.222
Huawei P9
3.195
Lenovo Vibe Shot
3.113
Motorola Moto X Force
3.105
LG Nexus 5X
3.092
Huawei Mate S
3.073
Microsoft Lumia 640 XL
3.065
Sony Xperia X
2.989
Huawei Mate 8
2.949
Xiaomi Redmi 3S
2.913
Sony Xperia XA Ultra
2.906
LG G5
2.905
HTC One S
2.901
Xiaomi Mi 5s Plus
2.884
Sony Xperia Z5
2.876
Microsoft Lumia 550
2.851
Xiaomi Redmi 3 Pro
2.803
Sony Xperia Z5 compact
2.784
Meizu MX6
2.751
LG V10
2.744
Xiaomi Redmi 3
2.735
Sony Xperia M5
2.69
Huawei P9 Lite
2.679
Vivo V3Max
2.659
Xiaomi Mi Mix
2.658
Xiaomi Mi 4i
2.641
Sony Xperia XA
2.609
Motorola Moto G4 Plus
2.582
Motorola Moto G4 Plus (max auto)
2.582
Xiaomi Mi 4c
2.574
LeEco Le Max 2
2.567
Microsoft Lumia 640
2.563
Asus Zenfone 3 ZE552KL
2.563
Lenovo Moto G4
2.544
Oppo F1
2.528
Sony Xperia Z5 Premium
2.525
Huawei Honor 7 Lite / Honor 5c
2.506
Sony Xperia M4 Aqua
2.503
Oppo F1s
2.481
Motorola Moto G
2.477
Lenovo Vibe K5 Plus
2.473
Huawei G8
2.471
Huawei nova
2.467
Sony Xperia Z
2.462
Lenovo Vibe K5
2.459
Huawei Honor 7
2.406
Sony Xperia E5
2.386
ZUK Z1 by Lenovo
2.382
HTC 10
2.378
Samsung Galaxy J5 (2016)
2.378
Huawei nova plus
2.329
HTC One E9+
2.305
Alcatel One Touch Hero
2.272
Apple iPhone 4S
2.269
Lenovo Vibe K4 Note
2.254
Sony Xperia C5 Ultra
2.253
Xiaomi Redmi Note 3 (MediaTek)
2.249
Sony Xperia C4 Dual
2.235
Xiaomi Mi Note
2.234
Motorola Moto G (2014)
2.233
LG Nexus 5
2.228
Huawei P8
2.196
Huawei Honor 6
2.169
Xiaomi Redmi Note 2
2.166
OnePlus Two
2.165
HTC One X
2.158
LG Aka
2.145
Xiaomi Redmi Note 4
2.145
Archos 50 Diamond
2.134
Xiaomi Redmi Note
2.119
Acer Liquid X2
2.084
Huawei P8lite
2.078
Moto G 3rd gen max manual
2.026
Xiaomi Mi Max
1.996
Sony Xperia E4g
1.972
OnePlus One
1.961
Meizu m3 note
1.923
BlackBerry Leap
1.892
Meizu m2 note
1.892
ZTE Nubia Z9 mini
1.759
Sony Xperia U
1.758
Asus Zenfone Selfie
1.68
Motorola Moto E (2nd Gen)
1.675
ZTE Nubia Z9
1.659
Jolla Jolla
1.605
Motorola Moto E
1.545
Sony Xperia M
1.473
HTC Desire C
1.3
Sony Xperia C
1.283
Meizu MX
1.221
Sony Xperia E
1.215
Along with the choice of screen resolution, color accuracy was another big point over which the OnePlus 3 was criticized. Punchy AMOLED colors are somewhat more appealing to a broader customer audience, which was the reasoning. However, OnePlus quickly found a way to offer a more accurate color rendering mode - called sRGB.
With the OnePlus 3T the option is more easily accessible. It does a great job of delivering accurate colors, with an average deltaE as low as 2.8 and a maximum of 5.5. The image does look a bit bland in this mode, so if the punchy screen is what you are after, then the default mode can deliver plenty of that.
Connectivity
The OnePlus 3T is a Dual-SIM device, just like its sibling and predecessor. It takes two nano SIM cards, and neither of the SIM slots is a hybrid one, and it won't take a microSD. However, we are a lot more willing to let it slide this time around since there is a 128GB version.
There is LTE on board as well. It comes courtesy of Qualcomm's current flagship chip, the Snapdragon 821, with Cat.6 speeds of up to 300 Mbps downstream and a rich combination of HSPDA and LTE bands, making the OnePlus 3T a truly global device.
There's a full set of a/b/g/n/ac Wi-Fi standards on both the 2.4GHz and 5GHz bands, Wi-Fi Direct, hotspot and DLNA media sharing on supported TVs and PCs. There is also Bluetooth 4.2 added to the mix.
The USB Type-C connector is quickly becoming the industry standard and OnePlus was quite ahead of the curve in this department, adopting it as far back as the OnePlus 2. However, we still can't get over the fact that there is a USB 2.0 controller, standing behind this modern connector.
Battery
Changing gears quickly, as if to wash away the minor USB disappointment, the 3,400 mAh battery in the OnePlus 3T is quite the engineering feat. The most impressive thing about it is that the extra battery capacity doesn't come at the expense of neither added weight nor volume.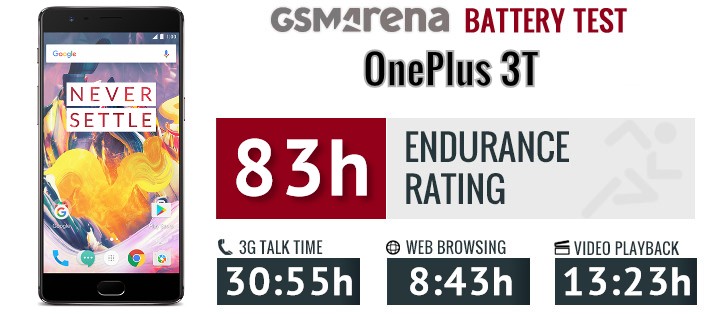 The OnePlus 3T managed to clock in a really impressive 83 hours of endurance rating. This is even more impressive when we consider what we have seen from previous OnePlus phones - 66 hours on the OnePlus 3, 61 hours total on the OnePlus 2 and exactly 66 hours on the original OnePlus One as well. This is a solid achievement by the OnePlus 3, as it does have a smaller battery than its predecessors. However, the OnePlus 3T makes really good use of the extra 400 mAh as well. Standby times saw the biggest improvements, while things like web browsing, video playback and 3G talk time, came out just as optimized as in previous OnePlus software iterations.
As for charging, there is the excellent Dash technology. We already touched upon it briefly, and the hype really is justified. If you use the Dash charger and cable included in the box, you can quickly pump up to 20W of power into the OnePlus 3T.
The technology also rules out overheating, which one could naturally expect with such a current going in the phone. On the technical side of things, this is achieved through a clever segmentation system, which allows the sub-parts of the battery to be charged independently in parallel (Oppo's VOOC charging).
The Dash system is so efficient that it practically eliminated the need for overnight charging while we tested the device. 30 minutes on the charger consistently got us from a dead battery up to 60%. Not only that but 60% in 30 minutes was valid both for the OnePlus 3 and the new "T" variant, despite the difference in battery capacity.
The battery testing procedure is described in detail in case you're interested in the nitty-gritties. You can also check out our complete battery test table, where you can see how all of the smartphones we've tested will compare under your own typical use.