Display
The OnePlus 3 is equipped with a 5.5-inch screen, which still seems to be right in the sweet spot by current standards. The 1080p resolution has been among the most controversial aspects of said display and frankly the whole phone. This is actually a debate that we have had before on quite a few occasions, so we won't go into the whole QHD vs FullHD debate yet again. What we'll say, however, is that having a more power-friendly lower-res panel was definitely a conscious decision and like Carl Pei has said on several occasions, not one dictated by cost. Sure, the diamond pentile pixel arrangement probably wasn't the best choice, but you really have to be nitpicking to go so far as to criticize it.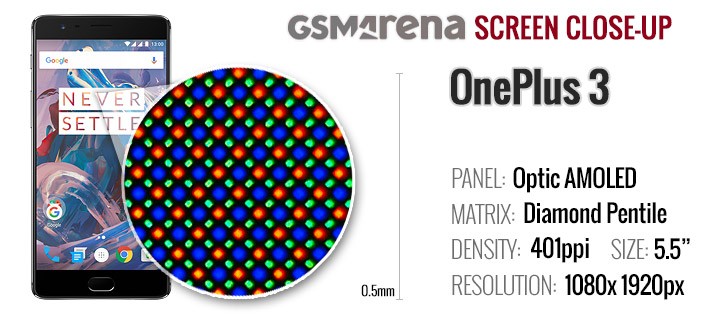 The AMOLED panel in question comes courtesy of Samsung and is specifically made for the OnePlus 3, hence the Optic AMOLED moniker. Still, it looks just as gorgeous as any other Samsung Super AMOLED panel and unless you place it next to a QHD phone, the difference between the two is hardly noticeable.
Just to try and address the whole resolution issue in its entirety as best we can, yes, 1080p is a notable drawback when it comes to VR and that is truly ironic, considering the recent release of the OnePlus VR headset. However, the company has made it clear that from its standpoint, strapping a phone to your forehead is more of a gimmick than a viable approach to VR in its current form, and as such is not considered a priority.
Anyway, back to the Optic AMOLED panel. It offers a quite respectable 401ppi and at 433 nits at full blast, it is bright enough for most scenarios. As expected, blacks are deep and contrast is infinite.
Display test
100% brightness
Black, cd/m2
White, cd/m2
Contrast ratio
OnePlus One
0.75
598
799
OnePlus Two
0.30
399
1334
OnePlus X
0.00
340
∞
OnePlus 3
0.00
433
∞
Xiaomi Redmi Note 3 (MediaTek)
0.42
403
953
Samsung Galaxy J5 (2016)
0.00
338
∞
Samsung Galaxy J7 (2016)
0.00
353
∞
Samsung Galaxy S7
0.00
391
∞
Lenovo Vibe K4 Note
0.47
442
940
Oppo F1 Plus
0.00
351
∞
ZUK Z1 by Lenovo
0.39
396
1021
Xiaomi Mi 4c
0.28
452
1609
Xiaomi Mi 5
0.51
628
1227
LG G4
0.43
532
1238
Sony Xperia Z3+
0.68
789
1158
LeEco Le Max 2
0.30
426
1444
Samsung Galaxy S6
0.00
363
∞
Samsung Galaxy A5 (2016)
0.00
421
∞
Samsung Galaxy A7 (2016)
0.00
425
∞
Sunlight legibility is superb. The panel on the OnePlus 3 surpasses most of Samsung's 2015 offers and is up to par with its current models.
Sunlight contrast ratio
Samsung Galaxy S6 edge+
4.615
Samsung Galaxy S7 edge
4.439
OnePlus 3
4.424
Samsung Galaxy S7
4.376
HTC One A9
4.274
Samsung Galaxy A3
4.241
Samsung Galaxy S6
4.124
Samsung Galaxy S6 edge
4.124
Samsung Galaxy Note5
4.09
Huawei Nexus 6P
4.019
OnePlus X
3.983
Oppo R7s
3.964
Samsung Galaxy A7 (2016)
3.918
Samsung Galaxy A5
3.895
Samsung Galaxy J7 outdoor
3.879
Samsung Galaxy J2 outdoor
3.873
Samsung Galaxy A8
3.859
Apple iPhone 6
3.838
Samsung Galaxy A9 (2016)
3.817
Motorola Moto X (2014)
3.816
Samsung Galaxy J7 (2016) outdoor mode
3.802
Samsung Galaxy A5 (2016)
3.789
Apple iPhone 6s
3.783
Meizu Pro 5
3.781
Microsoft Lumia 650
3.772
Samsung Galaxy J7 (2016)
3.756
Oppo F1 Plus
3.709
Vivo X5Pro
3.706
Apple iPhone SE
3.681
Samsung Galaxy A7
3.679
Meizu PRO 6
3.659
BlackBerry Priv
3.645
Apple iPhone 6s Plus
3.53
Acer Jade Primo
3.521
Microsoft Lumia 950
3.512
Oppo R7 Plus
3.499
Samsung Galaxy J7
3.422
Meizu MX5
3.416
Oppo R7
3.32
Xiaomi Mi 5
3.24
Samsung Galaxy J2
3.235
Sony Xperia X Performance
3.234
Motorola Moto X Play
3.222
Huawei P9
3.195
Lenovo Vibe Shot
3.113
Motorola Moto X Force
3.105
LG Nexus 5X
3.092
Huawei Mate S
3.073
Microsoft Lumia 640 XL
3.065
Apple iPhone 6 Plus
3.023
Sony Xperia X
2.989
Samsung Galaxy Note
2.97
Huawei Mate 8
2.949
LG G5
2.905
HTC One S
2.901
Sony Xperia Z5
2.876
Microsoft Lumia 550
2.851
Sony Xperia Z3+
2.824
Sony Xperia Z5 compact
2.784
LG V10
2.744
Xiaomi Redmi 3
2.735
Sony Xperia M5
2.69
Vivo V3Max
2.659
Xiaomi Mi 4i
2.641
Sony Xperia XA
2.609
Xiaomi Mi 4c
2.574
LeEco Le Max 2
2.567
Microsoft Lumia 640
2.563
Oppo F1
2.528
Sony Xperia Z5 Premium
2.525
Sony Xperia M4 Aqua
2.503
Motorola Moto G
2.477
Lenovo Vibe K5 Plus
2.473
Huawei G8
2.471
Sony Xperia Z
2.462
Huawei Honor 7
2.406
ZUK Z1 by Lenovo
2.382
HTC 10
2.378
Samsung Galaxy J5 (2016)
2.378
LG G4
2.317
HTC One E9+
2.305
Alcatel One Touch Hero
2.272
Lenovo Vibe K4 Note
2.254
Sony Xperia C5 Ultra
2.253
Xiaomi Redmi Note 3 (MediaTek)
2.249
Sony Xperia C4 Dual
2.235
Motorola Moto G (2014)
2.233
LG Nexus 5
2.228
Huawei P8
2.196
Xiaomi Redmi Note 2
2.166
OnePlus Two
2.165
HTC One X
2.158
LG Aka
2.145
Archos 50 Diamond
2.134
Xiaomi Redmi Note
2.119
Xiaomi Mi 4S
2.095
Acer Liquid X2
2.084
Huawei P8lite
2.078
Moto G 3rd gen max manual
2.026
Xiaomi Mi Max
1.996
Sony Xperia E4g
1.972
OnePlus One
1.961
Meizu m3 note
1.923
BlackBerry Leap
1.892
Meizu m2 note
1.892
HTC Butterfly
1.873
ZTE Nubia Z9 mini
1.759
Sony Xperia U
1.758
Asus Zenfone Selfie
1.68
Motorola Moto E (2nd Gen)
1.675
ZTE Nubia Z9
1.659
Jolla Jolla
1.605
Motorola Moto E
1.545
Sony Xperia M
1.473
Xiaomi Redmi 2
1.311
Sony Xperia C
1.283
Meizu MX
1.221
Sony Xperia E
1.215
As for colors and accuracy, there are quite a few points to be made. Just like with resolution, the OnePlus 3 has already received quite a bit of criticism for not offering tuning to sRGB. This is yet another point Carl Pei had to weigh in on, by saying that sRGB is another thing OnePlus consciously decided not to gun for, due to its limited appeal to a broader user base. The company co-founder has also promised that the feature will be added as an option within the setting in a future OTA, but overall, the OnePlus 3 exhibits the same rich colors as we have grown used to seeing on AMOLED screens.
There is also a color tone slider present in the phone's display settings. It actually changes the screen's behavior quite a bit. In its default setting, the display is actually a bit dimmer with a maximum brightness of 404 nits and all the colors are a lot punchier. If, however, you are after a more color-accurate setting, pulling the slider all the way to the right produces the best results with an average deltaE of 6.0. This also brings the brightness up to the aforementioned 433 nits.
Update:
Now that Oxygen OS 3.2 is officially out, OnePlus has made good on its promise to bring an sRGB calibration mode to the OnePlus 3. The results are definitely not perfect, but are pretty close to what is achievable through software alone, without actually tuning on a per-panel basis. On our testing unit, toggling sRGB mode brought the average deltaE down to only 2.9. Even more impressively, the maximum deltaE is just 4.9, instead of 13.2. Another point worth making is that under sRGB mode, colors become a lot less vivid than usual, quite similar to the Basic AMOLED mode on most Samsung panels.
Connectivity
The OnePlus 3 is a Dual-SIM device, just like its predecessor. It takes two nano SIM cards, neither of which is a hybrid slot. As mentioned, a microSD is not an option.
There is LTE on board as well. It comes courtesy of Qualcomm's current flagship chip, the Snapdragon 820, which means Cat.6 speeds of up to 300 Mbps downstream and a rich combination of HSPDA and LTE bands, making the OnePlus 3 a truly global device. Currently Wi-Fi Calling and VoLTE support are unconfirmed.
There's a full set of a/b/g/n/ac Wi-Fi standards on both the 2.4GHz and 5GHz bands, Wi-Fi Direct, hotspot and DLNA media sharing on supported TVs and PCs.
There is also Bluetooth 4.2 added to the mix, which is a small upgrade from the v4.1 in the OnePlus 2. Actually, the OnePlus 3 shares most of its communication capabilities with its predecessor with just minor upgrades like this.
Likewise, it also uses a USB Type-C port for charging, data and also USB host scenarios. Overall, USB Type-C is a safer choice now than it was last year, when the standard was still a rarity among devices. However, one thing that does already feel out of date is the USB 2.0 speed of the port. Still, it is not a massive drawback in most cases.
Battery
The OnePlus 3 is equipped with a sealed-in 3,000mAh battery. This is a fair amount of juice, but again, there could have been a little extra to go around, if OnePlus had stuck to their original flat back design approach. However, then we wouldn't have a device that is quite so thin and light.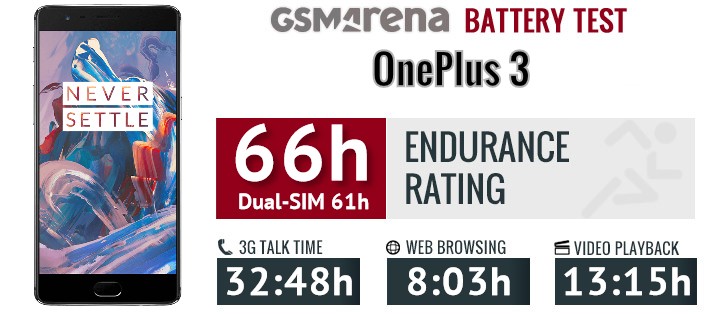 The OnePlus 3 managed to clock in a respectable 66 hours of endurance rating. This actually falls in line pretty well with what we have seen from previous OnePlus phones - 61 hours total on the OnePlus 2 and exactly 66 hours on the original OnePlus One as well. This is an achievement, as the OnePlus 3 does have the smallest battery of the bunch.
It is great to see that the traditionally excellent call time has now become even better at almost 32 hours. Video playback has also received a major improvement. The weakest link seems to be browsing time.
As for charging, we already mentioned the excellent Dash charging technology that has become available via related Oppo and its industry-leading VOOC. OnePlus was also kind enough to include the necessary Dash adapter in the retail package. It is surprisingly compact and can pump out a whopping 4A / 5V, which adds up to 20W.
The technology also rules out drawbacks like overheating, which one could naturally expect at such a massive output. In fact, the Dash system is so efficient that it practically eliminated the need for overnight charging while we tested the device. 30 minutes on the socket consistently got us up to 60% from a dead phone.
The battery testing procedure is described in detail in case you're interested in the nitty-gritties. You can also check out our complete battery test table, where you can see how all of the smartphones we've tested will compare under your own typical use.