No-frills 120Hz 6.7-inch OLED
The 10T has a well-specced, if ultimately unremarkable, display. The 6.7-inch OLED panel comes with a slightly odd 1080x2412px resolution (aspect ratio works out to 20.1:9), and pixel density is 394ppi. The maximum refresh rate is 120Hz, and while there is some automatic downswitching, the display won't go below 60Hz. The panel is capable of 10-bit color (1 billion colors), and HDR10+ is also part of the specsheet.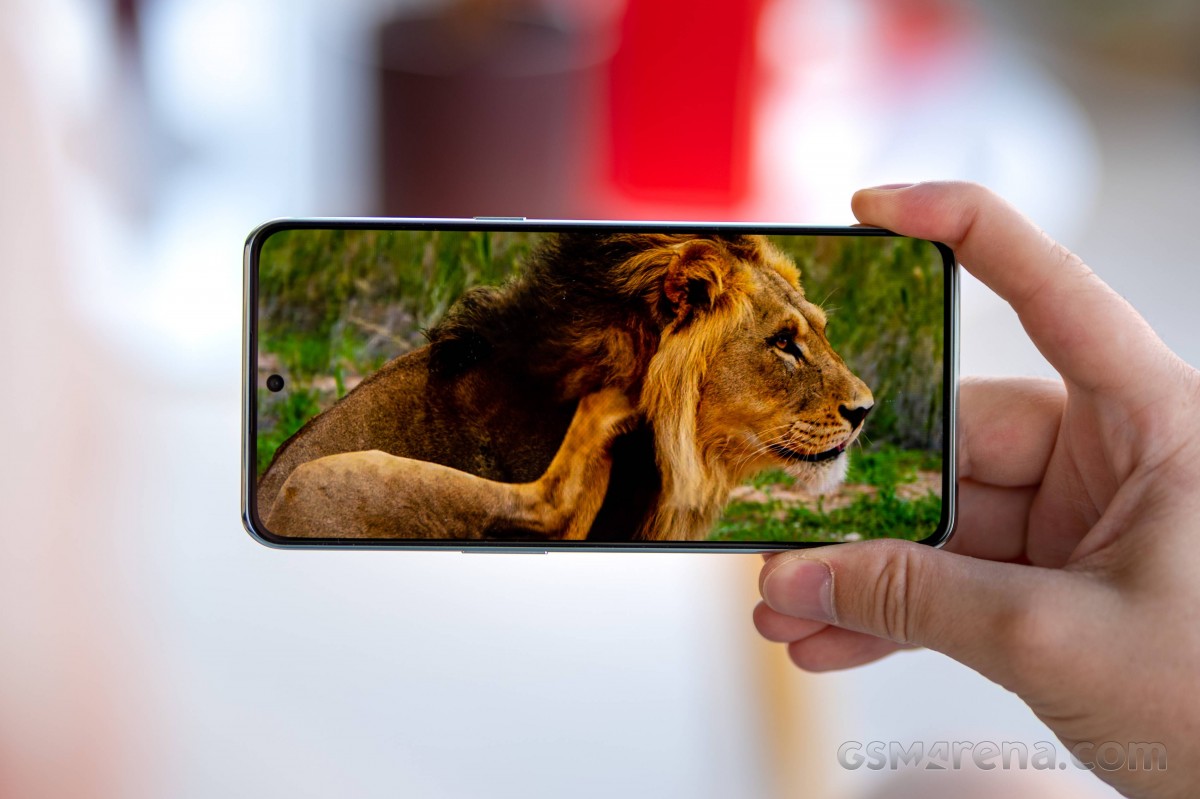 In our brightness testing, the OnePlus 10T delivered more or less 'standard' results. We got 500-ish nits when adjusting the slider manually and 800-ish nits when the adaptive brightness mode takes over in bright ambient conditions. 'Proper' flagships can go as high as 1000, some even up to 1200nits, but for the 10T's price and segment, the numbers are just right.
Display test
100% brightness
Black,cd/m2
White,cd/m2
Contrast ratio
OnePlus 10T
0
517
∞
OnePlus 10T (Max Auto)
0
819
∞
OnePlus 10 Pro
0
498
∞
OnePlus 10 Pro (Max Auto)
0
780
∞
Oppo Find X5
0
498
∞
Oppo Find X5 (Max Auto)
0
807
∞
OnePlus Nord 2T
0
449
∞
OnePlus Nord 2T (Max Auto)
0
636
∞
Xiaomi 12
0
494
∞
Xiaomi 12 (Max Auto)
0
896
∞
Xiaomi 12 Pro
0
506
∞
Xiaomi 12 Pro (Max Auto)
0
1050
∞
Samsung Galaxy S22+
0
468
∞
Samsung Galaxy S22+ (Extra brightness)
0
782
∞
Samsung Galaxy S22+ (Max Auto)
0
1214
∞
Asus Zenfone 9
0
449
∞
Asus Zenfone 9 (Max Auto)
0
831
∞
Realme GT2 Explorer Master
0
497
∞
Realme GT2 Explorer Master (Max Auto)
0
798
∞
iQOO 9 Pro
0
438
∞
iQOO 9 Pro (Max Auto)
0
1000
∞
The 10T's color mode menu features two 'regular' modes and two 'Pro' modes with an additional step-less color temperature slider available across all. The out-of-the-box Vivid setting makes no claims for accuracy and delivers vibrant colors with a blue tint to white and grays - something you can alleviate with the temp slider. Both Natural and Cinematic modes are very color accurate (for sRGB and DCI-P3 test swatches, respectively), and the white point is spot on in both. Brilliant mode, on the other hand, is excessively colorful - think early OLED displays colorful.
When it comes to HDR playback, we did get YouTube, Prime, and Netflix to cooperate. That last one required some going through hoops, however, as the pre-installed Netflix app wouldn't run, insisting on a trip to the Play Store for an update that didn't exist. We uninstalled the app altogether, at which point it would no longer show up when searched for. Sideloading it worked just fine, though, and the app reported HDR10 support.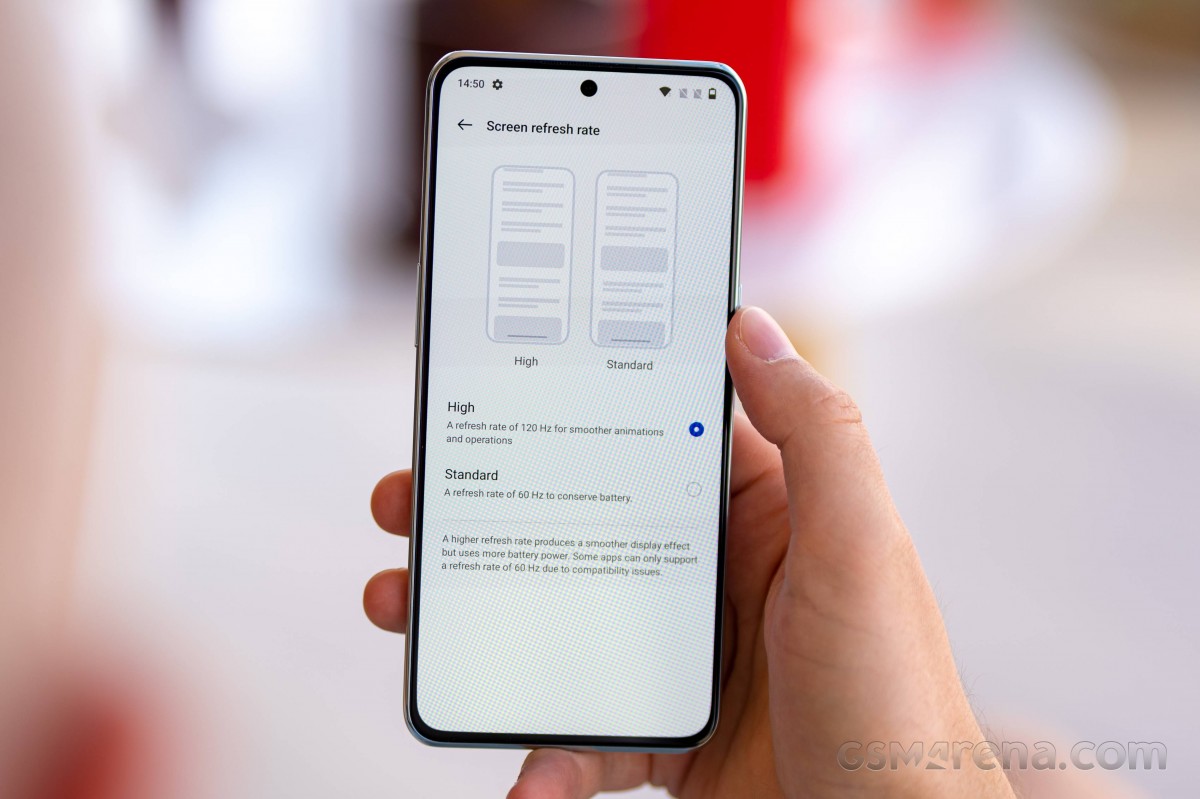 The 10T goes about refresh rate in a simple manner - there are two options, and Standard will just lock things at 60Hz, while High will max out at 120Hz, but drop to 90 or 60 depending on the app and activity.
In High mode, the Settings menu will maintain 120Hz constantly, and 120Hz is what you'll get when roaming across the UI, but that will then drop to 60Hz after a couple of seconds of idling. Browsers are capped at 90Hz, with a prompt drop to 60Hz when you're not interacting with them - so, no, they won't go to 120Hz. Facebook and IG maintain 120Hz when you're scrolling and switch to 60Hz if you stop. Some apps will default to 60Hz, like the in-house Photos app (so too will Google Photos, actually). YouTube switches to 60Hz upon launch, while Netflix lets you enjoy the UI at 120Hz but switches to 60Hz for video playback. Unfortunately, we couldn't get above 60Hz in a game or a gaming benchmark.
OnePlus 10T battery life
A 4,800mAh battery powers the OnePlus 10T - a very reasonable capacity given the rest of the hardware. The tiny Zenfone 9 has a 4,300mAh cell, while the Xiaomi 12 Pro makes do with 4,600mAh and the Galaxy S22+ stands at 4,500mAh.
The 10T does a solid job of converting those mAhs into battery life and is good for 17:24h of video playback (at 60Hz) or 14:41h of Wi-Fi web browsing (also at 60Hz as we couldn't force the 120Hz mode for the test). The 28:35h result on a voice call is also respectable. Factoring in the okayish standby result, we arrive at an overall Endurance rating of 96h.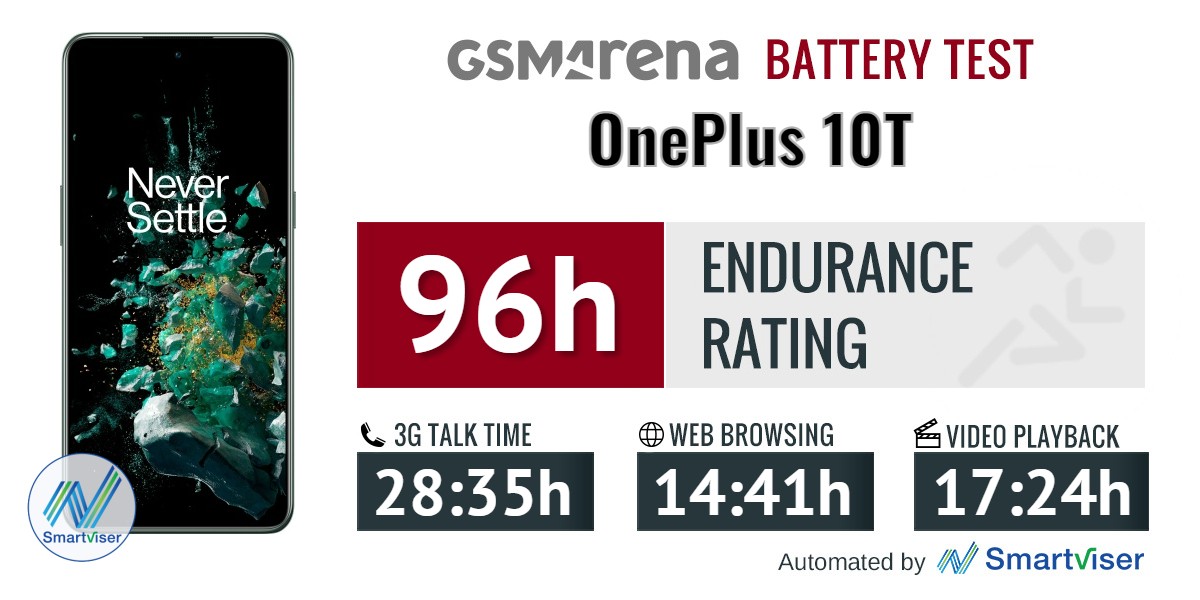 Our battery tests were automated thanks to SmartViser, using its viSerDevice app. The endurance rating denotes how long the battery charge will last you if you use the device for an hour of telephony, web browsing, and video playback daily. More details can be found here.
Video test carried out in 60Hz refresh rate mode. Web browsing test done at the display's highest refresh rate whenever possible. Refer to the respective reviews for specifics. To adjust the endurance rating formula to match your own usage - check out our all-time battery test results chart.
Charging speed
OnePlus advertises 150W charging capability for the 10T, and the phone ships with a charger rated at 160W. The phone has the usual two-cell split inside and charges the two separately, while advanced controller chips monitor the process. They say that after 1600 charging cycles, the battery should still be at 80% of its initial capacity, which sounds like pretty excellent longevity to us.
The whole thing with crazy wattages is almost entirely for marketing purposes, of course, and the 150W OnePlus isn't going to charge 25% faster than a 120W-capable Xiaomi, nor is it going to take 1/6 of the time a Galaxy charges at 25W. It may or may not reach the advertised value for a brief instant and switch to more sustainable numbers - we spotted 130W on our meter, but we may very well have missed the 'peak'.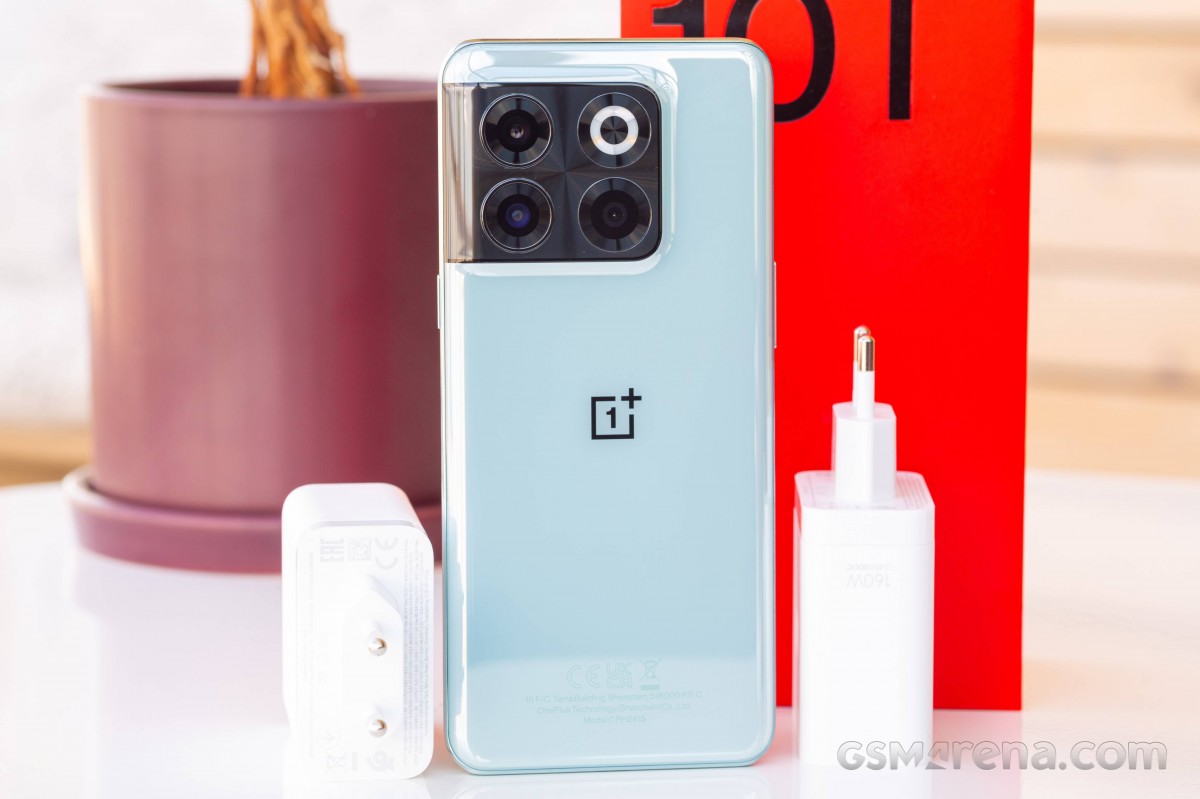 That's not to say it's not fast, mind you - it very much is. In our testing with the bundled charger, the 10T took 18 to 19 minutes to get to 100% from flat, with 2 to 5 minutes on top for it to reach a 'full' state and stop charging. The first 10 minutes of that process will get you to 65-67%, which is great if you often end up forgetting to plug in when you go to bed at night. In fact, charging speeds this fast will likely lead to you abandoning overnight charging entirely, we've been told.
For comparison, we tried a third-party 65W USB PowerDelivery adapter, and we got decent numbers out of that as well - 45% in half an hour, 1:14h to full. As a side note, the included OnePlus adapter is also rated for USB PowerDelivery output up to 45W.
30min charging test (from 0%)
Higher is better
OnePlus 10T
100%
Xiaomi 12 Pro (120W)
100%
iQOO 9 Pro
100%
Realme GT2 Explorer Master
100%
OnePlus Nord 2T
99%
OnePlus 10 Pro
98%
Realme GT2 Pro
91%
Xiaomi 12S Ultra
73%
Xiaomi 12 Pro (65W PD)
62%
Samsung Galaxy S22+ (25W)
62%
Asus Zenfone 9
57%
Sony Xperia 1 IV
47%
Apple iPhone 13 Pro Max (20W Apple)
42%
Time to full charge (from 0%)
Lower is better
OnePlus 10T
0:19h
Xiaomi 12 Pro (120W)
0:21h
iQOO 9 Pro
0:21h
Realme GT2 Explorer Master
0:25h
OnePlus Nord 2T
0:32h
OnePlus 10 Pro
0:32h
Realme GT2 Pro
0:40h
Xiaomi 12S Ultra
0:50h
Xiaomi 12 Pro (65W PD)
0:50h
Samsung Galaxy S22+ (25W)
1:02h
Asus Zenfone 9
1:15h
Sony Xperia 1 IV
1:42h
Apple iPhone 13 Pro Max (20W Apple)
1:46h
One downside of the OP10T's charging capabilities is its lack of wireless charging support.
Speaker test
The speaker setup on the OnePlus 10T is a fairly standard arrangement with a bottom-firing unit on one end and a top/front-firing one above the display that also serves as the earpiece for voice calls. The top speaker is assigned the left channel in portrait orientation, while in landscape, the phone will switch the channels to respect its orientation in space. Either way, the opposite speaker will broadcast some of the other channel's sound at a much lower volume.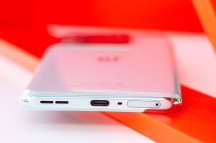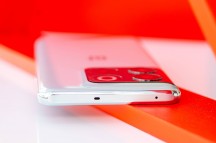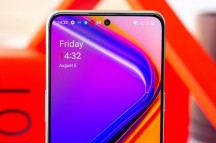 Bottom speaker • Top speaker/earpiece
The 10T earned a 'Very good' rating for loudness in our test, same as the 10 Pro and the Nord 2T. Competitors are in the same loudness ballpark too. The 10T does have a more full-bodied presence than the Nord, and it's ever so slightly bassier than the 10 Pro, but it's hardly a low-end champ - the Zenfone 9, tiny as it may be, has more thump. We'd still pick the 10T over the Galaxy S22+ though.
Use the Playback controls to listen to the phone sample recordings (best use headphones). We measure the average loudness of the speakers in LUFS. A lower absolute value means a louder sound. A look at the frequency response chart will tell you how far off the ideal "0db" flat line is the reproduction of the bass, treble, and mid frequencies. You can add more phones to compare how they differ. The scores and ratings are not comparable with our older loudspeaker test. Learn more about how we test here.