OxygenOS 12.1
OxygenOS was always known for having features that enhanced a clean, near-stock skin over Android. Over the last couple of iterations of OxygenOS, it has slowly morphed into an inconsistent mishmash of OxygenOS, ColorOS and somehow Android 12, while boldly pretending it is supposed to be OxygenOS. We've previously expressed our disappointment with OxygenOS 12 in a separate review.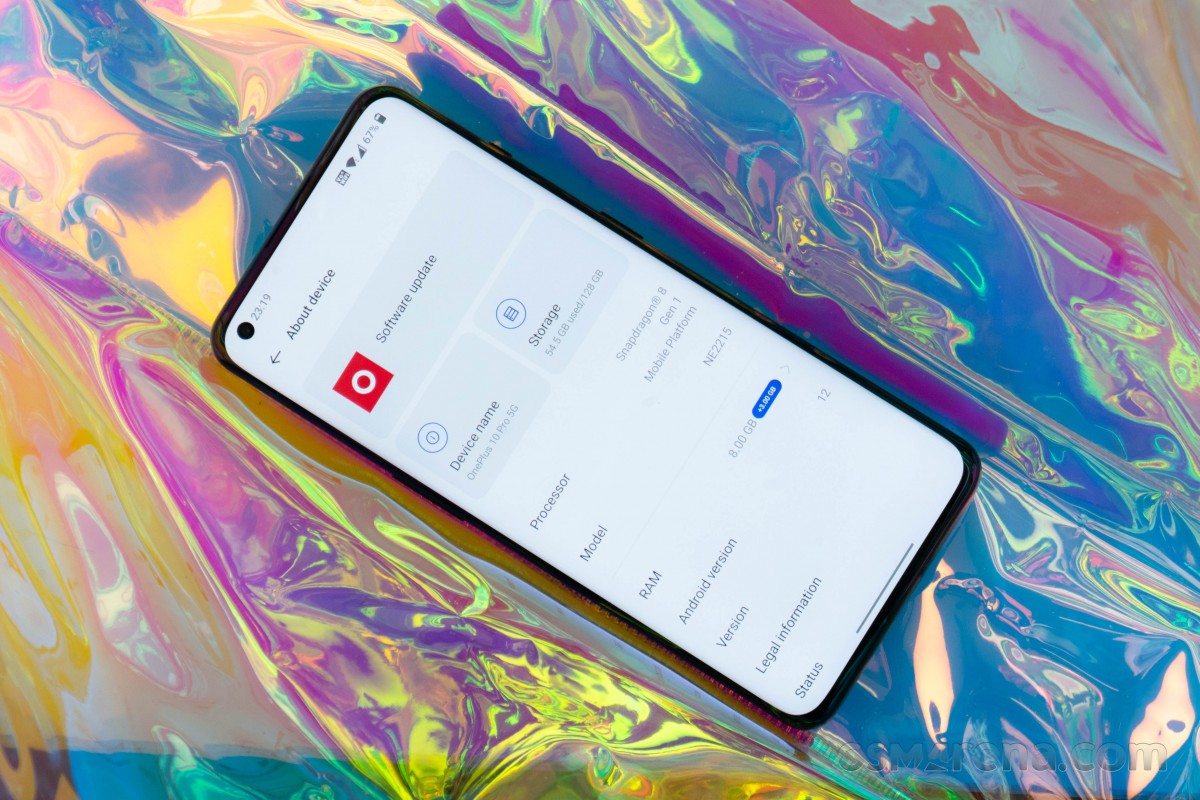 Recently, OnePlus has recognized feedback from its users and promised to revert back to a cleaner, stock-like UI with OxygenOS 13. Until that update arrives later this year, we're going to brush over the firmware that comes on the OnePlus 10 Pro, including the features that OnePlus highlights with the 10 Pro.
OnePlus devices running previous versions of OxygenOS used round icons, but OxygenOS 12.1 uses square icons with rounded edges. ColorOS uses the exact same icons (and launcher), likely inspired by the look and feel of iOS icons as many Chinese Android skins tend to have.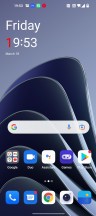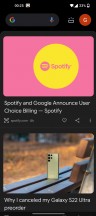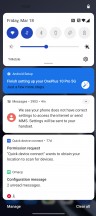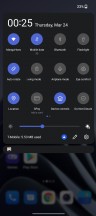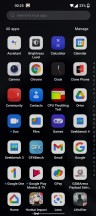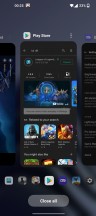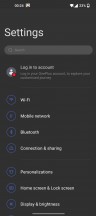 Homescreen • Google Feed • Notification Shade • Quick Settings • Drawer • Recents • Settings
This launcher lets you customize the transition animation, grid size, and more options, including a toggle to switch between having an app drawer or not having one at all. It also lets you lock the home screen icons so they can't be changed, you can also enable double-tap-to-wake/sleep from this menu. Raise to wake is also set here.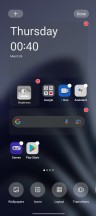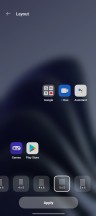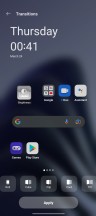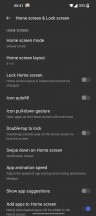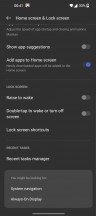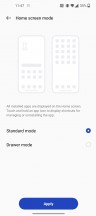 Launcher Settings • Layout • Swipe animation • Additional home settings
The Personalization screen lets you tweak the look of the interface. Here, you'll find options to change the wallpaper, app icons, always-on display settings, and Canvas. You'll also see an option to change the shape of the Quick Settings icons, accent color, font and screen size, fingerprint animation, and the horizon light color.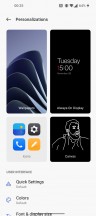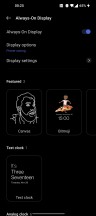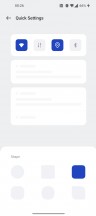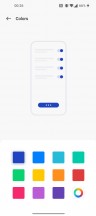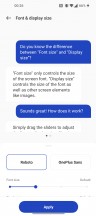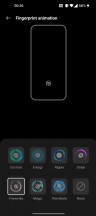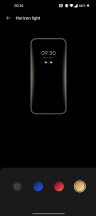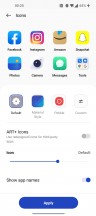 Personalization options • AOD 1 • AOD 2 • Quick Settings icons • Accent color • Font • Fingerprint animation • Horizon light color • App icons
There's a sort of wallpaper generator that will take an image and generate color schemes using several preloaded OnePlus wallpapers. Canvas is a cutesy way to feature a portrait of yourself or someone on your lock screen. It supports AOD as well.
The OnePlus Shelf is still around. It's accessed by pulling down the upper right corner of the status bar and displays a customizable section of shortcuts, widgets, and useful applets. This time with a new appearance, along with OnePlus' "Scout" search integration which searches through all your content like a universal search engine.
Previously an India-exclusive feature, Work Life Balance 2.0 is now available globally with the OnePlus 10 Pro. This allows you to set triggers (location or Wi-Fi network) for different app notification profiles or manually toggle between them. They can also be scheduled throughout the day if you prefer.
Dark mode is more customizable with this version of OxygenOS. You can choose between a gentle, medium, or enhanced dark mode that suits your visual needs.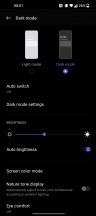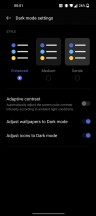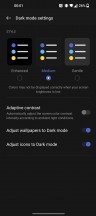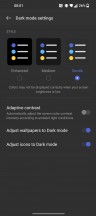 Dark Mode and its different levels
OnePlus has replaced "Hidden Space" with a new feature called "Private Safe". They are fundamentally different implementations of the same feature, but the latter is more complicated than it needs to be. If you want to use the App Lock, rather than simply hiding apps from appearing in the launcher into a hidden "compartment" of the launcher, you now need to set up a passcode to access hidden apps, and another code needs to be created and entered in the dialer app to access it.
Let's talk about the fingerprint scanner for a bit, which we're glad to see is back to a more comfortable position that's not on the lower edge of the screen. This is an optical scanning unit, which works quickly and reliably.
Alternatively, you can set up face unlock as another form of biometric authentication. In our experience, we've had mixed results with this feature. We found that its reliability was not as consistent as the 9 Pro's face unlock feature. This, however, could potentially be solved with a future firmware update.
There are several features for mobile gamers. The game launcher will automatically populate with games, or you can add them manually. It also shows stats for the games you play, like how long you played which games throughout the week. In the settings, you can adjust notification settings for in-game.
Once in-game, you can access game settings by swiping down on the upper right corner of the screen. From here, you'll see a menu with options to quickly access chat apps, toggle notifications, start the screen recorder, play with the touch optimization settings, and toggle a system status widget that shows current temp/CPU/GPU usage. You can customize the order of these game settings as well.
There's also something called "Pro Gaming mode" which disables anything that distracts from the game, including notifications, calls, gestures, and even blocks gaming tools altogether for those who don't want anything getting in the way of the game.
The overall look and feel of OxygenOS 12.1 are not what OnePlus owners were used to. We're happy to see that OnePlus has heard the feedback of its users, but having to wait until the next Android release to see it may upset some users.
Synthetic benchmarks and sustained performance
The 10 Pro comes with Qualcomm's latest and greatest Snapdragon 8 Gen 1. The SoC uses an octa-core CPU consisting of 1x main Cortex-X2 core that runs at 3.0 GHz, aided by 3x Cortex-A710 cores ticking at 2.5 GHz, plus a third cluster of 4x Cortex-A510 cores at 1.8 GHz for less demanding tasks to preserve energy. The Adreno 730 GPU takes care of graphically-intensive tasks and is 25% more efficient than its predecessor.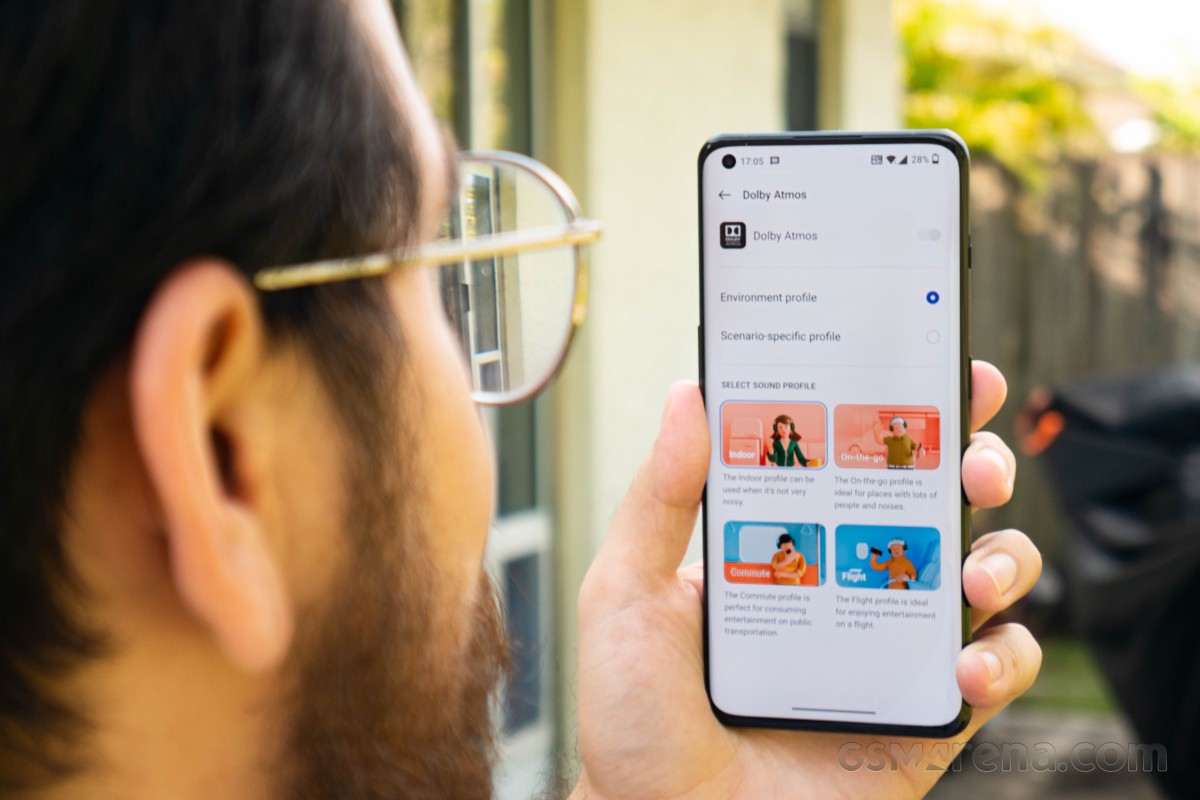 We put the OnePlus 10 Pro through its usual round of synthetic benchmark apps to see how it did compared to some other devices running the same chipset. By the way, the following benchmarks were run with the 8GB+128GB North American variant.
GeekBench 5 (multi-core)
Higher is better
Apple iPhone 13 Pro
4687
ZTE nubia Red Magic 7
3855
iQOO 9 Pro
3708
Xiaomi 12
3652
OnePlus 9 Pro
3636
Samsung Galaxy S22+
3528
Realme GT2 Pro
3501
OnePlus 10 Pro
3447
Huawei P50 Pro
3145
Google Pixel 6 Pro
2831
GeekBench 5 (single-core)
Higher is better
Apple iPhone 13 Pro
1709
ZTE nubia Red Magic 7
1246
Realme GT2 Pro
1238
iQOO 9 Pro
1231
Xiaomi 12
1187
Samsung Galaxy S22+
1165
OnePlus 9 Pro
1126
Huawei P50 Pro
1105
Google Pixel 6 Pro
1042
OnePlus 10 Pro
975
AnTuTu 9
Higher is better
ZTE nubia Red Magic 7
1056488
iQOO 9 Pro
997948
Xiaomi 12
985115
Realme GT2 Pro
966251
Samsung Galaxy S22+
886916
OnePlus 10 Pro
886248
Apple iPhone 13 Pro
794348
OnePlus 9 Pro
789332
Huawei P50 Pro
786215
Google Pixel 6 Pro
719815
GFX Aztek Vulkan High (onscreen)
Higher is better
ZTE nubia Red Magic 7
64
Apple iPhone 13 Pro
60
Xiaomi 12
59
Samsung Galaxy S22+
51
OnePlus 10 Pro
41
Realme GT2 Pro
39
iQOO 9 Pro
37
OnePlus 9 Pro
27
Google Pixel 6 Pro
26
Huawei P50 Pro
26
GFX Aztek Vulkan High (offscreen 1440p)
Higher is better
Apple iPhone 13 Pro
50
OnePlus 10 Pro
48
ZTE nubia Red Magic 7
48
Realme GT2 Pro
46
Xiaomi 12
45
iQOO 9 Pro
44
Samsung Galaxy S22+
34
OnePlus 9 Pro
31
Google Pixel 6 Pro
30
Huawei P50 Pro
30
GFX Car Chase ES 3.1 (onscreen)
Higher is better
ZTE nubia Red Magic 7
77
Xiaomi 12
75
Samsung Galaxy S22+
68
Apple iPhone 13 Pro
60
OnePlus 10 Pro
48
Realme GT2 Pro
48
iQOO 9 Pro
46
Huawei P50 Pro
44
Google Pixel 6 Pro
39
OnePlus 9 Pro
36
GFX Car Chase ES 3.1 (offscreen 1080p)
Higher is better
Apple iPhone 13 Pro
119
OnePlus 10 Pro
97
ZTE nubia Red Magic 7
97
iQOO 9 Pro
95
Realme GT2 Pro
95
Xiaomi 12
84
Samsung Galaxy S22+
76
OnePlus 9 Pro
70
Google Pixel 6 Pro
70
Huawei P50 Pro
64
3DMark Wild Life Vulkan 1.1 (offscreen 1440p)
Higher is better
ZTE nubia Red Magic 7
10118
iQOO 9 Pro
9673
OnePlus 10 Pro
9610
Xiaomi 12
9535
Realme GT2 Pro
9487
Samsung Galaxy S22+
7405
Google Pixel 6 Pro
6602
OnePlus 9 Pro
5701
Huawei P50 Pro
5651
We noticed the OnePlus 10 Pro underperformed the 9 Pro in Geekbench 5, but saw significant improvements across the board. Although it was the lowest scoring Snapdragon 8 performer on AnTuTu, the OnePlus 10 Pro fared well in the remaining graphics performance tests, though the onscreen tests were lower due to the 10 Pro having a higher-res display.
The offscreen tests scored well. With the 10 Pro scoring towards the top amongst other competitors running the same chipset.
Sustained performance
OnePlus confirms that it has made significant efforts to improve the thermal performance of the 10 Pro with what it calls its "3D Passive cooling system". This consists of a large, custom-made vapor chamber, copper foil, and copper carbon, all of which pull heat from both sides of the motherboard. There's a new cooling film made of graphene, which altogether makes up a surface area of more than 34,100 mm sq.
The Snapdragon 8 Gen 1 is an SoC that's both power hungry and generates plenty of heat, thus keeping it cool is no easy task. All of that said, this new cooling system works very well. We've seen exceptional sustained performance from the 10 Pro. The thermal-throttling decline was gradual and well-controlled, with no sudden dips that would cause stuttering in real-world use. Performance didn't drop more than 20% during the CPU Throttling Test.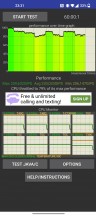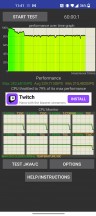 CPU Throttle test: Attempt 1 • Attempt 2
Otherwise, we also ran the 3DMark Wild Life Stress Test, which repeats a 1-minute benchmark test over 20 minutes and every new score is recorded as the device gets hotter. You can see a perfect plateau at the sixth run, which is maintained consistently through the end of the test.