Fluid AMOLED LTPO
The OnePlus 10 Pro has a 6.7-inch AMOLED display with 3216x1440 resolution - the same panel from the 9 Pro. It uses second-generation LTPO panel technology and has a dynamic refresh rate that maxes out at 120Hz. The panel features 10-bit color depth and 100% coverage of the sRGB and Display P3 color spaces.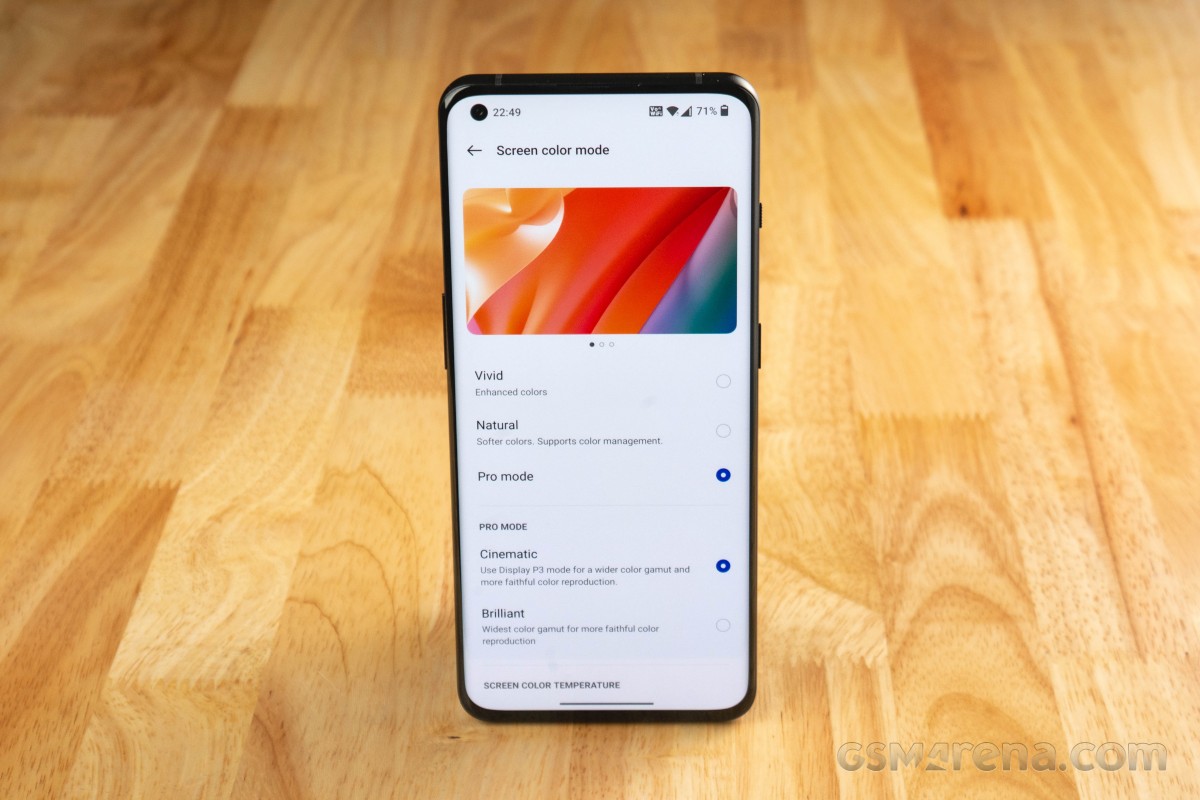 Though it's using the same panel as the 9 Pro, the 10 Pro now features "Dual Calibration". This means that the 10 Pro has been color-calibrated at 500 nits, as well as 100 nits for more accurate colors across multiple levels of brightness.
OnePlus claims 1300 nits of peak brightness. We measured a maximum of around 780 nits with SDR content, although it should be possible to hit 1300 nits with HDR under the right conditions and a smaller APL. With the manual brightness slider, you can expect around 500 nits of peak brightness for SDR content. The lowest brightness we measured was a dim 2 nits.
Display test
100% brightness
Black,cd/m2
White,cd/m2
Contrast ratio
Samsung Galaxy S22+ (Max Auto)
0
1214
∞
Apple iPhone 13 Pro (Max Auto)
0
1063
∞
vivo iQOO 9 Pro (Max Auto)
0
1000
∞
Xiaomi 12 (Max Auto)
0
896
∞
OnePlus 9 Pro (Max Auto)
0.038
871
22921:1
Google Pixel 6 Pro (Max Auto)
0
860
∞
Apple iPhone 13 Pro
0
856
∞
Samsung Galaxy S22+ (Extra brightness)
0
782
∞
OnePlus 10 Pro (Max Auto)
0
780
∞
Realme GT2 Pro (Max Auto)
0
778
∞
Huawei P50 Pro (Max Auto)
0
754
∞
Huawei P50 Pro
0
609
∞
OnePlus 9 Pro
0
525
∞
OnePlus 10 Pro
0
498
∞
Google Pixel 6 Pro
0
497
∞
Xiaomi 12
0
494
∞
Realme GT2 Pro
0
482
∞
Samsung Galaxy S22+
0
468
∞
vivo iQOO 9 Pro
0
438
∞
The display color settings feature three options: Vivid, Natural, and Pro. Vivid is calibrated to the DCI P3 standard, while Natural is calibrated to the sRGB standard.
Pro mode features two sub-options, Cinematic, which sets the display to the Display P3 color space, and Brilliant, which sets the display to its widest native color gamut. Regardless of which color preset you choose, you always have the option of manually adjusting the color temperature, although it's a simple slider without an exact color temperature readout.
The phone supports native color management and can adjust the display's color space based on the content, so you should ideally just set it to the Natural mode if you always want the most accurate colors that match the content.
In our testing, the OnePlus 10 Pro display was very color accurate in every color mode. We also tested across different brightness values and found the accuracy held up quite well. This makes the OnePlus 10 Pro display exceptional for viewing and producing color-accurate content.
The display does have one weakness that it shares with a lot of other consumer OLED panels, and it's black crush. OLED panels usually have poorer near-black gradation compared to other technologies, which causes manufacturers to clip the darker gray levels to black. You can see this in content that takes place at night or in a dark room, where darker colors simply clip to black instead of gradually fading to a darker shade.
The OnePlus 10 Pro supports HDR10, HDR10+, and HLG. The HDR implementation is a mixed bag. When it's working well, the result is reasonably impactful and a step above SDR content. However, for some obtuse reason, OnePlus has tied the HDR brightness to your ambient brightness, even if you have auto-brightness disabled.
This means if you try to watch HDR content in the dark, the display gets way too dark, which defeats the purpose of HDR. Not only does this mess with the absolute brightness values HDR content is mastered for, it means you cannot get additional impact out of the content by trying to watch it in the dark.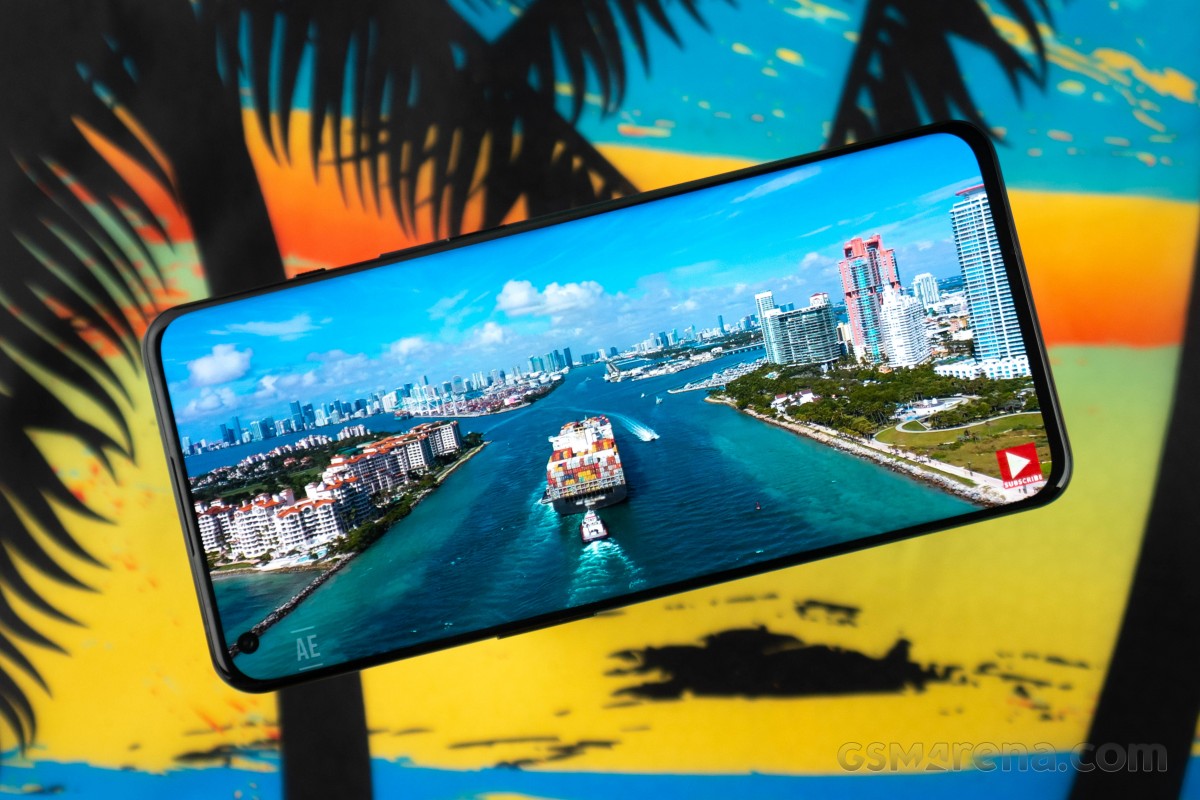 There is a Bright HDR video mode, which enables slightly higher brightness values in HDR mode and doesn't drop as aggressively if you try to watch in the dark.
The display supports dynamic refresh rates. While you are interacting with the display, it can refresh at up to 120Hz, but the moment you stopр it slowly drops down 60Hz, 10Hz, or even 1Hz.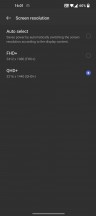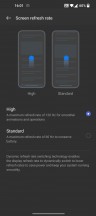 Screen: Resolution • Refresh rate
While this is definitely cool from a power-saving perspective, we wish OnePlus had done a better job with the implementation.
The display checks if there are moving elements on the screen to set its refresh rate when you are not interacting with it. This often results in odd results; when left on the lyrics screen of Apple Music, the display couldn't decide if it wanted to stay at 60Hz or 10Hz and kept alternating between the two, making the scrolling lyrics look choppy.
While watching video content, the display can drop down to either 60Hz or 30Hz, depending upon the video frame rate. If you watch 24fps content, the display would still settle on 30fps, which results in some judder from the mismatched frame pacing. An intermediary 24Hz or 48Hz option would have made a lot more sense, and something other manufacturers like Xiaomi have implemented in the past. The refresh rate for video also maxes out at 60Hz, so even though the phone is capable of recording 120fps video, it can only be viewed at 60fps on the phone itself.
The refresh rate changing based on video also had another downside. Apps like Twitter and Instagram often have video elements as you scroll through them, and the OnePlus 10 Pro display would constantly flutter back and forth between 120Hz and 60Hz while scrolling, which makes the scrolling extremely janky.
When it comes to gaming, 60Hz is about as high as the display will go in most titles. OnePlus continues to implement draconian frame rate limits on games outside of select few titles that it deems worthy of 90Hz. There is not even an option for users who may want to sacrifice some battery life or deal with additional heat in exchange for a better gaming experience. You are sitting on all this processing power, and the best you can do most of the time is 60fps. It's just embarrassing at this point.
Lastly, we would be remiss, not to mention the curved edges of the display. As with the OnePlus 9 Pro, the 10 Pro display often has issues dismissing accidental touches along the sides. This makes it difficult to hold the phone by its sides and also use the touchscreen.
Overall, the OnePlus 10 Pro display is quite good and has the potential to be exceptional. However, OnePlus' desperation to eke out every last bit of battery life out of the device has caused features like HDR, dynamic refresh rate, and high refresh rate gaming to be compromised, which is not what you expect from a flagship device.
Battery life
The OnePlus 10 Pro has finally been updated with a 5000 mAh dual-cell battery. Like with previous dual-cell batteries, two smaller batteries charge and deplete in parallel, making it possible to recharge the entire capacity of the battery quicker compared to a conventional battery. The downside to this, however, is the requirement of a proprietary adapter in order to take advantage of SuperVOOC. Otherwise, using SuperVOOC charging doesn't result in excessive temperatures.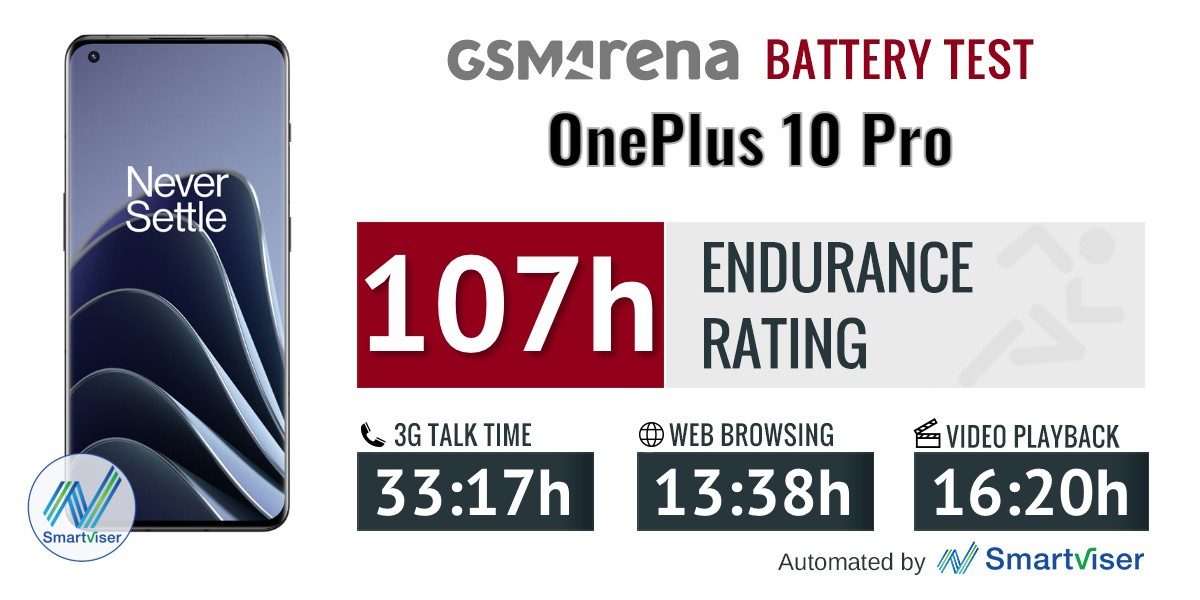 Battery life on the OnePlus 10 Pro sees noticeable improvement over the 9 Pro. In our lab tests, the 10 Pro benefitted from the bump in battery capacity from 4500 mAh to 5000, though it exceeded the expected improvement in a couple of areas.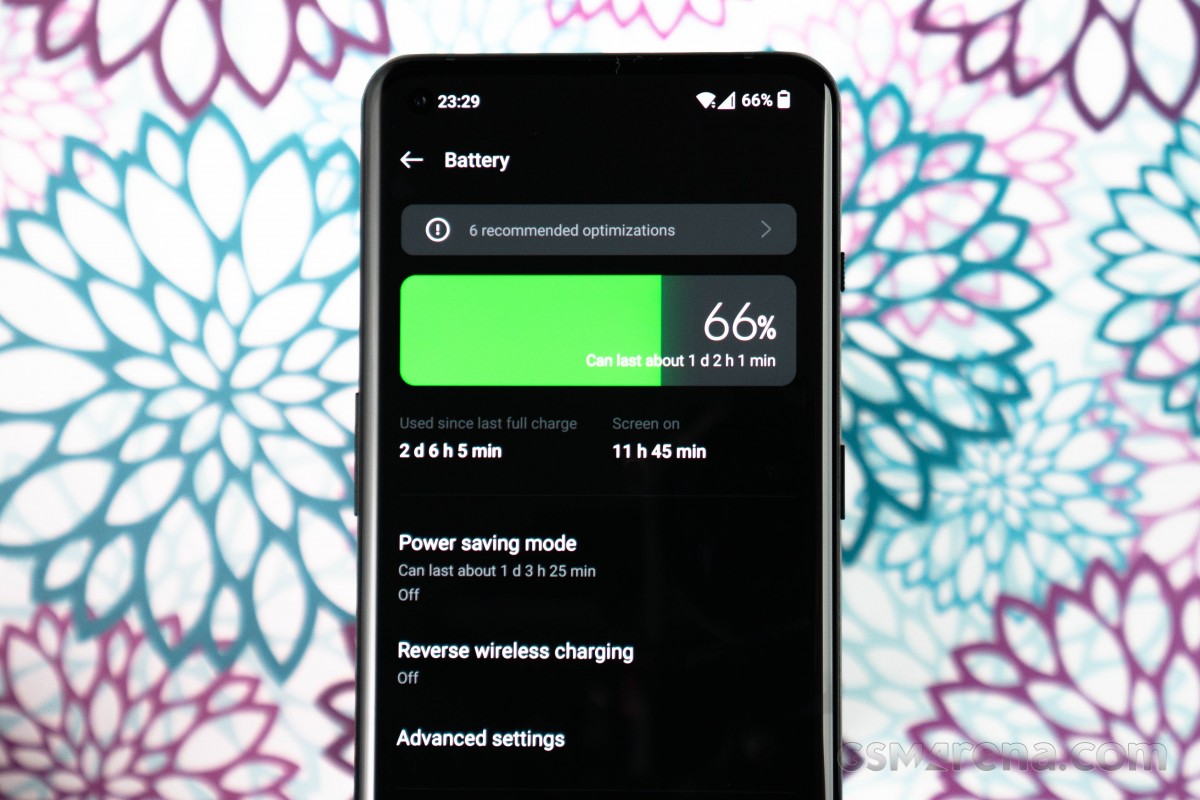 With an overall score of 107h, the OnePlus 10 Pro yielded 33:17h of call time, 13:38h of web browsing, and 16:20h of video. Despite the larger battery, both call and web times were about the same, but the video score improved. Standby battery drain was significantly better this time around.
Our battery tests were automated thanks to SmartViser, using its viSerDevice app. The endurance rating denotes how long the battery charge will last you if you use the OnePlus 10 Pro for an hour of telephony, web browsing, and video playback daily. More details can be found here.
Video test carried out in 60Hz refresh rate mode. Web browsing test done at the display's highest refresh rate whenever possible. Refer to the respective reviews for specifics. To adjust the endurance rating formula to match your own usage patterns check out our all-time battery test results chart where you can also find all phones we've tested.
Charging speed
OnePlus' fast-charging has gone from being called "Dash" to "Warp", and now we've landed on SuperVOOC. Rather than maintain separate names for charging technologies between sister brands, OnePlus' integration with Oppo means that OnePlus is positioned as a sub-brand for Oppo, which also uses SuperVOOC charging.
In North America, the OnePlus 10 Pro will ship with the 65W SuperVOOC charger. Meanwhile, the 80W charger is packaged in EU and India (as well as China). OnePlus official reason for this is that the 80W SuperVOOC is not compatible with 110V current but, frankly, it doesn't matter because both chargers yield identical top-up times.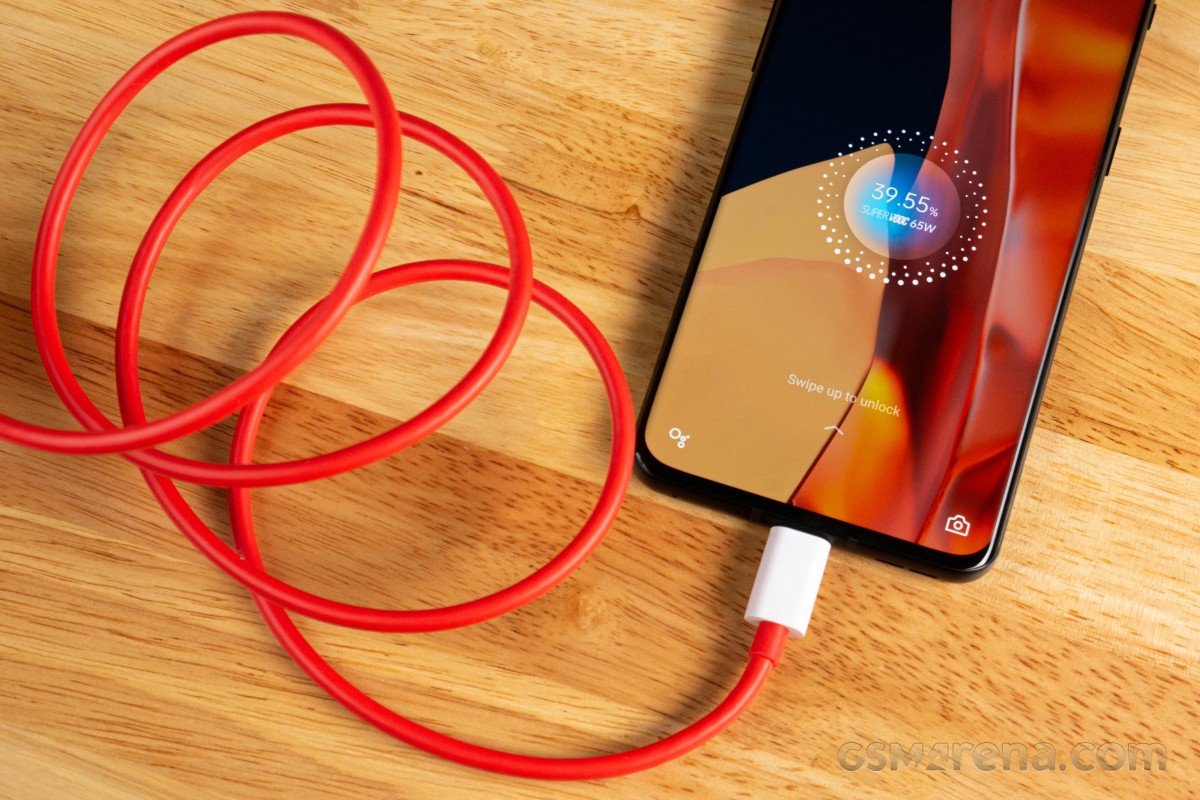 The 65W SuperVOOC adapter is advertised to fully recharge the 5,000 mAh battery in 34 minutes (80W is advertised at 32 minutes), though we managed to get a full charge two minutes earlier (using the 65W charger). Plus, we were able to achieve a 64% charge in just 15 minutes.
The AirVOOC wireless charger maxes out at 50W and is advertised to fully charge the battery in 47 minutes.
30min charging test (from 0%)
Higher is better
OnePlus 9 Pro
99%
OnePlus 10 Pro (65W)
98%
Oppo Find X5 Pro
91%
Realme GT2 Pro
91%
Huawei P50 Pro
73%
Samsung Galaxy S22+ (25W)
62%
Apple iPhone 13 Pro (20W Apple)
60%
Google Pixel 6 Pro
48%
Time to full charge (from 0%)
Lower is better
OnePlus 10 Pro (65W)
0:32h
OnePlus 9 Pro
0:32h
Oppo Find X5 Pro
0:40h
Realme GT2 Pro
0:40h
Huawei P50 Pro
0:50h
Samsung Galaxy S22+ (25W)
1:02h
Apple iPhone 13 Pro (20W Apple)
1:38h
Google Pixel 6 Pro
1:52h
Speakers
The OnePlus 10 Pro has a decent but unremarkable sounding pair of stereo speakers. There's one in the earpiece and another one at the bottom of the phone, and the two sound well balanced when playing together.
The tonality is more mid-forward, which makes it suitable for YouTube videos, podcasts, and such, as the vocals come through clearly with a good amount of warmth. However, the bass and treble response is weak, so the music doesn't sound as good.
Compared to the OnePlus 9 Pro, the OnePlus 10 Pro sounds a bit muted at lower volumes as the 9 Pro has a brighter, more lively sound. At higher volumes, the 9 Pro tends to sound more shrill, whereas the 10 Pro sounds more balanced with better bass response. Both phones get equally loud, but the 9 Pro sounds a bit louder due to added treble presence.
The OnePlus 10 Pro also has Dolby Atmos audio processing. It's permanently on for the speakers but can be disabled when you connect headphones.
Update, 26 Aug 2022: We ran the OnePlus 10 Pro through our loudspeaker test and the phone earned a 'Very good' rating - slightly better than the Realme GT2 Pro and in the same bracket as the Galaxy S22+ and the iPhone 13 Pro max (though the iPhone is louder, both numerically and to our ears) .
Use the Playback controls to listen to the phone sample recordings (best use headphones). We measure the average loudness of the speakers in LUFS. A lower absolute value means a louder sound. A look at the frequency response chart will tell you how far off the ideal "0db" flat line is the reproduction of the bass, treble, and mid frequencies. You can add more phones to compare how they differ. The scores and ratings are not comparable with our older loudspeaker test. Learn more about how we test here.