One UI Watch 4.5 is coming in Q3 with keyboard, dual-SIM support and accessibility features
Samsung is almost ready to deliver the One UI Watch 4.5 update to the Galaxy Watch4 and Watch4 Classic. It is based on Google Wear OS 3.5 (this also means that the older Tizen-based Galaxy Watches are not getting it, in case you were wondering). This software will also run on "upcoming Galaxy Watch Series", hint, hint.
The new version will improve the watches' communication skills. Previously it was possible to install Gboard for typing and voice input, now Samsung has prepared a new keyboard. It supports swipe input, handwriting recognition and voice dictation. Users will be able to switch seamlessly between the input methods, e.g. swiping offers more privacy if there are bystanders.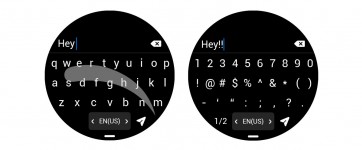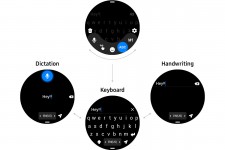 The new QWERTY keyboard can switch between swipe input, dictation and handwriting recognition
Additionally, if your Galaxy Watch is paired to a dual-SIM Galaxy phone, you will be able to choose which SIM is used when making a call from the watch (there is also an "Ask always" option). Note that this is for calling through the phone and not for watches with eSIM.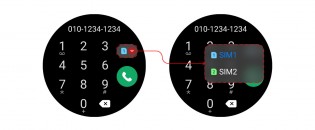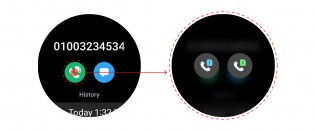 If you have a dual SIM phone, the watch will let you choose which SIM to use when dialing
One UI Watch 4.5 will also add new accessibility features. Users that have trouble distinguishing certain colors will be able to adjust the screen hue and increase contrast. Additionally, they will be able to reduce transparency and blur effects and remove animations. If you have a Bluetooth headset connected to the watch, you will be able to adjust the left/right audio balance, in case you have trouble hearing with one ear.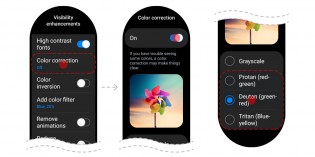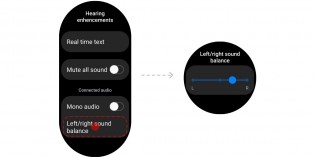 The display and audio can be adjusted if you have troubles with eyesight or hearing
The new software also lets you slow things down, e.g. there is a setting to adjust tap duration and an option to ignore repeated touches. On top of that, functions that appear briefly on the screen (e.g. volume and notification displays) can be made to stick around for longer. All of the accessibility options will be available through a convenient menu. The Home button can be set to launch your most commonly used features with a double tap or a tap and hold.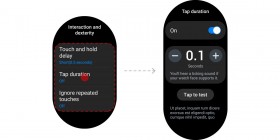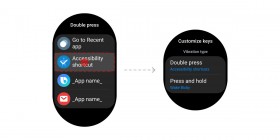 Adjusting tap duration • The Home button can trigger the most commonly used features
Samsung also improved the customization features. The new Favorites list lets you add the best watch faces for easy access and there is a neat trick – you can add the same watch face multiple times, just with a different theme and a different set of complications.

The same watchface can be added to the Favorites list with different styles and complications
The One UI Watch 4.5 update will be rolled out to the Galaxy Watch4 series in the July-September quarter. This is not an exhaustive list of all the new features, by the way, Samsung has other improvements up its sleeve, which will be revealed in due time.
N
Improvements? :) Could you please update my battery to a bigger capacity?
G
No rotating bezel??? This was the only draw for me to Samsung, if they don't bring it back next year I might go for something else.
R
Samsung: Tizen-based watches will get 3 years of updates even though we move to wearOS Also Samsung: hasn't updated Galaxy Watch3 from 2020 or any tizen-based watch once this year Me: Fu¢k you Samsung 🖕
ADVERTISEMENT