Still one of the best gaming OLEDs on the market
More than five months later, the Red Magic 5S still has one of the best gaming OLEDs on the market. So far only the Asus ROG Phone 3 has reached the 144Hz mark and it's the only alternative on the market with such display.
Once again, we must say that we fully support nubia's decision to go without cutouts and use slightly thicker bezels for the top and bottom of the screen. This ensures a more secure grip and no obstructions during gameplay. It's still a 6.65-inch AMOLED with FHD+ (1080 x 2340px) resolution making up for a tall 19.5:9 aspect ratio. Of course, the 144Hz refresh rate and the 240Hz touch sampling rate are the specs that make it special.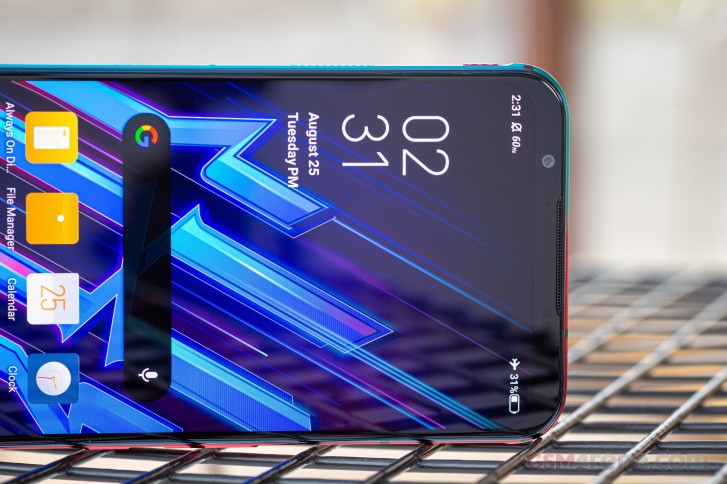 Still, there's the argument that most Android's mobile games do not support anything beyond 60 frames per second. And that's true for most of the games, but the library of titles on Google Play going above that threshold is growing. Also, even if the hardware can't utilize those frames with some of the titles, that doesn't mean you can't appreciate the smooth navigation and scrolling in numerous other apps and system menus.
If you are an experienced gamer, you will probably notice the difference between 120Hz and 144Hz. It's not that apparent, and it's not a mind-blowing difference, but it's a nice thing to have and you can appreciate it every day you use your phone.
Display test
100% brightness
Black,cd/m2
White,cd/m2
Contrast ratio
ZTE nubia Red Magic 3
0
377
∞
ZTE nubia Red Magic 3s
0
480
∞
nubia Red Magic 5G
0
483
∞
nubia Red Magic 5G (Max Auto)
0
685
∞
nubia Red Magic 5S
0
459
∞
nubia Red Magic 5S (Max Auto)
0
459
∞
Asus ROG Phone II
0
479
∞
Asus ROG Phone II (Max Auto)
0
626
∞
Asus ROG Phone 3
0
464
∞
Asus ROG Phone 3 (Max Auto)
0
719
∞
Oppo Find X2 Pro
0
536
∞
Oppo Find X2 Pro (Max Auto)
0
871
∞
Samsung Galaxy S20+
0
379
∞
Samsung Galaxy S20+ (Max Auto)
0
797
∞
OnePlus 8 Pro
0
538
∞
OnePlus 8 Pro (Max Auto)
0
888
∞
Xiaomi Poco F2 Pro
0
516
∞
Xiaomi Poco F2 Pro (Max Auto)
0
854
∞
And even though the Red Magic 5G showed excellent performance when it comes to outdoor visibility, the 5S seems to be dragging behind. We've talked with nubia about this, and it turns out that there's an issue with our unit. Since it ships with a pre-production software, that might be the culprit. We got around 480 nits of brightness in manual mode while in auto mode, the panel didn't boost up to the advertised 600 nits. The Red Magic 5G we've tested a couple of months back did go beyond that reaching 685 nits so we have no reason to believe that the 5S can't boost that much.
Color calibration hasn't changed as well with average dE2000 in the default mode measuring at 5.4 while the so-called Natural mode goes as low as 4.6.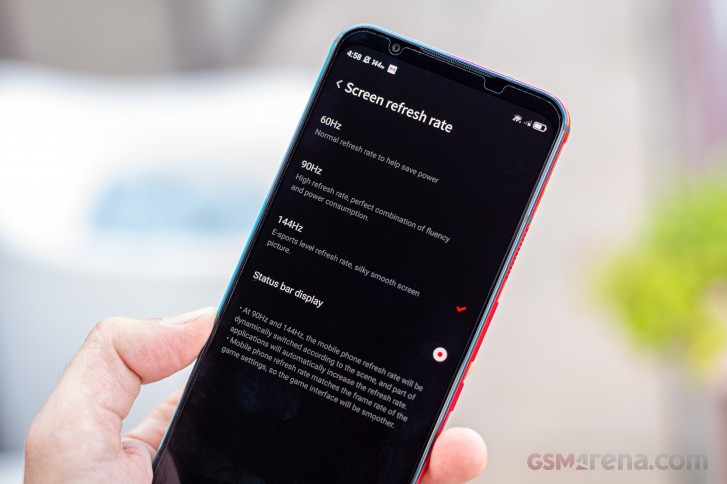 Something else that hasn't changed but we wish it did is the adjustable refresh rate. We had the chance to test out how the HRR feature works in day to day usage, and unfortunately, the display just locks on 144Hz or whatever setting you choose and stays there. No matter the content - static or video, the display constantly runs at 144Hz. Most manufacturers who have adopted the HRR technology use at least some kind of adaptive refresh rate technology to make the power consumption more manageable. This explains why the battery tests in the foirced 144Hz mode are rather disappointing considering the relatively large 4,500 mAh battery.
We've tested this with the default video player, Netflix, YouTube, web browsing using Chrome, and navigating through the menus. The refresh rate remained constant at 144Hz.
Battery life
The battery capacity hasn't changed - still 4,500 mAh. It's a small downgrade compared to the Red Magic 3 family, which boasted 5,000 mAh units but nubia says that they wanted to focus more on cooling design while maintaining manageable weight and thickness, so that's why the had to settle with a smaller battery.
Running our usual tests suggest that there's no change in battery endurance as well. Running the phone at 144Hz will only get you so far. Lowering the refresh rate down to 60Hz will increase battery endurance quite a bit, and choosing the 90Hz mode is probably the sweet spot. You will get a relatively smooth experience without sacrificing battery that much.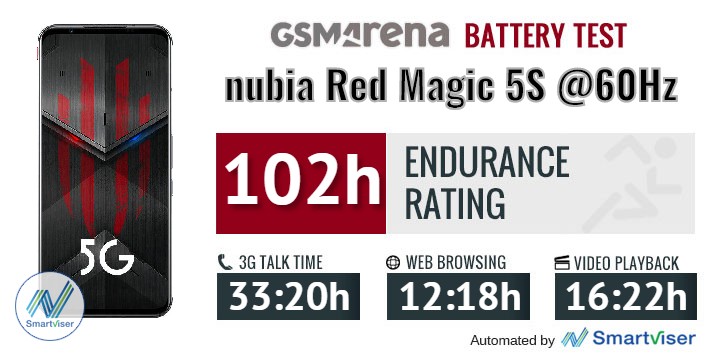 Our battery tests were automated thanks to SmartViser, using its viSerDevice app. The endurance rating above denotes how long a single battery charge will last you if you use the nubia Red Magic 5S for an hour each of telephony, web browsing, and video playback daily. We've established this usage pattern so that our battery results are comparable across devices in the most common day-to-day tasks. The battery testing procedure is described in detail in case you're interested in the nitty-gritty. You can check out our complete battery test table, where you can see how all of the smartphones we've tested will compare under your own typical use.
Charging speed
If you are buying the phone outside of China, you will be disappointed with the charging times as well. The 18W charger was able to charge the phone from 0 to only 33% in 30 minutes - not a great result.
The faster 55W charger is bundled with the phone in China but it requires a separate purchase elsewhere. Luckily, we had the chance to test that one out too and the results this time around are mighty impressive. For the first 30 minutes, the battery gets 87% of its charge back. Leaving the phone on the charger for another 9 minutes will grant you a full charge. It seems that the so-called Neo Charge 55W works on the Power Delivery standard.
30min charging test (from 0%)
nubia Red Magic 5S (55W)
87%
Asus ROG Phone 3
43%
nubia Red Magic 3s
35%
nubia Red Magic 5S (18W bundled)
33%
Time to full charge (from 0%)
nubia Red Magic 5S (55W)
0:39h
Asus ROG Phone 3
1:50h
Speaker test
The Nubia Red Magic 5S, like any self-respecting gaming phone, has a stereo speaker setup. The earpiece is always the left channel in the configuration, and it won't switch if you rotate the phone in landscape with the earpiece to the right. You shouldn't though - the Red Magic 5G has a correct side up thanks to the shoulder buttons.
The nubia also proved to be one of the loudest phones in our speaker test to date surpassing even the ROG Phone 3.
While we don't give out marks for sound quality - it's subjective, and you can hear it for yourself. The ROG Phone 3 provides better clarity here while the Red Magic 5S' sound feels fuller in a way. Perhaps even more bass-y.
Use the Playback controls to listen to the phone sample recordings (best use headphones). We measure the average loudness of the speakers in LUFS. A lower absolute value means a louder sound. A look at the frequency response chart will tell you how far off the ideal "0db" flat line is the reproduction of the bass, treble, and mid frequencies. You can add more phones to compare how they differ. The scores and ratings are not comparable with our older loudspeaker test. Learn more about how we test here.