The pro gamer's display with no cutouts
It's refreshing to see screens without any obstructions like holes and notches these days. And good thing that nubia is sticking to the good old bezels for this particular phone. The current front design allows for a more comfortable and secure grip when playing games in landscape mode. No need to worry for accidentally touching the screen.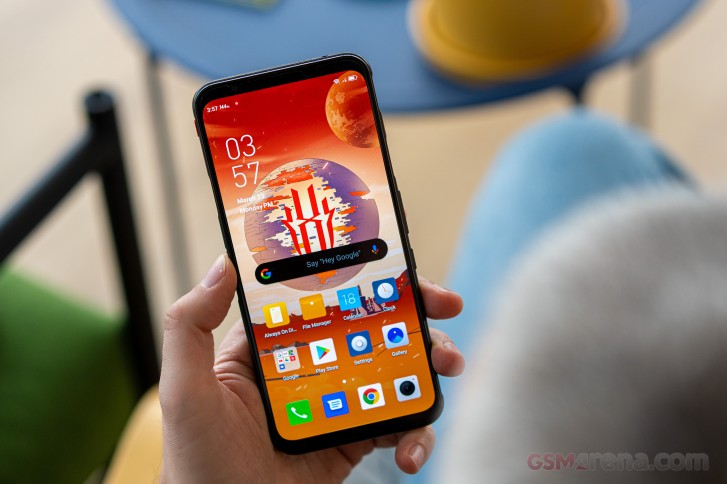 But enough about that. What about the panel itself? Well, it's a 6.65-inch AMOLED screen with standard FHD+ (1080 x 2340px) resolution and aspect ratio of 19.5:9. But what makes it special is the super-fast refresh rate of 144Hz. If you are coming from the PC hardware world, you won't be particularly impressed seeing how modern gaming monitors go even higher than 240Hz. The smartphone market, however, has just recently started adopting the high-refresh rate screens, and 144Hz on an OLED is a breakthrough. For instance, Samsung and Oppo's latest flagships all cap at 120Hz.
Still, there's the argument of Android's mobile games not supporting anything beyond 60 frames per second. And that's true for most of the games, but the library of titles on Google Play going above that threshold is growing. Also, even if the hardware can't utilize those frames with some of the titles, that doesn't mean you can't appreciate the smooth navigation and scrolling in numerous other apps and system menus. If you are an experienced gamer, you will probably notice the difference between 120Hz and 144Hz. It's not that apparent, and it's not mind-blowing, but it's a nice thing to have and appreciate every day you use your phone.
Now let's talk about numbers. The maximum brightness we were able to record is 483 nits, in with Max Auto, the panel peaked at 685 nits. It's not the brightest panel we've tested, but it's definitely up there. The Max Auto brightness is enough to provide comfortable read on a bright sunny day.
Display test
100% brightness
Black,cd/m2
White,cd/m2
Contrast ratio
nubia Red Magic 5G
0
483
∞
nubia Red Magic 5G (Max Auto)
0
685
∞
ZTE nubia Red Magic 3s
0
480
∞
Asus ROG Phone II
0
479
∞
Asus ROG Phone II (Max Auto)
0
626
∞
Oppo Find X2 Pro
0
536
∞
Oppo Find X2 Pro (Max Auto)
0
871
∞
Samsung Galaxy S20+
0
379
∞
Samsung Galaxy S20+ (Max Auto)
0
797
∞
OnePlus 7T Pro
0
429
∞
OnePlus 7T Pro (Max Auto)
0
596
∞
Black Shark 2
0
428
∞
The color calibration, on the other hand, is just okay. The average dE2000 in the default Normal mode is 5.4, while the Natural mode offers a slightly more accurate 4.6. And if accuracy isn't what you are after, go with the Colorful Mode as it offers colors that really pop.
Battery life
The nubia Red Magic 5G has a relatvely sizable battery with a capacity of 4,500 mAh. However, it's a step back compared to the previous generation Red Magic 3 and 3s, which had 5,000 mAh units. And the results from the tests are telling.
Using the phone with its default 144Hz refresh rate, you will get a rather disappointing screen-on time but switching over to 60Hz refresh rate will net in a significant increase in battery life.
The standby power draw is not affected bu the screen's refresh rate but it was also underwhelming, which brings down the overall score even further.
We suspect that the Snapdragon 865 chipset is responsible for that, as the 4G and the 5G modem (the Snapdragon X55) is placed outside of the SoC and has a notable toll on power consumption.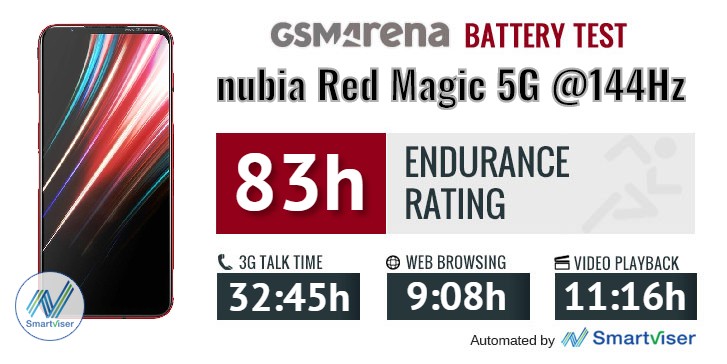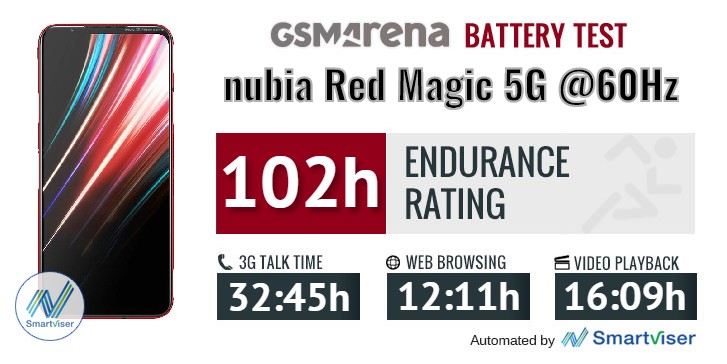 Our battery tests were automated thanks to SmartViser, using its viSerDevice app. The endurance rating above denotes how long a single battery charge will last you if you use the nubia Red Magic 5G for an hour each of telephony, web browsing, and video playback daily. We've established this usage pattern so that our battery results are comparable across devices in the most common day-to-day tasks. The battery testing procedure is described in detail in case you're interested in the nitty-gritty. You can check out our complete battery test table, where you can see how all of the smartphones we've tested will compare under your own typical use.
While you can't do much about the chipset power consumption, we suspect that going for the 90Hz refresh rate will be more sparing on the battery life for screen on tasks and it will still deliver a relatively smooth experience.
And if you are buying the phone outside of China, you will be disappointed with the charging times as well. The 18W charger was able to charge the phone from 0 to 33% in 30 minutes - not a great result.
Speaker test
The Nubia Red Magic 5G, like any self-respecting gaming phone, has a stereo speaker setup. The earpiece is always the left channel in the configuration, and it won't switch if you rotate the phone in landscape with the earpiece to the right. You shouldn't though - the Red Magic 5G has a correct side up thanks to the shoulder buttons.
The Nubia also proved to be one of the loudest phones in our speaker test to date with only the ROG Phone II being louder. nevertheless, it's an 'Excellent' mark for the Red Magic 5G here.
While we don't give out marks for sound quality - it's subjective and you can hear it for yourself. The ROG Phone II provides better bass here and you can find that other phones deliver even more punch in the low range. But for what it is, we are happy with the output by the Red Magic 5G.
Use the Playback controls to listen to the phone sample recordings (best use headphones). We measure the average loudness of the speakers in LUFS. A lower absolute value means a louder sound. A look at the frequency response chart will tell you how far off the ideal "0db" flat line is the reproduction of the bass, treble, and mid frequencies. You can add more phones to compare how they differ. The scores and ratings are not comparable with our older loudspeaker test. Learn more about how we test here.