Nreal changes name to Xreal, launches new Spatial Display and screen casting gadget
Today almost everyone interacts with the digital world through the 2D display of their smartphone or computer. But the future may be a lot more immersive with head-mounted displays that look a lot like ordinary sunglasses. Nreal, the current leader in the AR segment, believes that is the way forward and is launching a pair of products that can work together to add AR capabilities to almost anything – the Xreal Spatial Display and the Xreal Beam. The company is throwing its whole weight behind these products and is even changing its name to "Xreal" to match.
The Xreal Spatial Display is the evolution of the Xreal Air (formerly Nreal Air). It can create a virtual display up to 201" in size and it features 3 Degrees of Freedom (3 DoF) tracking so that the virtual display stays in a fixed position relative to your body rather than moving with your head.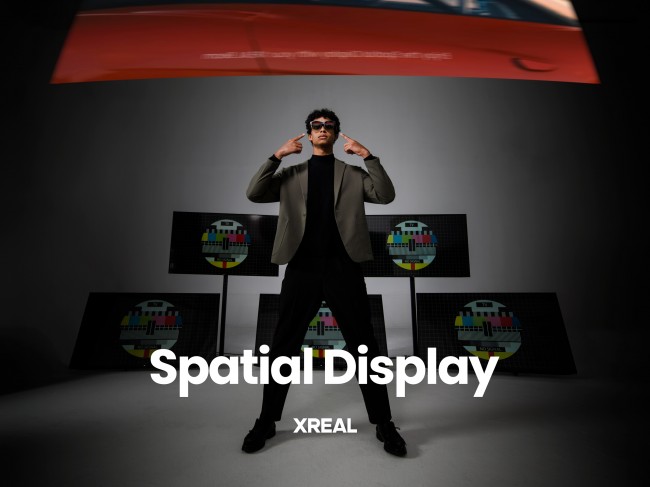 The new Xreal Spatial Display is disguised as glasses
There are two main use cases. The first is when you sit down for a long time – be it on a long commute or when you settle in at home to watch a movie, for example. The Xreal Beam is a key part of that, but we'll get to it in a moment.
The other major use case is when you are out and about. The Spatial Display has a feature called "Smooth Follow", which is sort of like optical image stabilization for virtual displays – it will keep things steady by countering small and sudden movements. "Sideview" is another important feature, this shrinks the virtual display and keeps it to the side of your field of view, so you can walk around the real world fully aware of your surroundings.
The Xreal Air worked on the platforms that supported the Nebula app – that was Android and macOS. The Xreal Beam will greatly expand the selection of devices that can work with the new Spatial Display. It takes in video either over a wire or using a wireless screen casting protocol and forwards the feed to the Display.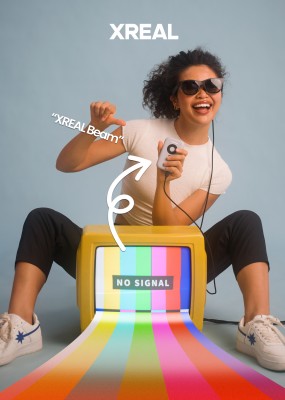 The Xreal Beam supports wired and wireless screen sharing
It has two USB-C ports on board so you can plug in an external power source for really long sessions. On its own, the Beam has a 4,870mAh battery that can power the Spatial Display for 3 hours.
The initial focus is on getting things to work for PC users. The Xreal Spatial Display + Beam combo can replace a gaming monitor or a large TV. At launch, users will be able to enjoy YouTube and TikTok content, but DRM support is in the works to enable streaming services as well. The spatial display is paired with DTS:X Ultra, which enables spatial audio.
Nebula is coming to Windows so that Windows PCs and laptops, as well as handhelds like the Asus Ally will work with the Xreal Spatial Display directly. The company is also working on a version of the app for Steam OS so that Steam Deck will be able to do that too. Other consoles and platforms can use the Xreal Beam to connect to the Spatial Display.
We'll wrap up with some good news. Existing Xreal Air users are getting an upgrade that will increase the refresh rate for both screen mirroring and 3DoF mode to 90Hz.
Currently, Xreal products are available through Amazon in the US and Japan. Starting in Q3, the company will expand to Amazon UK and the European branches as well.
A
It can replace a (gaming) monitor for gaming on a oled 60 herts screen.. could be cool for story games rdr2 etc but doesnt replace a gaming monitor xD
T
Unreal didn't though unfortunately. They sued Nreal and they have just pivoted with it and spun it into a name change to better align with their new products.
ADVERTISEMENTS